Abstract
Deuterostomes1 include the group we belong to (vertebrates) as well as an array of disparate forms that include echinoderms2, hemichordates3 and more problematic groups such as vetulicolians4 and vetulocystids5. The Cambrian fossil record is well-populated with representative examples, but possible intermediates6,7 are controversial and the nature of the original deuterostome remains idealized. Here we report millimetric fossils, Saccorhytus coronarius nov. gen., nov. sp., from an Orsten-like Lagerstätte from the earliest Cambrian period of South China, which stratigraphically are amongst the earliest of deuterostomes. The bag-like body bears a prominent mouth and associated folds, and behind them up to four conical openings on either side of the body as well as possible sensory structures. An anus may have been absent, and correspondingly the lateral openings probably served to expel water and waste material. This new form has similarities to both the vetulicolians4 and vetulocystids5 and collectively these findings suggest that a key step in deuterostome evolution was the development of lateral openings that subsequently were co-opted as pharyngeal gills2,3,4,8. Depending on its exact phylogenetic position, the meiofaunal habit of Saccorhytus may help to explain the major gap between divergence times seen in the fossil record and estimates based on molecular clocks9.
Relevant articles
Open Access articles citing this article.
Zhiliang Zhang

,

Zhifei Zhang

…

Glenn A. Brock

Nature Open Access 27 October 2021

Xingliang Zhang

&

Degan Shu

PalZ Open Access 14 July 2021

Timothy P. Topper

,

Junfeng Guo

…

Zhifei Zhang

Nature Communications Open Access 25 March 2019
Access options
Access Nature and 54 other Nature Portfolio journals
Get Nature+, our best-value online-access subscription
$29.99 / 30 days
cancel any time
Subscribe to this journal
Receive 51 print issues and online access
$199.00 per year
only $3.90 per issue
Rent or buy this article
Prices vary by article type
from$1.95
to$39.95
Prices may be subject to local taxes which are calculated during checkout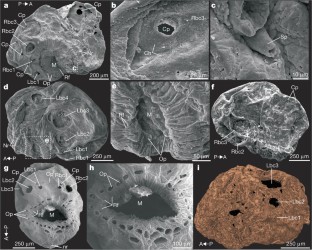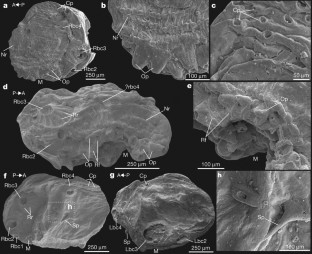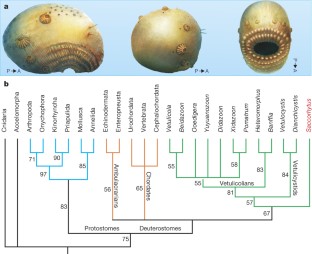 References
Shu, D.-G., Conway Morris, S., Zhang, Z. F. & Han, J. The earliest history of the deuterostomes: the importance of the Chengjiang Fossil-Lagerstatte. Proc. R. Soc. Lond. B 277, 165–174 (2010)

Zamora, S., Rahman, I. A. & Smith, A. B. Plated Cambrian bilaterians reveal the earliest stages of echinoderm evolution. PLoS One 7, e38296 (2012)

Nanglu, K., Caron, J. -B., Conway Morris, S. & Cameron, C. B. Cambrian suspension-feeding tubicolous hemichordates. BMC Biol. 14, 56 (2016)

Ou, Q. et al. Evidence for gill slits and a pharynx in Cambrian vetulicolians: implications for the early evolution of deuterostomes. BMC Biol. 10, 81 (2012)

Shu, D.-G., Conway Morris, S., Han, J., Zhang, Z. F. & Liu, J. N. Ancestral echinoderms from the Chengjiang deposits of China. Nature 430, 422–428 (2004)

Caron, J.-B., Conway Morris, S. & Shu, D. Tentaculate fossils from the Cambrian of Canada (British Columbia) and China (Yunnan) interpreted as primitive deuterostomes. PLoS One 5, e9586 (2010)

Shu, D. et al. A new species of yunnanozoan with implications for deuterostome evolution. Science 299, 1380–1384 (2003)

Gillis, J. A., Fritzenwanker, J. H. & Lowe, C. J. A stem-deuterostome origin of the vertebrate pharyngeal transcriptional network. Proc. R. Soc. Lond. B 279, 237–246 (2012)

Wray, G. A. Molecular clocks and the early evolution of metazoan nervous systems. Phil. Trans. R. Soc. Lond. B 370, 20150046 (2015)

Shu, D.-G., Chen, L., Han, J. & Zhang, X. L. An Early Cambrian tunicate from China. Nature 411, 472–473 (2001)

Conway Morris, S. & Caron, J.-B. A primitive fish from the Cambrian of North America. Nature 512, 419–422 (2014)

Shu, D.-G. et al. Primitive deuterostomes from the Chengjiang Lagerstätte (Lower Cambrian, China). Nature 414, 419–424 (2001)

Conway Morris, S., Halgedahl, S. L., Selden, P. & Jarrard, R. D. Rare primitive deuterostomes from the Cambrian (Series 3) of Utah. J. Paleontol. 89, 631–636 (2015)

Dong, X.-P. et al. Embryos, polyps and medusae of the Early Cambrian scyphozoan Olivooides. Proc. R. Soc. Lond. B 280, 20130071 (2013)

Han, J. et al. Early Cambrian pentamerous cubozoan embryos from South China. PLoS One 8, e70741 (2013)

Liu, Y., Xiao, S., Shao, T., Broce, J. & Zhang, H. The oldest known priapulid-like scalidophoran animal and its implications for the early evolution of cycloneuralians and ecdysozoans. Evol. Dev. 16, 155–165 (2014)

Zhang, H. et al. Armored kinorhynch-like scalidophoran animals from the early Cambrian. Sci. Rep. 5, 16521 (2015)

Giere, O. Meiobenthology: The microscopic fauna in aquatic sediments (Springer-Verlag, 1993)

Young, C. M., Sewell, M. A. & Rice, M. E. (eds) Atlas of Marine Invertebrate Life (Academic, 2002)

Peterson, K. J. & Eernisse, D. J. The phylogeny, evolutionary developmental biology, and paleobiology of the Deuterostomia: 25 years of new techniques, new discoveries, and new ideas. Org. Divers. Evol. 16, 401–418 (2016)

Smith, A. B. Cambrian problematica and the diversification of deuterostomes. BMC Biol. 10, 79 (2012)

Simakov, O. et al. Hemichordate genomes and deuterostome origins. Nature 527, 459–465 (2015)

Caron, J.-B. Banffia constricta, a putative vetulicolid from the Middle Cambrian Burgess Shale. Trans. R. Soc. Edinb. Earth Sci. 96, 95–111 (2005)

Lowe, C. J., Clarke, D. N., Medeiros, D. M., Rokhsar, D. S. & Gerhart, J. The deuterostome context of chordate origins. Nature 520, 456–465 (2015)

Hejnol, A. & Martín-Durán, J. Getting to the bottom of anal evolution. Zool. Anz. 256, 61–74 (2015)

Hejnol, A. & Pang, K. Xenacoelomorpha's significance for understanding bilaterian evolution. Curr. Opin. Genet. Dev. 39, 48–54 (2016)

Brown, F. D., Prendergast, A. & Swalla, B. J. Man is but a worm: chordate origins. Genesis 46, 605–613 (2008)

Sly, B. J., Snoke, M. S. & Raff, R. A. Who came first—larvae or adults? origins of bilaterian metazoan larvae. Int. J. Dev. Biol. 47, 623–632 (2003)

Boaden, P. Meiofauna and the origins of the Metazoa. Zool. J. Linn. Soc. 96, 217–227 (1989)

Erwin, D. H. et al. The Cambrian conundrum: early divergence and later ecological success in the early history of animals. Science 334, 1091–1097 (2011)

Shu, D.-G. et al. A pipiscid–like fossil from the Lower Cambrian of south China. Nature 400, 746–749 (1999)

Luo, H. et al. Early Cambrian Chengjiang Fauna from Kunming Region, China. (Yunnan Sci. & Tech. Press, 1999)

Shu, D.-G. On the phylum Vetulicolia. Chin. Sci. Bull. 50, 2342–2354 (2005)
Acknowledgements
Supported by Natural Science Foundation of China (nos 41621003, 41272019, 41572017, 41672009), Ministry of Science and Technology of China (D.S., J.H.) (no. 2013CB835002), Alexander von Humboldt Foundation (Q.O.), Program for New Century Excellent Talents, Ministry of Education of China (Q.O.), Department of Earth Sciences, University of Cambridge and St. John's College, Cambridge (S.C.M.). We thank V. Brown, J. Luo, J. Sun, M. Cheng, and H. Gong for technical assistance and D.-H. Yang for the reconstruction.
Ethics declarations
Competing interests
The authors declare no competing financial interests.
Additional information
Reviewer Information Nature thanks A. Hejnol, I. Rahman and J. Vannier for their contribution to the peer review of this work.
Extended data figures and tables
Supplementary information
About this article
Cite this article
Han, J., Morris, S., Ou, Q. et al. Meiofaunal deuterostomes from the basal Cambrian of Shaanxi (China). Nature 542, 228–231 (2017). https://doi.org/10.1038/nature21072
Received:

Accepted:

Published:

Issue Date:

DOI: https://doi.org/10.1038/nature21072
Comments
By submitting a comment you agree to abide by our Terms and Community Guidelines. If you find something abusive or that does not comply with our terms or guidelines please flag it as inappropriate.