Abstract
Both humans and animals seek primary rewards in the environment, even when such rewards do not correspond to current physiological needs. An example of this is a dissociation between food-seeking behaviour and metabolic needs, a notoriously difficult-to-treat symptom of eating disorders. Feeding relies on distinct cell groups in the hypothalamus1,2,3,4, the activity of which also changes in anticipation of feeding onset5,6,7. The hypothalamus receives strong descending inputs from the lateral septum, which is connected, in turn, with cortical networks8, but cognitive regulation of feeding-related behaviours is not yet understood. Cortical cognitive processing9,10 involves gamma oscillations11,12,13,14,15, which support memory16,17, attention18, cognitive flexibility19 and sensory responses20. These functions contribute crucially to feeding behaviour by unknown neural mechanisms. Here we show that coordinated gamma (30–90 Hz) oscillations in the lateral hypothalamus and upstream brain regions organize food-seeking behaviour in mice. Gamma-rhythmic input to the lateral hypothalamus from somatostatin-positive lateral septum cells evokes food approach without affecting food intake. Inhibitory inputs from the lateral septum enable separate signalling by lateral hypothalamus neurons according to their feeding-related activity, making them fire at distinct phases of the gamma oscillation. Upstream, medial prefrontal cortical projections provide gamma-rhythmic inputs to the lateral septum; these inputs are causally associated with improved performance in a food-rewarded learning task. Overall, our work identifies a top-down pathway that uses gamma synchronization to guide the activity of subcortical networks and to regulate feeding behaviour by dynamic reorganization of functional cell groups in the hypothalamus.
Relevant articles
Open Access articles citing this article.
Atsushi Noritake

&

Kae Nakamura

Scientific Reports Open Access 12 April 2023

Antoine Besnard

&

Felix Leroy

Molecular Psychiatry Open Access 18 May 2022

Yi Cao

,

Suwan Pan

…

Lu Yi

BMC Biology Open Access 24 November 2021
Access options
Access Nature and 54 other Nature Portfolio journals
Get Nature+, our best-value online-access subscription
$29.99 / 30 days
cancel any time
Subscribe to this journal
Receive 51 print issues and online access
$199.00 per year
only $3.90 per issue
Rent or buy this article
Prices vary by article type
from$1.95
to$39.95
Prices may be subject to local taxes which are calculated during checkout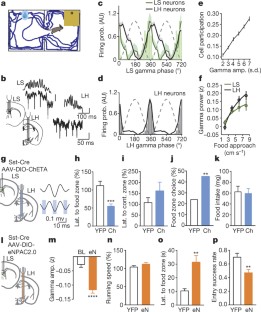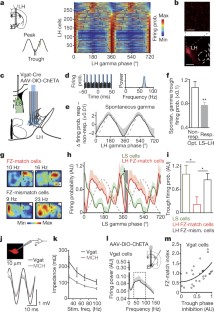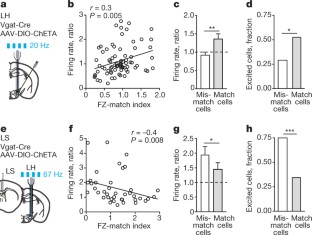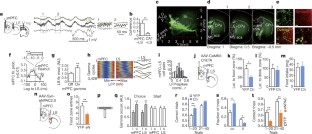 References
Saper, C. B., Chou, T. C. & Elmquist, J. K. The need to feed: homeostatic and hedonic control of eating. Neuron 36, 199–211 (2002)

Waterson, M. J. & Horvath, T. L. Neuronal regulation of energy homeostasis: beyond the hypothalamus and feeding. Cell Metab . 22, 962–970 (2015)

Steculorum, S. M. et al. Hypothalamic UDP increases in obesity and promotes feeding via P2Y6-dependent activation of AgRP neurons. Cell 162, 1404–1417 (2015)

Jennings, J. H. et al. Visualizing hypothalamic network dynamics for appetitive and consummatory behaviors. Cell 160, 516–527 (2015)

Rolls, E. T., Burton, M. J. & Mora, F. Hypothalamic neuronal responses associated with the sight of food. Brain Res . 111, 53–66 (1976)

Chen, Y., Lin, Y. C., Kuo, T. W. & Knight, Z. A. Sensory detection of food rapidly modulates arcuate feeding circuits. Cell 160, 829–841 (2015)

Mileykovskiy, B. Y., Kiyashchenko, L. I. & Siegel, J. M. Behavioral correlates of activity in identified hypocretin/orexin neurons. Neuron 46, 787–798 (2005)

Risold, P. Y. & Swanson, L. W. Structural evidence for functional domains in the rat hippocampus. Science 272, 1484–1486 (1996)

Tse, D. et al. Schema-dependent gene activation and memory encoding in neocortex. Science 333, 891–895 (2011)

Euston, D. R., Gruber, A. J. & McNaughton, B. L. The role of medial prefrontal cortex in memory and decision making. Neuron 76, 1057–1070 (2012)

Gray, C. M. & Singer, W. Stimulus-specific neuronal oscillations in orientation columns of cat visual cortex. Proc. Natl Acad. Sci. USA 86, 1698–1702 (1989)

Salinas, E. & Sejnowski, T. J. Correlated neuronal activity and the flow of neural information. Nat. Rev. Neurosci . 2, 539–550 (2001)

Csicsvari, J., Jamieson, B., Wise, K. D. & Buzsáki, G. Mechanisms of gamma oscillations in the hippocampus of the behaving rat. Neuron 37, 311–322 (2003)

Fries, P. Rhythms for cognition: communication through coherence. Neuron 88, 220–235 (2015)

Colgin, L. L. et al. Frequency of gamma oscillations routes flow of information in the hippocampus. Nature 462, 353–357 (2009)

Yamamoto, J., Suh, J., Takeuchi, D. & Tonegawa, S. Successful execution of working memory linked to synchronized high-frequency gamma oscillations. Cell 157, 845–857 (2014)

Igarashi, K. M., Lu, L., Colgin, L. L., Moser, M. B. & Moser, E. I. Coordination of entorhinal-hippocampal ensemble activity during associative learning. Nature 510, 143–147 (2014)

Kim, H., Ährlund-Richter, S., Wang, X., Deisseroth, K. & Carlén, M. Prefrontal parvalbumin neurons in control of attention. Cell 164, 208–218 (2016)

Cho, K. K. et al. Gamma rhythms link prefrontal interneuron dysfunction with cognitive inflexibility in Dlx5/6+/− mice. Neuron 85, 1332–1343 (2015)

Cardin, J. A. et al. Driving fast-spiking cells induces gamma rhythm and controls sensory responses. Nature 459, 663–667 (2009)

Sartor, G. C. & Aston-Jones, G. S. A septal-hypothalamic pathway drives orexin neurons, which is necessary for conditioned cocaine preference. J. Neurosci . 32, 4623–4631 (2012)

Bender, F. et al. Theta oscillations regulate the speed of locomotion via a hippocampus to lateral septum pathway. Nat. Commun . 6, 8521 (2015)

Sheehan, T. P., Chambers, R. A. & Russell, D. S. Regulation of affect by the lateral septum: implications for neuropsychiatry. Brain Res. Brain Res. Rev . 46, 71–117 (2004)

Takeuchi, T. et al. Locus coeruleus and dopaminergic consolidation of everyday memory. Nature 537, 357–362 (2016)

Nieh, E. H. et al. Decoding neural circuits that control compulsive sucrose seeking. Cell 160, 528–541 (2015)

Herrera, C. G. et al. Hypothalamic feedforward inhibition of thalamocortical network controls arousal and consciousness. Nat. Neurosci . 19, 290–298 (2016)

Ye, L. et al. Wiring and molecular features of prefrontal ensembles representing distinct experiences. Cell 165, 1776–1788 (2016)

Spellman, T. et al. Hippocampal-prefrontal input supports spatial encoding in working memory. Nature 522, 309–314 (2015)

Mendelson, J. & Chorover, S. L. Lateral hypothalamic stimulation in satiated rats: T-maze learning for food. Science 149, 559–561 (1965)

Paxinos, G. & Franklin, K. B. J. The Mouse Brain in Stereotaxic Coordinates (Elsevier Academic Press, 2001)

Vong, L. et al. Leptin action on GABAergic neurons prevents obesity and reduces inhibitory tone to POMC neurons. Neuron 71, 142–154 (2011)

Taniguchi, H. et al. A resource of Cre driver lines for genetic targeting of GABAergic neurons in cerebral cortex. Neuron 71, 995–1013 (2011)

Madisen, L. et al. A robust and high-throughput Cre reporting and characterization system for the whole mouse brain. Nat. Neurosci . 13, 133–140 (2010)

Kim, S. Y. et al. Diverging neural pathways assemble a behavioural state from separable features in anxiety. Nature 496, 219–223 (2013)

Vandecasteele, M. et al. Large-scale recording of neurons by movable silicon probes in behaving rodents. J. Vis. Exp. 61, e3568 (2012)

Jennings, J. H., Rizzi, G., Stamatakis, A. M., Ung, R. L. & Stuber, G. D. The inhibitory circuit architecture of the lateral hypothalamus orchestrates feeding. Science 341, 1517–1521 (2013)

Korotkova, T., Fuchs, E. C., Ponomarenko, A., von Engelhardt, J. & Monyer, H. NMDA receptor ablation on parvalbumin-positive interneurons impairs hippocampal synchrony, spatial representations, and working memory. Neuron 68, 557–569 (2010)

Hazan, L., Zugaro, M. & Buzsáki, G. Klusters, NeuroScope, NDManager: a free software suite for neurophysiological data processing and visualization. J. Neurosci. Methods 155, 207–216 (2006)

Sirota, A. et al. Entrainment of neocortical neurons and gamma oscillations by the hippocampal theta rhythm. Neuron 60, 683–697 (2008)

Mitzdorf, U. Current source-density method and application in cat cerebral cortex: investigation of evoked potentials and EEG phenomena. Physiol. Rev . 65, 37–100 (1985)

Kajikawa, Y. & Schroeder, C. E. How local is the local field potential? Neuron 72, 847–858 (2011)

Harris, K. D., Henze, D. A., Csicsvari, J., Hirase, H. & Buzsáki, G. Accuracy of tetrode spike separation as determined by simultaneous intracellular and extracellular measurements. J. Neurophysiol . 84, 401–414 (2000)

Wulff, P. et al. Hippocampal theta rhythm and its coupling with gamma oscillations require fast inhibition onto parvalbumin-positive interneurons. Proc. Natl Acad. Sci. USA 106, 3561–3566 (2009)

Siapas, A. G., Lubenov, E. V. & Wilson, M. A. Prefrontal phase locking to hippocampal theta oscillations. Neuron 46, 141–151 (2005)

Fidzinski, P. et al. KCNQ5 K+ channels control hippocampal synaptic inhibition and fast network oscillations. Nat. Commun . 6, 6254 (2015)

Csicsvari, J., Hirase, H., Czurkó, A., Mamiya, A. & Buzsáki, G. Oscillatory coupling of hippocampal pyramidal cells and interneurons in the behaving Rat. J. Neurosci . 19, 274–287 (1999)

Zhang, S. J. et al. Optogenetic dissection of entorhinal-hippocampal functional connectivity. Science 340, 1232627 (2013)

Muller, R. U. & Kubie, J. L. The firing of hippocampal place cells predicts the future position of freely moving rats. J. Neurosci . 9, 4101–4110 (1989)

Berndt, A. et al. Structural foundations of optogenetics: Determinants of channelrhodopsin ion selectivity. Proc. Natl Acad. Sci. USA 113, 822–829 (2016)
Acknowledgements
We thank N. Kopell, A. Adamantidis, and C. Holman for their comments on earlier versions of the manuscript, C. Gutierrez-Herrera for providing ChETA-expressing Vgat-Cre mice for our first experiments, K. Weineck for help with experiments during the manuscript revision, I. Szabo for methodological advice, J. Rösner for help with confocal microscopy, and J. Poulet, M. Larkum, R. Sachdev and N. Takahashi for providing Sst-Cre mice. This work was supported by The Human Frontier Science Program (HFSP; RGY0076/2012, to T.K., D.B.), Deutsche Forschungsgemeinschaft (DFG; Exc 257 NeuroCure, to T.K. and A.P.; SPP1665, to A.P.), NIH (the Collaborative Research in Computational Neuroscience, CRCNS; 1R01 NS067199, to C.B.), The German-Israeli Foundation for Scientific Research and Development (GIF; I-1326-421.13/2015, to T.K.).
Ethics declarations
Competing interests
The authors declare no competing financial interests.
Extended data figures and tables
Supplementary information
This file contains Supplementary Text and Data, Supplementary Results, a Supplementary Discussion and additional references. (PDF 361 kb)
This 3D CLARITY video shows PFC fibers terminating in the lateral septum (highlighted in red). Note that posterior to lateral septum, in contrast to caudate putamen, no fibers of passage are present. (MP4 21954 kb)
About this article
Cite this article
Carus-Cadavieco, M., Gorbati, M., Ye, L. et al. Gamma oscillations organize top-down signalling to hypothalamus and enable food seeking. Nature 542, 232–236 (2017). https://doi.org/10.1038/nature21066
Received:

Accepted:

Published:

Issue Date:

DOI: https://doi.org/10.1038/nature21066
Comments
By submitting a comment you agree to abide by our Terms and Community Guidelines. If you find something abusive or that does not comply with our terms or guidelines please flag it as inappropriate.