Abstract
The mammalian liver consists of hexagon-shaped lobules that are radially polarized by blood flow and morphogens1,2,3,4. Key liver genes have been shown to be differentially expressed along the lobule axis, a phenomenon termed zonation5,6, but a detailed genome-wide reconstruction of this spatial division of labour has not been achieved. Here we measure the entire transcriptome of thousands of mouse liver cells and infer their lobule coordinates on the basis of a panel of zonated landmark genes, characterized with single-molecule fluorescence in situ hybridization7. Using this approach, we obtain the zonation profiles of all liver genes with high spatial resolution. We find that around 50% of liver genes are significantly zonated and uncover abundant non-monotonic profiles that peak at the mid-lobule layers. These include a spatial order of bile acid biosynthesis enzymes that matches their position in the enzymatic cascade. Our approach can facilitate the reconstruction of similar spatial genomic blueprints for other mammalian organs.
Relevant articles
Open Access articles citing this article.
Masanori Fujimoto

,

Masataka Yokoyama

…

Tomoaki Tanaka

Nature Communications Open Access 15 September 2022

Rikard G. Fred

,

Julie Steen Pedersen

…

Tune H. Pers

Scientific Reports Open Access 05 August 2022

Ho Man Tang

,

C. Conover Talbot

…

Ho Lam Tang

Scientific Data Open Access 18 July 2022
Access options
Subscribe to Nature+
Get immediate online access to the entire Nature family of 50+ journals
Subscribe to Journal
Get full journal access for 1 year
$199.00
only $3.90 per issue
All prices are NET prices.
VAT will be added later in the checkout.
Tax calculation will be finalised during checkout.
Buy article
Get time limited or full article access on ReadCube.
$32.00
All prices are NET prices.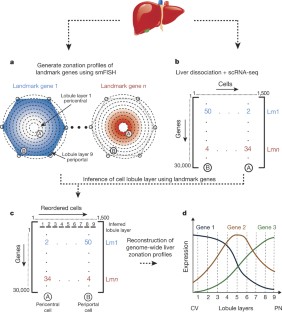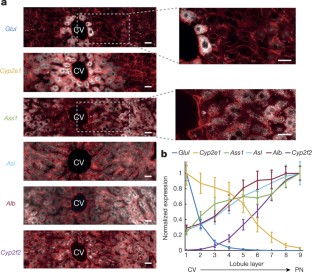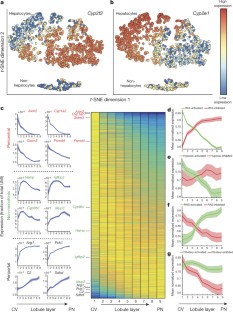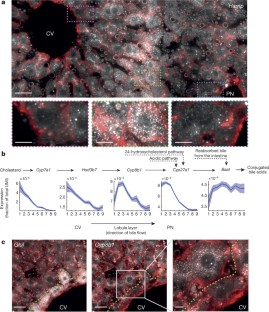 References
Hoehme, S. et al. Prediction and validation of cell alignment along microvessels as order principle to restore tissue architecture in liver regeneration. Proc. Natl Acad. Sci. USA 107, 10371–10376 (2010)

Wang, B., Zhao, L., Fish, M., Logan, C. Y. & Nusse, R. Self-renewing diploid Axin2+ cells fuel homeostatic renewal of the liver. Nature 524, 180–185 (2015)

Benhamouche, S. et al. Apc tumor suppressor gene is the "zonation-keeper" of mouse liver. Dev. Cell 10, 759–770 (2006)

Colnot, S. & Perret, C. in Molecular Pathology of Liver Diseases (ed. Monga, S. P. S. ) 7–16 (Springer US, 2011)

Gebhardt, R. Metabolic zonation of the liver: regulation and implications for liver function. Pharmacol. Ther . 53, 275–354 (1992)

Jungermann, K. & Kietzmann, T. Zonation of parenchymal and nonparenchymal metabolism in liver. Annu. Rev. Nutr . 16, 179–203 (1996)

Bahar Halpern, K. et al. Bursty gene expression in the intact mammalian liver. Mol. Cell 58, 147–156 (2015)

Gebhardt, R. & Matz-Soja, M. Liver zonation: novel aspects of its regulation and its impact on homeostasis. World J. Gastroenterol . 20, 8491–8504 (2014)

Braeuning, A. et al. Differential gene expression in periportal and perivenous mouse hepatocytes. FEBS J . 273, 5051–5061 (2006)

Saito, K., Negishi, M. & James Squires, E. Sexual dimorphisms in zonal gene expression in mouse liver. Biochem. Biophys. Res. Commun . 436, 730–735 (2013)

Hashimshony, T., Wagner, F., Sher, N. & Yanai, I. CEL-seq: single-cell RNA-seq by multiplexed linear amplification. Cell Reports 2, 666–673 (2012)

Wu, A. R. et al. Quantitative assessment of single-cell RNA-sequencing methods. Nat. Methods 11, 41–46 (2014)

Zeisel, A. et al. Brain structure. Cell types in the mouse cortex and hippocampus revealed by single-cell RNA-seq. Science 347, 1138–1142 (2015)

Grün, D. et al. Single-cell messenger RNA sequencing reveals rare intestinal cell types. Nature 525, 251–255 (2015)

Satija, R., Farrell, J. A., Gennert, D., Schier, A. F. & Regev, A. Spatial reconstruction of single-cell gene expression data. Nat. Biotechnol . 33, 495–502 (2015)

Achim, K. et al. High-throughput spatial mapping of single-cell RNA-seq data to tissue of origin. Nat. Biotechnol . 33, 503–509 (2015)

Jaitin, D. A. et al. Massively parallel single-cell RNA-seq for marker-free decomposition of tissues into cell types. Science 343, 776–779 (2014)

Font-Burgada, J. et al. Hybrid periportal hepatocytes regenerate the injured liver without giving rise to cancer. Cell 162, 766–779 (2015)

Gougelet, A. et al. T-cell factor 4 and β-catenin chromatin occupancies pattern zonal liver metabolism in mice. Hepatology 59, 2344–2357 (2014)

Baze, M. M., Schlauch, K. & Hayes, J. P. Gene expression of the liver in response to chronic hypoxia. Physiol. Genomics 41, 275–288 (2010)

Hailfinger, S., Jaworski, M., Braeuning, A., Buchmann, A. & Schwarz, M. Zonal gene expression in murine liver: lessons from tumors. Hepatology 43, 407–414 (2006)

Unterberger, E. B. et al. Ha-ras and β-catenin oncoproteins orchestrate metabolic programs in mouse liver tumors. Int. J. Cancer 135, 1574–1585 (2014)

Boylston, W. H., DeFord, J. H. & Papaconstantinou, J. Identification of longevity-associated genes in long-lived Snell and Ames dwarf mice. 28, 125–144 (2016)

Rolfe, D. F. & Brown, G. C. Cellular energy utilization and molecular origin of standard metabolic rate in mammals. Physiol. Rev . 77, 731–758 (1997)

Tanami, S. et al. Dynamic zonation of liver polyploidy. Cell Tissue Res . http://dx.doi.org/10.1007/s00441-016-2427-5 (2016)

Baxter, R. C. IGF binding proteins in cancer: mechanistic and clinical insights. Nat. Rev. Cancer 14, 329–341 (2014)

de Aguiar Vallim, T. Q., Tarling, E. J. & Edwards, P. A. Pleiotropic roles of bile acids in metabolism. Cell Metab. 17, 657–669 (2013)

Nagrath, D. et al. Integrated energy and flux balance based multiobjective framework for large-scale metabolic networks. Ann. Biomed. Eng . 35, 863–885 (2007)

Gille, C. et al. HepatoNet1: a comprehensive metabolic reconstruction of the human hepatocyte for the analysis of liver physiology. Mol. Syst. Biol . 6, 411 (2010)

Atger, F. et al. Circadian and feeding rhythms differentially affect rhythmic mRNA transcription and translation in mouse liver. Proc. Natl Acad. Sci. USA 112, E6579–E6588 (2015)

Itzkovitz, S. et al. Single-molecule transcript counting of stem-cell markers in the mouse intestine. Nat. Cell Biol . 14, 106–114 (2011)

Lyubimova, A. et al. Single-molecule mRNA detection and counting in mammalian tissue. Nat. Protocols 8, 1743–1758 (2013)

Bahar Halpern, K. et al. Nuclear retention of mRNA in mammalian tissues. Cell Reports 13, 2653–2662 (2015)

Seglen, P. O. Preparation of rat liver cells. 3. Enzymatic requirements for tissue dispersion. Exp. Cell Res . 82, 391–398 (1973)

Kim, D., Langmead, B. & Salzberg, S. L. HISAT: a fast spliced aligner with low memory requirements. Nat. Methods 12, 357–360 (2015)

Eden, E., Navon, R., Steinfeld, I., Lipson, D. & Yakhini, Z. GOrilla: a tool for discovery and visualization of enriched GO terms in ranked gene lists. BMC Bioinformatics 10, 48 (2009)

Zhang, Y. et al. Strategy for studying the liver secretome on the organ level. J. Proteome Res . 9, 1894–1901 (2010)

Kanehisa, M. & Goto, S. KEGG: kyoto encyclopedia of genes and genomes. Nucleic Acids Res . 28, 27–30 (2000)
Acknowledgements
We thank R. Milo and all members of our laboratory for valuable comments. We thank M. Schwarz, A. Braeuning and S. Colnot for sharing their data and A. Sharp, E. Ariel, E. Hagai and Z. Gavish for help with experimental procedures. I.A. is supported by the European Research Council (309788), and the Israel Science Foundation, the Ernest and Bonnie Beutler Research Program of Excellence in Genomic Medicine and the Helen and Martin Kimmel award for innovative investigation. I.A. is the incumbent of the Alan and Laraine Fischer Career Development Chair. S.I. is supported by the Henry Chanoch Krenter Institute for Biomedical Imaging and Genomics, The Leir Charitable Foundations, Richard Jakubskind Laboratory of Systems Biology, Cymerman-Jakubskind Prize, The Lord Sieff of Brimpton Memorial Fund, the I-CORE program of the Planning and Budgeting Committee and the Israel Science Foundation (grants 1902/ 12 and 1796/12), the Israel Science Foundation grant No. 1486/16, the EMBO Young Investigator Program and the European Research Council under the European Union's Seventh Framework Programme (FP7/2007-2013)/ERC grant agreement number 335122. S.I. is the incumbent of the Philip Harris and Gerald Ronson Career Development Chair.
Ethics declarations
Competing interests
The authors declare no competing financial interests.
Additional information
Reviewer Information Nature thanks K. Kaestner, A. Raj and the other anonymous reviewer(s) for their contribution to the peer review of this work.
Extended data figures and tables
Supplementary information
About this article
Cite this article
Halpern, K., Shenhav, R., Matcovitch-Natan, O. et al. Single-cell spatial reconstruction reveals global division of labour in the mammalian liver. Nature 542, 352–356 (2017). https://doi.org/10.1038/nature21065
Received:

Accepted:

Published:

Issue Date:

DOI: https://doi.org/10.1038/nature21065
Comments
By submitting a comment you agree to abide by our Terms and Community Guidelines. If you find something abusive or that does not comply with our terms or guidelines please flag it as inappropriate.