Abstract
Malignant neoplasms evolve in response to changes in oncogenic signalling1. Cancer cell plasticity in response to evolutionary pressures is fundamental to tumour progression and the development of therapeutic resistance2,3. Here we determine the molecular and cellular mechanisms of cancer cell plasticity in a conditional oncogenic Kras mouse model of pancreatic ductal adenocarcinoma (PDAC), a malignancy that displays considerable phenotypic diversity and morphological heterogeneity. In this model, stochastic extinction of oncogenic Kras signalling and emergence of Kras-independent escaper populations (cells that acquire oncogenic properties) are associated with de-differentiation and aggressive biological behaviour. Transcriptomic and functional analyses of Kras-independent escapers reveal the presence of Smarcb1–Myc-network-driven mesenchymal reprogramming and independence from MAPK signalling. A somatic mosaic model of PDAC, which allows time-restricted perturbation of cell fate, shows that depletion of Smarcb1 activates the Myc network, driving an anabolic switch that increases protein metabolism and adaptive activation of endoplasmic-reticulum-stress-induced survival pathways. Increased protein turnover renders mesenchymal sub-populations highly susceptible to pharmacological and genetic perturbation of the cellular proteostatic machinery and the IRE1-α–MKK4 arm of the endoplasmic-reticulum-stress-response pathway. Specifically, combination regimens that impair the unfolded protein responses block the emergence of aggressive mesenchymal subpopulations in mouse and patient-derived PDAC models. These molecular and biological insights inform a potential therapeutic strategy for targeting aggressive mesenchymal features of PDAC.
Relevant articles
Open Access articles citing this article.
Luigi Perelli

,

Federica Carbone

…

Giannicola Genovese

Nature Cancer Open Access 26 June 2023

L. Paige Ferguson

,

Jovylyn Gatchalian

…

Tannishtha Reya

Nature Communications Open Access 18 January 2023

Theodore Evan

,

Victoria Min-Yi Wang

&

Axel Behrens

Oncogene Open Access 10 September 2022
Access options
Access Nature and 54 other Nature Portfolio journals
Get Nature+, our best-value online-access subscription
$29.99 / 30 days
cancel any time
Subscribe to this journal
Receive 51 print issues and online access
$199.00 per year
only $3.90 per issue
Rent or buy this article
Prices vary by article type
from$1.95
to$39.95
Prices may be subject to local taxes which are calculated during checkout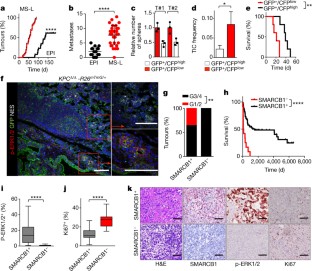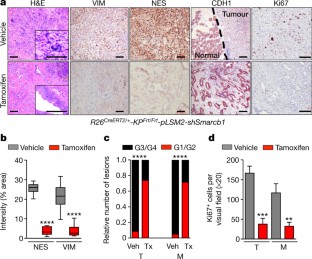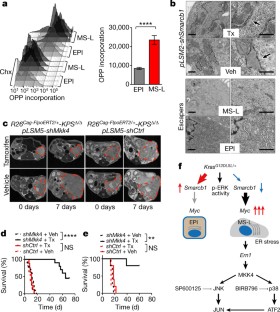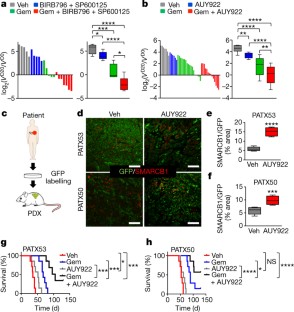 Accession codes
Primary accessions
Gene Expression Omnibus
References
Hanahan, D. & Weinberg, R. A. Hallmarks of cancer: the next generation. Cell 144, 646–674 (2011)

Nieto, M. A., Huang, R. Y., Jackson, R. A. & Thiery, J. P. Emt: 2016. Cell 166, 21–45 (2016)

Pisco, A. O. & Huang, S. Non-genetic cancer cell plasticity and therapy-induced stemness in tumour relapse: 'What does not kill me strengthens me'. Br. J. Cancer 112, 1725–1732 (2015)

Rhim, A. D. et al. EMT and dissemination precede pancreatic tumor formation. Cell 148, 349–361 (2012)

Kopp, J. L. et al. Identification of Sox9-dependent acinar-to-ductal reprogramming as the principal mechanism for initiation of pancreatic ductal adenocarcinoma. Cancer Cell 22, 737–750 (2012)

Morris, J. P., IV, Cano, D. A., Sekine, S., Wang, S. C. & Hebrok, M. β-catenin blocks Kras-dependent reprogramming of acini into pancreatic cancer precursor lesions in mice. J. Clin. Invest. 120, 508–520 (2010)

Lee, K. E. & Bar-Sagi, D. Oncogenic KRas suppresses inflammation-associated senescence of pancreatic ductal cells. Cancer Cell 18, 448–458 (2010)

Reichert, M. et al. Isolation, culture and genetic manipulation of mouse pancreatic ductal cells. Nat. Protocols 8, 1354–1365 (2013)

Isakoff, M. S. et al. Inactivation of the Snf5 tumor suppressor stimulates cell cycle progression and cooperates with p53 loss in oncogenic transformation. Proc. Natl Acad. Sci. USA 102, 17745–17750 (2005)

Barbie, D. A. et al. Systematic RNA interference reveals that oncogenic KRAS-driven cancers require TBK1. Nature 462, 108–112 (2009)

Creighton, C. J. et al. Activation of mitogen-activated protein kinase in estrogen receptor α-positive breast cancer cells in vitro induces an in vivo molecular phenotype of estrogen receptor α-negative human breast tumors. Cancer Res. 66, 3903–3911 (2006)

Ma, Y., Croxton, R., Moorer, R. L., Jr & Cress, W. D. Identification of novel E2F1-regulated genes by microarray. Arch. Biochem. Biophys. 399, 212–224 (2002)

Chiou, S. H. et al. Pancreatic cancer modeling using retrograde viral vector delivery and in vivo CRISPR/Cas9-mediated somatic genome editing. Genes Dev. 29, 1576–1585 (2015)

Collisson, E. A. et al. Subtypes of pancreatic ductal adenocarcinoma and their differing responses to therapy. Nat. Med. 17, 500–503 (2011)

Noll, E. M. et al. CYP3A5 mediates basal and acquired therapy resistance in different subtypes of pancreatic ductal adenocarcinoma. Nat. Med. 22, 278–287 (2016)

Signer, R. A., Magee, J. A., Salic, A. & Morrison, S. J. Haematopoietic stem cells require a highly regulated protein synthesis rate. Nature 509, 49–54 (2014)

Hart, L. S. et al. ER stress-mediated autophagy promotes Myc-dependent transformation and tumor growth. J. Clin. Invest. 122, 4621–4634 (2012)

Lin, J. H. et al. IRE1 signaling affects cell fate during the unfolded protein response. Science 318, 944–949 (2007)

Urano, F. et al. Coupling of stress in the ER to activation of JNK protein kinases by transmembrane protein kinase IRE1. Science 287, 664–666 (2000)

Chen, Y. & Brandizzi, F. IRE1: ER stress sensor and cell fate executor. Trends Cell Biol. 23, 547–555 (2013)

Chien, W. et al. Selective inhibition of unfolded protein response induces apoptosis in pancreatic cancer cells. Oncotarget 5, 4881–4894 (2014)

Gao, H. et al. High-throughput screening using patient-derived tumor xenografts to predict clinical trial drug response. Nat. Med. 21, 1318–1325 (2015)

Siolas, D. & Hannon, G. J. Patient-derived tumor xenografts: transforming clinical samples into mouse models. Cancer Res. 73, 5315–5319 (2013)

Aparicio, S., Hidalgo, M. & Kung, A. L. Examining the utility of patient-derived xenograft mouse models. Nat. Rev. Cancer 15, 311–316 (2015)

Carugo, A. et al. In vivo functional platform targeting patient-derived xenografts identifies WDR5-Myc association as a critical determinant of pancreatic cancer. Cell Reports 16, 133–147 (2016)

Singh, A. et al. A gene expression signature associated with "K-Ras addiction" reveals regulators of EMT and tumor cell survival. Cancer Cell 15, 489–500 (2009)

Agaimy, A. The expanding family of SMARCB1(INI1)-deficient neoplasia: implications of phenotypic, biological, and molecular heterogeneity. Adv. Anat. Pathol. 21, 394–410 (2014)

Agaimy, A., Rau, T. T., Hartmann, A. & Stoehr, R. SMARCB1 (INI1)-negative rhabdoid carcinomas of the gastrointestinal tract: clinicopathologic and molecular study of a highly aggressive variant with literature review. Am. J. Surg. Pathol. 38, 910–920 (2014)

Agaimy, A. et al. Pancreatic undifferentiated rhabdoid carcinoma: KRAS alterations and SMARCB1 expression status define two subtypes. Mod. Pathol. 28, 248–260 (2015)

Ventura, A. et al. Restoration of p53 function leads to tumour regression in vivo. Nature 445, 661–665 (2007)

Young, N. P. & Jacks, T. Tissue-specific p19Arf regulation dictates the response to oncogenic K-ras. Proc. Natl Acad. Sci. USA 107, 10184–10189 (2010)

Jackson, E. L. et al. Analysis of lung tumor initiation and progression using conditional expression of oncogenic K-ras. Genes Dev. 15, 3243–3248 (2001)

Cheung, A. F., Dupage, M. J., Dong, H. K., Chen, J. & Jacks, T. Regulated expression of a tumor-associated antigen reveals multiple levels of T-cell tolerance in a mouse model of lung cancer. Cancer Res. 68, 9459–9468 (2008)

Lee, C. L. et al. Generation of primary tumors with Flp recombinase in FRT-flanked p53 mice. Dis. Model. Mech. 5, 397–402 (2012)

Muzumdar, M. D., Tasic, B., Miyamichi, K., Li, L. & Luo, L. A global double-fluorescent Cre reporter mouse. Genesis 45, 593–605 (2007)

Roberts, C. W., Leroux, M. M., Fleming, M. D. & Orkin, S. H. Highly penetrant, rapid tumorigenesis through conditional inversion of the tumor suppressor gene Snf5. Cancer Cell 2, 415–425 (2002)

Hingorani, S. R. et al. Preinvasive and invasive ductal pancreatic cancer and its early detection in the mouse. Cancer Cell 4, 437–450 (2003)

Marino, S., Vooijs, M., van Der Gulden, H., Jonkers, J. & Berns, A. Induction of medulloblastomas in p53-null mutant mice by somatic inactivation of Rb in the external granular layer cells of the cerebellum. Genes Dev. 14, 994–1004 (2000)

Kawaguchi, Y. et al. The role of the transcriptional regulator Ptf1a in converting intestinal to pancreatic progenitors. Nat. Genet. 32, 128–134 (2002)

Lao, Z., Raju, G. P., Bai, C. B. & Joyner, A. L. MASTR: a technique for mosaic mutant analysis with spatial and temporal control of recombination using conditional floxed alleles in mice. Cell Rep. 2, 386–396 (2012)

Snippert, H. J. et al. Intestinal crypt homeostasis results from neutral competition between symmetrically dividing Lgr5 stem cells. Cell 143, 134–144 (2010)

Kissler, S. et al. In vivo RNA interference demonstrates a role for Nramp1 in modifying susceptibility to type 1 diabetes. Nat. Genet. 38, 479–483 (2006)

Ventura, A. et al. Cre-lox-regulated conditional RNA interference from transgenes. Proc. Natl Acad. Sci. USA 101, 10380–10385 (2004)

Koo, B. K. et al. Controlled gene expression in primary Lgr5 organoid cultures. Nat. Methods 9, 81–83 (2011)

Campeau, E. et al. A versatile viral system for expression and depletion of proteins in mammalian cells. PLoS One 4, e6529 (2009)

Young, N. P., Crowley, D. & Jacks, T. Uncoupling cancer mutations reveals critical timing of p53 loss in sarcomagenesis. Cancer Res. 71, 4040–4047 (2011)

Genovese, G. et al. microRNA regulatory network inference identifies miR-34a as a novel regulator of TGF-β signaling in glioblastoma. Cancer Discov. 2, 736–749 (2012)

Winslow, M. M. et al. Suppression of lung adenocarcinoma progression by Nkx2-1. Nature 473, 101–104 (2011)

Beerling, E. et al. Plasticity between epithelial and mesenchymal states unlinks emt from metastasis-enhancing stem cell capacity. Cell Reports 14, 2281–2288 (2016)

Kim, M. P. et al. Molecular profiling of direct xenograft tumors established from human pancreatic adenocarcinoma after neoadjuvant therapy. Ann. Surg. Oncol. 19 (Suppl. 3), S395–S403 (2012)

Kim, M. P. et al. Generation of orthotopic and heterotopic human pancreatic cancer xenografts in immunodeficient mice. Nat. Protocols 4, 1670–1680 (2009)

Viale, A. et al. Oncogene ablation-resistant pancreatic cancer cells depend on mitochondrial function. Nature 514, 628–632 (2014)

Agbunag, C., Lee, K. E., Buontempo, S. & Bar-Sagi, D. Pancreatic duct epithelial cell isolation and cultivation in two-dimensional and three-dimensional culture systems. Methods Enzymol. 407, 703–710 (2006)

Rudalska, R. et al. In vivo RNAi screening identifies a mechanism of sorafenib resistance in liver cancer. Nat. Med. 20, 1138–1146 (2014)

Quintana, E. et al. Efficient tumour formation by single human melanoma cells. Nature 456, 593–598 (2008)

Bonnefoix, T., Bonnefoix, P., Verdiel, P. & Sotto, J. J. Fitting limiting dilution experiments with generalized linear models results in a test of the single-hit Poisson assumption. J. Immunol. Methods 194, 113–119 (1996)

Subramanian, A. et al. Gene set enrichment analysis: a knowledge-based approach for interpreting genome-wide expression profiles. Proc. Natl Acad. Sci. USA 102, 15545–15550 (2005)

Ashburner, M. et al. The Gene Ontology Consortium. Gene ontology: tool for the unification of biology. Nat. Genet. 25, 25–29 (2000)
Acknowledgements
We thank D. Spring, A. Futreal, P. Jones, J. Marszalek, I. Watson, Y. Lissanu Deribe, K. Rai and J. Horner for discussions and suggestions. We thank A. Petrocchi, E. Di Francesco, E. Paul and T. Tieu for providing reagents. We wish to thank the members of the Chin, DePinho and Draetta labs for discussions and reagents; K. Dunner, Jr. and the High Resolution Electron Microscopy Facility at MDACC for TEM (Cancer Center Core Grant CA16672); M. Keith, C. Kingsley, the MDACC Small Animals Imaging Facility, the UTMDACC Microarray Core Facility, the MDACC Department of Veterinary Medicine and the UTMDACC Flow Facility. L.C. was supported by the CPRIT R1204 and NIH 5 U01 CA141508. G.F.D. was supported by the AACR 14-90-25 and by the Sheikh Ahmed Bin Zayed Al Nahyan Center for Pancreatic Cancer Grant. A.C. was supported by the FIRC (Fondazione Italiana per la Ricerca sul Cancro) Fellowship. G.G. was supported by the FIRC fellowship.
Ethics declarations
Competing interests
The authors declare no competing financial interests.
Additional information
Reviewer Information Nature thanks Z. Ronai and the other anonymous reviewer(s) for their contribution to the peer review of this work.
Extended data figures and tables
Supplementary information
This file contains the uncropped blots with size marker indications. (PDF 745 kb)
This file contains Supplementary Table 1, clinical-pathological data. (XLSX 30 kb)
About this article
Cite this article
Genovese, G., Carugo, A., Tepper, J. et al. Synthetic vulnerabilities of mesenchymal subpopulations in pancreatic cancer. Nature 542, 362–366 (2017). https://doi.org/10.1038/nature21064
Received:

Accepted:

Published:

Issue Date:

DOI: https://doi.org/10.1038/nature21064
Comments
By submitting a comment you agree to abide by our Terms and Community Guidelines. If you find something abusive or that does not comply with our terms or guidelines please flag it as inappropriate.