Abstract
When faced with threat, the survival of an organism is contingent upon the selection of appropriate active or passive behavioural responses1,2,3. Freezing is an evolutionarily conserved passive fear response that has been used extensively to study the neuronal mechanisms of fear and fear conditioning in rodents4. However, rodents also exhibit active responses such as flight under natural conditions2. The central amygdala (CEA) is a forebrain structure vital for the acquisition and expression of conditioned fear responses, and the role of specific neuronal sub-populations of the CEA in freezing behaviour is well-established1,5,6,7. Whether the CEA is also involved in flight behaviour, and how neuronal circuits for active and passive fear behaviour interact within the CEA, are not yet understood. Here, using in vivo optogenetics and extracellular recordings of identified cell types in a behavioural model in which mice switch between conditioned freezing and flight, we show that active and passive fear responses are mediated by distinct and mutually inhibitory CEA neurons. Cells expressing corticotropin-releasing factor (CRF+) mediate conditioned flight, and activation of somatostatin-positive (SOM+) neurons initiates passive freezing behaviour. Moreover, we find that the balance between conditioned flight and freezing behaviour is regulated by means of local inhibitory connections between CRF+ and SOM+ neurons, indicating that the selection of appropriate behavioural responses to threat is based on competitive interactions between two defined populations of inhibitory neurons, a circuit motif allowing for rapid and flexible action selection.
Access options
Subscribe to Journal
Get full journal access for 1 year
$199.00
only $3.90 per issue
All prices are NET prices.
VAT will be added later in the checkout.
Rent or Buy article
Get time limited or full article access on ReadCube.
from$8.99
All prices are NET prices.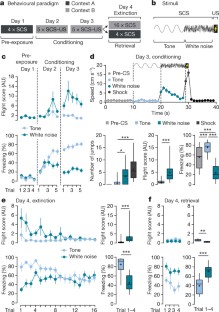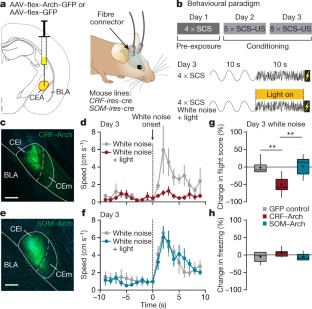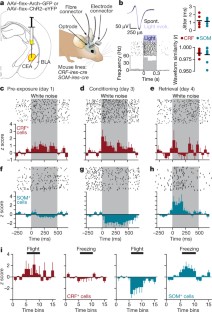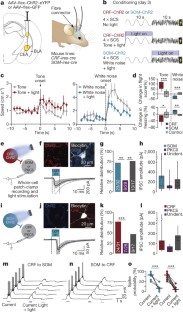 References
1

Gross, C. T. & Canteras, N. S. The many paths to fear. Nat. Rev. Neurosci. 13, 651–658 (2012)

2

Blanchard, D. C. & Blanchard, R. J. in Handbook of Anxiety and Fear Vol. 17 Handbook of Behavioral Neuroscience (eds R. J. Blanchard, D. C. Blanchard, G. Griebel & D. Nutt ) Ch. 2.4, 63–79 (Academic Press, 2008)

3

Anderson, D. J. & Adolphs, R. A framework for studying emotions across species. Cell 157, 187–200 (2014)

4

Fanselow, M. S. Conditioned and unconditional components of post-shock freezing. Pavlov. J. Biol. Sci. 15, 177–182 (1980)

5

Tovote, P., Fadok, J. P. & Lüthi, A. Neuronal circuits for fear and anxiety. Nat. Rev. Neurosci. 16, 317–331 (2015)

6

Davis, M. in The Amygdala (ed. J. P. Aggleton ) Ch. 6, 213–288 (Oxford University Press, 2000)

7

Tsetsenis, T., Ma, X. H., Lo Iacono, L., Beck, S. G. & Gross, C. Suppression of conditioning to ambiguous cues by pharmacogenetic inhibition of the dentate gyrus. Nat. Neurosci. 10, 896–902 (2007)

8

Perusini, J. N. & Fanselow, M. S. Neurobehavioral perspectives on the distinction between fear and anxiety. Learn. Mem. 22, 417–425 (2015)

9

Maren, S. Neurobiology of Pavlovian fear conditioning. Annu. Rev. Neurosci. 24, 897–931 (2001)

10

LeDoux, J. E. Emotion circuits in the brain. Annu. Rev. Neurosci. 23, 155–184 (2000)

11

Haubensak, W. et al. Genetic dissection of an amygdala microcircuit that gates conditioned fear. Nature 468, 270–276 (2010)

12

Roberts, G. W., Woodhams, P. L., Polak, J. M. & Crow, T. J. Distribution of neuropeptides in the limbic system of the rat: the amygdaloid complex. Neuroscience 7, 99–131 (1982)

13

Swanson, L. W., Sawchenko, P. E., Rivier, J. & Vale, W. W. Organization of ovine corticotropin-releasing factor immunoreactive cells and fibers in the rat brain: an immunohistochemical study. Neuroendocrinology 36, 165–186 (1983)

14

Li, H. et al. Experience-dependent modification of a central amygdala fear circuit. Nat. Neurosci. 16, 332–339 (2013)

15

Viviani, D. et al. Oxytocin selectively gates fear responses through distinct outputs from the central amygdala. Science 333, 104–107 (2011)

16

Ciocchi, S. et al. Encoding of conditioned fear in central amygdala inhibitory circuits. Nature 468, 277–282 (2010)

17

Penzo, M. A., Robert, V. & Li, B. Fear conditioning potentiates synaptic transmission onto long-range projection neurons in the lateral subdivision of central amygdala. J. Neurosci. 34, 2432–2437 (2014)

18

Gozzi, A. et al. A neural switch for active and passive fear. Neuron 67, 656–666 (2010)

19

Yu, K., Garcia da Silva, P., Albeanu, D. F. & Li, B. Central amygdala somatostatin neurons gate passive and active defensive behaviors. J. Neurosci. 36, 6488–6496 (2016)

20

Nelson, A. B. & Kreitzer, A. C. Reassessing models of basal ganglia function and dysfunction. Annu. Rev. Neurosci. 37, 117–135 (2014)

21

Isosaka, T. et al. Htr2a-expressing cells in the central amygdala control the hierarchy between innate and learned fear. Cell 163, 1153–1164 (2015)

22

Penzo, M. A. et al. The paraventricular thalamus controls a central amygdala fear circuit. Nature 519, 455–459 (2015)

23

Tovote, P. et al. Midbrain circuits for defensive behaviour. Nature 534, 206–212 (2016)

24

Beyeler, A. et al. Divergent routing of positive and negative information from the amygdala during memory retrieval. Neuron 90, 348–361 (2016)

25

Xu, C. et al. Distinct hippocampal pathways mediate dissociable roles of context in memory retrieval. Cell 167, 961–972.e16 (2016)

26

Ciocchi, S., Passecker, J., Malagon-Vina, H., Mikus, N. & Klausberger, T. Brain computation. Selective information routing by ventral hippocampal CA1 projection neurons. Science 348, 560–563 (2015)

27

Bittencourt, A. S., Carobrez, A. P., Zamprogno, L. P., Tufik, S. & Schenberg, L. C. Organization of single components of defensive behaviors within distinct columns of periaqueductal gray matter of the rat: role of N-methyl-d-aspartic acid glutamate receptors. Neuroscience 125, 71–89 (2004)

28

De Oca, B. M., DeCola, J. P., Maren, S. & Fanselow, M. S. Distinct regions of the periaqueductal gray are involved in the acquisition and expression of defensive responses. J. Neurosci. 18, 3426–3432 (1998)

29

Canteras, N. S. & Graeff, F. G. Executive and modulatory neural circuits of defensive reactions: implications for panic disorder. Neurosci. Biobehav. Rev. 46, 352–364 (2014)

30

Pitman, R. K. et al. Biological studies of post-traumatic stress disorder. Nat. Rev. Neurosci. 13, 769–787 (2012)

31

Paxinos, G. & Franklin, K. B. J. The Mouse Brain in Stereotaxic Coordinates. (Academic, 2001)

32

Taniguchi, H. et al. A resource of Cre driver lines for genetic targeting of GABAergic neurons in cerebral cortex. Neuron 71, 995–1013 (2011)

33

Seidler, B. et al. A Cre-loxP-based mouse model for conditional somatic gene expression and knockdown in vivo by using avian retroviral vectors. Proc. Natl Acad. Sci. USA 105, 10137–10142 (2008)

34

Fenno, L. E. et al. Targeting cells with single vectors using multiple-feature Boolean logic. Nat. Methods 11, 763–772 (2014)

35

Herry, C. et al. Switching on and off fear by distinct neuronal circuits. Nature 454, 600–606 (2008)

36

Wolff, S. B. et al. Amygdala interneuron subtypes control fear learning through disinhibition. Nature 509, 453–458 (2014)

37

Preibisch, S., Saalfeld, S. & Tomancak, P. Globally optimal stitching of tiled 3D microscopic image acquisitions. Bioinformatics 25, 1463–1465 (2009)

38

Ollion, J., Cochennec, J., Loll, F., Escudé, C. & Boudier, T. TANGO: a generic tool for high-throughput 3D image analysis for studying nuclear organization. Bioinformatics 29, 1840–1841 (2013)
Acknowledgements
We thank N. Whittle for comments on the manuscript. C. Ramakrishnan and K. Deisseroth provided intersectional viral vectors. M. S. Esposito and S. Arber provided flex-synaptophysin-GFP viral vectors. Z. Josh Huang provided the SOM-Flp mouse line. We thank J. Eglinger for providing overlap analysis scripts and S. Bourke for imaging advice. J.P.F. was funded by an EMBO LTF (952-2011) and a NARSAD Young Investigator Fellowship. C.X. was funded by EMBO ALTF (1579-2010). S.K., L.M. and P.T. were funded by a NARSAD Young Investigator Fellowship. All authors were supported by the National Center of Competences in Research: 'SYNAPSY — The Synaptic Bases of Mental Diseases' (financed by the Swiss National Science Foundation), a SNSF core grant (to A.L.), an ERC Advanced Grant (to A.L.), and the Novartis Research Foundation.
Ethics declarations
Competing interests
The authors declare no competing financial interests.
Additional information
Reviewer Information Nature thanks K. Tye and the other anonymous reviewer(s) for their contribution to the peer review of this work.
Extended data figures and tables
Supplementary information
This file contains a Supplementary Discussion and Supplementary References. (PDF 140 kb)
A representative trial taken from d3. (MP4 2737 kb)
About this article
Cite this article
Fadok, J., Krabbe, S., Markovic, M. et al. A competitive inhibitory circuit for selection of active and passive fear responses. Nature 542, 96–100 (2017) doi:10.1038/nature21047
Received

Accepted

Published

Issue Date
Comments
By submitting a comment you agree to abide by our Terms and Community Guidelines. If you find something abusive or that does not comply with our terms or guidelines please flag it as inappropriate.