Abstract
Temperature is a primary driver of the distribution of biodiversity as well as of ecosystem boundaries1,2. Declining temperature with increasing elevation in montane systems has long been recognized as a major factor shaping plant community biodiversity, metabolic processes, and ecosystem dynamics3,4. Elevational gradients, as thermoclines, also enable prediction of long-term ecological responses to climate warming5,6,7. One of the most striking manifestations of increasing elevation is the abrupt transitions from forest to treeless alpine tundra8. However, whether there are globally consistent above- and belowground responses to these transitions remains an open question4. To disentangle the direct and indirect effects of temperature on ecosystem properties, here we evaluate replicate treeline ecotones in seven temperate regions of the world. We find that declining temperatures with increasing elevation did not affect tree leaf nutrient concentrations, but did reduce ground-layer community-weighted plant nitrogen, leading to the strong stoichiometric convergence of ground-layer plant community nitrogen to phosphorus ratios across all regions. Further, elevation-driven changes in plant nutrients were associated with changes in soil organic matter content and quality (carbon to nitrogen ratios) and microbial properties. Combined, our identification of direct and indirect temperature controls over plant communities and soil properties in seven contrasting regions suggests that future warming may disrupt the functional properties of montane ecosystems, particularly where plant community reorganization outpaces treeline advance.
Relevant articles
Open Access articles citing this article.
Adam Rajsz

,

Bronisław Wojtuń

&

Aleksandra Samecka-Cymerman

Plant and Soil Open Access 01 August 2022

Angelo Rita

,

Giuliano Bonanomi

…

Antonio Saracino

Scientific Reports Open Access 14 April 2021
Access options
Subscribe to Nature+
Get immediate online access to Nature and 55 other Nature journal
Subscribe to Journal
Get full journal access for 1 year
$199.00
only $3.90 per issue
All prices are NET prices.
VAT will be added later in the checkout.
Tax calculation will be finalised during checkout.
Buy article
Get time limited or full article access on ReadCube.
$32.00
All prices are NET prices.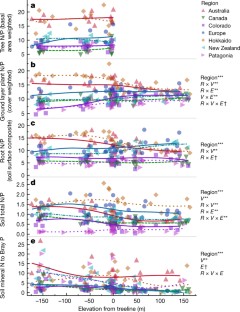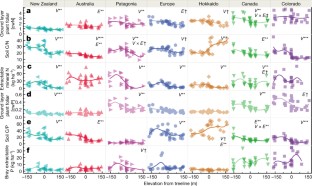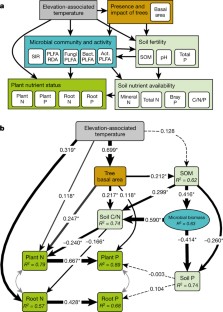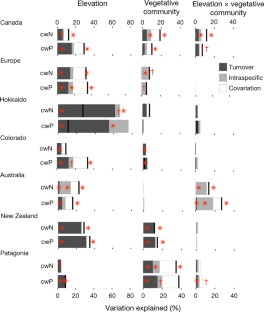 References
von Humboldt, A. Aspects of Nature, in Different Lands and Different Climates; with Scientific Elucidations, Vol. II (Longman, Brown, Green, Longmans, John Murray, 1849)

Whittaker, R. H. Vegetation of the Great Smokey Mountains. Ecol. Monogr. 26, 1–80 (1956)

Graham, C. H. et al. The origin and maintenance of montane diversity: integrating evolutionary and ecological processes. Ecography 37, 711–719 (2014)

Sundqvist, M. K., Sanders, N. J. & Wardle, D. A. Community and ecosystem responses to elevational gradients: processes, mechanisms, and insights for global change. Annu. Rev. Ecol. Syst. 44, 261–280 (2013)

Dunne, J. A., Saleska, S. R., Fischer, M. L. & Harte, J. Integrating experimental and gradient methods in ecological climate change research. Ecology 85, 904–916 (2004)

Asner, G. P. et al. Amazonian functional diversity from forest canopy chemical assembly. Proc. Natl Acad. Sci. USA 111, 5604–5609 (2014)

Pepin, N. et al. Elevation-dependent warming in mountain regions of the world. Nature Clim. Chang. 5, 424–430 (2015)

Körner, C. A re-assessment of high elevation treeline positions and their explanation. Oecologia 115, 445–459 (1998)

Körner, C. Alpine Treelines: Functional Ecology of the Global High Elevation Tree Limits (Springer, 2012)

Hoch, G. & Körner, C. Global patterns of mobile carbon stores in trees at the high-elevation tree line. Glob. Ecol. Biogeogr. 21, 861–871 (2012)

Loomis, P. F., Ruess, R. W., Sveinbjörnsson, B. & Kielland, K. Nitrogen cycling at treeline: latitudinal and elevational patterns across a boreal landscape. Ecoscience 13, 544–556 (2006)

Vitousek, P. M., Matson, P. A. & Turner, D. R. Elevational and age gradients in Hawaiian montane rainforest: foliar and soil nutrients. Oecologia 77, 565–570 (1988)

Thébault, A. et al. Nitrogen limitation and microbial diversity at the treeline. Oikos 123, 729–740 (2014)

Davis, J., Schober, A., Bahn, M. & Sveinbjörnsson, B. Soil carbon and nitrogen turnover at and below the elevational treeline in northern Fennoscandia. Arct. Alp. Res. 23, 279–286 (1991)

Güsewell, S. N: P ratios in terrestrial plants: variation and functional significance. New Phytol. 164, 243–266 (2004)

Fajardo, A. & Piper, F. I. An experimental approach to explain the southern Andes elevational treeline. Am. J. Bot. 101, 788–795 (2014)

Reich, P. B. & Oleksyn, J. Global patterns of plant leaf N and P in relation to temperature and latitude. Proc. Natl Acad. Sci. USA 101, 11001–11006 (2004)

Wright, I. J. et al. Modulation of leaf economic traits and trait relationships by climate. Glob. Ecol. Biogeogr. 14, 411–421 (2005)

Woods, H. A. et al. Temperature and the chemical composition of poikilothermic organisms. Funct. Ecol. 17, 237–245 (2003)

Elser, J. J., Fagan, W. F., Kerkhoff, A. J., Swenson, N. G. & Enquist, B. J. Biological stoichiometry of plant production: metabolism, scaling and ecological response to global change. New Phytol. 186, 593–608 (2010)

Yuan, Z. Y. & Chen, H. Y. H. Decoupling of nitrogen and phosphorus in terrestrial plants associated with global changes. Nature Clim. Chang. 5, 465–469 (2015)

Harsch, M. A., Hulme, P. E., McGlone, M. S. & Duncan, R. P. Are treelines advancing? A global meta-analysis of treeline response to climate warming. Ecol. Lett. 12, 1040–1049 (2009)

Greenwood, S. & Jump, A. S. Consequences of treeline shifts for the diversity and function of high altitude ecosystems. Arct. Antarct. Alp. Res. 46, 829–840 (2014)

Sistla, S. A. & Schimel, J. P. Stoichiometric flexibility as a regulator of carbon and nutrient cycling in terrestrial ecosystems under change. New Phytol. 196, 68–78 (2012)

Yu, Q. et al. Stoichiometric homeostasis predicts plant species dominance, temporal stability, and responses to global change. Ecology 96, 2328–2335 (2015)

Gottfried, M. et al. Continent-wide response of mountain vegetation to climate change. Nature Clim. Chang. 2, 111–115 (2012)

Ernakovich, J. G. et al. Predicted responses of arctic and alpine ecosystems to altered seasonality under climate change. Glob. Change Biol. 20, 3256–3269 (2014)

Svenning, J.-C. & Sandel, B. Disequilibrium vegetation dynamics under future climate change. Am. J. Bot. 100, 1266–1286 (2013)

Peñuelas, J. et al. Human-induced nitrogen-phosphorus imbalances alter natural and managed ecosystems across the globe. Nature Commun. 4, 2934 (2013)

Wookey, P. A. et al. Ecosystem feedbacks and cascade processes: understanding their role in the responses of Arctic and alpine ecosystems to environmental change. Glob. Change Biol. 15, 1153–1172 (2009)

Chadwick, O. A., Derry, L. A., Vitousek, P. M., Huebert, B. J. & Hedin, L. O. Changing sources of nutrients during four million years of ecosystem development. Nature 397, 491–497 (1999)

Cieraad, E., McGlone, M. S. & Huntley, B. Southern Hemisphere temperate tree lines are not climatically depressed. J. Biogeogr. 41, 1456–1466 (2014)

Körner, C. & Paulsen, J. A worldwide study of high altitude treeline temperatures. J. Biogeogr. 31, 713–732 (2004)

Beychok, M. Atmospheric lapse rate. The Encyclopedia of Earth http://www.eoearth.org/view/article/170859%3E (2013)

Minder, J. R., Mote, P. W. & Lundquist, J. D. Surface temperature lapse rates over complex terrain: lessons from the Cascade Mountains. J. Geophys. Res. 115, D14122 (2010)

Holtmeier, F.-K. & Broll, G. Treeline advance – driving processes and adverse factors. Landscape Online 1, 1–32 (2007)

Harsch, M. A. & Bader, M. Y. Treeline form – a potential key to understanding treeline dynamics. Glob. Ecol. Biogeogr. 20, 582–596 (2011)

Walker, T. W. & Adams, A. F. R. Studies on soil organic matter: I. Influence of phosphorus content of parent materials on accumulations of carbon, nitrogen, sulfur and organic phosphorus in grassland soils. Soil Sci. 85, 307–318 (1958)

Bray, R. H. & Kurtz, L. T. Determination of total, organic, and available forms of phosphorus in soils. Soil Sci. 59, 39–46 (1945)

Anderson, J. P. E. & Domsch, K. H. A physiologically active method for the quantification of microbial biomass in soil. Soil Biol. Biochem. 10, 215–221 (1978)

Wardle, D. A. Changes in the microbial biomass and metabolic quotient during leaf litter succession in some New Zealand forest and scrubland ecosystems. Funct. Ecol. 7, 346–355 (1993)

Tunlid, A., Hoitink, H. A. J., Low, C. & White, D. C. Characterization of bacteria that suppress rhizoctonia damping-off in bark compost media by analysis of fatty acid biomarkers. Appl. Environ. Microbiol. 55, 1368–1374 (1989)

Frostegård, Å. & Bååth, E. The use of phospholipid fatty acid analysis to estimate bacterial and fungal biomass in soil. Biol. Fertil. Soils 22, 59–65 (1996)

Kroppenstedt, R. M. in Chemical Methods in Bacterial Systematics (eds Googfellow, M. & Minnikin, D. E. ) 173–199 (Academic, 1985)

Markesteijn, L., Poorter, L. & Bongers, F. Light-dependent leaf trait variation in 43 tropical dry forest tree species. Am. J. Bot. 94, 515–525 (2007)

Mueller-Dombois, D. & Ellenberg, H. Aims and Methods of Vegetation Ecology (John Wiley, 1974)

Kichenin, E., Wardle, D. A., Peltzer, D. A., Morse, C. W. & Freschet, G. T. Contrasting effects of plant inter- and intraspecific variation on community-level trait measures along an environmental gradient. Funct. Ecol. 27, 1254–1261 (2013)

Garnier, E. et al. Plant functional markers capture ecosystem properties during secondary succession. Ecology 85, 2630–2637 (2004)

Lepš, J., De Bello, F., Smilauer, P. & Dolezal, J. Community trait response to environment: disentangling species turnover vs intraspecific trait variability effects. Ecography 34, 856–863 (2011)

R Core Team. R: a language and environment for statistical computing (R Foundation for Statistical Computing, 2014)

Bates, D., Maechler, M., Bolker, B. & Walker, S. lme4: linear mixed-effects models using Eigen S4. R package version 1.1-7. http://CRAN.R-project.org/package=lme4 (2014)

Burnham, K. P. & Anderson, D. R. Multimodel inference. Sociol. Methods Res. 33, 261–304 (2004)

Gelman, A. Scaling regression inputs by dividing by two standard deviations. Stat. Med. 27, 2865–2873 (2008)

Gelman, A. & Hill, J. Data Analysis Using Regression and Multilevel/Hierarchical Models (Cambridge Univ. Press, 2007)

Engqvist, L. The mistreatment of covariate interaction terms in linear model analyses of behavioural and evolutionary ecology studies. Anim. Behav. 70, 967–971 (2005)

Koller, M. robustlmm: Robust Linear Mixed Effects Models. R package version 1.6. http://CRAN.R-project.org/package=robustlmm%3E (2014)

Kuznetsova, A., Brockhoff, P. B. & Christianson, R. H. B. lmerTest: tests for random and fixed effects for linear mixed effect models. R package version 2.0-11. http://CRAN.R-project.org/package=lmerTest%3E (2014)

Barton´, K. MuMIn: Multi-model inference. R package version 1.10.5. http://CRAN.R-project.org/package=MuMIn%3E (2014)

Nakagawa, S. & Schielzeth, H. A general and simple method for obtaining R2 from generalized linear mixed-effect models. Methods Ecol. Evol. 4, 133–142 (2013)

Chamberlain, S. brranching: fetch 'phylogenies' from many sources. R package version 0.1.0. https://CRAN.R-project.org/package=brranching (2015)

The Angiosperm Phylogeny Group. An update of the Angiosperm Phylogeny Group classification for the orders and families of flowering plants: APG III. Bot. J. Linn. Soc. 161, 105–121 (2009)

Zanne, A. E. et al. Three keys to the radiation of angiosperms into freezing environments. Nature 506, 89–92 (2014)

Webb, C. O. & Donoghue, M. J. Phylomatic: tree assembly for applied phylogenetics. Mol. Ecol. Notes 5, 181–183 (2005)

Paradis, E., Claude, J. & Strimmer, K. APE: analyses of phylogenetics and evolution in R language. Bioinformatics 20, 289–290 (2004)

Oksanen, J. et al. Vegan: community ecology package. https://CRAN.R-project.org/package=vegan (2016)

Kembel, S. W. et al. Picante: R tools for integrating phylogenies and ecology. Bioinformatics 26, 1463–1464 (2010)

Wickham, H. & Francois, R. dplyr: a grammar of data manipulation. R package version 0.4.3. https://CRAN.R-project.org/package=dplyr (2015)

Rosseel, Y. lavaan: an R package for structural equation modeling. J. Stat. Softw. 48 (2), 1–36 (2012)

Oberski, D. lavaan.survey: an R package for complex survey analysis of structural equation models. J. Stat. Softw. 57 (1), 1–27 (2014)

Quinn, G. P. & Keough, M. J. Experimental Design and Data Analysis for Biologists (Cambridge Univ. Press, 2005)

Grace, J. B., Anderson, T. M., Olff, H. & Scheiner, S. M. On the specification of structural equation models for ecological systems. Ecol. Monogr. 80, 67–87 (2010)

Preacher, K. J. & Hayes, A. F. Asymptotic and resampling strategies for assessing and comparing indirect effects in multiple mediator models. Behav. Res. Methods 40, 879–891 (2008)

Rao, J. N. & Wu, C. F. J. Resampling inference with complex survey data. J. Am. Stat. Assoc. 83, 231–241 (1988)

Bollen, K. A. Total, direct, and indirect effects in structural equation models. Soc. Method. 17, 37–69 (1987)

Hill, M. O. & Gauch, H. G. J. Detrended correspondence analysis: an improved ordination technique. Vegetatio 42, 47–58 (1980)

Lepš, J. & Šmilauer, P. Multivariate Analysis of Ecological Data using CANOCO (Cambridge Univ. Press, 2003)
Acknowledgements
We thank Y. Amagai, B. Andersson, C. Arnoldi, P. Bellingham, Å. Boily, B. Case, G. Crutsinger, M. Dawes, W. Gilliam, K. Gundale, N. Hendershot, H. Hall, M. Hotter, J. Lundholm, P. Manning, C. McClure, Q. Read, B. Roskilly, A. Shimokawabe, D. Stöhr, and B. Turner for laboratory, logistical, or field assistance. This work was made possible by a Wallenberg Scholars Award to D.A.W.; regional support from Fondecyt 1120171 to A.F.; a National Science Foundation Dimensions of Biodiversity grant (NSF-1136703), a grant from the Carlsberg Fund, and support from the Danish National Research Foundation to the Center for Macroecology, Evolution, and Climate to N.J.S.; a US Department of Energy, Office of Science, Office of Biological and Environmental Research, Terrestrial Ecosystem Sciences Program Award (DE-SC0010562) to A.T.C.; support from the UK Natural Environment Research Council to R.D.B.; support from the BiodivERsA project REGARDS (ANR-12-EBID-004-01) to J.-C.C., S.L., K.G. and REGARDS (FWF-I-1056) to M.B. support from the Netherlands Organization for Scientific Research (VENI 451-14-017) to D.L.O.; and, support from the Natural Sciences and Engineering Research Council of Canada to Z.G.
Ethics declarations
Competing interests
The authors declare no competing financial interests.
Additional information
Reviewer Information Nature thanks M. Macias-Fauria and the other anonymous reviewer(s) for their contribution to the peer review of this work.
Extended data figures and tables
Supplementary information
About this article
Cite this article
Mayor, J., Sanders, N., Classen, A. et al. Elevation alters ecosystem properties across temperate treelines globally. Nature 542, 91–95 (2017). https://doi.org/10.1038/nature21027
Received:

Accepted:

Published:

Issue Date:

DOI: https://doi.org/10.1038/nature21027
Comments
By submitting a comment you agree to abide by our Terms and Community Guidelines. If you find something abusive or that does not comply with our terms or guidelines please flag it as inappropriate.