Abstract
Squeezed states1,2,3,4 of electromagnetic radiation have quantum fluctuations below those of the vacuum field. They offer a unique resource for quantum information systems5 and precision metrology6, including gravitational wave detectors, which require unprecedented sensitivity7. Since the first experiments on this non-classical form of light8,9, quantum analysis has been based on homodyning techniques and photon correlation measurements10,11. These methods currently function in the visible to near-infrared and microwave12 spectral ranges. They require a well-defined carrier frequency, and photons contained in a quantum state need to be absorbed or amplified. Quantum non-demolition experiments13,14 may be performed to avoid the influence of a measurement in one quadrature, but this procedure comes at the expense of increased uncertainty in another quadrature. Here we generate mid-infrared time-locked patterns of squeezed vacuum noise. After propagation through free space, the quantum fluctuations of the electric field are studied in the time domain using electro-optic sampling with few-femtosecond laser pulses15,16. We directly compare the local noise amplitude to that of bare (that is, unperturbed) vacuum. Our nonlinear approach operates off resonance and, unlike homodyning or photon correlation techniques, without absorption or amplification of the field that is investigated. We find subcycle intervals with noise levels that are substantially less than the amplitude of the vacuum field. As a consequence, there are enhanced fluctuations in adjacent time intervals, owing to Heisenberg's uncertainty principle, which indicate generation of highly correlated quantum radiation. Together with efforts in the far infrared17,18, this work enables the study of elementary quantum dynamics of light and matter in an energy range at the boundary between vacuum and thermal background conditions.
Relevant articles
Open Access articles citing this article.
Joshua Foo

,

Estelle Asmodelle

…

Timothy C. Ralph

Nature Communications Open Access 11 July 2022

Francesca Fabiana Settembrini

,

Frieder Lindel

…

Jérôme Faist

Nature Communications Open Access 13 June 2022

Cornelius Beckh

,

Philipp Sulzer

…

Alfred Leitenstorfer

Journal of Infrared, Millimeter, and Terahertz Waves Open Access 07 April 2021
Access options
Subscribe to Nature+
Get immediate online access to Nature and 55 other Nature journal
Subscribe to Journal
Get full journal access for 1 year
$199.00
only $3.90 per issue
All prices are NET prices.
VAT will be added later in the checkout.
Tax calculation will be finalised during checkout.
Buy article
Get time limited or full article access on ReadCube.
$32.00
All prices are NET prices.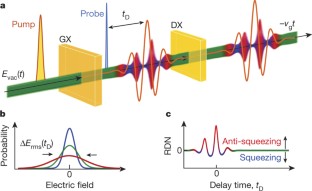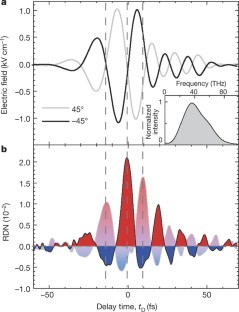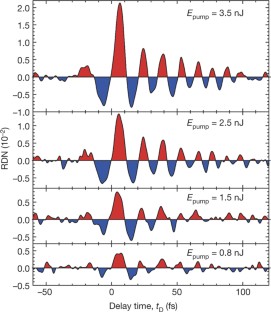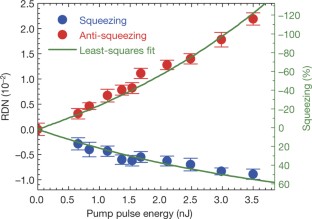 References
Stoler, D. Equivalence classes of minimum uncertainty packets. Phys. Rev. D 1, 3217–3219 (1970)

Hollenhorst, J. N. Quantum limits on resonant-mass gravitational-radiation detectors. Phys. Rev. D 19, 1669–1679 (1979)

Walls, D. F. Squeezed states of light. Nature 306, 141–146 (1983)

Loudon, R. & Knight, P. L. Squeezed light. J. Mod. Opt. 34, 709–759 (1987)

Braunstein, S. L. & van Loock, P. Quantum information with continuous variables. Rev. Mod. Phys. 77, 513–577 (2005)

Caves, C. M. Quantum-mechanical noise in an interferometer. Phys. Rev. D 23, 1693–1708 (1981)

The LIGO Scientific Collaboration. Enhanced sensitivity of the LIGO gravitational wave detector by using squeezed states of light. Nat. Photon. 7, 613–619 (2013)

Slusher, R. E., Hollberg, L. W., Yurke, B., Mertz, J. C. & Valley, J. F. Observation of squeezed states generated by four-wave mixing in an optical cavity. Phys. Rev. Lett. 55, 2409–2412 (1985)

Wu, L.-A., Kimble, H. J., Hall, J. L. & Wu, H. Generation of squeezed states by parametric down conversion. Phys. Rev. Lett. 57, 2520–2523 (1986)

Altepeter, J. B., James, D. F. V. & Kwiat, P. G. in Quantum State Estimation (eds Paris, M. G. A. & Rˇehácˇek, J. ) 113–145 (Lecture Notes in Physics Vol. 649, Springer, 2004)

Lvovsky, A. I. & Raymer, M. G. Continuous-variable optical quantum-state tomography. Rev. Mod. Phys. 81, 299–332 (2009)

Devoret, M. H. & Schoelkopf, R. J. Superconducting circuits for quantum information: an outlook. Science 339, 1169–1174 (2013)

Levenson, M. D., Shelby, R. M., Reid, M. & Walls, D. F. Quantum nondemolition detection of optical quadrature amplitudes. Phys. Rev. Lett. 57, 2473–2476 (1986)

La Porta, A., Slusher, R. E. & Yurke, B. Back-action evading measurements of an optical field using parametric down conversion. Phys. Rev. Lett. 62, 28–31 (1989)

Riek, C. et al. Direct sampling of electric-field vacuum fluctuations. Science 350, 420–423 (2015)

Moskalenko, A. S., Riek, C., Seletskiy, D. V., Burkard, G. & Leitenstorfer, A. Paraxial theory of direct electro-optic sampling of the quantum vacuum. Phys. Rev. Lett. 115, 263601 (2015)

Esposito, M. et al. Photon number statistics uncover the fluctuations in non-equilibrium lattice dynamics. Nat. Commun. 6, 10249 (2015)

Benea-Chelmus, I.-C. et al. Subcycle measurement of intensity correlations in the terahertz frequency range. Phys. Rev. A 93, 043812 (2016)

Glauber, R. J. Coherent and incoherent states of the radiation field. Phys. Rev. 131, 2766–2788 (1963)

Huber, R., Brodschelm, A., Tauser, F. & Leitenstorfer, A. Generation and field-resolved detection of femtosecond electromagnetic pulses tunable up to 41 THz. Appl. Phys. Lett. 76, 3191–3193 (2000)

Wasilewski, W., Lvovsky, A. I., Banaszek, K. & Radzewicz, C. Pulsed squeezed light: simultaneous squeezing of multiple modes. Phys. Rev. A 73, 063819 (2006)

Shaked, Y., Pomerantz, R., Vered, R. Z. & Pe'er, A. Observing the nonclassical nature of ultra-broadband bi-photons at ultrafast speed. New J. Phys. 16, 053012 (2014)

Hong, C. K., Ou, Z. Y. & Mandel, L. Measurement of subpicosecond time intervals between two photons by interference. Phys. Rev. Lett. 59, 2044–2046 (1987)

Lu, E. Y. C. Quantum correlations in two-photon amplification. Lett. Nuovo Cimento 3, 585–589 (1972)

Yablonovitch, E. Accelerating reference frame for electromagnetic waves in a rapidly growing plasma: Unruh–Davies–Fulling–DeWitt radiation and the nonadiabatic Casimir effect. Phys. Rev. Lett. 62, 1742–1745 (1989)

Smithey, D. T., Beck, M., Raymer, M. G. & Faridani, A. Measurement of the Wigner distribution and the density matrix of a light mode using optical homodyne tomography: applications to squeezed states and the vacuum. Phys. Rev. Lett. 70, 1244–1247 (1993)

Günter, G. et al. Sub-cycle switch-on of ultrastrong light–matter interaction. Nature 458, 178–181 (2009)

Kira, M., Koch, S. W., Smith, R. P., Hunter, A. E. & Cundiff, S. T. Quantum spectroscopy with Schrödinger-cat states. Nat. Phys. 7, 799–804 (2011)

Gallot, G. & Grischkowsky, D. Electro-optic detection of terahertz radiation. J. Opt. Soc. Am. B 16, 1204–1212 (1999)

Brida, D., Krauss, G., Sell, A. & Leitenstorfer, A. Ultrabroadband Er:fiber lasers. Laser Photonics Rev. 8, 409–428 (2014)

Adler, F., Sell, A., Sotier, F., Huber, R. & Leitenstorfer, A. Attosecond relative timing jitter and 13 fs tunable pulses from a two-branch Er:fiber laser. Opt. Lett. 32, 3504–3506 (2007)

Boyd, R. W. Nonlinear Optics 3rd edn, Chs 9, 11 (Academic Press, 2008)

Knight, P. & Allen, L. Concepts of Quantum Optics 71–72 (Pergamon Press, 1983)
Acknowledgements
We thank W. Belzig and D. Brida for discussions. Support by ERC Advanced Grant 290876 'UltraPhase', by DFG via SFB767 and by NSF via a Postdoc Fellowship for D.V.S. (award number 1160764) is acknowledged.
Ethics declarations
Competing interests
The authors declare no competing financial interests.
Additional information
Reviewer Information Nature thanks M. Bellini, J. Faist, D. Fausti and the other anonymous reviewer(s) for their contribution to the peer review of this work.
Extended data figures and tables
About this article
Cite this article
Riek, C., Sulzer, P., Seeger, M. et al. Subcycle quantum electrodynamics. Nature 541, 376–379 (2017). https://doi.org/10.1038/nature21024
Received:

Accepted:

Published:

Issue Date:

DOI: https://doi.org/10.1038/nature21024
Comments
By submitting a comment you agree to abide by our Terms and Community Guidelines. If you find something abusive or that does not comply with our terms or guidelines please flag it as inappropriate.