Abstract
Self-organized regular vegetation patterns are widespread1 and thought to mediate ecosystem functions such as productivity and robustness2,3,4, but the mechanisms underlying their origin and maintenance remain disputed. Particularly controversial are landscapes of overdispersed (evenly spaced) elements, such as North American Mima mounds, Brazilian murundus, South African heuweltjies, and, famously, Namibian fairy circles5,6,7,8,9,10,11,12,13. Two competing hypotheses are currently debated. On the one hand, models of scale-dependent feedbacks, whereby plants facilitate neighbours while competing with distant individuals, can reproduce various regular patterns identified in satellite imagery1,14,15. Owing to deep theoretical roots and apparent generality, scale-dependent feedbacks are widely viewed as a unifying and near-universal principle of regular-pattern formation1,16,17 despite scant empirical evidence18. On the other hand, many overdispersed vegetation patterns worldwide have been attributed to subterranean ecosystem engineers such as termites, ants, and rodents3,4,7,19,20,21,22. Although potentially consistent with territorial competition19,20,21,23,24, this interpretation has been challenged theoretically and empirically11,17,24,25,26 and (unlike scale-dependent feedbacks) lacks a unifying dynamical theory, fuelling scepticism about its plausibility and generality5,9,10,11,16,17,18,24,25,26. Here we provide a general theoretical foundation for self-organization of social-insect colonies, validated using data from four continents, which demonstrates that intraspecific competition between territorial animals can generate the large-scale hexagonal regularity of these patterns. However, this mechanism is not mutually exclusive with scale-dependent feedbacks. Using Namib Desert fairy circles as a case study, we present field data showing that these landscapes exhibit multi-scale patterning—previously undocumented in this system—that cannot be explained by either mechanism in isolation. These multi-scale patterns and other emergent properties, such as enhanced resistance to and recovery from drought, instead arise from dynamic interactions in our theoretical framework, which couples both mechanisms. The potentially global extent of animal-induced regularity in vegetation—which can modulate other patterning processes in functionally important ways—emphasizes the need to integrate multiple mechanisms of ecological self-organization27.
Your institute does not have access to this article
Relevant articles
Open Access articles citing this article.
M. G. Clerc

,

S. Echeverría-Alar

&

M. Tlidi

Scientific Reports Open Access 15 September 2021

Vivian Dornelas

,

Eduardo H. Colombo

…

Celia Anteneodo

Scientific Reports Open Access 10 February 2021

J. J. Marion Meyer

,

Christiaan E. Schutte

…

Nicole L. Meyer

BMC Ecology Open Access 03 August 2020
Access options
Subscribe to Nature+
Get immediate online access to the entire Nature family of 50+ journals
Subscribe to Journal
Get full journal access for 1 year
$199.00
only $3.90 per issue
All prices are NET prices.
VAT will be added later in the checkout.
Tax calculation will be finalised during checkout.
Buy article
Get time limited or full article access on ReadCube.
$32.00
All prices are NET prices.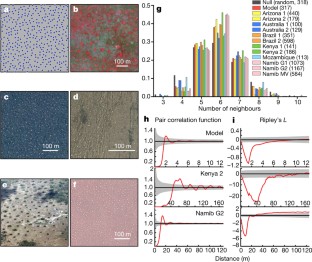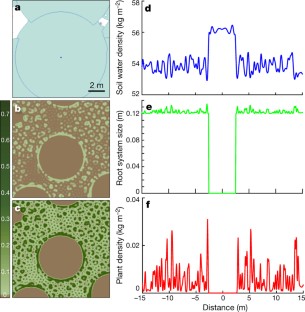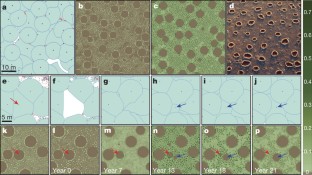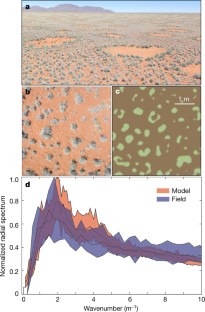 References
Rietkerk, M. & van de Koppel, J. Regular pattern formation in real ecosystems. Trends Ecol. Evol. 23, 169–175 (2008)

Scheffer, M. et al. Early-warning signals for critical transitions. Nature 461, 53–59 (2009)

Pringle, R. M., Doak, D. F., Brody, A. K., Jocqué, R. & Palmer, T. M. Spatial pattern enhances ecosystem functioning in an African savanna. PLoS Biol. 8, e1000377 (2010)

Bonachela, J. A. et al. Termite mounds can increase the robustness of dryland ecosystems to climatic change. Science 347, 651–655 (2015)

Cramer, M. D. & Barger, N. N. Are mima-like mounds the consequence of long-term stability of vegetation spatial patterning? Palaeogeogr. Palaeoclimatol. Palaeoecol. 409, 72–83 (2014)

Tschinkel, W. R. The life cycle and life span of Namibian fairy circles. PLoS ONE 7, e38056 (2012)

Juergens, N. The biological underpinnings of Namib Desert fairy circles. Science 339, 1618–1621 (2013)

Vlieghe, K., Picker, M., Ross-Gillespie, V. & Erni, B. Herbivory by subterranean termite colonies and the development of fairy circles in SW Namibia. Ecol. Entomol. 40, 42–49 (2015)

Zelnik, Y. R., Meron, E. & Bel, G. Gradual regime shifts in fairy circles. Proc. Natl Acad. Sci. USA 112, 12327–12331 (2015)

Getzin, S. et al. Adopting a spatially explicit perspective to study the mysterious fairy circles of Namibia. Ecography 38, 1–11 (2015)

Getzin, S. et al. Discovery of fairy circles in Australia supports self-organization theory. Proc. Natl Acad. Sci. USA 113, 3551–3556 (2016)

Cramer, M. D. & Barger, N. N. Are Namibian "fairy circles" the consequence of self-organizing spatial vegetation patterning? PLoS ONE 8, e70876 (2013)

Fernandez-Oto, C., Tlidi, M., Escaff, D. & Clerc, M. G. Strong interaction between plants induces circular barren patches: fairy circles. Phil. Trans. R. Soc. A 372, 20140009 (2014)

Meron, E. Modeling dryland landscapes. Math. Model. Nat. Phenom. 6, 163–187 (2011)

Gilad, E., von Hardenberg, J., Provenzale, A., Shachak, M. & Meron, E. A mathematical model of plants as ecosystem engineers. J. Theor. Biol. 244, 680–691 (2007)

Deblauwe, V., Couteron, P., Lejeune, O., Bogaert, J. & Barbier, N. Environmental modulation of self-organized periodic vegetation patterns in Sudan. Ecography 34, 990–1001 (2011)

Getzin, S. et al. Clarifying misunderstandings regarding vegetation self-organisation and spatial patterns of fairy circles in Namibia: a response to recent termite hypotheses. Ecol. Entomol. 40, 669–675 (2015)

Tschinkel, W. R. Experiments testing the causes of Namibian fairy circles. PLoS ONE 10, e0140099 (2015)

Levings, S. C. & Traniello, J. Territoriality, nest dispersion, and community structure in ants. Psyche (Stuttg.) 88, 265–319 (1981)

Korb, J. & Linsenmair, K. E. The causes of spatial patterning of mounds of a fungus-cultivating termite: results from nearest-neighbour analysis and ecological studies. Oecologia 127, 324–333 (2001)

Grohmann, C., Oldeland, J., Stoyan, D. & Linsenmair, K. E. Multi-scale pattern analysis of a mound-building termite species. Insectes Soc. 57, 477–486 (2010)

Juergens, N. et al. Weaknesses in the plant competition hypothesis for fairy circle formation and evidence supporting the sand termite hypothesis. Ecol. Entomol. 40, 661–668 (2015)

Laurie, H. Optimal transport in central place foraging, with an application to the overdispersion of heuweltjies. S. Afr. J. Sci. 98, 141–146 (2002)

Ryti, R. T. & Case, T. J. The role of neighborhood competition in the spacing and diversity of ant communities. Am. Nat. 139, 355–374 (1992)

Schuurman, G. & Dangerfield, J. M. Dispersion and abundance of Macrotermes michaelseni colonies: a limited role for intraspecific competition. J. Trop. Ecol. 13, 39–49 (1997)

Adams, E. S. & Tschinkel, W. R. Spatial dynamics of colony interactions in young populations of the fire ant Solenopsis invicta. Oecologia 102, 156–163 (1995)

Pringle, R. M. & Tarnita, C. E. Spatial self-organization of ecosystems: integrating multiple mechanisms of regular-pattern formation. Annu. Rev. Entomol. 62, 359–377 (2017)

Juergens, N. Exploring common ground for different hypotheses on Namib fairy circles. Ecography 38, 12–14 (2015)

Thorne, B. L. & Haverty, M. I. A review of intracolony, intraspecific, and interspecific agonism in termites. Sociobiology 19, 115–145 (1991)

Liu, Q.-X. et al. Pattern formation at multiple spatial scales drives the resilience of mussel bed ecosystems. Nature Commun. 5, 5234 (2014)

Collins, N. M. Populations, age structure and survivorship of colonies of Macrotermes bellicosus (Isoptera: Macrotermitinae). J. Anim. Ecol. 50, 293–311 (1981)

Holldobler, B. Territoriality in ants. Proc. Am. Phil. Soc. 123, 211–218 (1979)

Adams, E. S. Territory size and shape in fire ants: a model based on neighborhood interactions. Ecology 79, 1125–1134 (1998)

Darlington, J. P. The underground passages and storage pits used in foraging by a nest of the termite Macrotermes michaelseni in Kajiado, Kenya. J. Zool. 198, 237–247 (1982)

Palmer, T. M. Wars of attrition: colony size determines competitive outcomes in a guild of African acacia ants. Anim. Behav. 68, 993–1004 (2004)

Abe, T., Bignell, D. E. & Higashi, M. Termites: Evolution, Sociality, Symbioses, Ecology (Springer, 2000)

Keller, L. Queen lifespan and colony characteristics in ants and termites. Insectes Soc. 45, 235–246 (1998)

Gilad, E. & von Hardenberg, J. A fast algorithm for convolution integrals with space and time variant kernels. J. Comput. Phys. 216, 326–336 (2006)

Guevara, A. & Giordano, C. V. Hydrotropism in lateral but not in pivotal roots of desert plant species under simulated natural conditions. Plant Soil 389, 257–272 (2015)

Illian, J., Penttinen, A., Stoyan, H. & Stoyan, D. Statistical Analysis and Modelling of Spatial Point Patterns (John Wiley, 2008)

Baddeley, A., Rubak, E. & Turner, R. Spatial Point Patterns: Methodology and Applications with R (Chapman and Hall/CRC, 2015)

Mugglestone, M. A. & Renshaw, E. Detection of geological lineation on aerial photographs using two-dimensional spectral analysis. Comput. Geosci. 24, 771–784 (1998)

Couteron, P. & Lejeune, O. Periodic spotted patterns in semi-arid vegetation explained by a propagation-inhibition model. J. Ecol. 89, 616–628 (2001)

Tschinkel, W. R. The foraging tunnel system of the Namibian desert termite, Baucaliotermes hainesi. J. Insect Sci. 10, 65 (2010)

Baker, P. B. & Haverty, M. I. Foraging populations and distances of the desert subterranean termite, Heterotermes aureus (Isoptera: Rhinotermitidae), associated with structures in southern Arizona. J. Econ. Entomol. 100, 1381–1390 (2007)

Jones, S. C. Colony size of the desert subterranean termite Heterotermes aureus (Isoptera: Rhinotermitidae). Southwest. Nat. 35, 285–291 (1990)

Haagsma, K. A. & Rust, M. K. Colony size estimates, foraging trends, and physiological characteristics of the western subterranean termite (Isoptera: Rhinotermitidae). Environ. Entomol. 24, 1520–1528 (1995)

Grace, J. K., Abdallay, A. & Farr, K. R. Eastern subterranean termite (Isoptera: Rhinotermitidae) foraging territories and populations in Toronto. Can. Entomol. 121, 551–556 (1989)

Husseneder, C., Powell, J. E., Grace, J. K., Vargo, E. L. & Matsuura, K. Worker size in the formosan subterranean termite in relation to colony breeding structure as inferred from molecular markers. Environ. Entomol. 37, 400–408 (2008)

Wood, T. G. & Sands, W. A. in Production Ecology of Ants and Termites (ed. Brian, M. V. ) 245–292 (Cambridge Univ. Press, 1978)

Matsuura, K. Colony-level stabilization of soldier head width for head-plug defense in the termite Reticulitermes speratus (Isoptera: Rhinotermitidae). Behav. Ecol. Sociobiol. 51, 172–179 (2002)

Darlington, J. P. E. C. Turnover in the populations within mature nests of the termite Macrotermes michaelseni in Kenya. Insectes Soc. 38, 251–262 (1991)

Hadley, N. F. & Szarek, S. R. Productivity of desert ecosystems. Bioscience 31, 747–753 (1981)

Thorne, B. L., Breisch, N. L. & Muscedere, M. L. Evolution of eusociality and the soldier caste in termites: influence of intraspecific competition and accelerated inheritance. Proc. Natl Acad. Sci. USA 100, 12808–12813 (2003)

Golodets, C. et al. Climate change scenarios of herbaceous production along an aridity gradient: vulnerability increases with aridity. Oecologia 177, 971–979 (2015)

Cain, M. L. & Damman, H. Clonal growth and ramet performance in the woodland herb, Asarum canadense. J. Ecol. 85, 883–897 (1997)

Milton, S. J. & Dean, W. Disturbance, drought and dynamics of desert dune grassland, South Africa. Plant Ecol. 150, 37–51 (2000)

Evangelides, C., Arampatzis, G. & Tzimopoulos, C. Estimation of soil moisture profile and diffusivity using simple laboratory procedures. Soil Sci. 175, 118–127 (2010)

Danin, A. Plants of Desert Dunes (Springer, 2012)

Sheffer, E., Yizhaq, H., Shachak, M. & Meron, E. Mechanisms of vegetation-ring formation in water-limited systems. J. Theor. Biol. 273, 138–146 (2011)
Acknowledgements
This research is a product of US National Science Foundation grant DEB-1355122 to C.E.T. and R.M.P., with seed funding provided by the Princeton Environmental Institute's Grand Challenges Program. J.A.B. was supported by the Marine Alliance for Science and Technology for Scotland (MASTS) pooling initiative, funded by the Scottish Funding Council (HR09011) and contributing institutions. WorldView-2 satellite imagery was obtained through a grant from the DigitalGlobe Foundation to R.A.L. We thank the Government of Namibia, N. Oldendaal and NamibRand Nature Reserve (www.namibrand.org) for permission to conduct research and for providing rainfall data; A. Lamb, D. Doak, E. Lombardi, G. Barrenechea, P. Davies, S. Levin, R. Martinez-Garcia, I. Rodriguez-Iturbe, A. Sabatino, and J. Ware for discussions and assistance; I. Arndt for Australian termite-mound images used in analyses and shown in Extended Data Fig. 3; and F. Lanting for connecting us to NamibRand Nature Reserve and for use of the image in Fig. 3d.
Ethics declarations
Competing interests
The authors declare no competing financial interests.
Additional information
Reviewer Information Nature thanks A. Hastings, N. Juergens, and M. Rietkerk for their contribution to the peer review of this work.
Extended data figures and tables
Supplementary information
About this article
Cite this article
Tarnita, C., Bonachela, J., Sheffer, E. et al. A theoretical foundation for multi-scale regular vegetation patterns. Nature 541, 398–401 (2017). https://doi.org/10.1038/nature20801
Received:

Accepted:

Published:

Issue Date:

DOI: https://doi.org/10.1038/nature20801
Comments
By submitting a comment you agree to abide by our Terms and Community Guidelines. If you find something abusive or that does not comply with our terms or guidelines please flag it as inappropriate.