Abstract
In the Drosophila optic lobes, 800 retinotopically organized columns in the medulla act as functional units for processing visual information. The medulla contains over 80 types of neuron, which belong to two classes: uni-columnar neurons have a stoichiometry of one per column, while multi-columnar neurons contact multiple columns. Here we show that combinatorial inputs from temporal and spatial axes generate this neuronal diversity: all neuroblasts switch fates over time to produce different neurons; the neuroepithelium that generates neuroblasts is also subdivided into six compartments by the expression of specific factors. Uni-columnar neurons are produced in all spatial compartments independently of spatial input; they innervate the neuropil where they are generated. Multi-columnar neurons are generated in smaller numbers in restricted compartments and require spatial input; the majority of their cell bodies subsequently move to cover the entire medulla. The selective integration of spatial inputs by a fixed temporal neuroblast cascade thus acts as a powerful mechanism for generating neural diversity, regulating stoichiometry and the formation of retinotopy.
Your institute does not have access to this article
Relevant articles
Open Access articles citing this article.
Hailun Zhu

,

Sihai Dave Zhao

…

Xin Li

Nature Communications Open Access 10 March 2022

Christine Klöppel

,

Kirsten Hildebrandt

…

Uwe Walldorf

Hereditas Open Access 05 November 2021

Kirsten Hildebrandt

,

Sabrina Kübel

…

Uwe Walldorf

Hereditas Open Access 04 November 2021
Access options
Subscribe to Nature+
Get immediate online access to the entire Nature family of 50+ journals
Subscribe to Journal
Get full journal access for 1 year
$199.00
only $3.90 per issue
All prices are NET prices.
VAT will be added later in the checkout.
Tax calculation will be finalised during checkout.
Buy article
Get time limited or full article access on ReadCube.
$32.00
All prices are NET prices.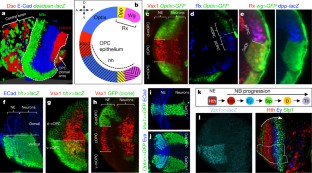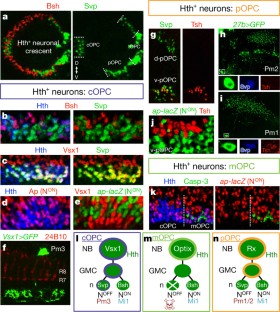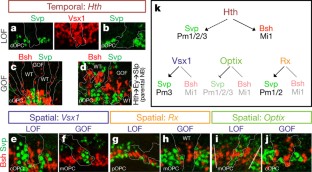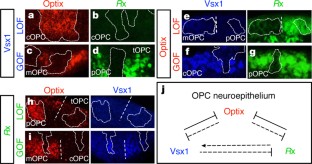 References
Fischbach, K. F. D. & Dittrich, A. P. The optic lobe of Drosophila melanogaster. I. A Golgi analysis of wild-type structure. Cell Tissue Res . 258, 441–475 (1989)

Morante, J. & Desplan, C. The color-vision circuit in the medulla of Drosophila. Curr. Biol. 18, 553–565 (2008)

Bausenwein, B., Dittrich, A. P. & Fischbach, K. F. The optic lobe of Drosophila melanogaster. II. Sorting of retinotopic pathways in the medulla. Cell Tissue Res . 267, 17–28 (1992)

Gao, S. et al. The neural substrate of spectral preference in Drosophila. Neuron 60, 328–342 (2008)

Rister, J. et al. Dissection of the peripheral motion channel in the visual system of Drosophila melanogaster. Neuron 56, 155–170 (2007)

Nassif, C., Noveen, A. & Hartenstein, V. Early development of the Drosophila brain: III. The pattern of neuropile founder tracts during the larval period. J. Comp. Neurol. 455, 417–434 (2003)

Egger, B., Boone, J. Q., Stevens, N. R., Brand, A. H. & Doe, C. Q. Regulation of spindle orientation and neural stem cell fate in the Drosophila optic lobe. Neural Dev. 2, 1 (2007)

Huang, Z. & Kunes, S. Signals transmitted along retinal axons in Drosophila: Hedgehog signal reception and the cell circuitry of lamina cartridge assembly. Development 125, 3753–3764 (1998)

Egger, B., Gold, K. S. & Brand, A. H. Notch regulates the switch from symmetric to asymmetric neural stem cell division in the Drosophila optic lobe. Development 137, 2981–2987 (2010)

Yasugi, T., Umetsu, D., Murakami, S., Sato, M. & Tabata, T. Drosophila optic lobe neuroblasts triggered by a wave of proneural gene expression that is negatively regulated by JAK/STAT. Development 135, 1471–1480 (2008)

Yasugi, T., Sugie, A., Umetsu, D. & Tabata, T. Coordinated sequential action of EGFR and Notch signaling pathways regulates proneural wave progression in the Drosophila optic lobe. Development 137, 3193–3203 (2010)

Ngo, K. T. et al. Concomitant requirement for Notch and Jak/Stat signaling during neuro-epithelial differentiation in the Drosophila optic lobe. Dev. Biol. 346, 284–295 (2010)

Li, X. et al. Temporal patterning of Drosophila medulla neuroblasts controls neural fates. Nature 498, 456–462 (2013)

Suzuki, T., Kaido, M., Takayama, R. & Sato, M. A temporal mechanism that produces neuronal diversity in the Drosophila visual center. Dev. Biol. 380, 12–24 (2013)

Isshiki, T., Pearson, B., Holbrook, S. & Doe, C. Q. Drosophila neuroblasts sequentially express transcription factors which specify the temporal identity of their neuronal progeny. Cell 106, 511–521 (2001)

Brody, T. & Odenwald, W. F. Programmed transformations in neuroblast gene expression during Drosophila CNS lineage development. Dev. Biol. 226, 34–44 (2000)

Grosskortenhaus, R., Pearson, B. J., Marusich, A. & Doe, C. Q. Regulation of temporal identity transitions in Drosophila neuroblasts. Dev. Cell 8, 193–202 (2005)

Erclik, T., Hartenstein, V., Lipshitz, H. D. & McInnes, R. R. Conserved role of the Vsx genes supports a monophyletic origin for bilaterian visual systems. Curr. Biol. 18, 1278–1287 (2008)

Gold, K. S. & Brand, A. H. Optix defines a neuroepithelial compartment in the optic lobe of the Drosophila brain. Neural Dev. 9, 18 (2014)

Chang, T., Mazotta, J., Dumstrei, K., Dumitrescu, A. & Hartenstein, V. Dpp and Hh signaling in the Drosophila embryonic eye field. Development 128, 4691–4704 (2001)

Kaphingst, K. & Kunes, S. Pattern formation in the visual centers of the Drosophila brain: wingless acts via decapentaplegic to specify the dorsoventral axis. Cell 78, 437–448 (1994)

Bertet, C. et al. Temporal patterning of neuroblasts controls Notch-mediated cell survival through regulation of Hid or Reaper. Cell 158, 1173–1186 (2014)

Chen, Z. et al. A unique class of neural progenitors in the Drosophila optic lobe generates both migrating neurons and glia. Cell Rep. 15, 774–786 (2016)

Hasegawa, E. et al. Concentric zones, cell migration and neuronal circuits in the Drosophila visual center. Development 138, 983–993 (2011)

Skeath, J. B., Zhang, Y., Holmgren, R., Carroll, S. B. & Doe, C. Q. Specification of neuroblast identity in the Drosophila embryonic central nervous system by gooseberry-distal. Nature 376, 427–430 (1995)

McDonald, J. A. et al. Dorsoventral patterning in the Drosophila central nervous system: the vnd homeobox gene specifies ventral column identity. Genes Dev. 12, 3603–3612 (1998)

Technau, G. M., Berger, C. & Urbach, R. Generation of cell diversity and segmental pattern in the embryonic central nervous system of Drosophila. Dev. Dyn. 235, 861–869 (2006)

Karlsson D., Baumgardt M. & Thor S. Segment-specific neuronal subtype specification by the integration of anteroposterior and temporal cues. http://dx.doi.org/10.1371/journal.pbio.1000368 (2010)

Morante, J. & Desplan, C. Dissection and staining of Drosophila optic lobes at different stages of development. Cold Spring Harb. Protocols 2011, 652–656 (2011)
Acknowledgements
We thank the fly community for gifts of antibodies and fly stocks, D. Vasiliauskas and R. Johnston for collaborating on screening the modENCODE antibodies, and the Desplan laboratory members for discussion and support. This work was supported by a grant from the National Institutes of Health (NIH) to C.D. (R01 EY017916), to T.E. by the Canadian Institutes of Health Research (CIHR) and the Natural Sciences and Engineering Research Council of Canada (NSERC: RGPIN-2015-06457) to X.L. by The Robert Leet and Clara Guthrie Patterson Trust Postdoctoral Fellowship and to C.B. by fellowships from EMBO (ALTF 680-2009) and HFSPO (LT000077/2010-L). The modENCODE antibodies were produced with support of NIH grant U01HG004264 awarded to K.P.W.
Ethics declarations
Competing interests
The authors declare no competing financial interests.
Additional information
Reviewer Information Nature thanks C. Doe and the other anonymous reviewer(s) for their contribution to the peer review of this work.
Extended data figures and tables
About this article
Cite this article
Erclik, T., Li, X., Courgeon, M. et al. Integration of temporal and spatial patterning generates neural diversity. Nature 541, 365–370 (2017). https://doi.org/10.1038/nature20794
Received:

Accepted:

Published:

Issue Date:

DOI: https://doi.org/10.1038/nature20794
Comments
By submitting a comment you agree to abide by our Terms and Community Guidelines. If you find something abusive or that does not comply with our terms or guidelines please flag it as inappropriate.