Abstract
Prostate tumours are highly variable in their response to therapies, but clinically available prognostic factors can explain only a fraction of this heterogeneity. Here we analysed 200 whole-genome sequences and 277 additional whole-exome sequences from localized, non-indolent prostate tumours with similar clinical risk profiles, and carried out RNA and methylation analyses in a subset. These tumours had a paucity of clinically actionable single nucleotide variants, unlike those seen in metastatic disease. Rather, a significant proportion of tumours harboured recurrent non-coding aberrations, large-scale genomic rearrangements, and alterations in which an inversion repressed transcription within its boundaries. Local hypermutation events were frequent, and correlated with specific genomic profiles. Numerous molecular aberrations were prognostic for disease recurrence, including several DNA methylation events, and a signature comprised of these aberrations outperformed well-described prognostic biomarkers. We suggest that intensified treatment of genomically aggressive localized prostate cancer may improve cure rates.
Relevant articles
Open Access articles citing this article.
Anand Singh

,

Nathanael Pruett

…

Chuong D. Hoang

Journal of Experimental & Clinical Cancer Research Open Access 16 November 2023

Rui Sun

,

Lingling Tan

…

Tiannan Guo

Clinical Proteomics Open Access 11 November 2023

Kun Zheng

,

Youlong Hai

…

Jie Hao

Journal of Translational Medicine Open Access 07 November 2023
Access options
Access Nature and 54 other Nature Portfolio journals
Get Nature+, our best-value online-access subscription
$29.99 / 30 days
cancel any time
Subscribe to this journal
Receive 51 print issues and online access
$199.00 per year
only $3.90 per issue
Rent or buy this article
Prices vary by article type
from$1.95
to$39.95
Prices may be subject to local taxes which are calculated during checkout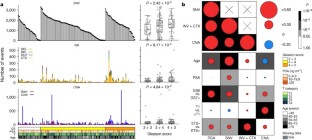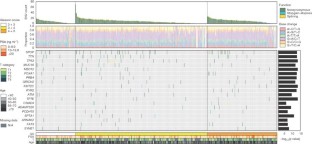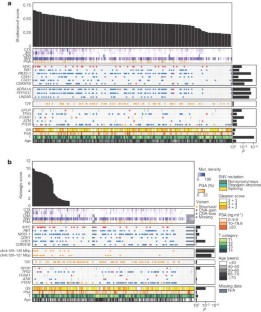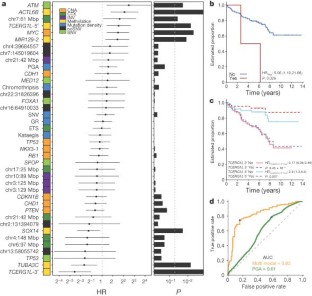 Accession codes
Primary accessions
Gene Expression Omnibus
References
Lozano, R. et al. Global and regional mortality from 235 causes of death for 20 age groups in 1990 and 2010: a systematic analysis for the Global Burden of Disease Study 2010. Lancet 380, 2095–2128 (2012)

Klotz, L. et al. Long-term follow-up of a large active surveillance cohort of patients with prostate cancer. J. Clin. Oncol. 33, 272–277 (2015)

D'Amico, A. V. et al. Cancer-specific mortality after surgery or radiation for patients with clinically localized prostate cancer managed during the prostate-specific antigen era. J. Clin. Oncol . 21, 2163–2172 (2003)

Boutros, P. C. et al. Spatial genomic heterogeneity within localized, multifocal prostate cancer. Nat. Genet. 47, 736–745 (2015)

Cooper, C. S. et al. Analysis of the genetic phylogeny of multifocal prostate cancer identifies multiple independent clonal expansions in neoplastic and morphologically normal prostate tissue. Nat. Genet. 47, 367–372 (2015)

Lalonde, E. et al. Tumour genomic and microenvironmental heterogeneity for integrated prediction of 5-year biochemical recurrence of prostate cancer: a retrospective cohort study. Lancet Oncol. 15, 1521–1532 (2014)

Buyyounouski, M. K., Pickles, T., Kestin, L. L., Allison, R. & Williams, S. G. Validating the interval to biochemical failure for the identification of potentially lethal prostate cancer. J. Clin. Oncol. 30, 1857–1863 (2012)

Robinson, D. et al. Integrative clinical genomics of advanced prostate cancer. Cell 161, 1215–1228 (2015)

Berger, M. F. et al. The genomic complexity of primary human prostate cancer. Nature 470, 214–220 (2011)

Baca, S. C. et al. Punctuated evolution of prostate cancer genomes. Cell 153, 666–677 (2013)

Weischenfeldt, J. et al. Integrative genomic analyses reveal an androgen-driven somatic alteration landscape in early-onset prostate cancer. Cancer Cell 23, 159–170 (2013)

Cancer Genome Atlas Research Network. The molecular taxonomy of primary prostate cancer. Cell 163, 1011–1025 (2015)

Barbieri, C. E. et al. Exome sequencing identifies recurrent SPOP, FOXA1 and MED12 mutations in prostate cancer. Nat. Genet. 44, 685–689 (2012)

Ewing, A. D. et al. Combining tumor genome simulation with crowdsourcing to benchmark somatic single-nucleotide-variant detection. Nat. Methods 12, 623–630 (2015)

Lawrence, M. S. et al. Discovery and saturation analysis of cancer genes across 21 tumour types. Nature 505, 495–501 (2014)

Ciriello, G. et al. Emerging landscape of oncogenic signatures across human cancers. Nat. Genet. 45, 1127–1133 (2013)

Zhou, J. & Troyanskaya, O. G. Predicting effects of noncoding variants with deep learning-based sequence model. Nat. Methods 12, 931–934 (2015)

Alexandrov, L. B. et al. Signatures of mutational processes in human cancer. Nature 500, 415–421 (2013)

Gandhi, M., Evdokimova, V. & Nikiforov, Y. E. Frequency of close positioning of chromosomal loci detected by FRET correlates with their participation in carcinogenic rearrangements in human cells. Genes Chromosom. Cancer 51, 1037–1044 (2012)

Nikiforova, M. N. et al. Proximity of chromosomal loci that participate in radiation-induced rearrangements in human cells. Science 290, 138–141 (2000)

Rickman, D. S. et al. Oncogene-mediated alterations in chromatin conformation. Proc. Natl Acad. Sci. USA 109, 9083–9088 (2012)

Korbel, J. O. & Campbell, P. J. Criteria for inference of chromothripsis in cancer genomes. Cell 152, 1226–1236 (2013)

Govind, S. K. et al. ShatterProof: operational detection and quantification of chromothripsis. BMC Bioinformatics 15, 78 (2014)

Zafarana, G. et al. Copy number alterations of c-MYC and PTEN are prognostic factors for relapse after prostate cancer radiotherapy. Cancer 118, 4053–4062 (2012)

Hieronymus, H. et al. Copy number alteration burden predicts prostate cancer relapse. Proc. Natl Acad. Sci. USA 111, 11139–11144 (2014)

Mateo, J. et al. DNA-repair defects and olaparib in metastatic prostate cancer. N. Engl. J. Med. 373, 1697–1708 (2015)

Schiewer, M. J. et al. Dual roles of PARP-1 promote cancer growth and progression. Cancer Discov . 2, 1134–1149 (2012)

Feng, F. Y., de Bono, J. S., Rubin, M. A. & Knudsen, K. E. Chromatin to clinic: the molecular rationale for PARP1 inhibitor function. Mol. Cell 58, 925–934 (2015)

Gundem, G. et al. The evolutionary history of lethal metastatic prostate cancer. Nature 520, 353–357 (2015)

Graff, J. N. & Beer, T. M. Should docetaxel be administered earlier in prostate cancer therapy? Expert Rev. Anticancer Ther. 15, 977–979 (2015)

Fisher, S. et al. A scalable, fully automated process for construction of sequence-ready human exome targeted capture libraries. Genome Biol. 12, R1 (2011)

Quinlan, A. R. & Hall, I. M. BEDTools: a flexible suite of utilities for comparing genomic features. Bioinformatics 26, 841–842 (2010)

Wilkerson, M. D. & Hayes, D. N. ConsensusClusterPlus: a class discovery tool with confidence assessments and item tracking. Bioinformatics 26, 1572–1573 (2010)

Mermel, C. H. et al. GISTIC2.0 facilitates sensitive and confident localization of the targets of focal somatic copy-number alteration in human cancers. Genome Biol. 12, R41 (2011)

Taylor, B. J. et al. DNA deaminases induce break-associated mutation showers with implication of APOBEC3B and 3A in breast cancer kataegis. eLife 2, e00534 (2013)

Song, S. et al. qpure: A tool to estimate tumor cellularity from genome-wide single-nucleotide polymorphism profiles. PLoS One 7, e45835 (2012)

Van Loo, P. et al. Analyzing cancer samples with SNP arrays. Methods Mol. Biol. 802, 57–72 (2012)

Li, H. & Durbin, R. Fast and accurate short read alignment with Burrows-Wheeler transform. Bioinformatics 25, 1754–1760 (2009)

McKenna, A. et al. The Genome Analysis Toolkit: a MapReduce framework for analyzing next-generation DNA sequencing data. Genome Res. 20, 1297–1303 (2010)

Li, H. et al. The Sequence Alignment/Map format and SAMtools. Bioinformatics 25, 2078–2079 (2009)

Larson, D. E. et al. SomaticSniper: identification of somatic point mutations in whole genome sequencing data. Bioinformatics 28, 311–317 (2012)

Cibulskis, K. et al. ContEst: estimating cross-contamination of human samples in next-generation sequencing data. Bioinformatics 27, 2601–2602 (2011)

Wang, K., Li, M. & Hakonarson, H. ANNOVAR: functional annotation of genetic variants from high-throughput sequencing data. Nucleic Acids Res . 38, e164 (2010)

Sherry, S. T. et al. dbSNP: the NCBI database of genetic variation. Nucleic Acids Res . 29, 308–311 (2001)

Ouedraogo, M. et al. The duplicated genes database: identification and functional annotation of co-localised duplicated genes across genomes. PLoS One 7, e50653 (2012)

Gerstein, M. B. et al. Architecture of the human regulatory network derived from ENCODE data. Nature 489, 91–100 (2012)

Fuentes Fajardo, K. V. et al. Detecting false-positive signals in exome sequencing. Hum. Mutat. 33, 609–613 (2012)

Forbes, S. A. et al. COSMIC: exploring the world's knowledge of somatic mutations in human cancer. Nucleic Acids Res . 43, D805–D811 (2015)

Rausch, T. et al. DELLY: structural variant discovery by integrated paired-end and split-read analysis. Bioinformatics 28, i333–i339 (2012)

Cingolani, P. et al. A program for annotating and predicting the effects of single nucleotide polymorphisms, SnpEff: SNPs in the genome of Drosophila melanogaster strain w1118; iso-2; iso-3. Fly (Austin) 6, 80–92 (2012)

Krzywinski, M. et al. Circos: an information aesthetic for comparative genomics. Genome Res. 19, 1639–1645 (2009)

Pidsley, R. et al. A data-driven approach to preprocessing Illumina 450K methylation array data. BMC Genomics 14, 293 (2013)

Peters, T. J. et al. De novo identification of differentially methylated regions in the human genome. Epigenetics Chromatin 8, 6 (2015)

Chen, Y. A. et al. Discovery of cross-reactive probes and polymorphic CpGs in the Illumina Infinium HumanMethylation450 microarray. Epigenetics 8, 203–209 (2013)

Aran, D., Sirota, M. & Butte, A. J. Systematic pan-cancer analysis of tumour purity. Nat. Commun. 6, 8971 (2015)

Brocks, D. et al. Intratumor DNA methylation heterogeneity reflects clonal evolution in aggressive prostate cancer. Cell Reports 8, 798–806 (2014)

Massie, C. E. et al. The androgen receptor fuels prostate cancer by regulating central metabolism and biosynthesis. EMBO J . 30, 2719–2733 (2011)

Crooks, G. E., Hon, G., Chandonia, J. M. & Brenner, S. E. WebLogo: a sequence logo generator. Genome Res. 14, 1188–1190 (2004)

Lawrence, M. S. et al. Mutational heterogeneity in cancer and the search for new cancer-associated genes. Nature 499, 214–218 (2013)

Irizarry, R. A. et al. Summaries of Affymetrix GeneChip probe level data. Nucleic Acids Res . 31, e15 (2003)

Yoshihara, K. et al. Inferring tumour purity and stromal and immune cell admixture from expression data. Nat. Commun. 4, 2612 (2013)
Acknowledgements
We thank all members of the Boutros and Bristow labs for helpful suggestions, particularly C. M. Lalansingh for technical assistance with recurrent SNV analysis. The results described here are based in part upon data generated by the TCGA Research Network: http://cancergenome.nih.gov/. This study was conducted with the support of Movember through Prostate Cancer Canada and with the additional support of the Ontario Institute for Cancer Research, funded by the Government of Ontario, and of the Ontario Institute for Cancer Research to P.C.B. through funding from the Government of Ontario. We thank the Princess Margaret Cancer Centre Foundation and Radiation Medicine Program Academic Enrichment Fund for support (to R.G.B.). R.G.B. is a recipient of a Canadian Cancer Society Research Scientist Award. This work was supported by Prostate Cancer Canada and is proudly funded by the Movember Foundation (grant #RS2014-01 to P.C.B.). P.C.B. was supported by a Terry Fox Research Institute New Investigator Award and a CIHR New Investigator Award. H.H.H. was supported by CIHR operating grant 142246 and CCSRI grant 703800. This project was supported by Genome Canada through a Large-Scale Applied Project contract to P.C.B., R. Morin and S. P. Shah. D.T. was part of the Terry Fox Foundation Strategic Health Research Training Program in Cancer Research at the Canadian Institute of Health Research and Ontario Institute for Cancer Research. E.L. was supported by a CIHR Fellowship. N.S.F. was supported by an NSERC Fellowship.
Ethics declarations
Competing interests
The authors declare no competing financial interests.
Additional information
Reviewer Information
Nature thanks S. Chanock, C. Plass and the other anonymous reviewer(s) for their contribution to the peer review of this work.
Extended data figures and tables
Supplementary information
This file contains a Supplementary Discussion, Legends for Supplementary Tables 1-18 (see separate zipped file), Supplementary Figures 1-10, Legends for Supplementary Data 1-3 (see separate zipped file) and Supplementary References. (PDF 4365 kb)
This file contains Supplementary Tables 1-18 (see pages 3-5 of the Supplementary Information file for details). (ZIP 8162 kb)
This file contains Supplementary Data 1-3 (see page 18 of the Supplementary Information file for details). (ZIP 61447 kb)
About this article
Cite this article
Fraser, M., Sabelnykova, V., Yamaguchi, T. et al. Genomic hallmarks of localized, non-indolent prostate cancer. Nature 541, 359–364 (2017). https://doi.org/10.1038/nature20788
Received:

Accepted:

Published:

Issue Date:

DOI: https://doi.org/10.1038/nature20788
Comments
By submitting a comment you agree to abide by our Terms and Community Guidelines. If you find something abusive or that does not comply with our terms or guidelines please flag it as inappropriate.