Abstract
Land-use intensification is a major driver of biodiversity loss1,2. Alongside reductions in local species diversity, biotic homogenization at larger spatial scales is of great concern for conservation. Biotic homogenization means a decrease in β-diversity (the compositional dissimilarity between sites). Most studies have investigated losses in local (α)-diversity1,3 and neglected biodiversity loss at larger spatial scales. Studies addressing β-diversity have focused on single or a few organism groups (for example, ref. 4), and it is thus unknown whether land-use intensification homogenizes communities at different trophic levels, above- and belowground. Here we show that even moderate increases in local land-use intensity (LUI) cause biotic homogenization across microbial, plant and animal groups, both above- and belowground, and that this is largely independent of changes in α-diversity. We analysed a unique grassland biodiversity dataset, with abundances of more than 4,000 species belonging to 12 trophic groups. LUI, and, in particular, high mowing intensity, had consistent effects on β-diversity across groups, causing a homogenization of soil microbial, fungal pathogen, plant and arthropod communities. These effects were nonlinear and the strongest declines in β-diversity occurred in the transition from extensively managed to intermediate intensity grassland. LUI tended to reduce local α-diversity in aboveground groups, whereas the α-diversity increased in belowground groups. Correlations between the β-diversity of different groups, particularly between plants and their consumers, became weaker at high LUI. This suggests a loss of specialist species and is further evidence for biotic homogenization. The consistently negative effects of LUI on landscape-scale biodiversity underscore the high value of extensively managed grasslands for conserving multitrophic biodiversity and ecosystem service provision. Indeed, biotic homogenization rather than local diversity loss could prove to be the most substantial consequence of land-use intensification.
Relevant articles
Open Access articles citing this article.
Sofía Rengifo-Del Aguila

,

Ana Maria De la Sota-Ricaldi

…

Álvaro López-García

Journal of Soil Science and Plant Nutrition Open Access 23 June 2022

Lutz Philip Hecker

,

Frank Wätzold

…

Klaus Birkhofer

Journal of Insect Conservation Open Access 11 April 2022

Barnabas H. Daru

,

T. Jonathan Davies

…

Charles C. Davis

Nature Communications Open Access 06 December 2021
Access options
Subscribe to Journal
Get full journal access for 1 year
$199.00
only $3.90 per issue
All prices are NET prices.
VAT will be added later in the checkout.
Tax calculation will be finalised during checkout.
Buy article
Get time limited or full article access on ReadCube.
$32.00
All prices are NET prices.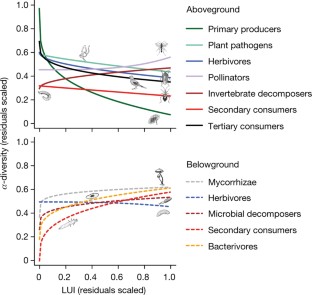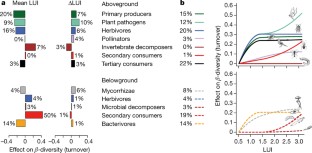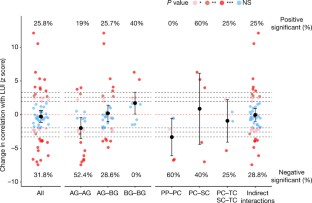 References
Allan, E. et al. Interannual variation in land-use intensity enhances grassland multidiversity. Proc. Natl Acad. Sci. USA 111, 308–313 (2014)

Sala, O. E. et al. Global biodiversity scenarios for the year 2100. Science 287, 1770–1774 (2000)

Newbold, T. et al. Global effects of land use on local terrestrial biodiversity. Nature 520, 45–50 (2015)

Foley, J. A. et al. Global consequences of land use. Science 309, 570–574 (2005)

Anderson, M. J. et al. Navigating the multiple meanings of β diversity: a roadmap for the practicing ecologist. Ecol. Lett . 14, 19–28 (2011)

Gámez-Virués, S. et al. Landscape simplification filters species traits and drives biotic homogenization. Nat. Commun. 6, 8568 (2015)

Karp, D. S. et al. Intensive agriculture erodes β-diversity at large scales. Ecol. Lett. 15, 963–970 (2012)

McKinney, M. L. & Lockwood, J. L. Biotic homogenization: a few winners replacing many losers in the next mass extinction. Trends Ecol. Evol. 14, 450–453 (1999)

Smart, S. M. et al. Biotic homogenization and changes in species diversity across human-modified ecosystems. Proc. R. Soc. B 273, 2659–2665 (2006)

Dornelas, M. et al. Assemblage time series reveal biodiversity change but not systematic loss. Science 344, 296–299 (2014)

Solar, R. R. C. et al. How pervasive is biotic homogenization in human-modified tropical forest landscapes? Ecol. Lett. 18, 1108–1118 (2015)

Kleijn, D. et al. On the relationship between farmland biodiversity and land-use intensity in Europe. Proc. R. Soc. B 276, 903–909 (2009)

Ferrier, S., Manion, G., Elith, J. & Richardson, K. Using generalized dissimilarity modelling to analyse and predict patterns of beta diversity in regional biodiversity assessment. Divers. Distrib . 13, 252–264 (2007)

Fitzpatrick, M. C. et al. Environmental and historical imprints on beta diversity: insights from variation in rates of species turnover along gradients. Proc. R. Soc. B 280, 2013 1201 (2013)

Carvalho, J. C., Cardoso, P., Borges, P. A. V., Schmera, D & Podani, J. Measuring fractions of beta diversity and their relationships to nestedness: a theoretical and empirical comparison of novel approaches. Oikos 122, 825–834 (2013)

Baselga, A. & Leprieur, F. Comparing methods to separate components of beta diversity. Methods Ecol. Evol . 6, 1069–1079 (2015)

Rodrigues, J. L. M. et al. Conversion of the Amazon rainforest to agriculture results in biotic homogenization of soil bacterial communities. Proc. Natl Acad. Sci. USA 110, 988–993 (2013)

Pellissier, L. et al. Turnover of plant lineages shapes herbivore phylogenetic beta diversity along ecological gradients. Ecol. Lett. 16, 600–608 (2013)

Blüthgen, N. et al. A quantitative index of land-use intensity in grasslands: integrating mowing, grazing and fertilization. Basic Appl. Ecol. 13, 207–220 (2012)

De Deyn, G. B. & Van der Putten, W. H. Linking aboveground and belowground diversity. Trends Ecol. Evol. 20, 625–633 (2005)

Haimi, J., Fritze, H. & Moilanen, P. Responses of soil decomposer animals to wood-ash fertilisation and burning in a coniferous forest stand. For. Ecol. Manage . 129, 53–61 (2000)

Bardgett, R., Hobbs, P. & Frostegård, Å. Changes in soil fungal:bacterial biomass ratios following reductions in the intensity of management of an upland grassland. Biol. Fertil. Soils 22, 261–264 (1996)

Fenchel, T. & Finlay, B. J. The ubiquity of small species: patterns of local and global diversity. Bioscience 54, 777–784 (2004)

Finlay, B. J. Global dispersal of free-living microbial eukaryote species. Science 296, 1061–1063 (2002)

Leff, J. W. et al. Consistent responses of soil microbial communities to elevated nutrient inputs in grasslands across the globe. Proc. Natl Acad. Sci. USA 112, 10967–10972 (2015)

van der Plas, F. et al. Biotic homogenization can decrease landscape-scale forest multifunctionality. Proc. Natl Acad. Sci. USA 113, 3557–3562 (2016)

Perovic´, D. et al. Configurational landscape heterogeneity shapes functional community composition of grassland butterflies. J. Appl. Ecol. 52, 505–513 (2015)

Manning, P. et al. Grassland management intensification weakens the associations among the diversities of multiple plant and animal taxa. Ecology 96, 1492–1501 (2015)

Fischer, M. et al. Implementing large-scale and long-term functional biodiversity research: the Biodiversity Exploratories. Basic Appl. Ecol. 11, 473–485 (2010)

Birkhofer, K. et al. General relationships between abiotic soil properties and soil biota across spatial scales and different land-use types. PLoS One 7, e43292 (2012)

Dray, S. & Dufour, A. B. The ade4 package: implementing the duality diagram for ecologists. J. Stat. Softw. 22, 1–20 (2007)

vegan: Community Ecology Package. R package version 2.3-3. https://CRAN.R-project.org/package=vegan (2016)

Socher, S. A. et al. Interacting effects of fertilization, mowing and grazing on plant species diversity of 1500 grasslands in Germany differ between regions. Basic Appl. Ecol. 14, 126–136 (2013)

Socher, S. A. et al. Direct and productivity-mediated indirect effects of fertilization, mowing and grazing on grassland species richness. J. Ecol. 100, 1391–1399 (2012)

Boch, S., Prati, D., Schöning, I. & Fischer, M. Lichen species richness is highest in non-intensively used grasslands promoting suitable microhabitats and low vascular plant competition. Biodivers. Conserv. 25, 225–238 (2016)

Müller, J. et al. Impact of land-use intensity and productivity on bryophyte diversity in agricultural grasslands. PLoS One 7, e51520 (2012)

Simons, N. K. et al. Resource-mediated indirect effects of grassland management on arthropod diversity. PLoS One 9, e107033 (2014)

Simons, N. K. et al. Effects of land-use intensity on arthropod species abundance distributions in grasslands. J. Anim. Ecol. 84, 143–154 (2015)

Weiner, C. N., Werner, M., Linsenmair, K. E. & Blüthgen, N. Land-use impacts on plant–pollinator networks: interaction strength and specialization predict pollinator declines. Ecology 95, 466–474 (2014)

Börschig, C. Effects of land-use intensity in grasslands on diversity, life-history traits and multitrophic interactions Dr. rer. nat. thesis, Georg-August-Universität (2012)

Börschig, C., Klein, A. M., von Wehrden, H. & Krauss, J. Traits of butterfly communities change from specialist to generalist characteristics with increasing land-use intensity. Basic Appl. Ecol . 14, 547–554 (2013). 10.1016/j.baae.2013.09.002

Kempson, D., Lloyd, M. & Ghelardi, R. A new extractor for woodland litter. Pedobiologia 3, 1–21 (1963)

Renner, S. C. et al. Temporal changes in randomness of bird communities across central Europe. PLoS One 9, e112347 (2014)

Rydell, J., Entwistle, A. & Racey, P. A. Timing of foraging flights of three species of bats in relation to insect activity and predation risk. Oikos 76, 243–252 (1996)

Denzinger, A., Siemers, B. M., Schaub, A. & Schnitzler, H.-U. Echolocation by the barbastelle bat, Barbastella barbastellus. J. Comp. Physiol. A 187, 521–528 (2001)

Russo, D. & Jones, G. Identification of twenty-two bat species (Mammalia: Chiroptera) from Italy by analysis of time-expanded recordings of echolocation calls. J. Zool . 258, 91–103 (2002)

Obrist, M. K., Boesch, R. & Flückiger, P. F. Variability in echolocation call design of 26 Swiss bat species: consequences, limits and options for automated field identification with a synergetic pattern recognition approach. Mammalia 68, 307–322 (2004)

Jung, K., Kaiser, S., Böhm, S., Nieschulze, J. & Kalko, E. K. V. Moving in three dimensions: effects of structural complexity on occurrence and activity of insectivorous bats in managed forest stands. J. Appl. Ecol . 49, 523–531 (2012). 10.1111/j.1365-2664.2012.02116.x

Fenton, M. B. in Bat Echolocation Research: Tools, Techniques and Analysis (eds Brigham, M. et al. ) 133–140 (Bat Conservation International, 2004)

Estrada-Villegas, S., Meyer, C. F. J. & Kalko, E. K. V. Effects of tropical forest fragmentation on aerial insectivorous bats in a land-bridge island system. Biol. Conserv. 143, 597–608 (2010)

Lueders, T., Manefield, M. & Friedrich, M. W. Enhanced sensitivity of DNA- and rRNA-based stable isotope probing by fractionation and quantitative analysis of isopycnic centrifugation gradients. Environ. Microbiol . 6, 73–78 (2004)

Bartram, A. K., Lynch, M. D. J., Stearns, J. C., Moreno-Hagelsieb, G. & Neufeld, J. D. Generation of multimillion-sequence 16S rRNA gene libraries from complex microbial communities by assembling paired-end illumina reads. Appl. Environ. Microbiol. 77, 3846–3852 (2011)

Morris, E. K. et al. Land use and host neighbor identity effects on arbuscular mycorrhizal fungal community composition in focal plant rhizosphere. Biodivers. Conserv. 22, 2193–2205 (2013)

Schloss, P. D. et al. Introducing mothur: open-source, platform-independent, community-supported software for describing and comparing microbial communities. Appl. Environ. Microbiol. 75, 7537–7541 (2009)

Öpik, M. et al. The online database MaarjAM reveals global and ecosystemic distribution patterns in arbuscular mycorrhizal fungi (Glomeromycota). New Phytol . 188, 223–241 (2010)

R: A language and environment for statistical computing v. 3.2.2. R Foundation for Statistical Computing, Vienna, Austria. https://www.R-project.org/ (2015)

Chao, A. et al. Rarefaction and extrapolation with Hill numbers: a framework for sampling and estimation in species diversity studies. Ecol. Monogr. 84, 45–67 (2014)

Chao, A. & Jost, L. Coverage-based rarefaction and extrapolation: standardizing samples by completeness rather than size. Ecology 93, 2533–2547 (2012)

iNEXT: iNterpolation and EXTrapolation for species diversity. R package version 2.0, http://chao.stat.nthu.edu.tw/blog/software-download (2014)

Jost, L. Entropy and diversity. Oikos 113, 363–375 (2006)

Jost, L. Partitioning diversity into independent alpha and beta components. Ecology 88, 2427–2439 (2007)

Hill, M. O. Diversity and eveness: unifying notations and its consequences. Ecology 54, 427–432 (1973)

Maurer, B. A. & McGill, B. J. in Biological Diversity: Frontiers in Measurement and Assessment Vol. 12 (eds Magurran, A. E. & McGill, B. J. ) 55–65 (Oxford Univ. Press, 2011)

Jost, L., Chao, A. & Chazdon, R. in Biological Diversity: Frontiers in Measurement and Assessment Vol. 12 (eds Magurran, A. E. & McGill, B. J. ) 66–84 (Oxford Univ. Press, 2011)

vegan: Community Ecology Package. R package version 2.2-1. (2015)

nlme: Linear and Nonlinear Mixed Effects Models. R package version 3.1-125, http://CRAN.R-project.org/package=nlme (2016)

lmPerm: Permutation Tests for Linear Models. R package version 2.1.0. https://CRAN.R-project.org/package=lmPerm (2016)

gdm: Functions for Generalized Dissimilarity Modeling v. R-package version 1.1-7 (2016)

Goslee, S. C. & Urban, D. L. The ecodist package for dissimilarity-based analysis of ecological data. J. Stat. Softw. 22, 1–19 (2007)
Acknowledgements
We are grateful to J. Chase and M. Fitzpatrick for their comments and suggestions on a previous version of the manuscript; B. Büche, R. Achtziger, T. Wagner, F. Köhler, T. Blick and M.-A. Fritze for arthropod species identification and U. Kern for creating the small icons of the 12 trophic groups used in the figures. We thank the managers of the three Exploratories, K. Hartwich, S. Gockel, K. Wiesner and M. Gorke for their work in maintaining the plot and project infrastructure; C. Fischer and S. Pfeiffer for giving support through the central office, M. Owonibi for managing the central data base; and E. Linsenmair, D. Hessenmöller, J. Nieschulze, I. Schöning and the late E. Kalko for their role in setting up the Biodiversity Exploratories project. We are also grateful to E. Kalko for her invaluable inspiration and for launching the studies on bats and birds. The work has been funded by the DFG Priority Program 1374 'Infrastructure-Biodiversity-Exploratories'. Field work permits were issued by the responsible state environmental offices of Baden-Württemberg, Thüringen and Brandenburg (according to §72 BbgNatSchG).
Ethics declarations
Competing interests
The authors declare no competing financial interests.
Additional information
Reviewer Information
Nature thanks P. Barton, S. Prober and the other anonymous reviewer(s) for their contribution to the peer review of this work.
Extended data figures and tables
Supplementary information
This file contains Supplementary Text and Data, Supplementary Tables and additional references. (PDF 442 kb)
About this article
Cite this article
Gossner, M., Lewinsohn, T., Kahl, T. et al. Land-use intensification causes multitrophic homogenization of grassland communities. Nature 540, 266–269 (2016). https://doi.org/10.1038/nature20575
Received:

Accepted:

Published:

Issue Date:

DOI: https://doi.org/10.1038/nature20575
Comments
By submitting a comment you agree to abide by our Terms and Community Guidelines. If you find something abusive or that does not comply with our terms or guidelines please flag it as inappropriate.