Abstract
N6-methyladenosine RNA (m6A) is a prevalent messenger RNA modification in vertebrates. Although its functions in the regulation of post-transcriptional gene expression are beginning to be unveiled, the precise roles of m6A during development of complex organisms remain unclear. Here we carry out a comprehensive molecular and physiological characterization of the individual components of the methyltransferase complex, as well as of the YTH domain-containing nuclear reader protein in Drosophila melanogaster. We identify the member of the split ends protein family, Spenito, as a novel bona fide subunit of the methyltransferase complex. We further demonstrate important roles of this complex in neuronal functions and sex determination, and implicate the nuclear YT521-B protein as a main m6A effector in these processes. Altogether, our work substantially extends our knowledge of m6A biology, demonstrating the crucial functions of this modification in fundamental processes within the context of the whole animal.
Relevant articles
Open Access articles citing this article.
Li-Ting Shen

,

Lin-Rong Che

…

Bin Wang

Cell Death & Disease Open Access 04 April 2023

Lisha Shen

,

Jinqi Ma

…

Hao Yu

Genome Biology Open Access 07 March 2023

Cyrinne Achour

,

Devi Prasad Bhattarai

…

Francesca Aguilo

Oncogene Open Access 01 February 2023
Access options
Subscribe to this journal
Receive 51 print issues and online access
$199.00 per year
only $3.90 per issue
Rent or buy this article
Get just this article for as long as you need it
$39.95
Prices may be subject to local taxes which are calculated during checkout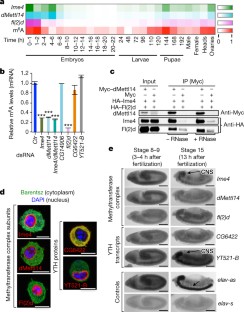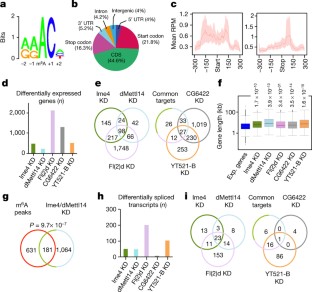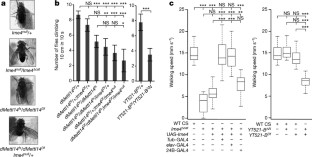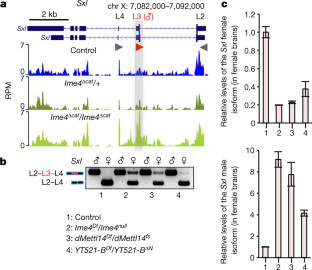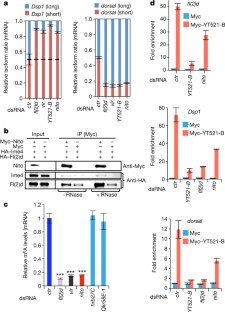 Accession codes
Primary accessions
Gene Expression Omnibus
References
Motorin, Y. & Helm, M. RNA nucleotide methylation. Wiley Interdiscip. Rev. RNA 2, 611–631 (2011)

Fu, Y., Dominissini, D., Rechavi, G. & He, C. Gene expression regulation mediated through reversible m6A RNA methylation. Nature Rev. Genet. 15, 293–306 (2014)

Meyer, K. D. & Jaffrey, S. R. The dynamic epitranscriptome: N6-methyladenosine and gene expression control. Nature Rev. Mol. Cell Biol. 15, 313–326 (2014)

Dominissini, D. et al. Topology of the human and mouse m6A RNA methylomes revealed by m6A-seq. Nature 485, 201–206 (2012)

Meyer, K. D. et al. Comprehensive analysis of mRNA methylation reveals enrichment in 3′ UTRs and near stop codons. Cell 149, 1635–1646 (2012)

Schwartz, S. et al. High-resolution mapping reveals a conserved, widespread, dynamic mRNA methylation program in yeast meiosis. Cell 155, 1409–1421 (2013)

Li, Y. et al. Transcriptome-wide N6-methyladenosine profiling of rice callus and leaf reveals the presence of tissue-specific competitors involved in selective mRNA modification. RNA Biol. 11, 1180–1188 (2014)

Lin, S. & Gregory, R. I. Methyltransferases modulate RNA stability in embryonic stem cells. Nature Cell Biol. 16, 129–131 (2014)

Schwartz, S. et al. Perturbation of m6A writers reveals two distinct classes of mRNA methylation at internal and 5′ sites. Cell Reports 8, 284–296 (2014)

Wang, X. et al. N6-methyladenosine-dependent regulation of messenger RNA stability. Nature 505, 117–120 (2014)

Wang, Y. et al. N6-methyladenosine modification destabilizes developmental regulators in embryonic stem cells. Nature Cell Biol. 16, 191–198 (2014)

Alarcón, C. R. et al. HNRNPA2B1 is a mediator of m6A-dependent nuclear RNA processing events. Cell 162, 1299–1308 (2015)

Liu, N. et al. N6-methyladenosine-dependent RNA structural switches regulate RNA–protein interactions. Nature 518, 560–564 (2015)

Meyer, K. D. et al. 5′ UTR m6A promotes Cap-independent translation. Cell 163, 999–1010 (2015)

Wang, X. et al. N6-methyladenosine modulates messenger RNA translation efficiency. Cell 161, 1388–1399 (2015)

Zhou, J. et al. Dynamic m6A mRNA methylation directs translational control of heat shock response. Nature 526, 591–594 (2015)

Wang, X. & He, C. Reading RNA methylation codes through methyl-specific binding proteins. RNA Biol. 11, 669–672 (2014)

Liu, J. et al. A METTL3–METTL14 complex mediates mammalian nuclear RNA N6-adenosine methylation. Nature Chem. Biol. 10, 93–95 (2014)

Ping, X. L. et al. Mammalian WTAP is a regulatory subunit of the RNA N6-methyladenosine methyltransferase. Cell Res. 24, 177–189 (2014)

Jia, G. et al. N6-methyladenosine in nuclear RNA is a major substrate of the obesity-associated FTO. Nature Chem. Biol. 7, 885–887 (2011)

Fu, Y. et al. FTO-mediated formation of N6-hydroxymethyladenosine and N6-formyladenosine in mammalian RNA. Nature Commun. 4, 1798 (2013)

Hess, M. E. et al. The fat mass and obesity associated gene (Fto) regulates activity of the dopaminergic midbrain circuitry. Nature Neurosci. 16, 1042–1048 (2013)

Zheng, G. et al. ALKBH5 is a mammalian RNA demethylase that impacts RNA metabolism and mouse fertility. Mol. Cell 49, 18–29 (2013)

Batista, P. J. et al. m6A RNA modification controls cell fate transition in mammalian embryonic stem cells. Cell Stem Cell 15, 707–719 (2014)

Geula, S. et al. m6A mRNA methylation facilitates resolution of naive pluripotency toward differentiation. Science 347, 1002–1006 (2015)

Hongay, C. F. & Orr-Weaver, T. L. Drosophila Inducer of MEiosis 4 (IME4) is required for Notch signaling during oogenesis. Proc. Natl Acad. Sci. USA 108, 14855–14860 (2011)

Zhong, S. et al. MTA is an Arabidopsis messenger RNA adenosine methylase and interacts with a homolog of a sex-specific splicing factor. Plant Cell 20, 1278–1288 (2008)

Bodi, Z. et al. Adenosine methylation in Arabidopsis mRNA is associated with the 3′ end and reduced levels cause developmental defects. Front. Plant Sci. 3, 48 (2012)

Shah, J. C. & Clancy, M. J. IME4, a gene that mediates MAT and nutritional control of meiosis in Saccharomyces cerevisiae. Mol. Cell. Biol. 12, 1078–1086 (1992)

Clancy, M. J., Shambaugh, M. E., Timpte, C. S. & Bokar, J. A. Induction of sporulation in Saccharomyces cerevisiae leads to the formation of N6-methyladenosine in mRNA: a potential mechanism for the activity of the IME4 gene. Nucleic Acids Res. 30, 4509–4518 (2002)

Agarwala, S. D., Blitzblau, H. G., Hochwagen, A. & Fink, G. R. RNA methylation by the MIS complex regulates a cell fate decision in yeast. PLoS Genet. 8, e1002732 (2012)

Wang, P., Doxtader, K. A. & Nam, Y. Structural basis for cooperative function of Mettl3 and Mettl14 methyltransferases. Mol. Cell 63, 306–317 (2016)

Wang, X. et al. Structural basis of N6-adenosine methylation by the METTL3–METTL14 complex. Nature 534, 575–578 (2016)

Gabel, H. W. et al. Disruption of DNA-methylation-dependent long gene repression in Rett syndrome. Nature 522, 89–93 (2015)

Götz, K. G. Visual guidance in Drosophila. Basic Life Sci. 16, 391–407 (1980)

Strauss, R., Hanesch, U., Kinkelin, M., Wolf, R. & Heisenberg, M. No-bridge of Drosophila melanogaster: portrait of a structural brain mutant of the central complex. J. Neurogenet. 8, 125–155 (1992)

Clough, E. & Oliver, B. Genomics of sex determination in Drosophila. Brief. Funct. Genomics 11, 387–394 (2012)

Granadino, B., Campuzano, S. & Sánchez, L. The Drosophila melanogaster fl(2)d gene is needed for the female-specific splicing of Sex-lethal RNA. EMBO J. 9, 2597–2602 (1990)

Hilfiker, A., Amrein, H., Dübendorfer, A., Schneiter, R. & Nöthiger, R. The gene virilizer is required for female-specific splicing controlled by Sxl, the master gene for sexual development in Drosophila. Development 121, 4017–4026 (1995)

Patil, D. P. et al. m6A RNA methylation promotes XIST-mediated transcriptional repression. Nature 537, 369–373 (2016)

Kondo, S. & Ueda, R. Highly improved gene targeting by germline-specific Cas9 expression in Drosophila. Genetics 195, 715–721 (2013)

Larkin, M. A. et al. Clustal W and Clustal X version 2.0. Bioinformatics 23, 2947–2948 (2007)

Edgar, R. C. MUSCLE: multiple sequence alignment with high accuracy and high throughput. Nucleic Acids Res. 32, 1792–1797 (2004)

Astigarraga, S., Hofmeyer, K., Farajian, R. & Treisman, J. E. Three Drosophila liprins interact to control synapse formation. J. Neurosci. 30, 15358–15368 (2010)

Bahadorani, S. & Hilliker, A. J. Cocoa confers life span extension in Drosophila melanogaster. Nutr. Res. 28, 377–382 (2008)

Oktaba, K. et al. Dynamic regulation by polycomb group protein complexes controls pattern formation and the cell cycle in Drosophila. Dev. Cell 15, 877–889 (2008)

Littleton, J. T., Bellen, H. J. & Perin, M. S. Expression of synaptotagmin in Drosophila reveals transport and localization of synaptic vesicles to the synapse. Development 118, 1077–1088 (1993)

Bluhm, A., Casas-Vila, N., Scheibe, M. & Butter, F. Reader interactome of epigenetic histone marks in birds. Proteomics 16, 427–436 (2016)

Kellner, S. et al. Absolute and relative quantification of RNA modifications via biosynthetic isotopomers. Nucleic Acids Res. 42, e142 (2014)

Deng, X. et al. Widespread occurrence of N6-methyladenosine in bacterial mRNA. Nucleic Acids Res. 43, 6557–6567 (2015)

Poeck, B., Triphan, T., Neuser, K. & Strauss, R. Locomotor control by the central complex in Drosophila–An analysis of the tay bridge mutant. Dev. Neurobiol. 68, 1046–1058 (2008). 10.1002/dneu.20643

Dobin, A. et al. STAR: ultrafast universal RNA-seq aligner. Bioinformatics 29, 15–21 (2013)

Zhang, Y. et al. Model-based analysis of ChIP-Seq (MACS). Genome Biol. 9, R137 (2008)

Yu, G., Wang, L. G. & He, Q. Y. ChIPseeker: an R/Bioconductor package for ChIP peak annotation, comparison and visualization. Bioinformatics 31, 2382–2383 (2015)
Acknowledgements
We would like to thank the Bloomington Drosophila Stock Center for fly reagents; the Drosophila Genomics Resource Center at Indiana University for plasmids; The Developmental Studies Hybridoma Bank and the Lehmann laboratory for antibodies; M. Soller for sharing unpublished data; members of the J.-Y.R. laboratory for helpful discussion; A. Dold and V. Morin for experimental help; the IMB Genomics; the IMB Genomics, Proteomics and Bioinformatics Core facilities for support; and Bioinformatics Core facilities for support; and R. Ketting, N. Soshnikova, R. Strauss, J. Treisman and K. Zarnack for critical reading of the manuscript. Research in the laboratory of J.-Y.R. is supported by the Marie Curie CIG 334288 and the Deutsche Forschungsgemeinschaft (DFG) SPP1935 grant RO 4681/4-1. L.S. is funded by the Rhineland-Palatinate program Gene RED. The project was also supported by a DFG grant (HE 3397/13-1, SPP1784) to M.H.
Ethics declarations
Competing interests
The authors declare no competing financial interests.
Extended data figures and tables
Supplementary information
About this article
Cite this article
Lence, T., Akhtar, J., Bayer, M. et al. m6A modulates neuronal functions and sex determination in Drosophila. Nature 540, 242–247 (2016). https://doi.org/10.1038/nature20568
Received:

Accepted:

Published:

Issue Date:

DOI: https://doi.org/10.1038/nature20568
Comments
By submitting a comment you agree to abide by our Terms and Community Guidelines. If you find something abusive or that does not comply with our terms or guidelines please flag it as inappropriate.