Abstract
Respiratory chain complexes can super-assemble into quaternary structures called supercomplexes that optimize cellular metabolism1. The interaction between complexes III (CIII) and IV (CIV) is modulated by supercomplex assembly factor 1 (SCAF1, also known as COX7A2L)2. The discovery of SCAF1 represented strong genetic evidence that supercomplexes exist in vivo2,3. SCAF1 is present as a long isoform (113 amino acids) or a short isoform (111 amino acids) in different mouse strains2,4. Only the long isoform can induce the super-assembly of CIII and CIV2,3,4,5,6, but it is not clear whether SCAF1 is required for the formation of the respirasome (a supercomplex of CI, CIII2 and CIV)1,2,4,5,6. Here we show, by combining deep proteomics and immunodetection analysis, that SCAF1 is always required for the interaction between CIII and CIV and that the respirasome is absent from most tissues of animals containing the short isoform of SCAF1, with the exception of heart and skeletal muscle. We used directed mutagenesis to characterize SCAF1 regions that interact with CIII and CIV and discovered that this interaction requires the correct orientation of a histidine residue at position 73 that is altered in the short isoform of SCAF1, explaining its inability to interact with CIV. Furthermore, we find that the CIV subunit COX7A2 is replaced by SCAF1 in supercomplexes containing CIII and CIV and by COX7A1 in CIV dimers, and that dimers seem to be more stable when they include COX6A2 rather than the COX6A1 isoform.
Relevant articles
Open Access articles citing this article.
Giorgia Benegiamo

,

Maroun Bou Sleiman

…

Johan Auwerx

Nature Metabolism Open Access 17 October 2022

Katie A. O'Brien

,

Ben D. McNally

…

Andrew J. Murray

BMC Biology Open Access 15 December 2021

Alexanne Cuillerier

,

Matthieu Ruiz

…

Yan Burelle

Communications Biology Open Access 19 August 2021
Access options
Subscribe to Journal
Get full journal access for 1 year
$199.00
only $3.90 per issue
All prices are NET prices.
VAT will be added later in the checkout.
Tax calculation will be finalised during checkout.
Buy article
Get time limited or full article access on ReadCube.
$32.00
All prices are NET prices.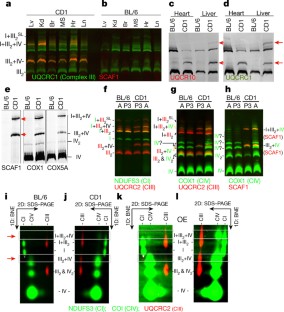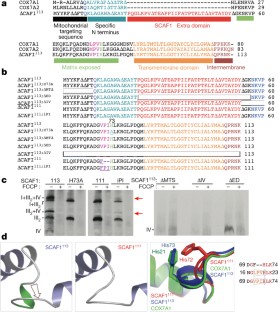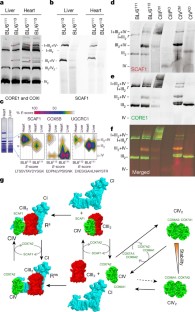 References
Enríquez, J. A. Supramolecular organization of respiratory complexes. Annu. Rev. Physiol. 78, 533–561 (2016)

Lapuente-Brun, E. et al. Supercomplex assembly determines electron flux in the mitochondrial electron transport chain. Science 340, 1567–1570 (2013)

Ikeda, K., Shiba, S., Horie-Inoue, K., Shimokata, K. & Inoue, S. A stabilizing factor for mitochondrial respiratory supercomplex assembly regulates energy metabolism in muscle. Nat. Commun. 4, 2147 (2013)

Mourier, A., Matic, S., Ruzzenente, B., Larsson, N.-G. & Milenkovic, D. The respiratory chain supercomplex organization is independent of COX7a2l isoforms. Cell Metab. 20, 1069–1075 (2014)

Williams, E. G. et al. Systems proteomics of liver mitochondria function. Science 352, aad0189 (2016)

Pérez-Pérez, R. et al. COX7A2L is a mitochondrial complex III binding protein that stabilizes the III2+IV supercomplex without affecting respirasome formation. Cell Reports 16, 2387–2398 (2016)

Guarás, A. et al. The CoQH2/CoQ ratio serves as a sensor of respiratory chain Efficiency. Cell Reports 15, 197–209 (2016)

Zhang, K. et al. COX7AR is a stress-inducible mitochondrial COX subunit that promotes breast cancer malignancy. Sci. Rep. 6, 31742 (2016)

Tsukihara, T. et al. The whole structure of the 13-subunit oxidized cytochrome c oxidase at 2.8 A. Science 272, 1136–1144 (1996)

Letts, J. A., Fiedorczuk, K. & Sazanov, L.A. The architecture of respiratory supercomplexes. Nature 537, 644–648 (2016)

Gu, J. et al. The architecture of the mammalian respirasome. Nature 537, 639–643 (2016)

Fernández-Vizarra, E. et al. Isolation of mitochondria for biogenetical studies: An update. Mitochondrion 10, 253–262 (2010)

Acín-Pérez, R., Fernández-Silva, P., Peleato, M. L., Pérez-Martos, A. & Enriquez, J. A. Respiratory active mitochondrial supercomplexes. Mol. Cell 32, 529–539 (2008)

Acín-Pérez, R. et al. Respiratory complex III is required to maintain complex I in mammalian mitochondria. Mol. Cell 13, 805–815 (2004)

Diaz, F., Fukui, H., Garcia, S. & Moraes, C. T. Cytochrome c oxidase is required for the assembly/stability of respiratory complex I in mouse fibroblasts. Mol. Cell. Biol. 26, 4872–4881 (2006)

Navarro, P. & Vázquez, J. A refined method to calculate false discovery rates for peptide identification using decoy databases. J. Proteome Res. 8, 1792–1796 (2009)

Nahnsen, S., Bielow, C., Reinert, K. & Kohlbacher, O. Tools for label-free peptide quantification. Mol. Cell. Proteomics 12, 549–556 (2013)

Webb, B. & Sali, A. Comparative protein structure modeling using MODELLER. Curr. Protoc. Bioinformatics 47, 5.6.1–32 (2014)
Acknowledgements
This work was supported by MINECO: SAF2015-65633-R; BIO2015-67580-P; PRB2 (IPT13/0001-ISCIII-SGEFI/FEDER, ProteoRed); RD 12/0042/0054 and RD12/0042/0056)), Fundación La Marato TV3 and ERC-Starting Grant (2013 337703 zebraHeart) The CNIC is supported by MINECO and Pro-CNIC Foundation, and is a SO-MINECO (award SEV-2015-0505).
Ethics declarations
Competing interests
The authors declare no competing financial interests.
Additional information
Reviewer Information Nature thanks S. Gygi, M. Hüttemann and D. Winge for their contribution to the peer review of this work.
Extended data figures and tables
Supplementary information
About this article
Cite this article
Cogliati, S., Calvo, E., Loureiro, M. et al. Mechanism of super-assembly of respiratory complexes III and IV. Nature 539, 579–582 (2016). https://doi.org/10.1038/nature20157
Received:

Accepted:

Published:

Issue Date:

DOI: https://doi.org/10.1038/nature20157
Comments
By submitting a comment you agree to abide by our Terms and Community Guidelines. If you find something abusive or that does not comply with our terms or guidelines please flag it as inappropriate.