Abstract
Mitochondria are dynamic organelles that exchange contents and undergo remodelling during cyclic fusion and fission. Genetic mutations in MFN2 (the gene encoding mitofusin 2) interrupt mitochondrial fusion and cause the untreatable neurodegenerative condition Charcot-Marie-Tooth disease type 2A (CMT2A). It has not yet been possible to directly modulate mitochondrial fusion, in part because the structural basis of mitofusin function is not completely understood. Here we show that mitofusins adopt either a fusion-constrained or a fusion-permissive molecular conformation, directed by specific intramolecular binding interactions, and demonstrate that mitofusin-dependent mitochondrial fusion can be regulated in mouse cells by targeting these conformational transitions. On the basis of this model, we engineered a cell-permeant minipeptide to destabilize the fusion-constrained conformation of mitofusin and promote the fusion-permissive conformation, reversing mitochondrial abnormalities in cultured fibroblasts and neurons that harbour CMT2A-associated genetic defects. The relationship between the conformational plasticity of mitofusin 2 and mitochondrial dynamism reveals a central mechanism that regulates mitochondrial fusion, the manipulation of which can correct mitochondrial pathology triggered by defective or imbalanced mitochondrial dynamics.
Relevant articles
Open Access articles citing this article.
Emmanouil Zacharioudakis

,

Bogos Agianian

…

Evripidis Gavathiotis

Nature Communications Open Access 07 July 2022

Elena Abati

,

Arianna Manini

…

Stefania Corti

Scientific Reports Open Access 13 April 2022

Xinxin Zhang

,

Xiangyu Xu

…

Xiaomei Guo

Journal of Translational Medicine Open Access 19 September 2021
Access options
Subscribe to this journal
Receive 51 print issues and online access
$199.00 per year
only $3.90 per issue
Rent or buy this article
Get just this article for as long as you need it
$39.95
Prices may be subject to local taxes which are calculated during checkout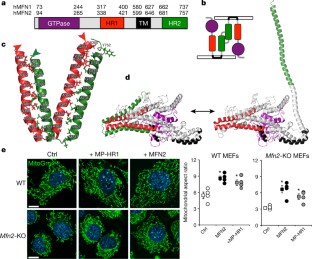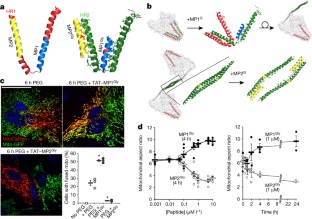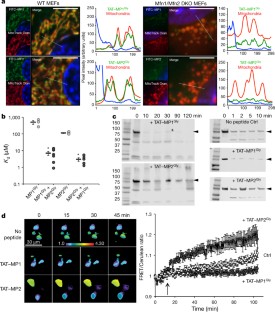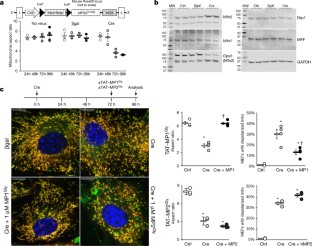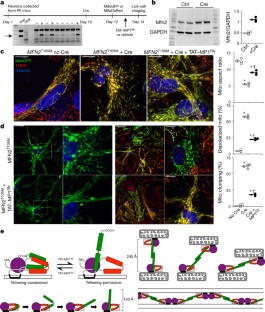 References
Chan, D. C. Fusion and fission: interlinked processes critical for mitochondrial health. Annu. Rev. Genet. 46, 265–287 (2012)

Chen, H. et al. Mitofusins Mfn1 and Mfn2 coordinately regulate mitochondrial fusion and are essential for embryonic development. J. Cell Biol. 160, 189–200 (2003)

Kasahara, A., Cipolat, S., Chen, Y., Dorn, G. W., II & Scorrano, L. Mitochondrial fusion directs cardiomyocyte differentiation via calcineurin and Notch signaling. Science 342, 734–737 (2013)

Chen, H., McCaffery, J. M. & Chan, D. C. Mitochondrial fusion protects against neurodegeneration in the cerebellum. Cell 130, 548–562 (2007)

Chen, H. et al. Mitochondrial fusion is required for mtDNA stability in skeletal muscle and tolerance of mtDNA mutations. Cell 141, 280–289 (2010)

Song, M., Mihara, K., Chen, Y., Scorrano, L. & Dorn, G. W., II . Mitochondrial fission and fusion factors reciprocally orchestrate mitophagic culling in mouse hearts and cultured fibroblasts. Cell Metab. 21, 273–285 (2015)

Bombelli, F. et al. Charcot-Marie-Tooth disease type 2A: from typical to rare phenotypic and genotypic features. JAMA Neurol. 71, 1036–1042 (2014)

Koshiba, T. et al. Structural basis of mitochondrial tethering by mitofusin complexes. Science 305, 858–862 (2004)

Low, H. H. & Löwe, J. A bacterial dynamin-like protein. Nature 444, 766–769 (2006)

Huang, P., Galloway, C. A. & Yoon, Y. Control of mitochondrial morphology through differential interactions of mitochondrial fusion and fission proteins. PLoS One 6, e20655 (2011)

Chen, H. et al. Mitofusins Mfn1 and Mfn2 coordinately regulate mitochondrial fusion and are essential for embryonic development. J. Cell Biol. 160, 189–200 (2003)

Chen, Y. & Dorn, G. W., II . PINK1-phosphorylated mitofusin 2 is a Parkin receptor for culling damaged mitochondria. Science 340, 471–475 (2013)

Gong, G. et al. Parkin-mediated mitophagy directs perinatal cardiac metabolic maturation in mice. Science 350, aad2459 (2015)

Chen, H., Chomyn, A. & Chan, D. C. Disruption of fusion results in mitochondrial heterogeneity and dysfunction. J. Biol. Chem. 280, 26185–26192, (2005)

Detmer, S. A. & Chan, D. C. Complementation between mouse Mfn1 and Mfn2 protects mitochondrial fusion defects caused by CMT2A disease mutations. J. Cell Biol. 176, 405–414 (2007)

Calvo, J. et al. Genotype-phenotype correlations in Charcot-Marie-Tooth disease type 2 caused by mitofusin 2 mutations. Arch. Neurol. 66, 1511–1516 (2009)

Detmer, S. A., Vande Velde, C., Cleveland, D. W. & Chan, D. C. Hindlimb gait defects due to motor axon loss and reduced distal muscles in a transgenic mouse model of Charcot-Marie-Tooth type 2A. Hum. Mol. Genet. 17, 367–375 (2008)

Picard, M. et al. Trans-mitochondrial coordination of cristae at regulated membrane junctions. Nat. Commun. 6, 6259 (2015)

Sobieski, C., Jiang, X., Crawford, D. C. & Mennerick, S. Loss of local astrocyte support disrupts action potential propagation and glutamate release synchrony from unmyelinated hippocampal axon terminals in vitro. J. Neurosci. 35, 11105–11117 (2015)

Wang, W. et al. The ALS disease-associated mutant TDP-43 impairs mitochondrial dynamics and function in motor neurons. Hum. Mol. Genet. 22, 4706–4719 (2013)

Mochly-Rosen, D., Das, K. & Grimes, K. V. Protein kinase C, an elusive therapeutic target? Nat. Rev. Drug Discov. 11, 937–957 (2012)

Mackin, C. & Palacios, T. Large-scale sensor systems based on graphene electrolyte-gated field-effect transistors. Analyst 141, 2704–2711 (2016)

Qvit, N., Disatnik, M. H., Sho, E. & Mochly-Rosen, D. Selective phosphorylation inhibitor of delta protein kinase C–pyruvate dehydrogenase kinase protein–protein interactions: application for myocardial injury in vivo. J. Am. Chem. Soc. 138, 7626–7635 (2016)

Yang, J. et al. The I-TASSER Suite: protein structure and function prediction. Nat. Methods 12, 7–8 (2015)
Acknowledgements
Supported by National Institutes of Health grants HL59888, HL128441 (G.W.D.); HL128071 (R.N.K. and G.W.D.); CA178394 (E.G.); MH078823 (S.M.); CA205262 (L.H.); and HL52141 (D.M.-R.); and American Cancer Society grant PF-15-135-01-CSM (S.K.D.). A.F. is supported by a fellowship from Societa' Italiana Ipertensione Arteriosa (SIIA). G.W.D. is the Philip and Sima K. Needleman-endowed Professor.
Ethics declarations
Competing interests
G.W.D. and D.M.-R. have applied for a patent for using fusion-modifying peptides in diseases with abnormal mitochondrial dynamics. D.M.-R. is a founder of MitoConix, but none of this work was supported by or performed in collaboration with the company. The other authors declare no competing financial interests.
Additional information
Reviewer Information Nature thanks R. Baloh, R. Lightowlers and the other anonymous reviewer(s) for their contribution to the peer review of this work.
Extended data figures and tables
Supplementary information
About this article
Cite this article
Franco, A., Kitsis, R., Fleischer, J. et al. Correcting mitochondrial fusion by manipulating mitofusin conformations. Nature 540, 74–79 (2016). https://doi.org/10.1038/nature20156
Received:

Accepted:

Published:

Issue Date:

DOI: https://doi.org/10.1038/nature20156
Comments
By submitting a comment you agree to abide by our Terms and Community Guidelines. If you find something abusive or that does not comply with our terms or guidelines please flag it as inappropriate.