Abstract
The β-haemoglobinopathies, such as sickle cell disease and β-thalassaemia, are caused by mutations in the β-globin (HBB) gene and affect millions of people worldwide. Ex vivo gene correction in patient-derived haematopoietic stem cells followed by autologous transplantation could be used to cure β-haemoglobinopathies. Here we present a CRISPR/Cas9 gene-editing system that combines Cas9 ribonucleoproteins and adeno-associated viral vector delivery of a homologous donor to achieve homologous recombination at the HBB gene in haematopoietic stem cells. Notably, we devise an enrichment model to purify a population of haematopoietic stem and progenitor cells with more than 90% targeted integration. We also show efficient correction of the Glu6Val mutation responsible for sickle cell disease by using patient-derived stem and progenitor cells that, after differentiation into erythrocytes, express adult β-globin (HbA) messenger RNA, which confirms intact transcriptional regulation of edited HBB alleles. Collectively, these preclinical studies outline a CRISPR-based methodology for targeting haematopoietic stem cells by homologous recombination at the HBB locus to advance the development of next-generation therapies for β-haemoglobinopathies.
Relevant articles
Open Access articles citing this article.
Emanuela Stampone

,

Debora Bencivenga

…

Adriana Borriello

Cellular and Molecular Life Sciences Open Access 21 July 2023

Nanna S. Mikkelsen

&

Rasmus O. Bak

Journal of Biomedical Science Open Access 01 July 2023

Vincent Lučanský

,

Veronika Holubeková

…

Olga Golubnitschaja

EPMA Journal Open Access 22 May 2023
Access options
Subscribe to this journal
Receive 51 print issues and online access
$199.00 per year
only $3.90 per issue
Rent or buy this article
Prices vary by article type
from$1.95
to$39.95
Prices may be subject to local taxes which are calculated during checkout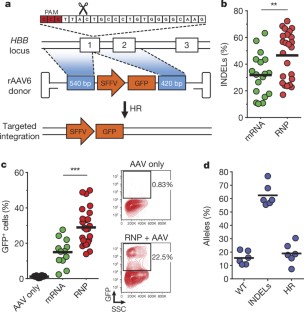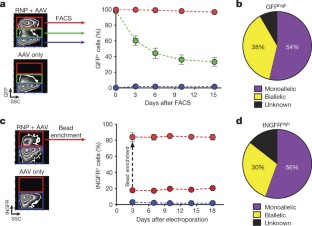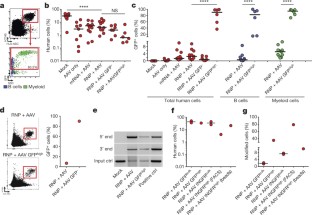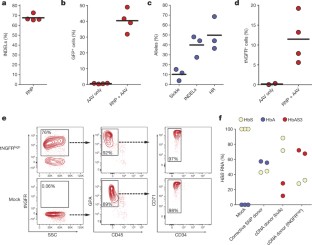 References
Naldini, L. Ex vivo gene transfer and correction for cell-based therapies. Nat. Rev. Genet. 12, 301–315 (2011)

Porteus, M. Genome editing: a new approach to human therapeutics. Annu. Rev. Pharmacol. Toxicol. 56, 163–190 (2016)

Smithies, O., Gregg, R. G., Boggs, S. S., Koralewski, M. A. & Kucherlapati, R. S. Insertion of DNA sequences into the human chromosomal β-globin locus by homologous recombination. Nature 317, 230–234 (1985)

Porteus, M. H. & Baltimore, D. Chimeric nucleases stimulate gene targeting in human cells. Science 300, 763 (2003)

Rouet, P., Smih, F. & Jasin, M. Expression of a site-specific endonuclease stimulates homologous recombination in mammalian cells. Proc. Natl Acad. Sci. USA 91, 6064–6068 (1994)

Hsu, P. D., Lander, E. S. & Zhang, F. Development and applications of CRISPR-Cas9 for genome engineering. Cell 157, 1262–1278 (2014)

Doudna, J. A. & Charpentier, E. Genome editing. The new frontier of genome engineering with CRISPR-Cas9. Science 346, 1258096 (2014)

Jinek, M. et al. A programmable dual-RNA-guided DNA endonuclease in adaptive bacterial immunity. Science 337, 816–821 (2012)

Kass, E. M. & Jasin, M. Collaboration and competition between DNA double-strand break repair pathways. FEBS Lett . 584, 3703–3708 (2010)

Porteus, M. H. Towards a new era in medicine: therapeutic genome editing. Genome Biol . 16, 286 (2015)

Woods, N. B., Bottero, V., Schmidt, M., von Kalle, C. & Verma, I. M. Gene therapy: therapeutic gene causing lymphoma. Nature 440, 1123 (2006)

Hubbard, N. et al. Targeted gene editing restores regulated CD40L expression and function in X-HIGM T cells. Blood 127, 2513–2522 (2016)

Voit, R. A., Hendel, A., Pruett-Miller, S. M. & Porteus, M. H. Nuclease-mediated gene editing by homologous recombination of the human globin locus. Nucleic Acids Res . 42, 1365–1378 (2014)

Hendel, A. et al. Chemically modified guide RNAs enhance CRISPR-Cas genome editing in human primary cells. Nat. Biotechnol. 33, 985–989 (2015)

Baum, C. M., Weissman, I. L., Tsukamoto, A. S., Buckle, A. M. & Peault, B. Isolation of a candidate human hematopoietic stem-cell population. Proc. Natl Acad. Sci. USA 89, 2804–2808 (1992)

Mukherjee, S. & Thrasher, A. J. Gene therapy for PIDs: progress, pitfalls and prospects. Gene 525, 174–181 (2013)

Cavazzana-Calvo, M. et al. Transfusion independence and HMGA2 activation after gene therapy of human β-thalassaemia. Nature 467, 318–322 (2010)

Naldini, L. Gene therapy returns to centre stage. Nature 526, 351–360 (2015)

Jenq, R. R. & van den Brink, M. R. Allogeneic haematopoietic stem cell transplantation: individualized stem cell and immune therapy of cancer. Nat. Rev. Cancer 10, 213–221 (2010)

Hoban, M. D. et al. Correction of the sickle cell disease mutation in human hematopoietic stem/progenitor cells. Blood 125, 2597–2604 (2015)

Genovese, P. et al. Targeted genome editing in human repopulating haematopoietic stem cells. Nature 510, 235–240 (2014)

Wang, J. et al. Homology-driven genome editing in hematopoietic stem and progenitor cells using ZFN mRNA and AAV6 donors. Nat. Biotechnol. 33, 1256–1263 (2015)

De Ravin, S. S. et al. Targeted gene addition in human CD34+ hematopoietic cells for correction of X-linked chronic granulomatous disease. Nat. Biotechnol. 34, 424–429 (2016)

Sather, B. D. et al. Efficient modification of CCR5 in primary human hematopoietic cells using a megaTAL nuclease and AAV donor template. Sci. Transl. Med. 7, 307ra156 (2015)

Wang, J. et al. Highly efficient homology-driven genome editing in human T cells by combining zinc-finger nuclease mRNA and AAV6 donor delivery. Nucleic Acids Res . 44, e30 (2016)

Miller, D. G., Petek, L. M. & Russell, D. W. Adeno-associated virus vectors integrate at chromosome breakage sites. Nat. Genet. 36, 767–773 (2004)

Russell, D. W. & Hirata, R. K. Human gene targeting by viral vectors. Nat. Genet. 18, 325–330 (1998)

Barzel, A. et al. Promoterless gene targeting without nucleases ameliorates haemophilia B in mice. Nature 517, 360–364 (2015)

Hoban, M. D., Orkin, S. H. & Bauer, D. E. Genetic treatment of a molecular disorder: gene therapy approaches to sickle cell disease. Blood 127, 839–848 (2016)

Bonini, C. et al. HSV-TK gene transfer into donor lymphocytes for control of allogeneic graft-versus-leukemia. Science 276, 1719–1724 (1997)

Ciceri, F. et al. Infusion of suicide-gene-engineered donor lymphocytes after family haploidentical haemopoietic stem-cell transplantation for leukaemia (the TK007 trial): a non-randomised phase I-II study. Lancet Oncol . 10, 489–500 (2009)

Oliveira, G. et al. Tracking genetically engineered lymphocytes long-term reveals the dynamics of T cell immunological memory. Sci. Transl. Med. 7, 317ra198 (2015)

Bonini, C. et al. Safety of retroviral gene marking with a truncated NGF receptor. Nat. Med. 9, 367–369 (2003)

Seita, J. & Weissman, I. L. Hematopoietic stem cell: self-renewal versus differentiation. Wiley Interdiscip. Rev. Syst. Biol. Med. 2, 640–653 (2010)

Majeti, R., Park, C. Y. & Weissman, I. L. Identification of a hierarchy of multipotent hematopoietic progenitors in human cord blood. Cell Stem Cell 1, 635–645 (2007)

Doulatov, S., Notta, F., Laurenti, E. & Dick, J. E. Hematopoiesis: a human perspective. Cell Stem Cell 10, 120–136 (2012)

Gu, A. et al. Engraftment and lineage potential of adult hematopoietic stem and progenitor cells is compromised following short-term culture in the presence of an aryl hydrocarbon receptor antagonist. Hum. Gene Ther. Methods 25, 221–231 (2014)

Levasseur, D. N. et al. A recombinant human hemoglobin with anti-sickling properties greater than fetal hemoglobin. J. Biol. Chem. 279, 27518–27524 (2004)

Dulmovits, B. M. et al. Pomalidomide reverses γ-globin silencing through the transcriptional reprogramming of adult hematopoietic progenitors. Blood 127, 1481–1492 (2016)

Hu, J. et al. Isolation and functional characterization of human erythroblasts at distinct stages: implications for understanding of normal and disordered erythropoiesis in vivo. Blood 121, 3246–3253 (2013)

Romero, Z. et al.. β-globin gene transfer to human bone marrow for sickle cell disease. J. Clin. Invest. 123, 3317–3330 (2013)

Fares, I. et al. Cord blood expansion. Pyrimidoindole derivatives are agonists of human hematopoietic stem cell self-renewal. Science 345, 1509–1512 (2014)

Khan, I. F., Hirata, R. K. & Russell, D. W. AAV-mediated gene targeting methods for human cells. Nat. Protocols 6, 482–501 (2011)

Aurnhammer, C. et al. Universal real-time PCR for the detection and quantification of adeno-associated virus serotype 2-derived inverted terminal repeat sequences. Hum. Gene Ther. Methods 23, 18–28 (2012)

Hendel, A. et al. Quantifying genome-editing outcomes at endogenous loci with SMRT sequencing. Cell Reports 7, 293–305 (2014)

Cradick, T. J., Fine, E. J., Antico, C. J. & Bao, G. CRISPR/Cas9 systems targeting β-globin and CCR5 genes have substantial off-target activity. Nucleic Acids Res . 41, 9584–9592 (2013)

Brinkman, E. K., Chen, T., Amendola, M. & van Steensel, B. Easy quantitative assessment of genome editing by sequence trace decomposition. Nucleic Acids Res . 42, e168 (2014)

Boggs, D. R. The total marrow mass of the mouse: a simplified method of measurement. Am. J. Hematol. 16, 277–286 (1984)
Acknowledgements
D.P.D. was supported by a Stanford Child Health Research Institute (CHRI) Grant and Postdoctoral Award. R.O.B. was supported by an Individual Postdoctoral grant (DFF–1333-00106B) and a Sapere Aude, Research Talent grant (DFF–1331-00735B), both from the Danish Council for Independent Research, Medical Sciences. M.H.P. acknowledges the support of the Amon Carter Foundation, the Laurie Kraus Lacob Faculty Scholar Award in Pediatric Translational Research and NIH grant support PN2EY018244, R01-AI097320 and R01-AI120766. We thank D. Russell for the pDGM6 plasmid, H.-P. Kiem for scAAV6, G. de Alencastro and M. Kay for help with AAV production, the Binns Program for Cord Blood Research at Stanford University for cord-blood-derived CD34+ HSPCs. We also thank Lonza (A. Toell and G. Alberts) for donating the LV unit for performing large-scale genome-editing studies. We further thank members of the Porteus laboratory, D. DiGiusto and M. G. Roncarolo for input, comments and discussion.
Ethics declarations
Competing interests
M.H.P. is a consultant and has equity interest in CRISPR Tx, but CRISPR Tx had no input into the design, execution, interpretation or publication of the results herein. N.U. was a former employee of Stem Cells, Inc., but they had no input into this manuscript.
Additional information
Reviewer Information Nature thanks B. Ebert, L. Naldini and the other anonymous reviewer(s) for their contribution to the peer review of this work.
Extended data figures and tables
Supplementary information
This file contains Supplementary Figures 1 and 2, which show the raw data for Extended Data Figure 4b,e (Figure 1) and Figure 3e (Figure 2). (PDF 271 kb)
About this article
Cite this article
Dever, D., Bak, R., Reinisch, A. et al. CRISPR/Cas9 β-globin gene targeting in human haematopoietic stem cells. Nature 539, 384–389 (2016). https://doi.org/10.1038/nature20134
Received:

Accepted:

Published:

Issue Date:

DOI: https://doi.org/10.1038/nature20134
Comments
By submitting a comment you agree to abide by our Terms and Community Guidelines. If you find something abusive or that does not comply with our terms or guidelines please flag it as inappropriate.