Abstract
Various rod-shaped bacteria mysteriously glide on surfaces in the absence of appendages such as flagella or pili. In the deltaproteobacterium Myxococcus xanthus, a putative gliding motility machinery (the Agl–Glt complex) localizes to so-called focal adhesion sites (FASs) that form stationary contact points with the underlying surface. Here we show that the Agl–Glt machinery contains an inner-membrane motor complex that moves intracellularly along a right-handed helical path; when the machinery becomes stationary at FASs, the motor complex powers a left-handed rotation of the cell around its long axis. At FASs, force transmission requires cyclic interactions between the molecular motor and the adhesion proteins of the outer membrane via a periplasmic interaction platform, which presumably involves contractile activity of motor components and possible interactions with peptidoglycan. Our results provide a molecular model of bacterial gliding motility.
Relevant articles
Open Access articles citing this article.
Satoshi Shibata

,

Yuhei O. Tahara

…

Koji Nakayama

Communications Biology Open Access 23 January 2023

Marco La Fortezza

,

Olaya Rendueles

…

Gregory J. Velicer

Communications Biology Open Access 16 September 2022

Olaya Rendueles

&

Gregory J. Velicer

BMC Evolutionary Biology Open Access 04 November 2020
Access options
Subscribe to this journal
Receive 51 print issues and online access
$199.00 per year
only $3.90 per issue
Rent or buy this article
Prices vary by article type
from$1.95
to$39.95
Prices may be subject to local taxes which are calculated during checkout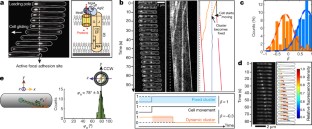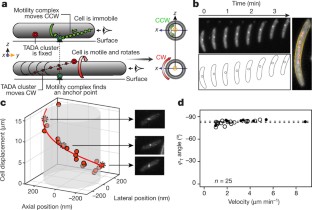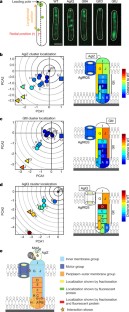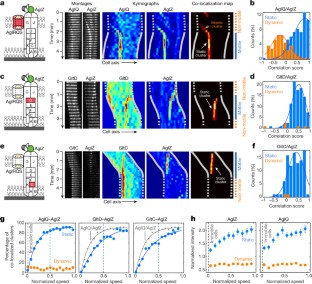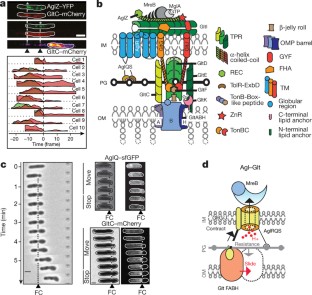 References
Islam, S. T. & Mignot, T. The mysterious nature of bacterial surface (gliding) motility: A focal adhesion-based mechanism in Myxococcus xanthus. Semin. Cell Dev. Biol. 46, 143–154 (2015)

Luciano, J. et al. Emergence and modular evolution of a novel motility machinery in bacteria. PLoS Genet. 7, e1002268 (2011)

Sun, M., Wartel, M., Cascales, E., Shaevitz, J. W. & Mignot, T. Motor-driven intracellular transport powers bacterial gliding motility. Proc. Natl Acad. Sci. USA 108, 7559–7564 (2011)

Jakobczak, B., Keilberg, D., Wuichet, K. & Søgaard-Andersen, L. Contact- and protein transfer-dependent stimulation of assembly of the gliding motility machinery in Myxococcus xanthus. PLoS Genet. 11, e1005341 (2015)

Nan, B. et al. Myxobacteria gliding motility requires cytoskeleton rotation powered by proton motive force. Proc. Natl Acad. Sci. USA 108, 2498–2503 (2011)

Balagam, R. et al. Myxococcus xanthus gliding motors are elastically coupled to the substrate as predicted by the focal adhesion model of gliding motility. PLOS Comput. Biol. 10, e1003619 (2014)

Treuner-Lange, A. et al. The small G-protein MglA connects to the MreB actin cytoskeleton at bacterial focal adhesions. J. Cell Biol. 210, 243–256 (2015)

Nan, B. et al. Flagella stator homologs function as motors for myxobacterial gliding motility by moving in helical trajectories. Proc. Natl Acad. Sci. USA 110, E1508–E1513 (2013)

Kaiser, D. & Warrick, H. Transmission of a signal that synchronizes cell movements in swarms of Myxococcus xanthus. Proc. Natl Acad. Sci. USA 111, 13105–13110 (2014)

Bean, G. J. et al. A22 disrupts the bacterial actin cytoskeleton by directly binding and inducing a low-affinity state in MreB. Biochemistry 48, 4852–4857 (2009)

Huang, B., Wang, W., Bates, M. & Zhuang, X. Three-dimensional super-resolution imaging by stochastic optical reconstruction microscopy. Science 319, 810–813 (2008)

Wojdyla, J. A. et al. Structure and function of the Escherichia coli Tol-Pal stator protein TolR. J. Biol. Chem. 290, 26675–26687 (2015)

Gresock, M. G., Kastead, K. A. & Postle, K. From homodimer to heterodimer and back: elucidating the TonB energy transduction cycle. J. Bacteriol. 197, 3433–3445 (2015)

Wartel, M. et al. A versatile class of cell surface directional motors gives rise to gliding motility and sporulation in Myxococcus xanthus. PLoS Biol. 11, e1001728 (2013)

Bui, N. K. et al. The peptidoglycan sacculus of Myxococcus xanthus has unusual structural features and is degraded during glycerol-induced myxospore development. J. Bacteriol. 191, 494–505 (2009)

Cascales, E., Gavioli, M., Sturgis, J. N. & Lloubès, R. Proton motive force drives the interaction of the inner membrane TolA and outer membrane pal proteins in Escherichia coli. Mol. Microbiol. 38, 904–915 (2000)

Wang, S., Furchtgott, L., Huang, K. C. & Shaevitz, J. W. Helical insertion of peptidoglycan produces chiral ordering of the bacterial cell wall. Proc. Natl Acad. Sci. USA 109, E595–E604 (2012)

Ejigiri, I. et al. Shedding of TRAP by a rhomboid protease from the malaria sporozoite surface is essential for gliding motility and sporozoite infectivity. PLoS Pathog. 8, e1002725 (2012)

den Blaauwen, T., de Pedro, M. A., Nguyen-Distèche, M. & Ayala, J. A. Morphogenesis of rod-shaped sacculi. FEMS Microbiol. Rev. 32, 321–344 (2008)

Nan, B., Mauriello, E. M. F., Sun, I.-H., Wong, A. & Zusman, D. R. A multi-protein complex from Myxococcus xanthus required for bacterial gliding motility. Mol. Microbiol. 76, 1539–1554 (2010)

Bustamante, V. H., Martínez-Flores, I., Vlamakis, H. C. & Zusman, D. R. Analysis of the Frz signal transduction system of Myxococcus xanthus shows the importance of the conserved C-terminal region of the cytoplasmic chemoreceptor FrzCD in sensing signals. Mol. Microbiol. 53, 1501–1513 (2004)

Ducret, A., Théodoly, O. & Mignot, T. Single cell microfluidic studies of bacterial motility. Methods Mol. Biol. 966, 97–107 (2013)

Altschul, S. F. et al. Gapped BLAST and PSI-BLAST: a new generation of protein database search programs. Nucleic Acids Res. 25, 3389–3402 (1997)

Johnson, L. S., Eddy, S. R. & Portugaly, E. Hidden Markov model speed heuristic and iterative HMM search procedure. BMC Bioinformatics 11, 431 (2010)

Söding, J., Biegert, A. & Lupas, A. N. The HHpred interactive server for protein homology detection and structure prediction. Nucleic Acids Res. 33, W244–W248 (2005)

Holm, L., Kääriäinen, S., Rosenström, P. & Schenkel, A. Searching protein structure databases with DaliLite v.3. Bioinformatics 24, 2780–2781 (2008)

Lassmann, T., Frings, O. & Sonnhammer, E. L. L. Kalign2: high-performance multiple alignment of protein and nucleotide sequences allowing external features. Nucleic Acids Res. 37, 858–865 (2009)

Pei, J., Sadreyev, R. & Grishin, N. V. PCMA: fast and accurate multiple sequence alignment based on profile consistency. Bioinformatics 19, 427–428 (2003)

Drozdetskiy, A., Cole, C., Procter, J. & Barton, G. J. JPred4: a protein secondary structure prediction server. Nucleic Acids Res. 43 (W1), W389–W394 (2015)

Finn, R. D. et al. Pfam: the protein families database. Nucleic Acids Res. 42, D222–D230 (2014)

Krogh, A., Larsson, B., von Heijne, G. & Sonnhammer, E. L. Predicting transmembrane protein topology with a hidden Markov model: application to complete genomes. J. Mol. Biol. 305, 567–580 (2001)

Käll, L., Krogh, A. & Sonnhammer, E. L. L. A combined transmembrane topology and signal peptide prediction method. J. Mol. Biol. 338, 1027–1036 (2004)

Marbouty, M. et al. Condensin- and replication-mediated bacterial chromosome folding and origin condensation revealed by Hi-C and super-resolution imaging. Mol. Cell 59, 588–602 (2015)

Ducret, A., Valignat, M. P., Mouhamar, F., Mignot, T. & Theodoly, O. Wet-surface-enhanced ellipsometric contrast microscopy identifies slime as a major adhesion factor during bacterial surface motility. Proc. Natl Acad. Sci. USA 109, 10036–10041 (2012)

Schindelin, J. et al. Fiji: an open-source platform for biological-image analysis. Nat. Methods 9, 676–682 (2012)

Arigovindan, M. et al. High-resolution restoration of 3D structures from widefield images with extreme low signal-to-noise-ratio. Proc. Natl Acad. Sci. USA 110, 17344–17349 (2013)

Marques, O. Practical Image and Video Processing using MATLAB (John Wiley & Sons, 2011)

Wolter, S. et al. rapidSTORM: accurate, fast open-source software for localization microscopy. Nat. Methods 9, 1040–1041 (2012)
Acknowledgements
We thank R. Mercier for suggestions and critical reading of the manuscript, A. Valeri for help with PCA analysis, C. Fiche for help with image analysis and Y. Denis (IMM transcriptomics platform) for help with quantitative PCR and M. Wartel for preliminary experiments. L.M.F. was partially funded by Fondation ARC, L.E. was supported by the Fondation pour la Recherche Médicale (FRM DGE2010221257), S.T.I. was supported by a fellowship from the Canadian Institutes of Health Research and the AMIDEX program of Aix-Marseille Université, and A.L. and V.A. were supported by the IRP funds of the NIH, NIH grant GM113172 to M.S.V.N. and Y.V.B. and NIH grant GM51986 to Y.V.B. Research in the Mignot laboratory was supported by European Research Council grant DOME-261105 and a Bettencourt-Schueller "Coup d'élan pour la recherche Française 2011". Research in the Nollmann laboratory was supported by ANR grants IBM (ANR-14-CE09-0025-01), HiResBacs (ANR-15-CE11-0023), and European Research Council grant smInsulator-260787. We acknowledge support from France-BioImaging (ANR-10-INBS-04, "Investments for the future"), and Imagine Optic.
Ethics declarations
Competing interests
The authors declare no competing financial interests.
Additional information
Reviewer Information Nature thanks J. Armitage, P. Kukura and the other anonymous reviewer(s) for their contribution to the peer review of this work.
Extended data figures and tables
Supplementary information
About this article
Cite this article
Faure, L., Fiche, JB., Espinosa, L. et al. The mechanism of force transmission at bacterial focal adhesion complexes. Nature 539, 530–535 (2016). https://doi.org/10.1038/nature20121
Received:

Accepted:

Published:

Issue Date:

DOI: https://doi.org/10.1038/nature20121
Comments
By submitting a comment you agree to abide by our Terms and Community Guidelines. If you find something abusive or that does not comply with our terms or guidelines please flag it as inappropriate.