Abstract
Synthetically engineered genetic circuits can perform a wide variety of tasks but are generally less accurate than natural systems. Here we revisit the first synthetic genetic oscillator, the repressilator1, and modify it using principles from stochastic chemistry in single cells. Specifically, we sought to reduce error propagation and information losses, not by adding control loops, but by simply removing existing features. We show that this modification created highly regular and robust oscillations. Furthermore, some streamlined circuits kept 14 generation periods over a range of growth conditions and kept phase for hundreds of generations in single cells, allowing cells in flasks and colonies to oscillate synchronously without any coupling between them. Our results suggest that even the simplest synthetic genetic networks can achieve a precision that rivals natural systems, and emphasize the importance of noise analyses for circuit design in synthetic biology.
Access options
Subscribe to Journal
Get full journal access for 1 year
$199.00
only $3.90 per issue
All prices are NET prices.
VAT will be added later in the checkout.
Rent or Buy article
Get time limited or full article access on ReadCube.
from$8.99
All prices are NET prices.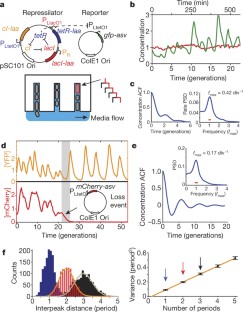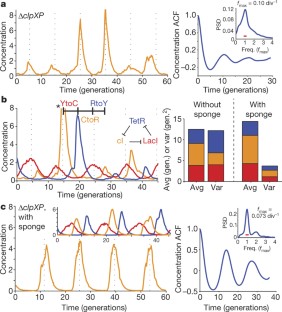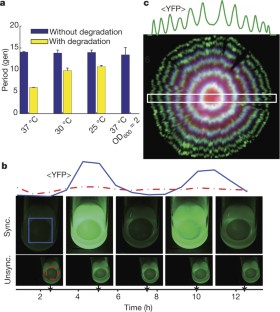 References
1

Elowitz, M. B. & Leibler, S. A synthetic oscillatory network of transcriptional regulators. Nature 403, 335–338 (2000)

2

Nakajima, M. et al. Reconstitution of circadian oscillation of cyanobacterial KaiC phosphorylation in vitro. Science 308, 414–415 (2005)

3

Teng, S.-W., Mukherji, S., Moffitt, J. R., de Buyl, S. & O'Shea, E. K. Robust circadian oscillations in growing cyanobacteria require transcriptional feedback. Science 340, 737–740 (2013)

4

Mihalcescu, I., Hsing, W. & Leibler, S. Resilient circadian oscillator revealed in individual cyanobacteria. Nature 430, 81–85 (2004)

5

Chabot, J. R., Pedraza, J. M., Luitel, P. & van Oudenaarden, A. Stochastic gene expression out-of-steady-state in the cyanobacterial circadian clock. Nature 450, 1249–1252 (2007)

6

Friedland, A. E. et al. Synthetic gene networks that count. Science 324, 1199–1202 (2009)

7

Daniel, R., Rubens, J. R., Sarpeshkar, R. & Lu, T. K. Synthetic analog computation in living cells. Nature 497, 619–623 (2013)

8

Fung, E. et al. A synthetic gene-metabolic oscillator. Nature 435, 118–122 (2005)

9

Stricker, J. et al. A fast, robust and tunable synthetic gene oscillator. Nature 456, 516–519 (2008)

10

Tigges, M., Marquez-Lago, T. T., Stelling, J. & Fussenegger, M. A tunable synthetic mammalian oscillator. Nature 457, 309–312 (2009)

11

Danino, T., Mondragón-Palomino, O., Tsimring, L. & Hasty, J. A synchronized quorum of genetic clocks. Nature 463, 326–330 (2010)

12

Mondragón-Palomino, O., Danino, T., Selimkhanov, J., Tsimring, L. & Hasty, J. Entrainment of a population of synthetic genetic oscillators. Science 333, 1315–1319 (2011)

13

Prindle, A. et al. Rapid and tunable post-translational coupling of genetic circuits. Nature 508, 387–391 (2014)

14

Bonnet, J., Yin, P., Ortiz, M. E., Subsoontorn, P. & Endy, D. Amplifying genetic logic gates. Science 340, 599–603 (2013)

15

Tabor, J. J. et al. A synthetic genetic edge detection program. Cell 137, 1272–1281 (2009)

16

Paulsson, J., Berg, O. G. & Ehrenberg, M. Stochastic focusing: fluctuation-enhanced sensitivity of intracellular regulation. Proc. Natl Acad. Sci. USA 97, 7148–7153 (2000)

17

Vilar, J. M. G., Kueh, H. Y., Barkai, N. & Leibler, S. Mechanisms of noise-resistance in genetic oscillators. Proc. Natl Acad. Sci. USA 99, 5988–5992 (2002)

18

McKane, A. J. & Newman, T. J. Predator-prey cycles from resonant amplification of demographic stochasticity. Phys. Rev. Lett. 94, 218102 (2005)

19

Lestas, I., Vinnicombe, G. & Paulsson, J. Fundamental limits on the suppression of molecular fluctuations. Nature 467, 174–178 (2010)

20

Keiler, K. C., Waller, P. R. & Sauer, R. T. Role of a peptide tagging system in degradation of proteins synthesized from damaged messenger RNA. Science 271, 990–993 (1996)

21

Andersen, J. B. et al. New unstable variants of green fluorescent protein for studies of transient gene expression in bacteria. Appl. Environ. Microbiol. 64, 2240–2246 (1998)

22

Wang, P. et al. Robust growth of Escherichia coli. Curr. Biol. 20, 1099–1103 (2010)

23

Norman, T. M., Lord, N. D., Paulsson, J. & Losick, R. Memory and modularity in cell-fate decision making. Nature 503, 481–486 (2013)

24

Paulsson, J. & Ehrenberg, M. Noise in a minimal regulatory network: plasmid copy number control. Q. Rev. Biophys. 34, 1–59 (2001)

25

Moriya, T., Yamamura, M. & Kiga, D. Effects of downstream genes on synthetic genetic circuits. BMC Syst. Biol. 8 (suppl. 4), S4 (2014)

26

Berg, O. G., Paulsson, J. & Ehrenberg, M. Fluctuations and quality of control in biological cells: zero-order ultrasensitivity reinvestigated. Biophys. J. 79, 1228–1236 (2000)

27

Niederholtmeyer, H. et al. Rapid cell-free forward engineering of novel genetic ring oscillators. eLife 4, e09771 (2015)

28

van der Pol, B. On relaxation-oscillations. Phil. Mag. 2, 978–992 (1926)

29

Brewster, R. C. et al. The transcription factor titration effect dictates level of gene expression. Cell 156, 1312–1323 (2014)

30

Verdú, S. Poisson communication theory; invited talk. The International Technion Communication Day in honor of Israel Bar-David, Haifa, Israel (25 March 1999)

31

Edelstein, A., Amodaj, N., Hoover, K., Vale, R. & Stuurman, N. Computer control of microscopes using μManager. Curr. Protoc. Mol. Biol. Chapter 14, Unit14.20 (2010)

32

Tikhonov, A. N. & Arsenin, V. Y. Solutions of Ill-posed problems. Math. Comput. 32, 1320–1322 (1978)

33

Blackman, R. B. & Tukey, J. W. The Measurement of Power Spectra (Dover Publications, 1958)

34

Oppenheim, A. V. & Schafer, R. W. Discrete-Time Signal Processing 3rd edn (Prentice Hall, 1989)

35

Jenkins, G. M. & Watts, D. G. Spectral Analysis and Its Applications (Holden-Day, 1968)

36

Chait, R., Shrestha, S., Shah, A. K., Michel, J.-B. & Kishony, R. A differential drug screen for compounds that select against antibiotic resistance. PLoS One 5, e15179 (2010)
Acknowledgements
We thank M. Elowitz for the repressilator plasmids, D. Landgraf for strains and plasmids, P. Cluzel for the fluorescent proteins, S. G. Megason and his laboratory for their microscope, R. Chait and M. Baym for the macroscope and C. Saenz for technical help on the microfluidics device. Some work was performed at the Harvard Medical School Microfluidics Facility and the Center for Nanoscale Systems, a member of the National Nanotechnology Infrastructure Network supported by NSF award ECS-0335765. L.P.-T. acknowledges fellowship support from the Natural Sciences and Engineering Research Council of Canada (NSERC) and the Fonds de recherche du Québec – Nature et technologies. This work was supported by National Institutes of Health (NIH) grants (GM081563 and GM095784) and NSF award 1517372.
Ethics declarations
Competing interests
The authors declare no competing financial interests.
Additional information
Reviewer Information Nature thanks J. Stelling and the other anonymous reviewer(s) for their contribution to the peer review of this work.
Extended data figures and tables
Supplementary information
About this article
Cite this article
Potvin-Trottier, L., Lord, N., Vinnicombe, G. et al. Synchronous long-term oscillations in a synthetic gene circuit. Nature 538, 514–517 (2016). https://doi.org/10.1038/nature19841
Received:

Accepted:

Published:

Issue Date:
Comments
By submitting a comment you agree to abide by our Terms and Community Guidelines. If you find something abusive or that does not comply with our terms or guidelines please flag it as inappropriate.