Abstract
The surfaces of Earth and Mars contain large bedrock canyons that were carved by catastrophic outburst floods1,2. Reconstructing the magnitude of these canyon-forming floods is essential for understanding the ways in which floods modify planetary surfaces1,2, the hydrology of early Mars3 and abrupt changes in climate4. Flood discharges are often estimated by assuming that the floods filled the canyons to their brims with water; however, an alternative hypothesis is that canyon morphology adjusts during incision such that bed shear stresses exceed the threshold for erosion by a small amount5. Here we show that accounting for erosion thresholds during canyon incision results in near-constant discharges that are five- to ten-fold smaller than full-to-the-brim estimates for Moses Coulee, a canyon in the Channeled Scablands, which was carved during the Pleistocene by the catastrophic Missoula floods in eastern Washington, USA. The predicted discharges are consistent with flow-depth indicators from gravel bars within the canyon. In contrast, under the assumption that floods filled canyons to their brims, a large and monotonic increase in flood discharge is predicted as the canyon was progressively incised, which is at odds with the discharges expected for floods originating from glacial lake outbursts. These findings suggest that flood-carved landscapes in fractured rock might evolve to a threshold state for bedrock erosion, thus implying much lower flood discharges than previously thought.
Your institute does not have access to this article
Relevant articles
Open Access articles citing this article.
Willem G. M. van der Bilt

,

Iestyn D. Barr

…

Jostein Bakke

Communications Earth & Environment Open Access 11 May 2021

Sergio Duran

&

Tom J. Coulthard

Scientific Reports Open Access 29 October 2020

Sergio Duran

,

Tom J. Coulthard

&

Edwin R. C. Baynes

Scientific Reports Open Access 22 October 2019
Access options
Subscribe to Journal
Get full journal access for 1 year
$199.00
only $3.90 per issue
All prices are NET prices.
VAT will be added later in the checkout.
Tax calculation will be finalised during checkout.
Buy article
Get time limited or full article access on ReadCube.
$32.00
All prices are NET prices.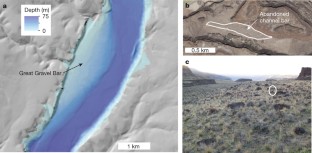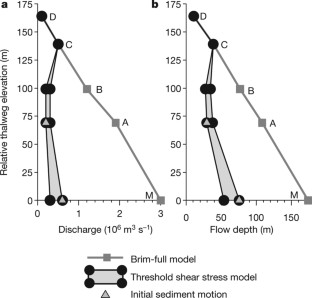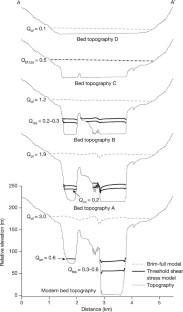 References
Bretz, J. H. The Channeled Scablands of the Columbia Plateau. J. Geol. 31, 617–649 (1923)

Baker, V. R. The Channels of Mars (Univ. Texas Press, 1982)

Carr, M. H. Mars: a water-rich planet? Icarus 68, 187–216 (1986)

Barber, D. et al. Forcing of the cold event of 8,200 years ago by catastrophic drainage of Laurentide lakes. Nature 400, 344–348 (1999)

Lamb, M. P. & Fonstad, M. A. Rapid formation of a modern bedrock canyon by a single flood event. Nat. Geosci. 3, 477–481 (2010)

Bretz, J. H. The Lake Missoula floods and the Channeled Scabland. J. Geol. 77, 505–543 (1969)

O'Connor, J. E., Grant, G. E. & Costa, J. E. in Ancient Floods, Modern Hazards: Principles and Applications of Paleoflood Hydrology (eds House, P. K. et al.) 359–385 (American Geophysical Union, 2002)

Baker, V. et al. Ancient oceans, ice sheets and the hydrological cycle on Mars. Nature 352, 589–594 (1991)

Baynes, E. R. et al. Erosion during extreme flood events dominates Holocene canyon evolution in northeast Iceland. Proc. Natl Acad. Sci. USA 112, 2355–2360 (2015)

Carr, M. H. Formation of Martian flood features by release of water from confined aquifers. J. Geophys. Res. Solid Earth 84, 2995–3007 (1979)

Baker, V. R. Paleohydrology and Sedimentology of Lake Missoula Flooding in Eastern Washington. GSA Special Paper 144 (Geological Society of America, 1973)

Denlinger, R. & O'Connell, D. Simulations of cataclysmic outburst floods from Pleistocene Glacial Lake Missoula. Geol. Soc. Am. Bull. 122, 678–689 (2010)

O'Connor, J. E. & Baker, V. R. Magnitudes and implications of peak discharges from glacial Lake Missoula. Geol. Soc. Am. Bull. 104, 267–279 (1992)

Komar, P. D. Comparisons of the hydraulics of water flows in Martian outflow channels with flows of similar scale on Earth. Icarus 37, 156–181 (1979)

Miyamoto, H. et al. Cataclysmic Scabland flooding: insights from a simple depth-averaged numerical model. Environ. Model. Softw. 22, 1400–1408 (2007)

Lamb, M. P., Mackey, B. H. & Farley, K. A. Amphitheater-headed canyons formed by megaflooding at Malad Gorge, Idaho. Proc. Natl Acad. Sci. USA 111, 57–62 (2014)

Lamb, M. P., Dietrich, W. E., Aciego, S. M., DePaolo, D. J. & Manga, M. Formation of Box Canyon, Idaho, by megaflood: implications for seepage erosion on Earth and Mars. Science 320, 1067–1070 (2008)

Anton, L., Mather, A., Stokes, M., Muñoz-Martin, A. & De Vicente, G. Exceptional river gorge formation from unexceptional floods. Nat. Commun. 6, 7963 (2015)

Coleman, N. M. Hydrographs of a Martian flood from a breached crater lake, with insights about flow calculations, channel erosion rates, and chasma growth. J. Geophys. Res. Planets 118, 263–277 (2013)

Warner, N., Gupta, S., Muller, J., Kim, J. & Lin, S. A refined chronology of catastrophic outflow events in Ares Vallis, Mars. Earth Planet. Sci. Lett. 288, 58–69 (2009)

Lamb, M. P., Finnegan, N. J., Scheingross, J. S. & Sklar, L. S. New insights into the mechanics of fluvial bedrock erosion through flume experiments and theory. Geomorphology 244, 33–55 (2015)

Lamb, M. P. & Dietrich, W. E. The persistence of waterfalls in fractured rock. Geol. Soc. Am. Bull. 121, 1123–1134 (2009)

Lapotre, M. G. A., Lamb, M. P. & Williams, R. M. E. Canyon formation constraints on the discharge of catastrophic outburst floods of Earth and Mars. J. Geophys. Res. Planets 121, 1232–1263 (2016)

Waitt, R. B. Case for periodic, colossal jökulhlaups from Pleistocene glacial Lake Missoula. Geol. Soc. Am. Bull. 96, 1271–1286 (1985)

Parker, G. Self-formed straight rivers with equilibrium banks and mobile bed. Part 2. The gravel river. J. Fluid Mech. 89, 127–146 (1978)

Wohl, E. E. Bedrock benches and boulder bars: floods in the Burdekin Gorge of Australia. Geol. Soc. Am. Bull. 104, 770–778 (1992)

Schmidt, J. C., Grams, P. E. & Leschin, M. F. in The Controlled Flood in Grand Canyon (eds Webb, R. H. et al.) 185–203 (American Geophysical Union, 1999)

Church, M. Bed material transport and the morphology of alluvial river channels. Annu. Rev. Earth Planet. Sci. 34, 325–354 (2006)

Venditti, J. G. et al. Flow in bedrock canyons. Nature 513, 534–537 (2014)

Andrews-Hanna, J. C. & Phillips, R. J. Hydrological modeling of outflow channels and chaos regions on Mars. J. Geophys. Res. Planets 112, E08001 (2007)

Roberts, S. G., Nielsen, O. M. & Jakeman, J. in Modeling, Simulation and Optimization of Complex Processes (eds Bock, H.G. et al.) 489–498 (Springer, 2008)

Roberts, S., Nielsen, O., Gray, D., Sexton, J. & Davies, G. ANUGA User Manual. Release 2.0. https://github.com/GeoscienceAustralia/anuga_core/raw/master/doc/anuga_user_manual.pdf (2015)

Parker, G. Selective sorting and abrasion of river gravel. II: applications. J. Hydraul. Eng. 117, 150–171 (1991)

Johnson, J. P. A surface roughness model for predicting alluvial cover and bed load transport rate in bedrock channels. J. Geophys. Res. Earth Surface 119, 2147–2173 (2014)

Dubinski, I. M. & Wohl, E. Relationships between block quarrying, bed shear stress, and stream power: a physical model of block quarrying of a jointed bedrock channel. Geomorphology 180–181, 66–81 (2013)

Selby, M. J. Hillslope Materials and Processes 93 (Oxford Univ. Press, 1993)

Long, P. E. & Wood, B. J. Structures, textures, and cooling histories of Columbia River basalt flows. Geol. Soc. Am. Bull. 97, 1144–1155 (1986)

Schultz, R. Limits on strength and deformation properties of jointed basaltic rock masses. Rock Mech. Rock Eng. 28, 1–15 (1995)

Ehlmann, B. L., Viles, H. A. & Bourke, M. C. Quantitative morphologic analysis of boulder shape and surface texture to infer environmental history: a case study of rock breakdown at the Ephrata Fan, Channeled Scabland, Washington. J. Geophys. Res. Earth Surface 113, F02012 (2008)

NiÑo, Y., Lopez, F. & Garcia, M. Threshold for particle entrainment into suspension. Sedimentology 50, 247–263 (2003)

Ferguson, R. & Church, M. A simple universal equation for grain settling velocity. J. Sediment. Res. 74, 933–937 (2004)
Acknowledgements
This research was supported by a Caltech Texaco Prize Postdoctoral Fellowship, collaborative NSF (1529528, 1529110) funding to I.J.L. and M.P.L., and a NASA (NNX13AM83G) award to M.P.L. We thank E. Simon, M. Lapotre and S. Roberts for assistance and advice with the hydraulic modelling, and participants in the Caltech field methods course for field assistance.
Ethics declarations
Competing interests
The authors declare no competing financial interests.
Additional information
Reviewer Information Nature thanks J. Venditti and the other anonymous reviewer(s) for their contribution to the peer review of this work.
Extended data figures and tables
About this article
Cite this article
Larsen, I., Lamb, M. Progressive incision of the Channeled Scablands by outburst floods. Nature 538, 229–232 (2016). https://doi.org/10.1038/nature19817
Received:

Accepted:

Published:

Issue Date:

DOI: https://doi.org/10.1038/nature19817
Comments
By submitting a comment you agree to abide by our Terms and Community Guidelines. If you find something abusive or that does not comply with our terms or guidelines please flag it as inappropriate.