Abstract
High-coverage whole-genome sequence studies have so far focused on a limited number1 of geographically restricted populations2,3,4,5, or been targeted at specific diseases, such as cancer6. Nevertheless, the availability of high-resolution genomic data has led to the development of new methodologies for inferring population history7,8,9 and refuelled the debate on the mutation rate in humans10. Here we present the Estonian Biocentre Human Genome Diversity Panel (EGDP), a dataset of 483 high-coverage human genomes from 148 populations worldwide, including 379 new genomes from 125 populations, which we group into diversity and selection sets. We analyse this dataset to refine estimates of continent-wide patterns of heterozygosity, long- and short-distance gene flow, archaic admixture, and changes in effective population size through time as well as for signals of positive or balancing selection. We find a genetic signature in present-day Papuans that suggests that at least 2% of their genome originates from an early and largely extinct expansion of anatomically modern humans (AMHs) out of Africa. Together with evidence from the western Asian fossil record11, and admixture between AMHs and Neanderthals predating the main Eurasian expansion12, our results contribute to the mounting evidence for the presence of AMHs out of Africa earlier than 75,000 years ago.
Relevant articles
Open Access articles citing this article.
Guanglin He

,

Mengge Wang

…

Le Wang

Human Genomics Open Access 28 March 2023

Biologia Futura Open Access 01 December 2022

Adrian Currie

&

Andra Meneganzin

Biology & Philosophy Open Access 09 November 2022
Access options
Subscribe to this journal
Receive 51 print issues and online access
$199.00 per year
only $3.90 per issue
Rent or buy this article
Get just this article for as long as you need it
$39.95
Prices may be subject to local taxes which are calculated during checkout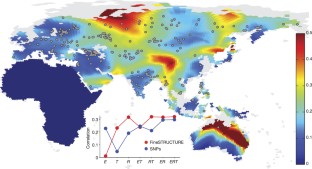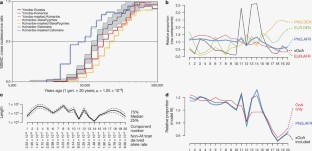 Accession codes
Primary accessions
European Nucleotide Archive
Data deposits
The newly sequenced genomes are part of the Estonian Biocentre human Genome Diversity Panel (EGDP) and were deposited in the ENA archive under accession number PRJEB12437 and are also freely available through the Estonian Biocentre website (www.ebc.ee/free_data)
References
Drmanac, R. et al. Human genome sequencing using unchained base reads on self-assembling DNA nanoarrays. Science 327, 78–81 (2010)

Lachance, J. et al. Evolutionary history and adaptation from high-coverage whole-genome sequences of diverse African hunter-gatherers. Cell 150, 457–469 (2012)

Pagani, L. et al. Tracing the route of modern humans out of Africa by using 225 human genome sequences from Ethiopians and Egyptians. Am. J. Hum. Genet. 96, 986–991 (2015)

Clemente, F. J. et al. A selective sweep on a deleterious mutation in CPT1A in Arctic populations. Am. J. Hum. Genet. 95, 584–589 (2014)

Gudbjartsson, D. F. et al. Large-scale whole-genome sequencing of the Icelandic population. Nat. Genet. 47, 435–444 (2015)

Weinstein, J. N. et al. The Cancer Genome Atlas Pan-Cancer analysis project. Nat. Genet. 45, 1113–1120 (2013)

Li, H. & Durbin, R. Inference of human population history from individual whole-genome sequences. Nature 475, 493–496 (2011)

Schiffels, S. & Durbin, R. Inferring human population size and separation history from multiple genome sequences. Nat. Genet. 46, 919–925 (2014)

Patterson, N. et al. Ancient admixture in human history. Genetics 192, 1065–1093 (2012)

Scally, A. & Durbin, R. Revising the human mutation rate: implications for understanding human evolution. Nat. Rev. Genet. 13, 745–753 (2012)

Grove, M. et al. Climatic variability, plasticity, and dispersal: a case study from Lake Tana, Ethiopia. J. Hum. Evol. 87, 32–47 (2015)

Kuhlwilm, M. et al. Ancient gene flow from early modern humans into Eastern Neanderthals. Nature 530, 429–433 (2016)

Groucutt, H. S. et al. Rethinking the dispersal of Homo sapiens out of Africa. Evol. Anthropol. 24, 149–164 (2015)

Liu, W. et al. The earliest unequivocally modern humans in southern China. Nature 526, 696–699 (2015)

Reyes-Centeno, H. et al. Genomic and cranial phenotype data support multiple modern human dispersals from Africa and a southern route into Asia. Proc. Natl Acad. Sci. USA 111, 7248–7253 (2014)

Mellars, P., Gori, K. C., Carr, M., Soares, P. A. & Richards, M. B. Genetic and archaeological perspectives on the initial modern human colonization of southern Asia. Proc. Natl Acad. Sci. USA 110, 10699–10704 (2013)

Prugnolle, F., Manica, A. & Balloux, F. Geography predicts neutral genetic diversity of human populations. Curr. Biol. 15, R159–R160 (2005)

Green, R. E. et al. A draft sequence of the Neandertal genome. Science 328, 710–722 (2010)

Reich, D. et al. Denisova admixture and the first modern human dispersals into Southeast Asia and Oceania. Am. J. Hum. Genet. 89, 516–528 (2011)

Fu, Q. et al. Genome sequence of a 45,000-year-old modern human from western Siberia. Nature 514, 445–449 (2014)

Fu, Q. et al. A revised timescale for human evolution based on ancient mitochondrial genomes. Curr. Biol. 23, 553–559 (2013)

Fu, Q. et al. The genetic history of Ice Age Europe. Nature 534, 200–205 (2016)

Meyer, M. et al. A high-coverage genome sequence from an archaic Denisovan individual. Science 338, 222–226 (2012)

Petkova, D., Novembre, J. & Stephens, M. Visualizing spatial population structure with estimated effective migration surfaces. Nat. Genet. 48, 94–100 (2016)

Hellenthal, G. et al. A genetic atlas of human admixture history. Science 343, 747–751 (2014)

Chapman, N. H. & Thompson, E. A. A model for the length of tracts of identity by descent in finite random mating populations. Theor. Popul. Biol. 64, 141–150 (2003)

Wall, J. D. et al. Higher levels of Neanderthal ancestry in East Asians than in Europeans. Genetics 194, 199–209 (2013)

Posth, C. et al. Pleistocene mitochondrial genomes suggest a single major dispersal of non-Africans and a late glacial population turnover in Europe. Curr. Biol. 26, 827–833 (2016)

1000 Genomes Project Consortium. An integrated map of genetic variation from 1,092 human genomes. Nature 491, 56–65 (2012)

Migliano, A. B., Vinicius, L. & Lahr, M. M. Life history trade-offs explain the evolution of human pygmies. Proc. Natl Acad. Sci. USA 104, 20216–20219 (2007)

Chimpanzee Sequencing and Analysis Consortium. Initial sequence of the chimpanzee genome and comparison with the human genome. Nature 437, 69–87 (2005)

Lawson, D. J., Hellenthal, G., Myers, S. & Falush, D. Inference of population structure using dense haplotype data. PLoS Genet. 8, e1002453 (2012)

Behar, D. M. et al. A "Copernican" reassessment of the human mitochondrial DNA tree from its root. Am. J. Hum. Genet. 90, 675–684 (2012)

Soares, P. et al. The archaeogenetics of Europe. Curr. Biol. 20, R174–R183 (2010)
Acknowledgements
Support was provided by: Estonian Research Infrastructure Roadmap grant no 3.2.0304.11-0312; Australian Research Council Discovery grants (DP110102635 and DP140101405) (D.M.L., M.W. and E.W.); Danish National Research Foundation; the Lundbeck Foundation and KU2016 (E.W.); ERC Starting Investigator grant (FP7 - 261213) (T.K.); Estonian Research Council grant PUT766 (G.C. and M.K.); EU European Regional Development Fund through the Centre of Excellence in Genomics to Estonian Biocentre (R.V.; M.Me. and A.Me.), and Centre of Excellence for Genomics and Translational Medicine Project No. 2014-2020.4.01.15-0012 to EGC of UT (A.Me.) and EBC (M.Me.); Estonian Institutional Research grant IUT24-1 (L.S., M.J., A.K., B.Y., K.T., C.B.M., Le.S., H.Sa., S.L., D.M.B., E.M., R.V., G.H., M.K., G.C., T.K. and M.Me.) and IUT20-60 (A.Me.); French Ministry of Foreign and European Affairs and French ANR grant number ANR-14-CE31-0013-01 (F.-X.R.); Gates Cambridge Trust Funding (E.J.); ICG SB RAS (No. VI.58.1.1) (D.V.L.); Leverhulme Programme grant no. RP2011-R-045 (A.B.M., P.G. and M.G.T.); Ministry of Education and Science of Russia; Project 6.656.2014/K (S.A.F.); NEFREX grant funded by the European Union (People Marie Curie Actions; International Research Staff Exchange Scheme; call FP7-PEOPLE-2012-IRSES-number 318979) (M.Me., G.H. and M.K.); NIH grants 5DP1ES022577 05, 1R01DK104339-01, and 1R01GM113657-01 (S.Tis.); Russian Foundation for Basic Research (grant N 14-06-00180a) (M.G.); Russian Foundation for Basic Research; grant 16-04-00890 (O.B. and E.B); Russian Science Foundation grant 14-14-00827 (O.B.); The Russian Foundation for Basic Research (14-04-00725-a), The Russian Humanitarian Scientific Foundation (13-11-02014) and the Program of the Basic Research of the RAS Presidium "Biological diversity" (E.K.K.); Wellcome Trust and Royal Society grant WT104125AIA & the Bristol Advanced Computing Research Centre (http://www.bris.ac.uk/acrc/) (D.J.L.); Wellcome Trust grant 098051 (Q.A.; C.T.-S. and Y.X.); Wellcome Trust Senior Research Fellowship grant 100719/Z/12/Z (M.G.T.); Young Explorers Grant from the National Geographic Society (8900-11) (C.A.E.); ERC Consolidator Grant 647787 'LocalAdaptatio' (A.Ma.); Program of the RAS Presidium "Basic research for the development of the Russian Arctic" (B.M.); Russian Foundation for Basic Research grant 16-06-00303 (E.B.); a Rutherford Fellowship (RDF-10-MAU-001) from the Royal Society of New Zealand (M.P.C.).
Ethics declarations
Competing interests
The authors declare no competing financial interests.
Additional information
Reviewer Information Nature thanks R. Dennell and the other anonymous reviewer(s) for their contribution to the peer review of this work.
Extended data figures and tables
Supplementary information
This file contains Supplementary Text and Data, Supplementary Figures, Supplementary Tables and additional references (see Contents for more details). (PDF 46731 kb)
This file contains Supplementary Tables. (XLSX 7191 kb)
About this article
Cite this article
Pagani, L., Lawson, D., Jagoda, E. et al. Genomic analyses inform on migration events during the peopling of Eurasia. Nature 538, 238–242 (2016). https://doi.org/10.1038/nature19792
Received:

Accepted:

Published:

Issue Date:

DOI: https://doi.org/10.1038/nature19792
Comments
By submitting a comment you agree to abide by our Terms and Community Guidelines. If you find something abusive or that does not comply with our terms or guidelines please flag it as inappropriate.