Abstract
Atypical food intake is a primary cause of obesity and other eating and metabolic disorders. Insight into the neural control of feeding has previously focused mainly on signalling mechanisms associated with the hypothalamus1,2,3,4,5, the major centre in the brain that regulates body weight homeostasis6,7. However, roles of non-canonical central nervous system signalling mechanisms in regulating feeding behaviour have been largely uncharacterized. Acetylcholine has long been proposed to influence feeding8,9,10 owing in part to the functional similarity between acetylcholine and nicotine, a known appetite suppressant. Nicotine is an exogenous agonist for acetylcholine receptors, suggesting that endogenous cholinergic signalling may play a part in normal physiological regulation of feeding. However, it remains unclear how cholinergic neurons in the brain regulate food intake. Here we report that cholinergic neurons of the mouse basal forebrain potently influence food intake and body weight. Impairment of cholinergic signalling increases food intake and results in severe obesity, whereas enhanced cholinergic signalling decreases food consumption. We found that cholinergic circuits modulate appetite suppression on downstream targets in the hypothalamus. Together our data reveal the cholinergic basal forebrain as a major modulatory centre underlying feeding behaviour.
Relevant articles
Open Access articles citing this article.
Nana Yu

,

Huina Song

…

Yisheng Lu

Neuroscience Bulletin Open Access 07 November 2022

Benjamin Hyunju Ahn

,

Minyoo Kim

&

Sung-Yon Kim

Experimental & Molecular Medicine Open Access 26 April 2022

Ciorana Roman-Ortiz

,

Jessica A. Guevara

&

Roger L. Clem

Scientific Reports Open Access 22 November 2021
Access options
Subscribe to Journal
Get full journal access for 1 year
$199.00
only $3.90 per issue
All prices are NET prices.
VAT will be added later in the checkout.
Tax calculation will be finalised during checkout.
Buy article
Get time limited or full article access on ReadCube.
$32.00
All prices are NET prices.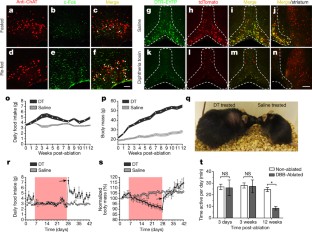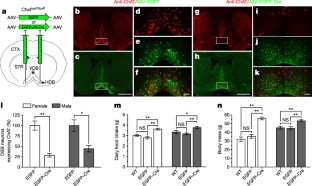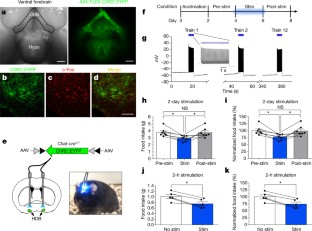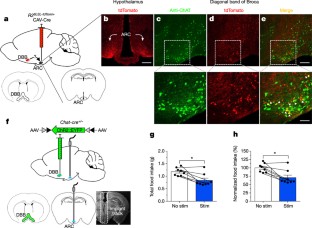 References
Aponte, Y., Atasoy, D. & Sternson, S. M. AGRP neurons are sufficient to orchestrate feeding behavior rapidly and without training. Nat. Neurosci. 14, 351–355 (2011)

Chen, Y., Lin, Y. C., Kuo, T. W. & Knight, Z. A. Sensory detection of food rapidly modulates arcuate feeding circuits. Cell 160, 829–841 (2015)

Luquet, S., Perez, F. A., Hnasko, T. S. & Palmiter, R. D. NPY/AgRP neurons are essential for feeding in adult mice but can be ablated in neonates. Science 310, 683–685 (2005)

Pinto, S. et al. Rapid rewiring of arcuate nucleus feeding circuits by leptin. Science 304, 110–115 (2004)

Garfield, A. S. et al. A neural basis for melanocortin-4 receptor-regulated appetite. Nat. Neurosci. 18, 863–871 (2015)

Morton, G. J., Cummings, D. E., Baskin, D. G., Barsh, G. S. & Schwartz, M. W. Central nervous system control of food intake and body weight. Nature 443, 289–295 (2006)

Elmquist, J. K., Elias, C. F. & Saper, C. B. From lesions to leptin: hypothalamic control of food intake and body weight. Neuron 22, 221–232 (1999)

Pistelli, F., Aquilini, F. & Carrozzi, L. Weight gain after smoking cessation. Monaldi Arch. Chest Dis. 71, 81–87 (2009)

Fulkerson, J. A. & French, S. A. Cigarette smoking for weight loss or control among adolescents: gender and racial/ethnic differences. J. Adolesc. Health 32, 306–313 (2003)

Voorhees, C. C., Schreiber, G. B., Schumann, B. C., Biro, F. & Crawford, P. B. Early predictors of daily smoking in young women: The National Heart, Lung, And Blood Institute growth and health study. Prev. Med. 34, 616–624 (2002)

Zaborszky, L., van den Pol, A. & Gyengesi, E. in The Mouse Nervous System (eds Watson C., Paxinos, G. & Puelles, L. ) 684–718 (2012)

Wang, D. et al. Whole-brain mapping of the direct inputs and axonal projections of POMC and AgRP neurons. Front. Neuroanat. 9, 40 (2015)

Sakurai, T. et al. Input of orexin/hypocretin neurons revealed by a genetically encoded tracer in mice. Neuron 46, 297–308 (2005)

Atasoy, D., Aponte, Y., Su, H. H. & Sternson, S. M. A FLEX switch targets Channelrhodopsin-2 to multiple cell types for imaging and long-range circuit mapping. J. Neurosci. 28, 7025–7030 (2008)

Saunders, A., Granger, A. J. & Sabatini, B. L. Corelease of acetylcholine and GABA from cholinergic forebrain neurons. eLife 4, e06412 (2015)

Ichikawa, T., Ajiki, K., Matsuura, J. & Misawa, H. Localization of two cholinergic markers, choline acetyltransferase and vesicular acetylcholine transporter in the central nervous system of the rat: in situ hybridization histochemistry and immunohistochemistry. J. Chem. Neuroanat. 13, 23–39 (1997)

Gropp, E. et al. Agouti-related peptide-expressing neurons are mandatory for feeding. Nat. Neurosci. 8, 1289–1291 (2005)

Mineur, Y. S. et al. Nicotine decreases food intake through activation of POMC neurons. Science 332, 1330–1332 (2011)

Soudais, C., Laplace-Builhe, C., Kissa, K. & Kremer, E. J. Preferential transduction of neurons by canine adenovirus vectors and their efficient retrograde transport in vivo. FASEB J. 15, 2283–2285 (2001)

Henry, F. E., Sugino, K., Tozer, A., Branco, T. & Sternson, S. M. Cell type-specific transcriptomics of hypothalamic energy-sensing neuron responses to weight-loss. eLife 4, e09800 (2015)

Ren, J. et al. Habenula "cholinergic" neurons co-release glutamate and acetylcholine and activate postsynaptic neurons via distinct transmission modes. Neuron 69, 445–452 (2011)

Saunders, A. et al. A direct GABAergic output from the basal ganglia to frontal cortex. Nature 521, 85–89 (2015)

Saper, C. B., Chou, T. C. & Elmquist, J. K. The need to feed: homeostatic and hedonic control of eating. Neuron 36, 199–211 (2002)

Liu, C., Lee, S. & Elmquist, J. K. Circuits controlling energy balance and mood: inherently intertwined or just complicated intersections? Cell Metab. 19, 902–909 (2014)

Wise, R. A. Brain reward circuitry: insights from unsensed incentives. Neuron 36, 229–240 (2002)

Picciotto, M. R., Higley, M. J. & Mineur, Y. S. Acetylcholine as a neuromodulator: cholinergic signaling shapes nervous system function and behavior. Neuron 76, 116–129 (2012)

Miwa, J. M., Freedman, R. & Lester, H. A. Neural systems governed by nicotinic acetylcholine receptors: emerging hypotheses. Neuron 70, 20–33 (2011)

Hangya, B., Ranade, S. P., Lorenc, M. & Kepecs, A. Central cholinergic neurons are rapidly recruited by reinforcement feedback. Cell 162, 1155–1168 (2015)

Hoebel, B. G., Avena, N. M. & Rada, P. Accumbens dopamine-acetylcholine balance in approach and avoidance. Curr. Opin. Pharmacol. 7, 617–627 (2007)

Website: © 2015 Allen Institute for Brain Science. Allen Mouse Brain Atlas [Internet]. Available from: http://mouse.brain-map.org
Acknowledgements
This study was supported by NIH grants 5F31NS089411 to A.M.H., R01NS078294 to B.R.A., R01DK109934 to B.R.A. and Q.T., P30DK079638 to the BCM Mouse Metabolic Core, and U54HD083092 to the BCM IDDRC. Support was also provided to B.R.A. from the Klarman Family Foundation, the Klingenstein-Simons Fellowship Award, the Brain and Behavior Research Foundation, the Charif Souki Fund, and the McNair Medical Institute. We thank H. Zoghbi, H. Bellen, M. Wang, and M. Krashes for input on this manuscript.
Ethics declarations
Competing interests
The authors declare no competing financial interests.
Additional information
Reviewer Information
Nature thanks L. de Lecea and the other anonymous reviewer(s) for their contribution to the peer review of this work.
Extended data figures and tables
About this article
Cite this article
Herman, A., Ortiz-Guzman, J., Kochukov, M. et al. A cholinergic basal forebrain feeding circuit modulates appetite suppression. Nature 538, 253–256 (2016). https://doi.org/10.1038/nature19789
Received:

Accepted:

Published:

Issue Date:

DOI: https://doi.org/10.1038/nature19789
Comments
By submitting a comment you agree to abide by our Terms and Community Guidelines. If you find something abusive or that does not comply with our terms or guidelines please flag it as inappropriate.