Abstract
Cancer stem cells (CSCs) may be responsible for tumour dormancy, relapse and the eventual death of most cancer patients1. In addition, these cells are usually resistant to cytotoxic conditions. However, very little is known about the biology behind this resistance to therapeutics. Here we investigated stem-cell death in the digestive system of adult Drosophila melanogaster. We found that knockdown of the coat protein complex I (COPI)–Arf79F (also known as Arf1) complex selectively killed normal and transformed stem cells through necrosis, by attenuating the lipolysis pathway, but spared differentiated cells. The dying stem cells were engulfed by neighbouring differentiated cells through a draper–myoblast city–Rac1–basket (also known as JNK)-dependent autophagy pathway. Furthermore, Arf1 inhibitors reduced CSCs in human cancer cell lines. Thus, normal or cancer stem cells may rely primarily on lipid reserves for energy, in such a way that blocking lipolysis starves them to death. This finding may lead to new therapies that could help to eliminate CSCs in human cancers.
Relevant articles
Open Access articles citing this article.
Lily L. Wong

,

Christina G. Bruxvoort

…

David J. Forsthoefel

Nature Communications Open Access 01 July 2022

Xiaoran Duan

,

Li Yang

…

Yi Zhang

Cell & Bioscience Open Access 14 May 2022

Xu-Yan Wang

,

Yuan Wei

…

Yun Chen

Signal Transduction and Targeted Therapy Open Access 18 April 2022
Access options
Subscribe to Journal
Get full journal access for 1 year
$199.00
only $3.90 per issue
All prices are NET prices.
VAT will be added later in the checkout.
Tax calculation will be finalised during checkout.
Buy article
Get time limited or full article access on ReadCube.
$32.00
All prices are NET prices.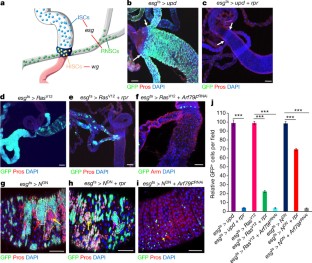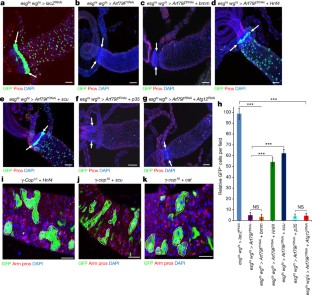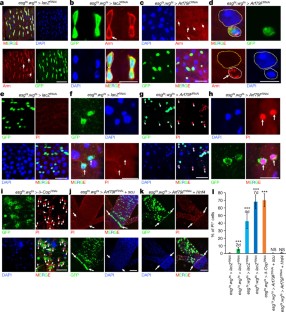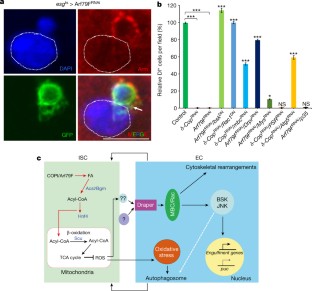 References
Kleffel, S. & Schatton, T. Tumor dormancy and cancer stem cells: two sides of the same coin? Adv. Exp. Med. Biol. 734, 145–179 (2013)

Micchelli, C. A. & Perrimon, N. Evidence that stem cells reside in the adult Drosophila midgut epithelium. Nature 439, 475–479 (2006)

Ohlstein, B. & Spradling, A. The adult Drosophila posterior midgut is maintained by pluripotent stem cells. Nature 439, 470–474 (2006)

Singh, S. R., Liu, W. & Hou, S. X. The adult Drosophila malpighian tubules are maintained by multipotent stem cells. Cell Stem Cell 1, 191–203 (2007)

Fox, D. T. & Spradling, A. C. The Drosophila hindgut lacks constitutively active adult stem cells but proliferates in response to tissue damage. Cell Stem Cell 5, 290–297 (2009)

Takashima, S., Mkrtchyan, M., Younossi-Hartenstein, A., Merriam, J. R. & Hartenstein, V. The behaviour of Drosophila adult hindgut stem cells is controlled by Wnt and Hh signalling. Nature 454, 651–655 (2008)

Essers, M. A. G. & Trumpp, A. Targeting leukemic stem cells by breaking their dormancy. Mol. Oncol. 4, 443–450 (2010)

Jiang, H. et al. Cytokine/Jak/Stat signaling mediates regeneration and homeostasis in the Drosophila midgut. Cell 137, 1343–1355 (2009)

Ma, M. et al. Wildtype adult stem cells, unlike tumor cells, are resistant to cellular damages in Drosophila. Dev. Biol. 411, 207–216 (2016)

Zeng, X., Singh, S. R., Hou, D. & Hou, S. X. Tumor suppressors Sav/Scrib and oncogene Ras regulate stem-cell transformation in adult Drosophila malpighian tubules. J. Cell. Physiol. 224, 766–774 (2010)

Ohlstein, B. & Spradling, A. Multipotent Drosophila intestinal stem cells specify daughter cell fates by differential notch signaling. Science 315, 988–992 (2007)

Goulas, S., Conder, R. & Knoblich, J. A. The Par complex and integrins direct asymmetric cell division in adult intestinal stem cells. Cell Stem Cell 11, 529–540 (2012)

Wu, M., Pastor-Pareja, J. C. & Xu, T. Interaction between Ras(V12) and scribbled clones induces tumour growth and invasion. Nature 463, 545–548 (2010)

Lee, M. C. S., Miller, E. A., Goldberg, J., Orci, L. & Schekman, R. Bi-directional protein transport between the ER and Golgi. Annu. Rev. Cell Dev. Biol. 20, 87–123 (2004)

Beller, M. et al. COPI complex is a regulator of lipid homeostasis. PLoS Biol. 6, e292 (2008)

Zeng, X. et al. Genome-wide RNAi screen identifies networks involved in intestinal stem cell regulation in Drosophila. Cell Reports 10, 1226–1238 (2015)

Lee, T. & Luo, L. Mosaic analysis with a repressible cell marker for studies of gene function in neuronal morphogenesis. Neuron 22, 451–461 (1999)

Zhang, Y., Chen, D. & Wang, Z. Analyses of mental dysfunction-related ACSl4 in Drosophila reveal its requirement for Dpp/BMP production and visual wiring in the brain. Hum. Mol. Genet. 18, 3894–3905 (2009)

Min, K. T. & Benzer, S. Preventing neurodegeneration in the Drosophila mutant bubblegum. Science 284, 1985–1988 (1999)

Grönke, S. et al. Brummer lipase is an evolutionary conserved fat storage regulator in Drosophila. Cell Metab. 1, 323–330 (2005)

Palanker, L., Tennessen, J. M., Lam, G. & Thummel, C. S. Drosophila HNF4 regulates lipid mobilization and β-oxidation. Cell Metab. 9, 228–239 (2009)

Timmons, A. K., Meehan, T. L., Gartmond, T. D. & McCall, K. Use of necrotic markers in the Drosophila ovary. Methods Mol. Biol. 1004, 215–228 (2013)

Etchegaray, J. I. et al. Draper acts through the JNK pathway to control synchronous engulfment of dying germline cells by follicular epithelial cells. Development 139, 4029–4039 (2012)

Ohsawa, S. et al. Elimination of oncogenic neighbors by JNK-mediated engulfment in Drosophila. Dev. Cell 20, 315–328 (2011)

Ohashi, Y. et al. AMF-26, a novel inhibitor of the Golgi system, targeting ADP-ribosylation factor 1 (Arf1) with potential for cancer therapy. J. Biol. Chem. 287, 3885–3897 (2012)

Trumpp, A. & Wiestler, O. D. Mechanisms of disease: cancer stem cells—targeting the evil twin. Nat. Clin. Pract. Oncol. 5, 337–347 (2008)

Han, C. Z. & Ravichandran, K. S. Metabolic connections during apoptotic cell engulfment. Cell 147, 1442–1445 (2011)

McPhee, C. K., Logan, M. A., Freeman, M. R. & Baehrecke, E. H. Activation of autophagy during cell death requires the engulfment receptor Draper. Nature 465, 1093–1096 (2010)

McGuire, S. E., Le, P. T., Osborn, A. J., Matsumoto, K. & Davis, R. L. Spatiotemporal rescue of memory dysfunction in Drosophila. Science 302, 1765–1768 (2003)

Hsieh, H. H., Chang, W. T., Yu, L. & Rao, Y. Control of axon-axon attraction by Semaphorin reverse signaling. Proc. Natl. Acad. Sci. USA 111, 11383–11388 (2014)

Hochmuth, C. E., Biteau, B., Bohmann, D. & Jasper, H. Redox regulation by Keap1 and Nrf2 controls intestinal stem cell proliferation in Drosophila. Cell Stem Cell 8, 188–199 (2011)

Reiff, T. et al. Endocrine remodelling of the adult intestine sustains reproduction in Drosophila. eLife 4, e06930 (2015)

Amcheslavsky, A. et al. Enteroendocrine cells support intestinal stem-cell-mediated homeostasis in Drosophila. Cell Reports 9, 32–39 (2014)

Sausville, E. A. et al. Antiproliferative effect in vitro and antitumor activity in vivo of brefeldin A. Cancer J. Sci. Am. 2, 52–58 (1996)

Sáenz, J. B. et al. Golgicide A reveals essential roles for GBF1 in Golgi assembly and function. Nat. Chem. Biol. 5, 157–165 (2009)

Hafner, M. et al. Inhibition of cytohesins by SecinH3 leads to hepatic insulin resistance. Nature 444, 941–944 (2006)

Viaud, J. et al. Structure-based discovery of an inhibitor of Arf activation by Sec7 domains through targeting of protein-protein complexes. Proc. Natl Acad. Sci. USA 104, 10370–10375 (2007)

Sorieul, M. et al. An Exo2 derivative affects ER and Golgi morphology and vacuolar sorting in a tissue-specific manner in arabidopsis. Traffic 12, 1552–1562 (2011)

Ciavardelli, D. et al. Breast cancer stem cells rely on fermentative glycolysis and are sensitive to 2-deoxyglucose treatment. Cell Death Dis. 5, e1336 (2014)

Bennett, B. L. et al. SP600125, an anthrapyrazolone inhibitor of Jun N-terminal kinase. Proc. Natl Acad. Sci. USA 98, 13681–13686 (2001)

Mashima, T. et al. p53-defective tumors with a functional apoptosome-mediated pathway: a new therapeutic target. J. Natl. Cancer Inst. 97, 765–777 (2005)

Samudio, I. et al. Pharmacologic inhibition of fatty acid oxidation sensitizes human leukemia cells to apoptosis induction. J. Clin. Invest. 120, 142–156 (2010)

Dambrova, M., Liepinsh, E. & Kalvinsh, I. Mildronate: cardioprotective action through carnitine-lowering effect. Trends Cardiovasc. Med. 12, 275–279 (2002)

Abdel-Aleem, S., Youssef, J., Frangakis, C. & Badr, M. Selective inhibition of hepatic peroxisomal fatty acid beta-oxidation by enoximone. Life Sci. 51, 53–57 (1992)

Delneste, Y., Jeannin, P., Potier, L., Romero, P. & Bonnefoy, J. Y. N-acetyl-L-cysteine exhibits antitumoral activity by increasing tumor necrosis factor alpha-dependent T-cell cytotoxicity. Blood 90, 1124–1132 (1997)

Feng, X. et al. Selection of reference genes for gene expression studies in porcine skeletal muscle using SYBR green qPCR. J. Biotechnol. 150, 288–293 (2010)

Singh, S. R., Zeng, X., Zheng, Z. & Hou, S. X. The adult Drosophila gastric and stomach organs are maintained by a multipotent stem cell pool at the foregut/midgut junction in the cardia (proventriculus). Cell Cycle 10, 1109–1120 (2011)

Strand, M. & Micchelli, C. A. Quiescent gastric stem cells maintain the adult Drosophila stomach. Proc. Natl Acad. Sci. USA 108, 17696–17701 (2011)

O'Brien, L. E., Soliman, S. S., Li, X. & Bilder, D. Altered modes of stem cell division drive adaptive intestinal growth. Cell 147, 603–614 (2011)

Kirilly, D., Spana, E. P., Perrimon, N., Padgett, R. W. & Xie, T. BMP signaling is required for controlling somatic stem cell self-renewal in the Drosophila ovary. Dev. Cell 9, 651–662 (2005)

Adachi-Yamada, T., Fujimura-Kamada, K., Nishida, Y. & Matsumoto, K. Distortion of proximodistal information causes JNK-dependent apoptosis in Drosophila wing. Nature 400, 166–169 (1999)

Zhou, Z., Hartwieg, E. & Horvitz, H. R. CED-1 is a transmembrane receptor that mediates cell corpse engulfment in C. elegans. Cell 104, 43–56 (2001)

Ziegenfuss, J. S., Doherty, J. & Freeman, M. R. Distinct molecular pathways mediate glial activation and engulfment of axonal debris after axotomy. Nat. Neurosci. 15, 979–987 (2012)

Fadok, V. A. et al. A receptor for phosphatidylserine-specific clearance of apoptotic cells. Nature 405, 85–90 (2000)

Wu, Y., Tibrewal, N. & Birge, R. B. Phosphatidylserine recognition by phagocytes: a view to a kill. Trends Cell Biol. 16, 189–197 (2006)

Dontu, G. et al. In vitro propagation and transcriptional profiling of human mammary stem/progenitor cells. Genes Dev. 17, 1253–1270 (2003)
Acknowledgements
We thank S. Hayashi, J.-P. Vincent, M. Fortini, C. Thummel, E. Baehrecke, R. P. Kuhnlein, M. Freeman, F. Schweisguth, M. Mlodzik, T. Lecuit, DGRC, VDRC, and the Bloomington Stock Centers for fly stocks; A. Chavanieu and L. Frigerio for Arf1 inhibitors; X. Yang and the Developmental Studies Hybridoma Bank for antibodies; and S. Lockett for help with the confocal microscope. This research was supported by the Intramural Research Program of the National Institutes of Health, National Cancer Institute.
Ethics declarations
Competing interests
The authors declare no competing financial interests.
Additional information
Reviewer Information
Nature thanks Y. Apidianakis, M. Montminy, H. Steller and the other anonymous reviewer(s) for their contribution to the peer review of this work.
Extended data figures and tables
Supplementary information
The genotype esgts>Arf79FRNAi - guts were stained with antibodies to Arm (red), GFP (green) and DAPI (blue). (WMV 270 kb)
About this article
Cite this article
Singh, S., Zeng, X., Zhao, J. et al. The lipolysis pathway sustains normal and transformed stem cells in adult Drosophila. Nature 538, 109–113 (2016). https://doi.org/10.1038/nature19788
Received:

Accepted:

Published:

Issue Date:

DOI: https://doi.org/10.1038/nature19788
Comments
By submitting a comment you agree to abide by our Terms and Community Guidelines. If you find something abusive or that does not comply with our terms or guidelines please flag it as inappropriate.