Abstract
Mitochondrial electron transport chain complexes are organized into supercomplexes responsible for carrying out cellular respiration. Here we present three architectures of mammalian (ovine) supercomplexes determined by cryo-electron microscopy. We identify two distinct arrangements of supercomplex CICIII2CIV (the respirasome)—a major 'tight' form and a minor 'loose' form (resolved at the resolution of 5.8 Å and 6.7 Å, respectively), which may represent different stages in supercomplex assembly or disassembly. We have also determined an architecture of supercomplex CICIII2 at 7.8 Å resolution. All observed density can be attributed to the known 80 subunits of the individual complexes, including 132 transmembrane helices. The individual complexes form tight interactions that vary between the architectures, with complex IV subunit COX7a switching contact from complex III to complex I. The arrangement of active sites within the supercomplex may help control reactive oxygen species production. To our knowledge, these are the first complete architectures of the dominant, physiologically relevant state of the electron transport chain.
Relevant articles
Open Access articles citing this article.
Niklas Klusch

,

Maximilian Dreimann

…

Hans-Peter Braun

Nature Plants Open Access 30 December 2022

Silvia Russo

,

Domenico De Rasmo

…

Simona Lobasso

Scientific Reports Open Access 18 November 2022

Giorgia Benegiamo

,

Maroun Bou Sleiman

…

Johan Auwerx

Nature Metabolism Open Access 17 October 2022
Access options
Subscribe to Journal
Get full journal access for 1 year
$199.00
only $3.90 per issue
All prices are NET prices.
VAT will be added later in the checkout.
Tax calculation will be finalised during checkout.
Buy article
Get time limited or full article access on ReadCube.
$32.00
All prices are NET prices.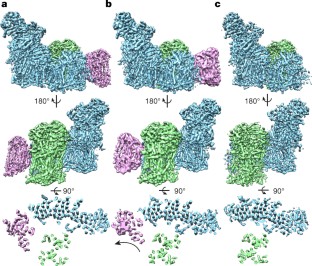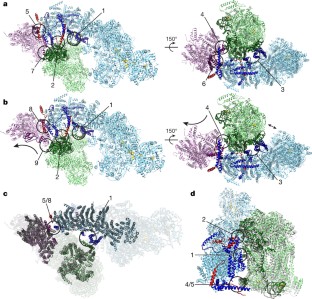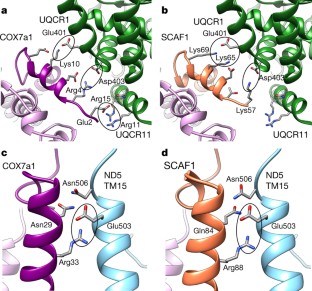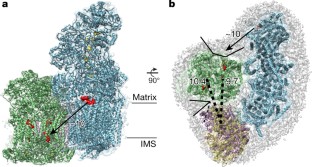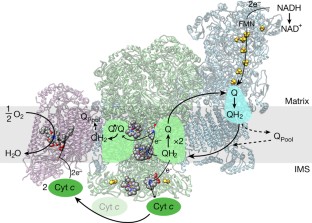 Accession codes
Primary accessions
Electron Microscopy Data Bank
Protein Data Bank
Data deposits
The EM maps have been deposited in the Electron Microscopy Data Bank under accession codes EMD-8130, EMD-8128 and EMD-8129. The models have been deposited in the Protein Data Bank (PDB) under accession codes 5J4Z, 5J7Y and 5J8K.
References
Sazanov, L. A. A giant molecular proton pump: structure and mechanism of respiratory complex I. Nature Rev. Mol. Cell Biol. 16, 375–388 (2015)

Chance, B., Estabrook, R. W. & Lee, C. P. Electron transport in the oxysome. Science 140, 379–380 (1963)

Hatefi, Y., Haavik, A. G. & Griffiths, D. E. Studies on the electron transfer system. XL. Preparation and properties of mitochondrial DPNH-coenzyme Q reductase. J. Biol. Chem. 237, 1676–1680 (1962)

Chazotte, B. & Hackenbrock, C. R. The multicollisional, obstructed, long-range diffusional nature of mitochondrial electron transport. J. Biol. Chem. 263, 14359–14367 (1988)

Hackenbrock, C. R., Chazotte, B. & Gupte, S. S. The random collision model and a critical assessment of diffusion and collision in mitochondrial electron transport. J. Bioenerg. Biomembr. 18, 331–368 (1986)

Schägger, H. & Pfeiffer, K. Supercomplexes in the respiratory chains of yeast and mammalian mitochondria. EMBO J. 19, 1777–1783 (2000)

Schägger, H. & Pfeiffer, K. The ratio of oxidative phosphorylation complexes I–V in bovine heart mitochondria and the composition of respiratory chain supercomplexes. J. Biol. Chem. 276, 37861–37867 (2001)

Acín-Pérez, R. et al. Respiratory complex III is required to maintain complex I in mammalian mitochondria. Mol. Cell 13, 805–815 (2004)

Maranzana, E., Barbero, G., Falasca, A. I., Lenaz, G. & Genova, M. L. Mitochondrial respiratory supercomplex association limits production of reactive oxygen species from complex I. Antioxid. Redox Signal. 19, 1469–1480 (2013)

Bianchi, C., Genova, M. L., Parenti Castelli, G. & Lenaz, G. The mitochondrial respiratory chain is partially organized in a supercomplex assembly: kinetic evidence using flux control analysis. J. Biol. Chem. 279, 36562–36569 (2004)

Blaza, J. N., Serreli, R., Jones, A. J. Y., Mohammed, K. & Hirst, J. Kinetic evidence against partitioning of the ubiquinone pool and the catalytic relevance of respiratory-chain supercomplexes. Proc. Natl Acad. Sci. USA 111, 15735–15740 (2014)

Enríquez, J. A. Supramolecular organization of respiratory complexes. Annu. Rev. Physiol. 78, 533–561 (2016)

Lenaz, G., Tioli, G., Falasca, A. I. & Genova, M. L. Complex I function in mitochondrial supercomplexes. BBA Bioenergetics 1857, 991–1000 (2016)

Lapuente-Brun, E. et al. Supercomplex assembly determines electron flux in the mitochondrial electron transport chain. Science 340, 1567–1570 (2013)

Ikeda, K., Shiba, S., Horie-Inoue, K., Shimokata, K. & Inoue, S. A stabilizing factor for mitochondrial respiratory supercomplex assembly regulates energy metabolism in muscle. Nature Commun. 4, 2147 (2013)

Mourier, A., Matic, S., Ruzzenente, B., Larsson, N.-G. & Milenkovic, D. The respiratory chain supercomplex organization is independent of COX7a2l isoforms. Cell Metab. 20, 1069–1075 (2014)

Williams, E. G. et al. Systems proteomics of liver mitochondria function. Science 352, aad0189 (2016)

Althoff, T., Mills, D. J., Popot, J. L. & Kühlbrandt, W. Arrangement of electron transport chain components in bovine mitochondrial supercomplex I1III2IV1 . EMBO J. 30, 4652–4664 (2011)

Dudkina, N. V., Kudryashev, M., Stahlberg, H. & Boekema, E. J. Interaction of complexes I, III, and IV within the bovine respirasome by single particle cryoelectron tomography. Proc. Natl Acad. Sci. USA 108, 15196–15200 (2011)

Mileykovskaya, E. et al. Arrangement of the respiratory chain complexes in Saccharomyces cerevisiae supercomplex III2IV2 revealed by single particle cryo-electron microscopy. J. Biol. Chem. 287, 23095–23103 (2012)

Mileykovskaya, E. & Dowhan, W. Cardiolipin-dependent formation of mitochondrial respiratory supercomplexes. Chem. Phys. Lipids 179, 42–48 (2014)

Xia, D. et al. Structural analysis of cytochrome bc1 complexes: implications to the mechanism of function. BBA Bioenergetics 1827, 1278–1294 (2013)

Vinothkumar, K. R., Zhu, J. & Hirst, J. Architecture of mammalian respiratory complex I. Nature 515, 80–84 (2014)

Tsukihara, T. et al. The whole structure of the 13-subunit oxidized cytochrome c oxidase at 2.8 Å. Science 272, 1136–1144 (1996)

Pitceathly, R. D. S. et al. NDUFA4 mutations underlie dysfunction of a cytochrome c oxidase subunit linked to human neurological disease. Cell Reports 3, 1795–1805 (2013)

Balsa, E. et al. NDUFA4 is a subunit of complex IV of the mammalian electron transport chain. Cell Metab. 16, 378–386 (2012)

Hayashi, T. et al. Higd1a is a positive regulator of cytochrome c oxidase. Proc. Natl Acad. Sci. USA 112, 1553–1558 (2015)

Chen, Y.-C. et al. Identification of a protein mediating respiratory supercomplex stability. Cell Metab. 15, 348–360 (2012)

Baradaran, R., Berrisford, J. M., Minhas, G. S. & Sazanov, L. A. Crystal structure of the entire respiratory complex I. Nature 494, 443–448 (2013)

Zickermann, V. et al. Structural biology. Mechanistic insight from the crystal structure of mitochondrial complex I. Science 347, 44–49 (2015)

Letts, J. A. & Sazanov, L. A. Gaining mass: the structure of respiratory complex I — from bacterial towards mitochondrial versions. Curr. Opin. Struct. Biol. 33, 135–145 (2015)

Fiedorczuk, K. et al. Structure of the entire mammalian mitochondrial complex I. Nature http://dx.doi.org/10.1038/nature19794 (2016)

Stroh, A. et al. Assembly of respiratory complexes I, III, and IV into NADH oxidase supercomplex stabilizes complex I in Paracoccus denitrificans. J. Biol. Chem. 279, 5000–5007 (2004)

Yip, C.-Y., Harbour, M. E., Jayawardena, K., Fearnley, I. M. & Sazanov, L. A. Evolution of respiratory complex I: "supernumerary" subunits are present in the alpha-proteobacterial enzyme. J. Biol. Chem. 286, 5023–5033 (2011)

Nübel, E., Wittig, I., Kerscher, S., Brandt, U. & Schägger, H. Two-dimensional native electrophoretic analysis of respiratory supercomplexes from Yarrowia lipolytica. Proteomics 9, 2408–2418 (2009)

Hayashi, H. et al. HIG1, a novel regulator of mitochondrial γ-secretase, maintains normal mitochondrial function. FASEB J. 26, 2306–2317 (2012)

Segade, F., Hurlé, B., Claudio, E., Ramos, S. & Lazo, P. S. Identification of an additional member of the cytochrome c oxidase subunit VIIa family of proteins. J. Biol. Chem. 271, 12343–12349 (1996)

Hüttemann, D. et al. Mice deleted for heart-type cytochrome c oxidase subunit 7a1 develop dilated cardiomyopathy. Mitochondrion 12, 294–301 (2012)

Tsukihara, T. et al. The low-spin heme of cytochrome c oxidase as the driving element of the proton-pumping process. Proc. Natl Acad. Sci. USA 100, 15304–15309 (2003)

Swierczek, M. et al. An electronic bus bar lies in the core of cytochrome bc1 . Science 329, 451–454 (2010)

Zhang, Z. et al. Electron transfer by domain movement in cytochrome bc1 . Nature 392, 677–684 (1998)

Shinzawa-Itoh, K. et al. Purification of active respiratory supercomplex from bovine heart mitochondria enables functional studies. J. Biol. Chem. 291, 4178–4184 (2016)

Gao, X. et al. Structural basis for the quinone reduction in the bc1 complex: a comparative analysis of crystal structures of mitochondrial cytochrome bc1 with bound substrate and inhibitors at the Qi site. Biochemistry 42, 9067–9080 (2003)

Smith, A. L. Preparation, properties, and conditions for assay of mitochondria: slaughterhouse material, small-scale. Methods Enzymol. 10, 81–86 (1967)

Dudkina, N. V., Eubel, H., Keegstra, W., Boekema, E. J. & Braun, H.-P. Structure of a mitochondrial supercomplex formed by respiratory-chain complexes I and III. Proc. Natl Acad. Sci. USA 102, 3225–3229 (2005)

Scheres, S. H. W. RELION: implementation of a Bayesian approach to cryo-EM structure determination. J. Struct. Biol. 180, 519–530 (2012)

Li, X. et al. Electron counting and beam-induced motion correction enable near-atomic-resolution single-particle cryo-EM. Nat. Methods 10, 584–590 (2013)

Zhang, K. Gctf: Real-time CTF determination and correction. J. Struct. Biol. 193, 1–12 (2016)

Rosenthal, P. B. & Henderson, R. Optimal determination of particle orientation, absolute hand, and contrast loss in single-particle electron cryomicroscopy. J. Mol. Biol. 333, 721–745 (2003)

Scheres, S. H. W. Beam-induced motion correction for sub-megadalton cryo-EM particles. eLife 3, e03665 (2014)

Scheres, S. H. W. & Chen, S. Prevention of overfitting in cryo-EM structure determination. Nature Methods 9, 853–854 (2012)

Chen, S. et al. High-resolution noise substitution to measure overfitting and validate resolution in 3D structure determination by single particle electron cryomicroscopy. Ultramicroscopy 135, 24–35 (2013)

Kucukelbir, A., Sigworth, F. J. & Tagare, H. D. Quantifying the local resolution of cryo-EM density maps. Nature Methods 11, 63–65 (2013)

Iwata, S. et al. Complete structure of the 11-subunit bovine mitochondrial cytochrome bc1 complex. Science 281, 64–71 (1998)

Emsley, P., Lohkamp, B., Scott, W. G. & Cowtan, K. Features and development of Coot. Acta Crystallogr. D 66, 486–501 (2010)

Stein, N. CHAINSAW: a program for mutating pdb files used as templates in molecular replacement. J. Appl. Cryst. 41, 641–643 (2008)

Winn, M. D. et al. Overview of the CCP4 suite and current developments. Acta Crystallogr. D 67, 235–242 (2011)

Sazanov, L. A. & Hinchliffe, P. Structure of the hydrophilic domain of respiratory complex I from Thermus thermophilus. Science 311, 1430–1436 (2006)

Efremov, R. G. & Sazanov, L. A. Structure of the membrane domain of respiratory complex I. Nature 476, 414–420 (2011)

Jones, D. T. Protein secondary structure prediction based on position-specific scoring matrices. J. Mol. Biol. 292, 195–202 (1999)

Buchan, D. W. A., Minneci, F., Nugent, T. C. O., Bryson, K. & Jones, D. T. Scalable web services for the PSIPRED protein analysis workbench. Nucleic Acids Res. 41, W349–W57 (2013)

Kelley, L. A., Mezulis, S., Yates, C. M., Wass, M. N. & Sternberg, M. J. E. The Phyre2 web portal for protein modeling, prediction and analysis. Nature Protocols 10, 845–858 (2015)

Brockmann, C. et al. The oxidized subunit B8 from human complex I adopts a thioredoxin fold. Structure 12, 1645–1654 (2004)

Parris, K. D. et al. Crystal structures of substrate binding to Bacillus subtilis holo-(acyl carrier protein) synthase reveal a novel trimeric arrangement of molecules resulting in three active sites. Structure 8, 883–895 (2000)

Szklarczyk, R. et al. NDUFB7 and NDUFA8 are located at the intermembrane surface of complex I. FEBS Lett. 585, 737–743 (2011)

Zhu, J. et al. Structure of subcomplex Iβ of mammalian respiratory complex I leads to new supernumerary subunit assignments. Proc. Natl Acad. Sci. USA 112, 12087–12092 (2015)

Ogilvie, I., Kennaway, N. G. & Shoubridge, E. A. A molecular chaperone for mitochondrial complex I assembly is mutated in a progressive encephalopathy. J. Clin. Invest. 115, 2784–2792 (2005)

Afonine, P. V., Headd, J. J., Terwilliger, T. C. & Adams, P. D. New tool: phenix.real_space_refine. Computational Crystallography Newsletter 4, 43–44 (2013)

Van Kuilenburg, A. B., Van Beeumen, J. J., Van der Meer, N. M. & Muijsers, A. O. Subunits VIIa,b,c of human cytochrome c oxidase. Identification of both 'heart-type' and 'liver-type' isoforms of subunit VIIa in human heart. Eur. J. Biochem. 203, 193–199 (1992)
Acknowledgements
We thank the MRC LMB Cambridge for the use of the Titan Krios microscope. Data processing was performed using the IST high-performance computer cluster. J.A.L. holds a long-term fellowship from FEBS. K.F. is partially funded by a MRC UK PhD fellowship.
Ethics declarations
Competing interests
The authors declare no competing financial interests.
Additional information
Reviewer Information
Nature thanks A. Engel, D. Winge and the other anonymous reviewer(s) for their contribution to the peer review of this work.
Extended data figures and tables
Supplementary information
This file contains the uncropped scans with size marker indications for Extended Data Figure 1a. (PDF 421 kb)
About this article
Cite this article
Letts, J., Fiedorczuk, K. & Sazanov, L. The architecture of respiratory supercomplexes. Nature 537, 644–648 (2016). https://doi.org/10.1038/nature19774
Received:

Accepted:

Published:

Issue Date:

DOI: https://doi.org/10.1038/nature19774
Comments
By submitting a comment you agree to abide by our Terms and Community Guidelines. If you find something abusive or that does not comply with our terms or guidelines please flag it as inappropriate.