Abstract
Modality-specific sensory inputs from individual sense organs are processed in parallel in distinct areas of the neocortex. For each sensory modality, input follows a cortico–thalamo–cortical loop in which a 'first-order' exteroceptive thalamic nucleus sends peripheral input to the primary sensory cortex, which projects back to a 'higher order' thalamic nucleus that targets a secondary sensory cortex1,2,3,4,5,6. This conserved circuit motif raises the possibility that shared genetic programs exist across sensory modalities. Here we report that, despite their association with distinct sensory modalities, first-order nuclei in mice are genetically homologous across somatosensory, visual, and auditory pathways, as are higher order nuclei. We further reveal peripheral input-dependent control over the transcriptional identity and connectivity of first-order nuclei by showing that input ablation leads to induction of higher-order-type transcriptional programs and rewiring of higher-order-directed descending cortical input to deprived first-order nuclei. These findings uncover an input-dependent genetic logic for the design and plasticity of sensory pathways, in which conserved developmental programs lead to conserved circuit motifs across sensory modalities.
Relevant articles
Open Access articles citing this article.
Sami El-Boustani

,

B. Semihcan Sermet

…

Carl C. H. Petersen

Nature Communications Open Access 03 July 2020

Guillaume Viejo

&

Adrien Peyrache

Nature Communications Open Access 20 May 2020

N. S. De León Reyes

,

S. Mederos

…

M. Nieto

Nature Communications Open Access 07 October 2019
Access options
Subscribe to Journal
Get full journal access for 1 year
$199.00
only $3.90 per issue
All prices are NET prices.
VAT will be added later in the checkout.
Tax calculation will be finalised during checkout.
Buy article
Get time limited or full article access on ReadCube.
$32.00
All prices are NET prices.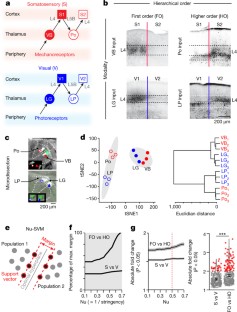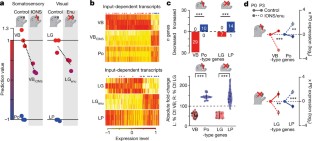 References
Guillery, R. W. Anatomical evidence concerning the role of the thalamus in corticocortical communication: a brief review. J. Anat. 187, 583–592 (1995)

Sherman, S. M. S. Thalamocortical interactions. Curr. Opin. Neurobiol. 22, 575–579 (2012)

Herkenham, M. Laminar organization of thalamic projections to the rat neocortex. Science 207, 532–535 (1980)

Smith, P. H., Uhlrich, D. J., Manning, K. A. & Banks, M. I. Thalamocortical projections to rat auditory cortex from the ventral and dorsal divisions of the medial geniculate nucleus. J. Comp. Neurol. 520, 34–51 (2012)

Clascá, F., Rubio-Garrido, P. & Jabaudon, D. Unveiling the diversity of thalamocortical neuron subtypes. Eur. J. Neurosci. 35, 1524–1532 (2012)

Theyel, B. B., Llano, D. A. & Sherman, S. M. The corticothalamocortical circuit drives higher-order cortex in the mouse. Nat. Neurosci. 13, 84–88 (2010)

Pouchelon, G. et al. Modality-specific thalamocortical inputs instruct the identity of postsynaptic L4 neurons. Nature 511, 471–474 (2014)

Frangeul, L. et al. Specific activation of the paralemniscal pathway during nociception. Eur. J. Neurosci. 39, 1455–1464 (2014)

Viaene, A. N., Petrof, I. & Sherman, S. M. Properties of the thalamic projection from the posterior medial nucleus to primary and secondary somatosensory cortices in the mouse. Proc. Natl Acad. Sci. USA 108, 18156–18161 (2011)

Chou, S.-J. et al. Geniculocortical input drives genetic distinctions between primary and higher-order visual areas. Science 340, 1239–1242 (2013)

Wang, S., Eisenback, M. A. & Bickford, M. E. Relative distribution of synapses in the pulvinar nucleus of the cat: implications regarding the "driver/modulator" theory of thalamic function. J. Comp. Neurol. 454, 482–494 (2002)

Reichova, I. & Sherman, S. M. Somatosensory corticothalamic projections: distinguishing drivers from modulators. J. Neurophysiol. 92, 2185–2197 (2004)

Lee, C. C. & Sherman, S. M. Synaptic properties of thalamic and intracortical inputs to layer 4 of the first- and higher-order cortical areas in the auditory and somatosensory systems. J. Neurophysiol. 100, 317–326 (2008)

Grant, E., Hoerder-Suabedissen, A. & Molnár, Z. The regulation of corticofugal fiber targeting by retinal inputs. Cereb. Cortex 26, 1336–1348 (2016)

Telley, L. et al. Sequential transcriptional waves direct the differentiation of newborn neurons in the mouse neocortex. Science 351, 1443–1446 (2016)

Macosko, E. Z. et al. Highly parallel genome-wide expression profiling of individual cells using nanoliter droplets. Cell 161, 1202–1214 (2015)

Lu, E., Llano, D. A. & Sherman, S. M. Different distributions of calbindin and calretinin immunostaining across the medial and dorsal divisions of the mouse medial geniculate body. Hear. Res. 257, 16–23 (2009)

Shanks, J. A. et al. Corticothalamic axons are essential for retinal ganglion cell axon targeting to the mouse dorsal lateral geniculate nucleus. J. Neurosci. 36, 5252–5263 (2016)

Gong, S. et al. Targeting Cre recombinase to specific neuron populations with bacterial artificial chromosome constructs. J. Neurosci. 27, 9817–9823 (2007)

Butler, A. B. Evolution of the thalamus: a morphological and functional review. Thalamus Relat. Syst. 4, 1–24 (2008)

Bishop, G. H. The relation between nerve fiber size and sensory modality: phylogenetic implications of the afferent innervation of cortex. J. Nerv. Ment. Dis. 128, 89–114 (1959)

Wong-Riley, M. T. & Welt, C. Histochemical changes in cytochrome oxidase of cortical barrels after vibrissal removal in neonatal and adult mice. Proc. Natl Acad. Sci. USA 77, 2333–2337 (1980)

Wong-Riley, M. Changes in the visual system of monocularly sutured or enucleated cats demonstrable with cytochrome oxidase histochemistry. Brain Res. 171, 11–28 (1979)

Yamashita, T. et al. Membrane potential dynamics of neocortical projection neurons driving target-specific signals. Neuron 80, 1477–1490 (2013)

Bavelier, D. & Neville, H. J. Cross-modal plasticity: where and how? Nat. Rev. Neurosci. 3, 443–452 (2002)

De la Rossa, A. & Jabaudon, D. In vivo rapid gene delivery into postmitotic neocortical neurons using iontoporation. Nat. Protocols 10, 25–32 (2015)

Golding, B. et al. Retinal input directs the recruitment of inhibitory interneurons into thalamic visual circuits. Neuron 81, 1057–1069 (2014)

Scholkopf, B., Smola, A. J., Williamson, R. C. & Bartlett, P. L. New support vector algorithms. Neural Comput. 12, 1207–1245 (2000)

Noble, W. S. What is a support vector machine? Nat. Biotechnol. 24, 1565–1567 (2006)

Guyon, I., Weston, J., Barnhill, S. & Vapnik, V. Gene selection for cancer classification using support vector machines. Mach. Learn. 46, 389–422 (2002)

Magdaleno, S. et al. BGEM: an in situ hybridization database of gene expression in the embryonic and adult mouse nervous system. PLoS Biol. 4, e86 (2006)

Bian, W.-J., Miao, W.-Y., He, S.-J., Qiu, Z. & Yu, X. Coordinated spine pruning and maturation mediated by inter-spine competition for cadherin/catenin complexes. Cell 162, 808–822 (2015)
Acknowledgements
We thank A. Benoit, S. Binvignat, M. Lanzillo and members of the Genomics Platform of the University of Geneva for technical assistance, A. Holtmaat and A. Carleton for the gift of the transgenic mouse lines. We thank J. Prados for help in the bioinformatics analysis. We thank E. Azim, A. Holtmaat, M. Scanziani and S. Tole for helpful comments on the manuscript. Work in the Jabaudon laboratory is supported by the Swiss National Science Foundation (SNF) (PP00P3_123447), the Leenaards Foundation, the Synapsis Foundation and the NARSAD Foundation.
Ethics declarations
Competing interests
The authors declare no competing financial interests.
Additional information
Reviewer Information Nature thanks S. Nelson, F. Polleux and the other anonymous reviewer(s) for their contribution to the peer review of this work.
Extended data figures and tables
Supplementary information
About this article
Cite this article
Frangeul, L., Pouchelon, G., Telley, L. et al. A cross-modal genetic framework for the development and plasticity of sensory pathways. Nature 538, 96–98 (2016). https://doi.org/10.1038/nature19770
Received:

Accepted:

Published:

Issue Date:

DOI: https://doi.org/10.1038/nature19770
Comments
By submitting a comment you agree to abide by our Terms and Community Guidelines. If you find something abusive or that does not comply with our terms or guidelines please flag it as inappropriate.