When did life first arise on Earth? Analysis of ancient rocks in Greenland that contain structures interpreted as bacterial in origin suggest that Earth might have been an abode for life much earlier than previously thought. See Letter p.535
Access options
Subscribe to Journal
Get full journal access for 1 year
$199.00
only $3.90 per issue
All prices are NET prices.
VAT will be added later in the checkout.
Tax calculation will be finalised during checkout.
Buy article
Get time limited or full article access on ReadCube.
$32.00
All prices are NET prices.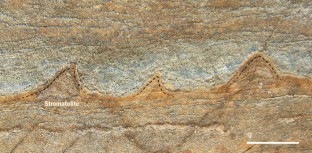 References
Nutman, A. P., Bennett, V. C., Friend, C. R. L., Van Kranendonk, M. J. & Chivas, A. R. Nature 537, 535–538 (2016).

Allwood, A. C., Walter, M. R., Kamber, B. S., Marshall, C. P. & Burch, I. W. Nature 441, 714–718 (2006).

Schidlowski, M., Appel, P. W. U., Eichmann, R. & Junge, C. E. Geochim. Cosmochim. Acta 43, 189–199 (1979).

Rosing, M. T. Science 283, 674–676 (1999).

Grotzinger, J. P. et al. Science 343, 1242777 (2014).
About this article
Cite this article
Allwood, A. Evidence of life in Earth's oldest rocks. Nature 537, 500–501 (2016). https://doi.org/10.1038/nature19429
Published:

Issue Date:

DOI: https://doi.org/10.1038/nature19429