Abstract
Histone modifications have critical roles in regulating the expression of developmental genes during embryo development in mammals1,2. However, genome-wide analyses of histone modifications in pre-implantation embryos have been impeded by the scarcity of the required materials. Here, by using a small-scale chromatin immunoprecipitation followed by sequencing (ChIP–seq) method3, we map the genome-wide profiles of histone H3 lysine 4 trimethylation (H3K4me3) and histone H3 lysine 27 trimethylation (H3K27me3), which are associated with gene activation and repression4,5, respectively, in mouse pre-implantation embryos. We find that the re-establishment of H3K4me3, especially on promoter regions, occurs much more rapidly than that of H3K27me3 following fertilization, which is consistent with the major wave of zygotic genome activation at the two-cell stage. Furthermore, H3K4me3 and H3K27me3 possess distinct features of sequence preference and dynamics in pre-implantation embryos. Although H3K4me3 modifications occur consistently at transcription start sites, the breadth of the H3K4me3 domain is a highly dynamic feature. Notably, the broad H3K4me3 domain (wider than 5 kb) is associated with higher transcription activity and cell identity not only in pre-implantation development but also in the process of deriving embryonic stem cells from the inner cell mass and trophoblast stem cells from the trophectoderm. Compared to embryonic stem cells, we found that the bivalency (that is, co-occurrence of H3K4me3 and H3K27me3) in early embryos is relatively infrequent and unstable. Taken together, our results provide a genome-wide map of H3K4me3 and H3K27me3 modifications in pre-implantation embryos, facilitating further exploration of the mechanism for epigenetic regulation in early embryos.
Relevant articles
Open Access articles citing this article.
Ariane Lismer

&

Sarah Kimmins

Nature Communications Open Access 14 April 2023

Myriam D. Jeninga

,

Jingyi Tang

…

Michaela Petter

BMC Biology Open Access 03 April 2023

Keliang Wu

,

Dongdong Fan

…

Lei Gao

Cell Discovery Open Access 14 March 2023
Access options
Subscribe to this journal
Receive 51 print issues and online access
$199.00 per year
only $3.90 per issue
Rent or buy this article
Get just this article for as long as you need it
$39.95
Prices may be subject to local taxes which are calculated during checkout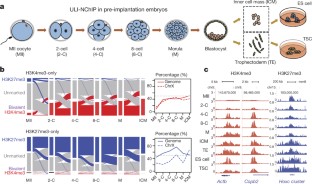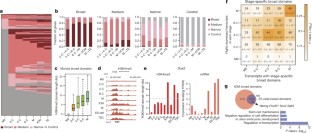 References
Li, E. Chromatin modification and epigenetic reprogramming in mammalian development. Nat. Rev. Genet. 3, 662–673 (2002)

Bogliotti, Y. S. & Ross, P. J. Mechanisms of histone H3 lysine 27 trimethylation remodeling during early mammalian development. Epigenetics 7, 976–981 (2012)

Brind'Amour, J. et al. An ultra-low-input native ChIP-seq protocol for genome-wide profiling of rare cell populations. Nat. Commun. 6, 6033 (2015)

Schuettengruber, B., Chourrout, D., Vervoort, M., Leblanc, B. & Cavalli, G. Genome regulation by polycomb and trithorax proteins. Cell 128, 735–745 (2007)

Ringrose, L. & Paro, R. Epigenetic regulation of cellular memory by the Polycomb and Trithorax group proteins. Annu. Rev. Genet. 38, 413–443 (2004)

Erhardt, S. et al. Consequences of the depletion of zygotic and embryonic enhancer of zeste 2 during preimplantation mouse development. Development 130, 4235–4248 (2003)

van der Heijden, G. W. et al. Asymmetry in histone H3 variants and lysine methylation between paternal and maternal chromatin of the early mouse zygote. Mech. Dev. 122, 1008–1022 (2005)

Zhang, M., Wang, F., Kou, Z., Zhang, Y. & Gao, S. Defective chromatin structure in somatic cell cloned mouse embryos. J. Biol. Chem. 284, 24981–24987 (2009)

Wang, H. & Dey, S. K. Roadmap to embryo implantation: clues from mouse models. Nat. Rev. Genet. 7, 185–199 (2006)

Chang, G. et al. High-throughput sequencing reveals the disruption of methylation of imprinted gene in induced pluripotent stem cells. Cell Res. 24, 293–306 (2014)

Soshnikova, N. & Duboule, D. Epigenetic temporal control of mouse Hox genes in vivo. Science 324, 1320–1323 (2009)

Ernst, J. & Kellis, M. ChromHMM: automating chromatin-state discovery and characterization. Nat. Methods 9, 215–216 (2012)

Plath, K. et al. Role of histone H3 lysine 27 methylation in X inactivation. Science 300, 131–135 (2003)

Mak, W. et al. Mitotically stable association of polycomb group proteins Eed and Enx1 with the inactive X chromosome in trophoblast stem cells. Curr. Biol. 12, 1016–1020 (2002)

Thomson, J. P. et al. CpG islands influence chromatin structure via the CpG-binding protein Cfp1. Nature 464, 1082–1086 (2010)

Mikkelsen, T. S. et al. Genome-wide maps of chromatin state in pluripotent and lineage-committed cells. Nature 448, 553–560 (2007)

Brandeis, M. et al. Sp1 elements protect a CpG island from de novo methylation. Nature 371, 435–438 (1994)

Hashimshony, T., Zhang, J., Keshet, I., Bustin, M. & Cedar, H. The role of DNA methylation in setting up chromatin structure during development. Nat. Genet. 34, 187–192 (2003)

Lande-Diner, L. et al. Role of DNA methylation in stable gene repression. J. Biol. Chem. 282, 12194–12200 (2007)

Wang, L. et al. Programming and inheritance of parental DNA methylomes in mammals. Cell 157, 1735–1735 (2014)

Benayoun, B. A. et al. H3K4me3 breadth is linked to cell identity and transcriptional consistency. Cell 158, 673–688 (2014)

Chen, K. et al. Broad H3K4me3 is associated with increased transcription elongation and enhancer activity at tumor-suppressor genes. Nat. Genet. 47, 1149–1157 (2015)

Greer, E. L. & Shi, Y. Histone methylation: a dynamic mark in health, disease and inheritance. Nat. Rev. Genet. 13, 343–357 (2012)

Huang, J. et al. Impairment of preimplantation porcine embryo development by histone demethylase KDM5B knockdown through disturbance of bivalent H3K4me3-H3K27me3 modifications. Biol. Reprod. 92, 72 (2015)

Azuara, V. et al. Chromatin signatures of pluripotent cell lines. Nat. Cell Biol. 8, 532–538 (2006)

Bernstein, B. E. et al. A bivalent chromatin structure marks key developmental genes in embryonic stem cells. Cell 125, 315–326 (2006)

Vastenhouw, N. L. et al. Chromatin signature of embryonic pluripotency is established during genome activation. Nature 464, 922–926 (2010)

Sachs, M. et al. Bivalent chromatin marks developmental regulatory genes in the mouse embryonic germline in vivo. Cell Reports 3, 1777–1784 (2013)

Paranjpe, S. S. & Veenstra, G. J. Establishing pluripotency in early development. Biochim. Biophys. Acta 1849, 626–636 (2015)

Pérez-Lluch, S. et al. Absence of canonical marks of active chromatin in developmentally regulated genes. Nat. Genet. 47, 1158–1167 (2015)

Kimura, Y. & Yanagimachi, R. Intracytoplasmic sperm injection in the mouse. Biol. Reprod. 52, 709–720 (1995)

Chatot, C. L., Ziomek, C. A., Bavister, B. D., Lewis, J. L. & Torres, I. An improved culture medium supports development of random-bred 1-cell mouse embryos in vitro. J. Reprod. Fertil. 86, 679–688 (1989)

Li, H. & Durbin, R. Fast and accurate short read alignment with Burrows–Wheeler transform. Bioinformatics 25, 1754–1760 (2009)

Zhang, Y. et al. Model-based analysis of ChIP–seq (MACS). Genome Biol. 9, R137 (2008)

Trapnell, C., Pachter, L. & Salzberg, S. L. TopHat: discovering splice junctions with RNA-Seq. Bioinformatics 25, 1105–1111 (2009)

Trapnell, C. et al. Transcript assembly and quantification by RNA-Seq reveals unannotated transcripts and isoform switching during cell differentiation. Nat. Biotechnol. 28, 511–515 (2010)

Xi, Y. & Li, W. BSMAP: whole genome bisulfite sequence MAPping program. BMC Bioinformatics 10, 232 (2009)

Sun, D. et al. MOABS: model based analysis of bisulfite sequencing data. Genome Biol. 15, R38 (2014)

Weber, M. et al. Distribution, silencing potential and evolutionary impact of promoter DNA methylation in the human genome. Nat. Genet. 39, 457–466 (2007)

Huang, W., Sherman, B. T. & Lempicki, R. A. Systematic and integrative analysis of large gene lists using DAVID bioinformatics resources. Nat. Protocols 4, 44–57 (2009)

Shen, Y. et al. A map of the cis-regulatory sequences in the mouse genome. Nature 488, 116–120 (2012)

Cabili, M. N. et al. Integrative annotation of human large intergenic noncoding RNAs reveals global properties and specific subclasses. Genes Dev. 25, 1915–1927 (2011)

Barrett, T. et al. NCBI GEO: archive for functional genomics data sets–update. Nucleic Acids Res. 41, D991–D995 (2013)

Liu, W. et al. Identification of key factors conquering developmental arrest of somatic cell cloned embryos by combining embryo biopsy and single-cell sequencing. Cell Discovery 2, 16010 (2016)
Acknowledgements
The authors would like to thank S. Liu from the University of British Columbia for advice with the ULI-NChIP–seq experiments. This work was supported by the National Natural Science Foundation of China (31325019, 31430056, 91319306, 31401266, 31501196, 31401247, 31501197, 31322031, 31371288 and 31571365), the Ministry of Science and Technology of China (2015CB964503, 2016YFA0100400 and 2015CB964800), the Science and Technology Commission of Shanghai Municipality (14CG16 and 15XD1503500), and the Major Program of Development Fund for Zhangjiang National Innovation Demonstration Zone (ZJ2014-ZD-002).
Ethics declarations
Competing interests
The authors declare no competing financial interests.
Additional information
Reviewer Information
Nature thanks R. Schultz and the other anonymous reviewer(s) for their contribution to the peer review of this work.
Extended data figures and tables
Supplementary information
About this article
Cite this article
Liu, X., Wang, C., Liu, W. et al. Distinct features of H3K4me3 and H3K27me3 chromatin domains in pre-implantation embryos. Nature 537, 558–562 (2016). https://doi.org/10.1038/nature19362
Received:

Accepted:

Published:

Issue Date:

DOI: https://doi.org/10.1038/nature19362
Comments
By submitting a comment you agree to abide by our Terms and Community Guidelines. If you find something abusive or that does not comply with our terms or guidelines please flag it as inappropriate.