Abstract
Histone modifications are fundamental epigenetic regulators that control many crucial cellular processes1. However, whether these marks can be passed on from mammalian gametes to the next generation is a long-standing question that remains unanswered. Here, by developing a highly sensitive approach, STAR ChIP–seq, we provide a panoramic view of the landscape of H3K4me3, a histone hallmark for transcription initiation2, from developing gametes to post-implantation embryos. We find that upon fertilization, extensive reprogramming occurs on the paternal genome, as H3K4me3 peaks are depleted in zygotes but are readily observed after major zygotic genome activation at the late two-cell stage. On the maternal genome, we unexpectedly find a non-canonical form of H3K4me3 (ncH3K4me3) in full-grown and mature oocytes, which exists as broad peaks at promoters and a large number of distal loci. Such broad H3K4me3 peaks are in contrast to the typical sharp H3K4me3 peaks restricted to CpG-rich regions of promoters. Notably, ncH3K4me3 in oocytes overlaps almost exclusively with partially methylated DNA domains. It is then inherited in pre-implantation embryos, before being erased in the late two-cell embryos, when canonical H3K4me3 starts to be established. The removal of ncH3K4me3 requires zygotic transcription but is independent of DNA replication-mediated passive dilution. Finally, downregulation of H3K4me3 in full-grown oocytes by overexpression of the H3K4me3 demethylase KDM5B is associated with defects in genome silencing. Taken together, these data unveil inheritance and highly dynamic reprogramming of the epigenome in early mammalian development.
Relevant articles
Open Access articles citing this article.
Longteng Wang

,

Yang Zheng

…

Hebing Chen

Communications Biology Open Access 02 September 2023

Hongmei Zhang

,

Shuyan Ji

…

Wei Xie

Genome Biology Open Access 13 July 2023

Wencheng Zhu

,

Yufeng Ding

…

Zhen Liu

Genome Biology Open Access 06 April 2023
Access options
Subscribe to this journal
Receive 51 print issues and online access
$199.00 per year
only $3.90 per issue
Rent or buy this article
Prices vary by article type
from$1.95
to$39.95
Prices may be subject to local taxes which are calculated during checkout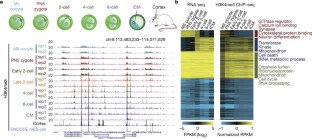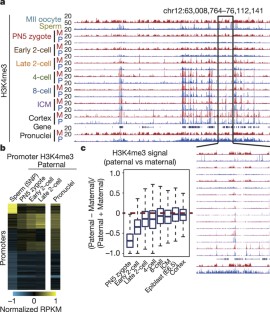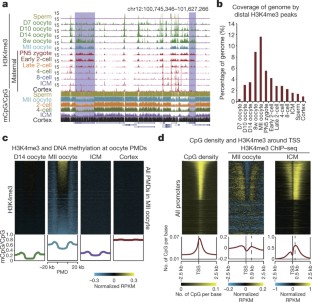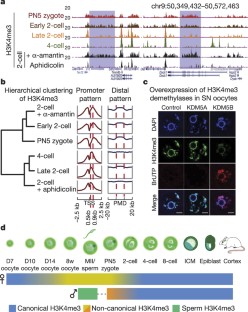 References
Kouzarides, T. Chromatin modifications and their function. Cell 128, 693–705 (2007)

Ruthenburg, A. J., Allis, C. D. & Wysocka, J. Methylation of lysine 4 on histone H3: intricacy of writing and reading a single epigenetic mark. Mol. Cell 25, 15–30 (2007)

Peng, X. et al. TELP, a sensitive and versatile library construction method for next-generation sequencing. Nucleic Acids Res . 43, e35 (2015)

Hamatani, T., Carter, M. G., Sharov, A. A. & Ko, M. S. Dynamics of global gene expression changes during mouse preimplantation development. Dev. Cell 6, 117–131 (2004)

Picelli, S. et al. Full-length RNA-seq from single cells using Smart-seq2. Nat. Protocols 9, 171–181 (2014)

Lee, M. T., Bonneau, A. R. & Giraldez, A. J. Zygotic genome activation during the maternal-to-zygotic transition. Annu. Rev. Cell Dev. Biol. 30, 581–613 (2014)

Peaston, A. E. et al. Retrotransposons regulate host genes in mouse oocytes and preimplantation embryos. Dev. Cell 7, 597–606 (2004)

Smith, Z. D. & Meissner, A. DNA methylation: roles in mammalian development. Nat. Rev. Genet. 14, 204–220 (2013)

Wu, H. & Zhang, Y. Reversing DNA methylation: mechanisms, genomics, and biological functions. Cell 156, 45–68 (2014)

Erkek, S. et al. Molecular determinants of nucleosome retention at CpG-rich sequences in mouse spermatozoa. Nat. Struct. Mol. Biol. 20, 868–875 (2013)

Xie, W. et al. Base-resolution analyses of sequence and parent-of-origin dependent DNA methylation in the mouse genome. Cell 148, 816–831 (2012)

Lepikhov, K. & Walter, J. Differential dynamics of histone H3 methylation at positions K4 and K9 in the mouse zygote. BMC Dev. Biol. 4, 12 (2004)

Bernstein, B. E. et al. A bivalent chromatin structure marks key developmental genes in embryonic stem cells. Cell 125, 315–326 (2006)

Wang, L. et al. Programming and inheritance of parental DNA methylomes in mammals. Cell 157, 979–991 (2014)

Tomizawa, S., Nowacka-Woszuk, J. & Kelsey, G. DNA methylation establishment during oocyte growth: mechanisms and significance. Int. J. Dev. Biol. 56, 867–875 (2012)

Lister, R. et al. Human DNA methylomes at base resolution show widespread epigenomic differences. Nature 462, 315–322 (2009)

Kageyama, S. et al. Alterations in epigenetic modifications during oocyte growth in mice. Reproduction 133, 85–94 (2007)

Andreu-Vieyra, C. V. et al. MLL2 is required in oocytes for bulk histone 3 lysine 4 trimethylation and transcriptional silencing. PLoS Biol . 8, e1000453 (2010)

Shen, Y. et al. A map of the cis-regulatory sequences in the mouse genome. Nature 488, 116–120 (2012)

Hon, G. C. et al. Epigenetic memory at embryonic enhancers identified in DNA methylation maps from adult mouse tissues. Nat. Genet. 45, 1198–1206 (2013)

Solter, D. & Knowles, B. B. Immunosurgery of mouse blastocyst. Proc. Natl Acad. Sci. USA 72, 5099–5102 (1975)

Boroviak, T., Loos, R., Bertone, P., Smith, A. & Nichols, J. The ability of inner-cell-mass cells to self-renew as embryonic stem cells is acquired following epiblast specification. Nat. Cell Biol. 16, 516–528 (2014)

Demeestere, I. et al. Effect of preantral follicle isolation technique on in-vitro follicular growth, oocyte maturation and embryo development in mice. Hum. Reprod. 17, 2152–2159 (2002)

Su, Y. Q. et al. MARF1 regulates essential oogenic processes in mice. Science 335, 1496–1499 (2012)

Sharif, B. et al. The chromosome passenger complex is required for fidelity of chromosome transmission and cytokinesis in meiosis of mouse oocytes. J. Cell Sci. 123, 4292–4300 (2010)

Bouniol-Baly, C. et al. Differential transcriptional activity associated with chromatin configuration in fully grown mouse germinal vesicle oocytes. Biol. Reprod. 60, 580–587 (1999)

Whitlock, K. E. & Westerfield, M. The olfactory placodes of the zebrafish form by convergence of cellular fields at the edge of the neural plate. Development 127, 3645–3653 (2000)

Gilfillan, G. D. et al. Limitations and possibilities of low cell number ChIP–seq. BMC Genomics 13, 645 (2012)

Hisano, M. et al. Genome-wide chromatin analysis in mature mouse and human spermatozoa. Nat. Protocols 8, 2449–2470 (2013)

Trapnell, C. et al. Differential gene and transcript expression analysis of RNA-seq experiments with TopHat and Cufflinks. Nat. Protocols 7, 562–578 (2012)

Jurka, J. et al. Repbase Update, a database of eukaryotic repetitive elements. Cytogenet. Genome Res. 110, 462–467 (2005)

Langmead, B. & Salzberg, S. L. Fast gapped-read alignment with Bowtie 2. Nat. Methods 9, 357–359 (2012)

Zhang, Y. et al. Model-based analysis of ChIP–seq (MACS). Genome Biol . 9, R137 (2008)

Feng, J., Liu, T., Qin, B., Zhang, Y. & Liu, X. S. Identifying ChIP–seq enrichment using MACS. Nat. Protocols 7, 1728–1740 (2012)

Yue, F. et al. A comparative encyclopedia of DNA elements in the mouse genome. Nature 515, 355–364 (2014)

Deng, Q., Ramsköld, D., Reinius, B. & Sandberg, R. Single-cell RNA-seq reveals dynamic, random monoallelic gene expression in mammalian cells. Science 343, 193–196 (2014)

Kobayashi, H. et al. High-resolution DNA methylome analysis of primordial germ cells identifies gender-specific reprogramming in mice. Genome Res . 23, 616–627 (2013)

Zhang, Y. et al. Canonical nucleosome organization at promoters forms during genome activation. Genome Res . 24, 260–266 (2014)

Bogdanovic, O. et al. Dynamics of enhancer chromatin signatures mark the transition from pluripotency to cell specification during embryogenesis. Genome Res . 22, 2043–2053 (2012)

Potok, M. E., Nix, D. A., Parnell, T. J. & Cairns, B. R. Reprogramming the maternal zebrafish genome after fertilization to match the paternal methylation pattern. Cell 153, 759–772 (2013)
Acknowledgements
We appreciate help from members of the Xie laboratory for comments during preparation of the manuscript. We thank J. Zhao and G. Qin for helping with pronuclei isolation. We are grateful to the animal core facility, the sequencing core facility, and biocomputing facility at Tsinghua University. This work is supported by the funding provided by the National Basic Research Program of China 2016YFC0900301 (W.X.), 2015CB856201 (W.X.), 2012CB966701 (J.N.), the National Natural Science Foundation of China 31422031 (W.X.), 91519326 (W.X.), 31171381 (J.N.), the Beijing Natural Science Foundation grant 5152014 (J.N.), Tsinghua University Initiative Scientific Research Program 20161080043 (W.X.), the funding from the THU-PKU Center for Life Sciences (W.X., J.N.), and the Youth Thousand Scholar Program of China (W.X.).
Ethics declarations
Competing interests
B.Z. and W.X. are co-inventors on a filed patent application for STAR ChIP–seq.
Additional information
Reviewer Information Nature thanks R. Schultz and the other anonymous reviewer(s) for their contribution to the peer review of this work.
Extended data figures and tables
Supplementary information
This file contains Supplementary Table 1. (XLSX 39 kb)
This file contains Supplementary Table 2. (XLSX 9167 kb)
This file contains Supplementary Table 3. (XLSX 43 kb)
About this article
Cite this article
Zhang, B., Zheng, H., Huang, B. et al. Allelic reprogramming of the histone modification H3K4me3 in early mammalian development. Nature 537, 553–557 (2016). https://doi.org/10.1038/nature19361
Received:

Accepted:

Published:

Issue Date:

DOI: https://doi.org/10.1038/nature19361
Comments
By submitting a comment you agree to abide by our Terms and Community Guidelines. If you find something abusive or that does not comply with our terms or guidelines please flag it as inappropriate.