Abstract
Maternal-to-zygotic transition (MZT) is essential for the formation of a new individual, but is still poorly understood despite recent progress in analysis of gene expression and DNA methylation in early embryogenesis1,2,3,4,5,6,7,8,9. Dynamic histone modifications may have important roles in MZT10,11,12,13, but direct measurements of chromatin states have been hindered by technical difficulties in profiling histone modifications from small quantities of cells. Recent improvements allow for 500 cell-equivalents of chromatin per reaction, but require 10,000 cells for initial steps14 or require a highly specialized microfluidics device that is not readily available15. We developed a micro-scale chromatin immunoprecipitation and sequencing (μChIP–seq) method, which we used to profile genome-wide histone H3 lysine methylation (H3K4me3) and acetylation (H3K27ac) in mouse immature and metaphase II oocytes and in 2-cell and 8-cell embryos. Notably, we show that ~22% of the oocyte genome is associated with broad H3K4me3 domains that are anti-correlated with DNA methylation. The H3K4me3 signal becomes confined to transcriptional-start-site regions in 2-cell embryos, concomitant with the onset of major zygotic genome activation. Active removal of broad H3K4me3 domains by the lysine demethylases KDM5A and KDM5B is required for normal zygotic genome activation and is essential for early embryo development. Our results provide insight into the onset of the developmental program in mouse embryos and demonstrate a role for broad H3K4me3 domains in MZT.
Relevant articles
Open Access articles citing this article.
Kazuki Susami

,

Shuntaro Ikeda

…

Naojiro Minami

Scientific Reports Open Access 11 July 2022

Yun-Wen Wu

,

Sen Li

…

Qian-Qian Sha

Nature Communications Open Access 09 June 2022

Yudhishtar S. Bedi

,

Haiqing Wang

…

Michael C. Golding

Scientific Reports Open Access 25 May 2022
Access options
Subscribe to this journal
Receive 51 print issues and online access
$199.00 per year
only $3.90 per issue
Rent or buy this article
Get just this article for as long as you need it
$39.95
Prices may be subject to local taxes which are calculated during checkout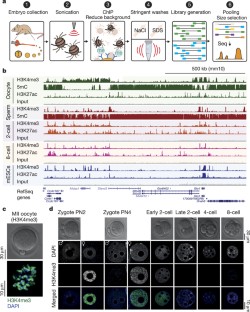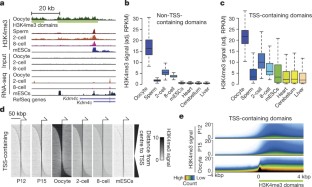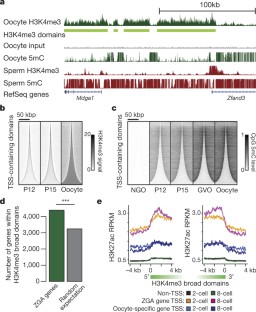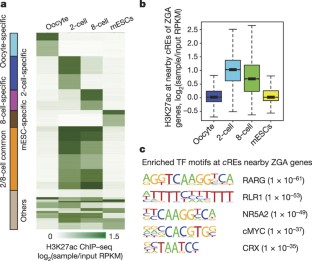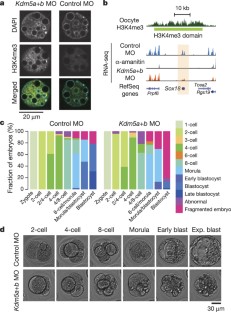 References
Smith, Z. D. et al. A unique regulatory phase of DNA methylation in the early mammalian embryo. Nature 484, 339–344 (2012)

Wang, L. et al. Programming and inheritance of parental DNA methylomes in mammals. Cell 157, 979–991 (2014)

Shen, L. et al. Tet3 and DNA replication mediate demethylation of both the maternal and paternal genomes in mouse zygotes. Cell Stem Cell 15, 459–470 (2014)

Guo, F. et al. Active and passive demethylation of male and female pronuclear DNA in the mammalian zygote. Cell Stem Cell 15, 447–458 (2014)

Park, S.-J. et al. Inferring the choreography of parental genomes during fertilization from ultralarge-scale whole-transcriptome analysis. Genes Dev . 27, 2736–2748 (2013)

Smith, Z. D. et al. DNA methylation dynamics of the human preimplantation embryo. Nature 511, 611–615 (2014)

Deng, Q., Ramsköld, D., Reinius, B. & Sandberg, R. Single-cell RNA-seq reveals dynamic, random monoallelic gene expression in mammalian cells. Science 343, 193–196 (2014)

Xue, Z. et al. Genetic programs in human and mouse early embryos revealed by single-cell RNA sequencing. Nature 500, 593–597 (2013)

Guo, H. et al. The DNA methylation landscape of human early embryos. Nature 511, 606–610 (2014)

Aoshima, K., Inoue, E., Sawa, H. & Okada, Y. Paternal H3K4 methylation is required for minor zygotic gene activation and early mouse embryonic development. EMBO Rep . 16, 803–812 (2015)

Morgan, H. D., Santos, F., Green, K., Dean, W. & Reik, W. Epigenetic reprogramming in mammals. Hum. Mol. Genet. 14, R47–R58 (2005)

Santos, F., Peters, A. H., Otte, A. P., Reik, W. & Dean, W. Dynamic chromatin modifications characterise the first cell cycle in mouse embryos. Dev. Biol. 280, 225–236 (2005)

Adenot, P. G., Mercier, Y., Renard, J. P. & Thompson, E. M. Differential H4 acetylation of paternal and maternal chromatin precedes DNA replication and differential transcriptional activity in pronuclei of 1-cell mouse embryos. Development 124, 4615–4625 (1997)

Lara-Astiaso, D. et al. Immunogenetics. Chromatin state dynamics during blood formation. Science 345, 943–949 (2014)

Shen, J. et al. H3K4me3 epigenomic landscape derived from ChIP–seq of 1,000 mouse early embryonic cells. Cell Res . 25, 143–147 (2015)

Kues, W. A. et al. Genome-wide expression profiling reveals distinct clusters of transcriptional regulation during bovine preimplantation development in vivo. Proc. Natl Acad. Sci. USA 105, 19768–19773 (2008)

Ruthenburg, A. J., Allis, C. D. & Wysocka, J. Methylation of lysine 4 on histone H3: intricacy of writing and reading a single epigenetic mark. Mol. Cell 25, 15–30 (2007)

Bannister, A. J. & Kouzarides, T. Regulation of chromatin by histone modifications. Cell Res . 21, 381–395 (2011)

Smallwood, S. A. et al. Single-cell genome-wide bisulfite sequencing for assessing epigenetic heterogeneity. Nat. Methods 11, 817–820 (2014)

Ooi, S. K. T. et al. DNMT3L connects unmethylated lysine 4 of histone H3 to de novo methylation of DNA. Nature 448, 714–717 (2007)

Otani, J. et al. Structural basis for recognition of H3K4 methylation status by the DNA methyltransferase 3A ATRX-DNMT3-DNMT3L domain. EMBO Rep . 10, 1235–1241 (2009)

Shirane, K. et al. Mouse oocyte methylomes at base resolution reveal genome-wide accumulation of non-CpG methylation and role of DNA methyltransferases. PLoS Genet . 9, e1003439 (2013)

Erkek, S. et al. Molecular determinants of nucleosome retention at CpG-rich sequences in mouse spermatozoa. Nat. Struct. Mol. Biol. 20, 868–875 (2013)

Creyghton, M. P. et al. Histone H3K27ac separates active from poised enhancers and predicts developmental state. Proc. Natl Acad. Sci. USA 107, 21931–21936 (2010)

Nord, A. S. et al. Rapid and pervasive changes in genome-wide enhancer usage during mammalian development. Cell 155, 1521–1531 (2013)

Shen, Y. et al. A map of the cis-regulatory sequences in the mouse genome. Nature 488, 116–120 (2012)

Visel, A. et al. ChIP–seq accurately predicts tissue-specific activity of enhancers. Nature 457, 854–858 (2009)

Andreu-Vieyra, C. V. et al. MLL2 is required in oocytes for bulk histone 3 lysine 4 trimethylation and transcriptional silencing. PLoS Biol . 8, e1000453 (2010)

Leung, D. et al. Integrative analysis of haplotype-resolved epigenomes across human tissues. Nature 518, 350–354 (2015)

Benayoun, B. A. et al. H3K4me3 breadth is linked to cell identity and transcriptional consistency. Cell 158, 673–688 (2014)

Chiang, T. & Lampson, M. A. Counting chromosomes in intact eggs. Methods Mol. Biol. 957, 249–253 (2013)

Dahl, J. A. & Collas, P. A rapid micro chromatin immunoprecipitation assay (microChIP). Nat. Protocols 3, 1032–1045 (2008)

Dahl, J. A. & Klungland, A. Micro chromatin immunoprecipitation (μChIP) from early mammalian embryos. Methods Mol. Biol. 1222, 227–245 (2015)

Li, H. & Durbin, R. Fast and accurate short read alignment with Burrows-Wheeler transform. Bioinformatics 25, 1754–1760 (2009)

Bolger, A. M., Lohse, M. & Usadel, B. Trimmomatic: a flexible trimmer for Illumina sequence data. Bioinformatics 30, 2114–2120 (2014)

Krueger, F. & Andrews, S. R. Bismark: a flexible aligner and methylation caller for Bisulfite-Seq applications. Bioinformatics 27, 1571–1572 (2011)

Trapnell, C. et al. Transcript assembly and quantification by RNA-Seq reveals unannotated transcripts and isoform switching during cell differentiation. Nat. Biotechnol. 28, 511–515 (2010)

Lerdrup, M., Johansen, J. V., Agrawal-Singh, S. & Hansen, K. An interactive environment for agile analysis and visualization of ChIP–sequencing data. Nat. Struct. Mol. Biol. 23, 349–357 (2016)

McLean, C. Y. et al. GREAT improves functional interpretation of cis-regulatory regions. Nat. Biotechnol. 28, 495–501 (2010)

Schones, D. E., Smith, A. D. & Zhang, M. Q. Statistical significance of cis-regulatory modules. BMC Bioinformatics 8, http://dx.doi.org/10.1186/1471-2105-8-19 (2007)

Heinz, S. et al. Simple combinations of lineage-determining transcription factors prime cis-regulatory elements required for macrophage and B cell identities. Mol. Cell 38, 576–589 (2010)
Acknowledgements
We thank the members of the Ren laboratory for support and critical suggestions throughout the course of this work. We are thankful to L. Ellevog, G. Flor Lien, T. Catterall, S. Khan, I. Johnson, the Norwegian Transgenic Center, the Animal Facility OUS and Genoway for help with embryo collection, animal care and morpholino injections. We are grateful to A. Local for the gift of recombinant histone octameres and to R. Ahmed, M. Indahl and E. Skarpen for assistance with staining and imaging of embryos. We are also thankful to K. Shirane (Kyushu University) for sharing data. I. Jung would like to give special thanks to Y. Lee. This work was funded by the Ludwig Institute for Cancer Research, U54HG006997 (to B.R.), American Heart Association Postdoctoral Fellowship (to I. Jung), the Oslo University Hospital Early Career Award (to J.A.D.), the Norwegian Cancer Society (to A.K., J.A.D.), the Anders Jahre Foundation (to J.A.D.) and the Norwegian Research council (to A.K.).
Ethics declarations
Competing interests
Inven2 (on behalf of J.A.D. and A.K.) have registered a patent application entitled 'ChIP–seq assays'.
Additional information
Reviewer Information Nature thanks R. Schultz and the other anonymous reviewer(s) for their contribution to the peer review of this work.
Extended data figures and tables
Supplementary information
This file contains Supplementary Tables 1-9 and Supplementary Figure 1. (PDF 174 kb)
A 3D video composed of confocal laser scanning micrographs showing H3K4me3 levels in MII oocyte. H3K4me3 (green) and DNA (DAPI, blue). (MP4 8892 kb)
About this article
Cite this article
Dahl, J., Jung, I., Aanes, H. et al. Broad histone H3K4me3 domains in mouse oocytes modulate maternal-to-zygotic transition. Nature 537, 548–552 (2016). https://doi.org/10.1038/nature19360
Received:

Accepted:

Published:

Issue Date:

DOI: https://doi.org/10.1038/nature19360
Comments
By submitting a comment you agree to abide by our Terms and Community Guidelines. If you find something abusive or that does not comply with our terms or guidelines please flag it as inappropriate.