Abstract
Delineating hierarchical cellular states, including rare intermediates and the networks of regulatory genes that orchestrate cell-type specification, are continuing challenges for developmental biology. Single-cell RNA sequencing is greatly accelerating such research, given its power to provide comprehensive descriptions of genomic states and their presumptive regulators1,2,3,4,5. Haematopoietic multipotential progenitor cells, as well as bipotential intermediates, manifest mixed-lineage patterns of gene expression at a single-cell level6,7. Such mixed-lineage states may reflect the molecular priming of different developmental potentials by co-expressed alternative-lineage determinants, namely transcription factors. Although a bistable gene regulatory network has been proposed to regulate the specification of either neutrophils or macrophages7,8, the nature of the transition states manifested in vivo, and the underlying dynamics of the cell-fate determinants, have remained elusive. Here we use single-cell RNA sequencing coupled with a new analytic tool, iterative clustering and guide-gene selection, and clonogenic assays to delineate hierarchical genomic and regulatory states that culminate in neutrophil or macrophage specification in mice. We show that this analysis captured prevalent mixed-lineage intermediates that manifested concurrent expression of haematopoietic stem cell/progenitor and myeloid progenitor cell genes. It also revealed rare metastable intermediates that had collapsed the haematopoietic stem cell/progenitor gene expression programme, instead expressing low levels of the myeloid determinants, Irf8 and Gfi1 (refs 9, 10, 11, 12, 13). Genetic perturbations and chromatin immunoprecipitation followed by sequencing revealed Irf8 and Gfi1 as key components of counteracting myeloid-gene-regulatory networks. Combined loss of these two determinants 'trapped' the metastable intermediate. We propose that mixed-lineage states are obligatory during cell-fate specification, manifest differing frequencies because of their dynamic instability and are dictated by counteracting gene-regulatory networks.
Relevant articles
Open Access articles citing this article.
Anthos Christofides

,

Xanthi-Lida Katopodi

…

Vassiliki A. Boussiotis

Nature Immunology Open Access 29 December 2022

Min Su

,

Tao Pan

…

Yong-Sheng Li

Military Medical Research Open Access 02 December 2022

Christa Haase

,

Karin Gustafsson

…

Charles P. Lin

Nature Methods Open Access 24 November 2022
Access options
Subscribe to Journal
Get full journal access for 1 year
$199.00
only $3.90 per issue
All prices are NET prices.
VAT will be added later in the checkout.
Tax calculation will be finalised during checkout.
Buy article
Get time limited or full article access on ReadCube.
$32.00
All prices are NET prices.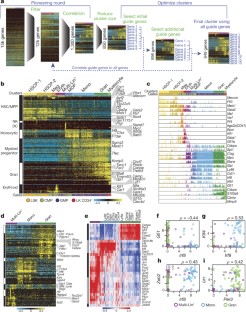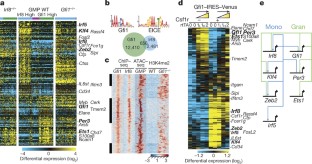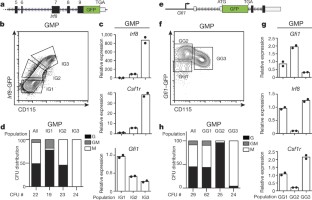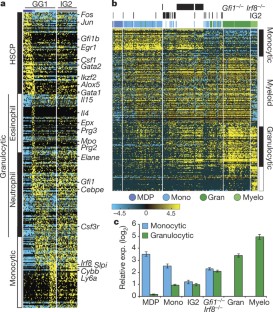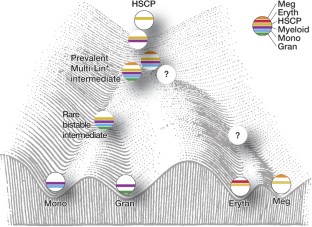 Accession codes
Data deposits
Data are deposited in the Gene Expression Omnibus SuperSeries under accession number GSE70245.
References
Grün, D. et al. Single-cell messenger RNA sequencing reveals rare intestinal cell types. Nature 525, 251–255 (2015)

Paul, F. et al. Transcriptional heterogeneity and lineage commitment in myeloid progenitors. Cell 163, 1663–1677 (2015)

Satija, R., Farrell, J. A., Gennert, D., Schier, A. F. & Regev, A. Spatial reconstruction of single-cell gene expression data. Nat. Biotechnol. 33, 495–502 (2015)

Trapnell, C. et al. The dynamics and regulators of cell fate decisions are revealed by pseudotemporal ordering of single cells. Nat. Biotechnol. 32, 381–386 (2014)

Yan, L. et al. Single-cell RNA-Seq profiling of human preimplantation embryos and embryonic stem cells. Nat. Struct. Mol. Biol. 20, 1131–1139 (2013)

Hu, M. et al. Multilineage gene expression precedes commitment in the hemopoietic system. Genes Dev. 11, 774–785 (1997)

Laslo, P. et al. Multilineage transcriptional priming and determination of alternate hematopoietic cell fates. Cell 126, 755–766 (2006)

Dahl, R. et al. Regulation of macrophage and neutrophil cell fates by the PU.1:C/EBPalpha ratio and granulocyte colony-stimulating factor. Nat. Immunol. 4, 1029–1036 (2003)

Hambleton, S. et al. IRF8 mutations and human dendritic-cell immunodeficiency. N. Engl. J. Med. 365, 127–138 (2011)

Tamura, T., Nagamura-Inoue, T., Shmeltzer, Z., Kuwata, T. & Ozato, K. ICSBP directs bipotential myeloid progenitor cells to differentiate into mature macrophages. Immunity 13, 155–165 (2000)

Karsunky, H. et al. Inflammatory reactions and severe neutropenia in mice lacking the transcriptional repressor Gfi1. Nat. Genet. 30, 295–300 (2002)

Hock, H. et al. Intrinsic requirement for zinc finger transcription factor Gfi-1 in neutrophil differentiation. Immunity 18, 109–120 (2003)

Zarebski, A. et al. Mutations in growth factor independent-1 associated with human neutropenia block murine granulopoiesis through colony stimulating factor-1. Immunity 28, 370–380 (2008)

Akashi, K., Traver, D., Miyamoto, T. & Weissman, I. L. A clonogenic common myeloid progenitor that gives rise to all myeloid lineages. Nature 404, 193–197 (2000)

Guibal, F. C. et al. Identification of a myeloid committed progenitor as the cancer-initiating cell in acute promyelocytic leukemia. Blood 114, 5415–5425 (2009)

Bendall, S. C. et al. Single-cell trajectory detection uncovers progression and regulatory coordination in human B cell development. Cell 157, 714–725 (2014)

Marco, E. et al. Bifurcation analysis of single-cell gene expression data reveals epigenetic landscape. Proc. Natl Acad. Sci. USA 111, E5643–E5650 (2014)

Auffray, C. et al. CX3CR1+ CD115+ CD135+ common macrophage/DC precursors and the role of CX3CR1 in their response to inflammation. J. Exp. Med. 206, 595–606 (2009)

Orkin, S. H. & Zon, L. I. Hematopoiesis: an evolving paradigm for stem cell biology. Cell 132, 631–644 (2008)

DeKoter, R. P. & Singh, H. Regulation of B lymphocyte and macrophage development by graded expression of PU.1. Science 288, 1439–1441 (2000)

Zhang, D. E. et al. Absence of granulocyte colony-stimulating factor signaling and neutrophil development in CCAAT enhancer binding protein α-deficient mice. Proc. Natl Acad. Sci. USA 94, 569–574 (1997)

Yamanaka, R. et al. Impaired granulopoiesis, myelodysplasia, and early lethality in CCAAT/enhancer binding protein epsilon-deficient mice. Proc. Natl Acad. Sci. USA 94, 13187–13192 (1997)

Kurotaki, D. et al. Essential role of the IRF8-KLF4 transcription factor cascade in murine monocyte differentiation. Blood 121, 1839–1849 (2013)

Person, R. E. et al. Mutations in proto-oncogene GFI1 cause human neutropenia and target ELA2. Nat. Genet. 34, 308–312 (2003)

Holtschke, T. et al. Immunodeficiency and chronic myelogenous leukemia-like syndrome in mice with a targeted mutation of the ICSBP gene. Cell 87, 307–317 (1996)

Brass, A. L., Zhu, A. Q. & Singh, H. Assembly requirements of PU.1-Pip (IRF-4) activator complexes: inhibiting function in vivo using fused dimers. EMBO J. 18, 977–991 (1999)

Lara-Astiaso, D. et al. Immunogenetics. Chromatin state dynamics during blood formation. Science 345, 943–949 (2014)

Saleque, S., Kim, J., Rooke, H. M. & Orkin, S. H. Epigenetic regulation of hematopoietic differentiation by Gfi-1 and Gfi-1b is mediated by the cofactors CoREST and LSD1. Mol. Cell 27, 562–572 (2007)

Spooner, C. J., Cheng, J. X., Pujadas, E., Laslo, P. & Singh, H. A recurrent network involving the transcription factors PU.1 and Gfi1 orchestrates innate and adaptive immune cell fates. Immunity 31, 576–586 (2009)

Voehringer, D., van Rooijen, N. & Locksley, R. M. Eosinophils develop in distinct stages and are recruited to peripheral sites by alternatively activated macrophages. J. Leukoc. Biol. 81, 1434–1444 (2007)

Wang, H. et al. A reporter mouse reveals lineage-specific and heterogeneous expression of IRF8 during lymphoid and myeloid cell differentiation. J. Immunol. 193, 1766–1777 (2014)

Jung, S. et al. Analysis of fractalkine receptor CX(3)CR1 function by targeted deletion and green fluorescent protein reporter gene insertion. Mol. Cell. Biol. 20, 4106–4114 (2000)

Mitchison, T. & Kirschner, M. Dynamic instability of microtubule growth. Nature 312, 237–242 (1984)

Buettner, F. et al. Computational analysis of cell-to-cell heterogeneity in single-cell RNA-sequencing data reveals hidden subpopulations of cells. Nat. Biotechnol. 33, 155–160 (2015)

Yücel, R., Kosan, C., Heyd, F. & Möröy, T. Gfi1:green fluorescent protein knock-in mutant reveals differential expression and autoregulation of the growth factor independence 1 (Gfi1) gene during lymphocyte development. J. Biol. Chem. 279, 40906–40917 (2004)

Urlinger, S. et al. Exploring the sequence space for tetracycline-dependent transcriptional activators: novel mutations yield expanded range and sensitivity. Proc. Natl Acad. Sci. USA 97, 7963–7968 (2000)

Nagai, T. et al. A variant of yellow fluorescent protein with fast and efficient maturation for cell-biological applications. Nat. Biotechnol. 20, 87–90 (2002)

Premsrirut, P. K. et al. A rapid and scalable system for studying gene function in mice using conditional RNA interference. Cell 145, 145–158 (2011)

Langmead, B., Trapnell, C., Pop, M. & Salzberg, S. L. Ultrafast and memory-efficient alignment of short DNA sequences to the human genome. Genome Biol. 10, R25 (2009)

Wagner, G. P., Kin, K. & Lynch, V. J. Measurement of mRNA abundance using RNA-seq data: RPKM measure is inconsistent among samples. Theory Biosci. 131, 281– 285 (2012)

Robinson, J. T. et al. Integrative genomics viewer. Nat. Biotechnol. 29, 24–26 (2011)

Emig, D. et al. AltAnalyze and DomainGraph: analyzing and visualizing exon expression data. Nucleic Acids Res. 38, W755- 62 (2010)

Heinz, S. et al. Simple combinations of lineage-determining transcription factors prime cis-regulatory elements required for macrophage and B cell identities. Mol. Cell 38, 576–589 (2010)

Culhane, A. C., Thioulouse, J., Perrière, G. & Higgins, D. G. MADE4: an R package for multivariate analysis of gene expression data. Bioinformatics 21, 2789–2790 (2005)

Huber, W. et al. Orchestrating high-throughput genomic analysis with Bioconductor. Nat. Methods 12, 115–121 (2015)

Kartashov, A. V. & Barski, A. BioWardrobe: an integrated platform for analysis of epigenomics and transcriptomics data. Genome Biol. 16, 158 (2015)

Kent, W. J. et al. The human genome browser at UCSC. Genome Res. 12, 996–1006 (2002)

Treutlein, B. et al. Reconstructing lineage hierarchies of the distal lung epithelium using single-cell RNA-seq. Nature 509, 371–375 (2014)

Beard, C., Hochedlinger, K., Plath, K., Wutz, A. & Jaenisch, R. Efficient method to generate single-copy transgenic mice by site-specific integration in embryonic stem cells. Genesis 44, 23–28 (2006)

Spooner, C. J., et al. Specification of type 2 innate lymphocytes by the transcriptional determinant Gfi1. Nat Immunol. 14, 12229–1236 (2013)
Acknowledgements
We thank H. C. Morse for supplying Irf8–GFP mice. We acknowledge the assistance of the Cincinnati Children's Hospital Medical Center (CCHMC) Research Flow Cytometry Core (supported in part by NIH grants AR-47363, NIH DK78392 and NIH DK90971) and DNA Sequencing and Genotyping Core. We thank S. Smith and H. C. Liang for optimizing and generating scRNA-seq libraries. We thank S. Potter and J. Whitsett for advice on scRNA-seq experiments, P. Dexheimer and K. Chetal for assistance with RNA-seq data processing, and K. Pollard, L. Omberg and A. Khan for discussions. This work was partly funded by contributions from CCRF (H.S. and N.S.), CCHMC Divisions of Pathology and Oncology, and NIH R01HL122661 (H.L.G.).
Ethics declarations
Competing interests
The authors declare no competing financial interests.
Additional information
Reviewer Information Nature thanks L. Zon and the other anonymous reviewer(s) for their contribution to the peer review of this work.
Extended data figures and tables
Supplementary information
This file contains Supplementary Text and Data, Supplementary Table 1 and additional references (see Contents for details). (PDF 1869 kb)
This file contains the uncropped immunoblot for Extended Data Figure 8. (PDF 355 kb)
About this article
Cite this article
Olsson, A., Venkatasubramanian, M., Chaudhri, V. et al. Single-cell analysis of mixed-lineage states leading to a binary cell fate choice. Nature 537, 698–702 (2016). https://doi.org/10.1038/nature19348
Received:

Accepted:

Published:

Issue Date:

DOI: https://doi.org/10.1038/nature19348
Comments
By submitting a comment you agree to abide by our Terms and Community Guidelines. If you find something abusive or that does not comply with our terms or guidelines please flag it as inappropriate.