Abstract
Neutrophils, eosinophils and 'classical' monocytes collectively account for about 70% of human blood leukocytes and are among the shortest-lived cells in the body1,2. Precise regulation of the lifespan of these myeloid cells is critical to maintain protective immune responses and minimize the deleterious consequences of prolonged inflammation1,2. However, how the lifespan of these cells is strictly controlled remains largely unknown. Here we identify a long non-coding RNA that we termed Morrbid, which tightly controls the survival of neutrophils, eosinophils and classical monocytes in response to pro-survival cytokines in mice. To control the lifespan of these cells, Morrbid regulates the transcription of the neighbouring pro-apoptotic gene, Bcl2l11 (also known as Bim), by promoting the enrichment of the PRC2 complex at the Bcl2l11 promoter to maintain this gene in a poised state. Notably, Morrbid regulates this process in cis, enabling allele-specific control of Bcl2l11 transcription. Thus, in these highly inflammatory cells, changes in Morrbid levels provide a locus-specific regulatory mechanism that allows rapid control of apoptosis in response to extracellular pro-survival signals. As MORRBID is present in humans and dysregulated in individuals with hypereosinophilic syndrome, this long non-coding RNA may represent a potential therapeutic target for inflammatory disorders characterized by aberrant short-lived myeloid cell lifespan.
Your institute does not have access to this article
Relevant articles
Open Access articles citing this article.
Jasmin Bartl

,

Marco Zanini

…

Marc Remke

Nature Communications Open Access 13 July 2022

Kristina Seiler

,

Magali Humbert

…

Bruce E. Torbett

Cell Death & Disease Open Access 11 May 2022

James A. Oo

,

Ralf P. Brandes

&

Matthias S. Leisegang

Pflügers Archiv - European Journal of Physiology Open Access 18 November 2021
Access options
Subscribe to Journal
Get full journal access for 1 year
$199.00
only $3.90 per issue
All prices are NET prices.
VAT will be added later in the checkout.
Tax calculation will be finalised during checkout.
Buy article
Get time limited or full article access on ReadCube.
$32.00
All prices are NET prices.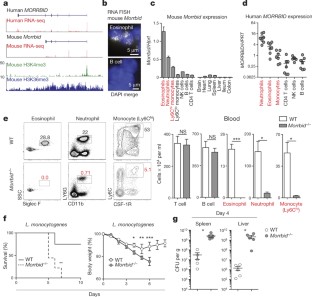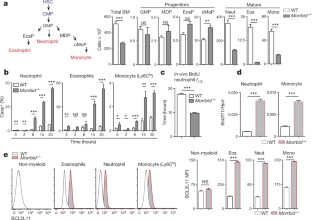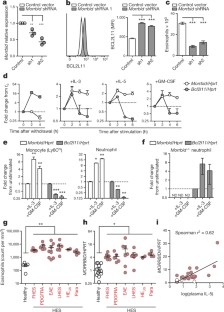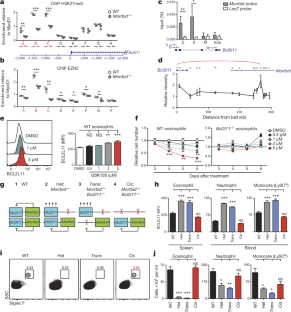 References
Manz, M. G. & Boettcher, S. Emergency granulopoiesis. Nat. Rev. Immunol. 14, 302–314 (2014)

Ginhoux, F. & Jung, S. Monocytes and macrophages: developmental pathways and tissue homeostasis. Nat. Rev. Immunol. 14, 392–404 (2014)

Heo, J. B. & Sung, S. Vernalization-mediated epigenetic silencing by a long intronic noncoding RNA. Science 331, 76–79 (2011)

Xing, Z. et al. lncRNA directs cooperative epigenetic regulation downstream of chemokine signals. Cell 159, 1110–1125 (2014)

Bouffi, C. et al. Transcription factor repertoire of homeostatic eosinophilopoiesis. J. Immunol. 195, 2683–2695 (2015)

Luo, M. et al. Long non-coding RNAs control hematopoietic stem cell function. Cell Stem Cell 16, 426–438 (2015)

Yona, S. et al. Fate mapping reveals origins and dynamics of monocytes and tissue macrophages under homeostasis. Immunity 38, 79–91 (2013)

Geissmann, F. et al. Development of monocytes, macrophages, and dendritic cells. Science 327, 656–661 (2010)

Dyer, K. D. et al. Functionally competent eosinophils differentiated ex vivo in high purity from normal mouse bone marrow. J. Immunol. 181, 4004–4009 (2008)

Wang, K. C. et al. A long noncoding RNA maintains active chromatin to coordinate homeotic gene expression. Nature 472, 120–124 (2011)

Zhang, H. et al. Long noncoding RNA-mediated intrachromosomal interactions promote imprinting at the Kcnq1 locus. J. Cell Biol. 204, 61–75 (2014)

Wang, L. et al. LncRNA Dum interacts with Dnmts to regulate Dppa2 expression during myogenic differentiation and muscle regeneration. Cell Res. 25, 335–350 (2015)

Maass, P. G. et al. A misplaced lncRNA causes brachydactyly in humans. J. Clin. Invest. 122, 3990–4002 (2012)

Villunger, A., Scott, C., Bouillet, P. & Strasser, A. Essential role for the BH3-only protein Bim but redundant roles for Bax, Bcl-2, and Bcl-w in the control of granulocyte survival. Blood 101, 2393–2400 (2003)

Shinjyo, T. et al. Downregulation of Bim, a proapoptotic relative of Bcl-2, is a pivotal step in cytokine-initiated survival signaling in murine hematopoietic progenitors. Mol. Cell. Biol. 21, 854–864 (2001)

Bouillet, P. et al. Proapoptotic Bcl-2 relative Bim required for certain apoptotic responses, leukocyte homeostasis, and to preclude autoimmunity. Science 286, 1735–1738 (1999)

Simon, H.-U. et al. Refining the definition of hypereosinophilic syndrome. J. Allergy Clin. Immunol. 126, 45–49 (2010)

Voigt, P., Tee, W.-W. & Reinberg, D. A double take on bivalent promoters. Genes Dev. 27, 1318–1338 (2013)

Paschos, K., Parker, G. A., Watanatanasup, E., White, R. E. & Allday, M. J. BIM promoter directly targeted by EBNA3C in polycomb-mediated repression by EBV. Nucleic Acids Res. 40, 7233–7246 (2012)

Zhao, J., Sun, B. K., Erwin, J. A., Song, J.-J. & Lee, J. T. Polycomb proteins targeted by a short repeat RNA to the mouse X chromosome. Science 322, 750–756 (2008)

Rinn, J. L. et al. Functional demarcation of active and silent chromatin domains in human HOX loci by noncoding RNAs. Cell 129, 1311–1323 (2007)

Kaneko, S. et al. Interactions between JARID2 and noncoding RNAs regulate PRC2 recruitment to chromatin. Mol. Cell 53, 290–300 (2014)

Sarma, K. et al. ATRX directs binding of PRC2 to Xist RNA and Polycomb targets. Cell 159, 869–883 (2014)

Csorba, T., Questa, J. I., Sun, Q. & Dean, C. Antisense COOLAIR mediates the coordinated switching of chromatin states at FLC during vernalization. Proc. Natl Acad. Sci. USA 111, 16160–16165 (2014)

Ranzani, V. et al. The long intergenic noncoding RNA landscape of human lymphocytes highlights the regulation of T cell differentiation by linc-MAF-4. Nat. Immunol. 16, 318–325 (2015)

Henao-Mejia, J. et al. Protocol for the generation of genetically modified mice using the CRISPR–Cas9 genome-editing system. Cold Spring Harb. Protoc. http://dx.doi.org/10.1101/pdb.prot090704 (2016)
Acknowledgements
We thank several of our colleagues for critically reading our manuscript and their suggestions. J.H.-M. was supported by the Children's Hospital of Philadelphia, the IFI and IDOM pilot projects, and the COE at the University of Pennsylvania (J.H.-M.); A.W. and R.A.F. by NIH NIAID 1R21AI110776-01; C.C.D.H. and R.A.F by Howard Hughes Medical Institute; J.J.K. by NIH NIDDK T32-DK00778017; S.P.S. by NIH NRSA F30-DK094708; W.K.M. by T32-AI05542803; A.R. and M.C.D. by New Innovator 1DP2OD008514, 1R33EB019767, NSF CAREER 1350601. This work was funded in part by the Division of Intramural Research, NIAID, NIH (M.A.M. and A.D.K.)
Ethics declarations
Competing interests
The authors declare no competing financial interests.
Additional information
Reviewer Information Nature thanks H. Y. Chang, S. Jung and the other anonymous reviewer(s) for their contribution to the peer review of this work.
Extended data figures and tables
Supplementary information
This file contains Supplementary Table 1. (XLSX 15 kb)
This file contains Supplementary Table 2. (XLSX 43 kb)
This file contains the uncropped western blots. (PDF 3519 kb)
About this article
Cite this article
Kotzin, J., Spencer, S., McCright, S. et al. The long non-coding RNA Morrbid regulates Bim and short-lived myeloid cell lifespan. Nature 537, 239–243 (2016). https://doi.org/10.1038/nature19346
Received:

Accepted:

Published:

Issue Date:

DOI: https://doi.org/10.1038/nature19346
Comments
By submitting a comment you agree to abide by our Terms and Community Guidelines. If you find something abusive or that does not comply with our terms or guidelines please flag it as inappropriate.