Abstract
Germinal centres (GCs) promote humoral immunity and vaccine efficacy. In GCs, antigen-activated B cells proliferate, express high-affinity antibodies, promote antibody class switching, and yield B cell memory1,2. Whereas the cytokine milieu has long been known to regulate effector functions that include the choice of immunoglobulin class3,4, both cell-autonomous5 and extrinsic6,7 metabolic programming have emerged as modulators of T-cell-mediated immunity8. Here we show in mice that GC light zones are hypoxic, and that low oxygen tension (

) alters B cell physiology and function. In addition to reduced proliferation and increased B cell death, low

impairs antibody class switching to the pro-inflammatory IgG2c antibody isotype by limiting the expression of activation-induced cytosine deaminase (AID). Hypoxia induces HIF transcription factors by restricting the activity of prolyl hydroxyl dioxygenase enzymes, which hydroxylate HIF-1α and HIF-2α to destabilize HIF by binding the von Hippel–Landau tumour suppressor protein (pVHL)7. B-cell-specific depletion of pVHL leads to constitutive HIF stabilization, decreases antigen-specific GC B cells and undermines the generation of high-affinity IgG, switching to IgG2c, early memory B cells, and recall antibody responses. HIF induction can reprogram metabolic and growth factor gene expression. Sustained hypoxia or HIF induction by pVHL deficiency inhibits mTOR complex 1 (mTORC1) activity in B lymphoblasts, and mTORC1-haploinsufficient B cells have reduced clonal expansion, AID expression, and capacities to yield IgG2c and high-affinity antibodies. Thus, the normal physiology of GCs involves regional variegation of hypoxia, and HIF-dependent oxygen sensing regulates vital functions of B cells. We propose that the restriction of oxygen in lymphoid organs, which can be altered in pathophysiological states, modulates humoral immunity.
Your institute does not have access to this article
Relevant articles
Open Access articles citing this article.
Bonnie Huang

,

James D. Phelan

…

Pamela L. Schwartzberg

Nature Communications Open Access 10 February 2022

Mark R. Boothby

,

Shawna K. Brookens

…

Sung Hoon Cho

Cellular & Molecular Immunology Open Access 15 November 2021

Hao-Yu Liu

,

Antoine Giraud

…

Mia Phillipson

Microbiome Open Access 03 October 2021
Access options
Subscribe to Journal
Get full journal access for 1 year
$199.00
only $3.90 per issue
All prices are NET prices.
VAT will be added later in the checkout.
Tax calculation will be finalised during checkout.
Buy article
Get time limited or full article access on ReadCube.
$32.00
All prices are NET prices.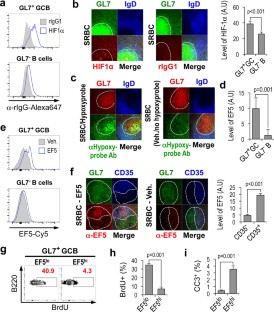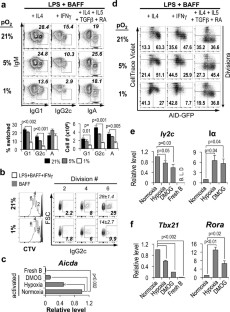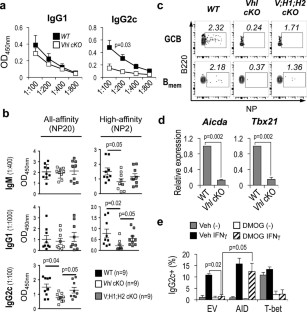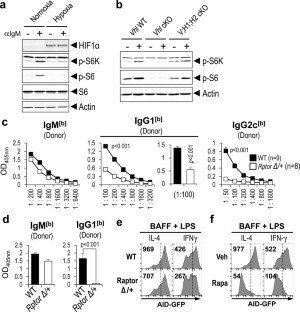 References
Victora, G. D. & Nussenzweig, M. C. Germinal centers. Annu. Rev. Immunol. 30, 429–457 (2012)

Shlomchik, M. J. & Weisel, F. Germinal center selection and the development of memory B and plasma cells. Immunol. Rev. 247, 52–63 (2012)

Xu, Z., Zan, H., Pone, E. J., Mai, T. & Casali, P. Immunoglobulin class-switch DNA recombination: induction, targeting and beyond. Nat. Rev. Immunol. 12, 517–531 (2012)

Stavnezer, J., Guikema, J. E. & Schrader, C. E. Mechanism and regulation of class switch recombination. Annu. Rev. Immunol. 26, 261–292 (2008)

Cui, G. et al. IL-7-induced glycerol transport and TAG synthesis promotes memory CD8+ T cell longevity. Cell 161, 750–761 (2015)

Munn, D. H. et al. Prevention of allogeneic fetal rejection by tryptophan catabolism. Science 281, 1191–1193 (1998)

Kaelin, W. G. Jr. The von Hippel–Lindau tumour suppressor protein: O2 sensing and cancer. Nat. Rev. Cancer 8, 865–873 (2008)

Pearce, E. L., Poffenberger, M. C., Chang, C. H. & Jones, R. G. Fueling immunity: insights into metabolism and lymphocyte function. Science 342, 1242454 (2013)

Spencer, J. A. et al. Direct measurement of local oxygen concentration in the bone marrow of live animals. Nature 508, 269–273 (2014)

Patten, D. A. et al. Hypoxia-inducible factor-1 activation in nonhypoxic conditions: the essential role of mitochondrial-derived reactive oxygen species. Mol. Biol. Cell 21, 3247–3257 (2010)

Koch, C. J. Importance of antibody concentration in the assessment of cellular hypoxia by flow cytometry: EF5 and pimonidazole. Radiat. Res. 169, 677–688 (2008)

Colgan, S. P. & Taylor, C. T. Hypoxia: an alarm signal during intestinal inflammation. Nat. Rev. Gastroenterol. Hepatol. 7, 281–287 (2010)

Rush, J. S., Liu, M., Odegard, V. H., Unniraman, S. & Schatz, D. G. Expression of activation-induced cytidine deaminase is regulated by cell division, providing a mechanistic basis for division-linked class switch recombination. Proc. Natl Acad. Sci. USA 102, 13242–13247 (2005)

Peng, S. L., Szabo, S. J. & Glimcher, L. H. T-bet regulates IgG class switching and pathogenic autoantibody production. Proc. Natl Acad. Sci. USA 99, 5545–5550 (2002)

Kaelin, W. G. Jr & Ratcliffe, P. J. Oxygen sensing by metazoans: the central role of the HIF hydroxylase pathway. Mol. Cell 30, 393–402 (2008)

Bannard, O. et al. Germinal center centroblasts transition to a centrocyte phenotype according to a timed program and depend on the dark zone for effective selection. Immunity 39, 912–924 (2013)

Wouters, B. G. & Koritzinsky, M. Hypoxia signalling through mTOR and the unfolded protein response in cancer. Nat. Rev. Cancer 8, 851–864 (2008)

Krymskaya, V. P. et al. mTOR is required for pulmonary arterial vascular smooth muscle cell proliferation under chronic hypoxia. FASEB J. 25, 1922–1933 (2011)

Keating, R. et al. The kinase mTOR modulates the antibody response to provide cross-protective immunity to lethal infection with influenza virus. Nat. Immunol. 14, 1266–1276 (2013)

Zhang, S. et al. B cell-specific deficiencies in mTOR limit humoral immune responses. J. Immunol. 191, 1692–1703 (2013)

Laplante, M. & Sabatini, D. M. mTOR signaling in growth control and disease. Cell 149, 274–293 (2012)

Nimmerjahn, F. & Ravetch, J. V. Divergent immunoglobulin g subclass activity through selective Fc receptor binding. Science 310, 1510–1512 (2005)

O'Keeffe, S. et al. Immunoglobulin G subclasses and spirometry in patients with chronic obstructive pulmonary disease. Eur. Respir. J. 4, 932–936 (1991)

Gabrilovich, D. I. et al. Production of vascular endothelial growth factor by human tumors inhibits the functional maturation of dendritic cells. Nat. Med. 2, 1096–1103 (1996)

Hatfield, S. M. et al. Immunological mechanisms of the antitumor effects of supplemental oxygenation. Sci. Transl. Med. 7, 277ra30 (2015)

Konisti, S., Kiriakidis, S. & Paleolog, E. M. Hypoxia--a key regulator of angiogenesis and inflammation in rheumatoid arthritis. Nat. Rev. Rheumatol. 8, 153–162 (2012)

Eltzschig, H. K. & Carmeliet, P. Hypoxia and inflammation. N. Engl. J. Med. 364, 656–665 (2011)

Karhausen, J. et al. Epithelial hypoxia-inducible factor-1 is protective in murine experimental colitis. J. Clin. Invest. 114, 1098–1106 (2004)

Liu, Q., Davidoff, O., Niss, K. & Haase, V. H. Hypoxia-inducible factor regulates hepcidin via erythropoietin-induced erythropoiesis. J. Clin. Invest. 122, 4635–4644 (2012)

Guertin, D. A. et al. Ablation in mice of the mTORC components raptor, rictor, or mLST8 reveals that mTORC2 is required for signaling to Akt-FOXO and PKCα, but not S6K1. Dev. Cell 11, 859–871 (2006)

Woods, M. L., Koch, C. J. & Lord, E. M. Detection of individual hypoxic cells in multicellular spheroids by flow cytometry using the 2-nitroimidazole, EF5, and monoclonal antibodies. Int. J. Radiat. Oncol. Biol. Phys. 34, 93–101 (1996)

Cho, S. H. et al. Glycolytic rate and lymphomagenesis depend on PARP14, an ADP ribosyltransferase of the B aggressive lymphoma (BAL) family. Proc. Natl Acad. Sci. USA 108, 15972–15977 (2011)

Cho, S. H. et al. B cell-intrinsic and -extrinsic regulation of antibody responses by PARP14, an intracellular (ADP-ribosyl)transferase. J. Immunol. 191, 3169–3178 (2013)

Trapnell, C. et al. Differential gene and transcript expression analysis of RNA-seq experiments with TopHat and Cufflinks. Nat. Protocols 7, 562–578 (2012)

Eustace, A. et al. A 26-gene hypoxia signature predicts benefit from hypoxia-modifying therapy in laryngeal cancer but not bladder cancer. Clin. Cancer Res. 19, 4879–4888 (2013)
Acknowledgements
Research funding via National Institutes of Health (NIH) grants R01 AI113292, HL106812 to M.R.B., CA164605 to S.H.; Veterans Affairs Merit award I01 BX002348 to V.H.H., along with support of K.S. by American Cancer Society postdoctoral fellowship PF-13-303-01-DMC, and T.C.B. by T32 DK007563 are gratefully acknowledged, as are O. Davidoff and Q. Liu for expert help with mouse management and with hypoxia chamber usage, respectively, K. Rathmell for critically reading and suggesting manuscript text, P. Young for use of an additional hypoxia chamber, H. Simkins and T. Laufer for guidance on making NP-conjugated fluors, N. Papavasiliou for the AID retrovector, C. Koch for hypoxia detection reagents, and scholarships via the Cancer Center Support Grant (CA068485) and Diabetes Research Center (DK0205930) to help pay for Vanderbilt University cores.
Ethics declarations
Competing interests
The authors declare no competing financial interests.
Additional information
Reviewer Information Nature thanks H. Chi and the other anonymous reviewer(s) for their contribution to the peer review of this work.
Extended data figures and tables
Supplementary information
This file contains the raw data for Figure 4 and Extended Data Figures 4, 7, 8, 9 and 10. (PDF 5781 kb)
About this article
Cite this article
Cho, S., Raybuck, A., Stengel, K. et al. Germinal centre hypoxia and regulation of antibody qualities by a hypoxia response system. Nature 537, 234–238 (2016). https://doi.org/10.1038/nature19334
Received:

Accepted:

Published:

Issue Date:

DOI: https://doi.org/10.1038/nature19334
Comments
By submitting a comment you agree to abide by our Terms and Community Guidelines. If you find something abusive or that does not comply with our terms or guidelines please flag it as inappropriate.