Abstract
Deregulation of the Ras–mitogen activated protein kinase (MAPK) pathway is an early event in many different cancers and a key driver of resistance to targeted therapies1. Sustained signalling through this pathway is caused most often by mutations in K-Ras, which biochemically favours the stabilization of active RAF signalling complexes2. Kinase suppressor of Ras (KSR) is a MAPK scaffold3,4,5 that is subject to allosteric regulation through dimerization with RAF6,7. Direct targeting of KSR could have important therapeutic implications for cancer; however, testing this hypothesis has been difficult owing to a lack of small-molecule antagonists of KSR function. Guided by KSR mutations that selectively suppress oncogenic, but not wild-type, Ras signalling, we developed a class of compounds that stabilize a previously unrecognized inactive state of KSR. These compounds, exemplified by APS-2-79, modulate KSR-dependent MAPK signalling by antagonizing RAF heterodimerization as well as the conformational changes required for phosphorylation and activation of KSR-bound MEK (mitogen-activated protein kinase kinase). Furthermore, APS-2-79 increased the potency of several MEK inhibitors specifically within Ras-mutant cell lines by antagonizing release of negative feedback signalling, demonstrating the potential of targeting KSR to improve the efficacy of current MAPK inhibitors. These results reveal conformational switching in KSR as a druggable regulator of oncogenic Ras, and further suggest co-targeting of enzymatic and scaffolding activities within Ras–MAPK signalling complexes as a therapeutic strategy for overcoming Ras-driven cancers.
Relevant articles
Open Access articles citing this article.
Lisa Rusyn

,

Sebastian Reinartz

…

Tamina Seeger-Nukpezah

Leukemia Open Access 06 May 2022

Ryan C. Maloney

,

Mingzhen Zhang

…

Ruth Nussinov

Cellular and Molecular Life Sciences Open Access 04 May 2022

Silke Pudewell

,

Christoph Wittich

…

Mohammad R. Ahmadian

Communications Biology Open Access 08 June 2021
Access options
Subscribe to this journal
Receive 51 print issues and online access
$199.00 per year
only $3.90 per issue
Rent or buy this article
Prices vary by article type
from$1.95
to$39.95
Prices may be subject to local taxes which are calculated during checkout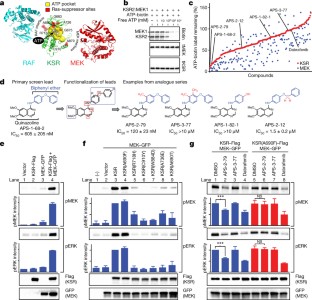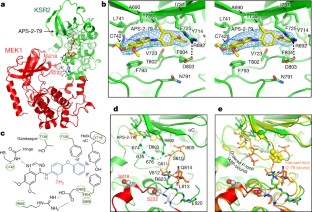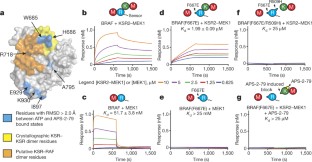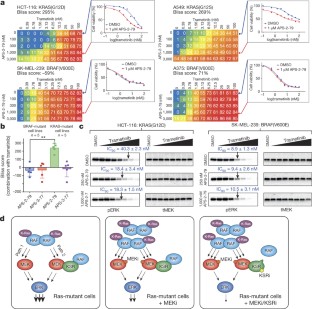 References
Stephen, A. G., Esposito, D., Bagni, R. K. & McCormick, F. Dragging ras back in the ring. Cancer Cell 25, 272–281 (2014)

Lavoie, H. & Therrien, M. Regulation of RAF protein kinases in ERK signalling. Nat. Rev. Mol. Cell Biol. 16, 281–298 (2015)

Kornfeld, K., Hom, D. B. & Horvitz, H. R. The ksr-1 gene encodes a novel protein kinase involved in Ras-mediated signaling in C. elegans . Cell 83, 903–913 (1995)

Sundaram, M. & Han, M. The C. elegans ksr-1 gene encodes a novel Raf-related kinase involved in Ras-mediated signal transduction. Cell 83, 889–901 (1995)

Therrien, M. et al. KSR, a novel protein kinase required for RAS signal transduction. Cell 83, 879–888 (1995)

Rajakulendran, T., Sahmi, M., Lefrançois, M., Sicheri, F. & Therrien, M. A dimerization-dependent mechanism drives RAF catalytic activation. Nature 461, 542–545 (2009)

Brennan, D. F. et al. A Raf-induced allosteric transition of KSR stimulates phosphorylation of MEK. Nature 472, 366–369 (2011)

Fernandez, M. R., Henry, M. D. & Lewis, R. E. Kinase suppressor of Ras 2 (KSR2) regulates tumor cell transformation via AMPK. Mol. Cell. Biol. 32, 3718–3731 (2012)

Le Borgne, M., Filbert, E. L. & Shaw, A. S. Kinase suppressor of Ras 1 is not required for the generation of regulatory and memory T cells. PLoS One 8, e57137 (2013)

Nguyen, A. et al. Kinase suppressor of Ras (KSR) is a scaffold which facilitates mitogen-activated protein kinase activation in vivo . Mol. Cell. Biol. 22, 3035–3045 (2002)

Michaud, N. R. et al. KSR stimulates Raf-1 activity in a kinase-independent manner. Proc. Natl Acad. Sci. USA 94, 12792–12796 (1997)

Roy, F., Laberge, G., Douziech, M., Ferland-McCollough, D. & Therrien, M. KSR is a scaffold required for activation of the ERK/MAPK module. Genes Dev. 16, 427–438 (2002)

Stewart, S. et al. Kinase suppressor of Ras forms a multiprotein signaling complex and modulates MEK localization. Mol. Cell. Biol. 19, 5523–5534 (1999)

Samatar, A. A. & Poulikakos, P. I. Targeting RAS-ERK signalling in cancer: promises and challenges. Nat. Rev. Drug Discov. 13, 928–942 (2014)

Karim, F. D. et al. A screen for genes that function downstream of Ras1 during Drosophila eye development. Genetics 143, 315–329 (1996)

Hu, J. et al. Allosteric activation of functionally asymmetric RAF kinase dimers. Cell 154, 1036–1046 (2013)

Lavoie, H. et al. Inhibitors that stabilize a closed RAF kinase domain conformation induce dimerization. Nat. Chem. Biol. 9, 428–436 (2013)

Douziech, M., Sahmi, M., Laberge, G. & Therrien, M. A KSR/CNK complex mediated by HYP, a novel SAM domain-containing protein, regulates RAS-dependent RAF activation in Drosophila. Genes Dev . 20, 807–819 (2006)

McKay, M. M., Ritt, D. A. & Morrison, D. K. Signaling dynamics of the KSR1 scaffold complex. Proc. Natl Acad. Sci. USA 106, 11022–11027 (2009)

Haling, J. R. et al. Structure of the BRAF-MEK complex reveals a kinase activity independent role for BRAF in MAPK signaling. Cancer Cell 26, 402–413 (2014)

Chapman, P. B., Solit, D. B. & Rosen, N. Combination of RAF and MEK inhibition for the treatment of BRAF-mutated melanoma: feedback is not encouraged. Cancer Cell 26, 603–604 (2014)

Hatzivassiliou, G. et al. Mechanism of MEK inhibition determines efficacy in mutant KRAS- versus BRAF-driven cancers. Nature 501, 232–236 (2013)

Lito, P. et al. Disruption of CRAF-mediated MEK activation is required for effective MEK inhibition in KRAS mutant tumors. Cancer Cell 25, 697–710 (2014)

Sos, M. L. et al. Oncogene mimicry as a mechanism of primary resistance to BRAF inhibitors. Cell Reports 8, 1037–1048 (2014)

McKay, M. M., Ritt, D. A. & Morrison, D. K. RAF inhibitor-induced KSR1/B-RAF binding and its effects on ERK cascade signaling. Curr. Biol. 21, 563–568 (2011)

Xie, T. et al. Pharmacological targeting of the pseudokinase Her3. Nat. Chem. Biol. 10, 1006–1012 (2014)

Zeqiraj, E., Filippi, B. M., Deak, M., Alessi, D. R. & van Aalten, D. M. Structure of the LKB1-STRAD-MO25 complex reveals an allosteric mechanism of kinase activation. Science 326, 1707–1711 (2009)

Mallon, R. et al. Identification of 4-anilino-3-quinolinecarbonitrile inhibitors of mitogen-activated protein/extracellular signal-regulated kinase 1 kinase. Mol. Cancer Ther. 3, 755–762 (2004)

Morris, E. J. et al. Discovery of a novel ERK inhibitor with activity in models of acquired resistance to BRAF and MEK inhibitors. Cancer Discovery 3, 742–750 (2013)

Anastassiadis, T., Deacon, S. W., Devarajan, K., Ma, H. & Peterson, J. R. Comprehensive assay of kinase catalytic activity reveals features of kinase inhibitor selectivity. Nat. Biotechnol. 29, 1039–1045 (2011)
Acknowledgements
We thank K. Shokat, R. Fisher, R. Cagan, S. Aaronson, M. Lazarus, E. Bernstein, and members of the Dar laboratory for comments on the manuscript; A. Maldonado and L. Silber for technical support; and staff at the Advanced Photon Source (Beamline 23-ID-B) for help with X-ray diffraction experiments. The Dar laboratory is supported by innovation awards from the NIH (1DP2CA186570-01) and Damon Runyon-Rachleff Foundation. A.C.D. is a Pew-Stewart Scholar in Cancer Research and Young Investigator of the Pershing-Square Sohn Cancer Research Alliance.
Ethics declarations
Competing interests
The authors are inventors on a patent application filed by the Icahn School of Medicine at Mount Sinai.
Additional information
Reviewer Information Nature thanks G. Bollag and the other anonymous reviewer(s) for their contribution to the peer review of this work.
Extended data figures and tables
Supplementary information
This file contains Supplementary Methods and additional references. (PDF 1511 kb)
This file contains the uncropped blots for Figures 1,4 and Extended Data Figures 2, 3, 4 and 7 (Supplementary Figures 1-8) and Supplementary Tables 1-3. (PDF 12419 kb)
This file contains the Source Data for Bliss Score Calculations of all inhibitor combinations and cell lines tested in the manuscript. (XLSX 327 kb)
About this article
Cite this article
Dhawan, N., Scopton, A. & Dar, A. Small molecule stabilization of the KSR inactive state antagonizes oncogenic Ras signalling. Nature 537, 112–116 (2016). https://doi.org/10.1038/nature19327
Received:

Accepted:

Published:

Issue Date:

DOI: https://doi.org/10.1038/nature19327
Comments
By submitting a comment you agree to abide by our Terms and Community Guidelines. If you find something abusive or that does not comply with our terms or guidelines please flag it as inappropriate.