Abstract
An early step in intracellular transport is the selective recognition of a vesicle by its appropriate target membrane, a process regulated by Rab GTPases via the recruitment of tethering effectors1,2,3,4. Membrane tethering confers higher selectivity and efficiency to membrane fusion than the pairing of SNAREs (soluble N-ethylmaleimide-sensitive factor attachment protein receptors) alone5,6,7. Here we address the mechanism whereby a tethered vesicle comes closer towards its target membrane for fusion by reconstituting an endosomal asymmetric tethering machinery consisting of the dimeric coiled-coil protein EEA1 (refs 6, 7) recruited to phosphatidylinositol 3-phosphate membranes and binding vesicles harbouring Rab5. Surprisingly, structural analysis reveals that Rab5:GTP induces an allosteric conformational change in EEA1, from extended to flexible and collapsed. Through dynamic analysis by optical tweezers, we confirm that EEA1 captures a vesicle at a distance corresponding to its extended conformation, and directly measure its flexibility and the forces induced during the tethering reaction. Expression of engineered EEA1 variants defective in the conformational change induce prominent clusters of tethered vesicles in vivo. Our results suggest a new mechanism in which Rab5 induces a change in flexibility of EEA1, generating an entropic collapse force that pulls the captured vesicle towards the target membrane to initiate docking and fusion.
Relevant articles
Open Access articles citing this article.
Harrison M. York

,

Kunaal Joshi

…

Senthil Arumugam

Nature Communications Open Access 02 August 2023

Anupam Singh

,

Joan Antoni Soler

…

Shashi Thutupalli

Nature Physics Open Access 04 May 2023

Kun Cai

,

Lu Deng

…

Chao Yu

Journal of Translational Medicine Open Access 12 November 2022
Access options
Subscribe to this journal
Receive 51 print issues and online access
$199.00 per year
only $3.90 per issue
Rent or buy this article
Prices vary by article type
from$1.95
to$39.95
Prices may be subject to local taxes which are calculated during checkout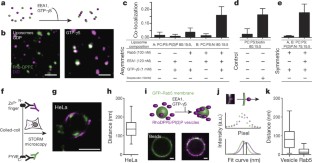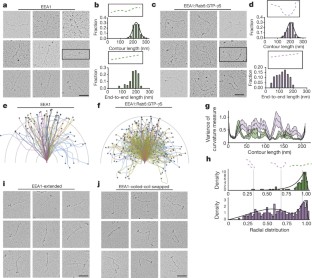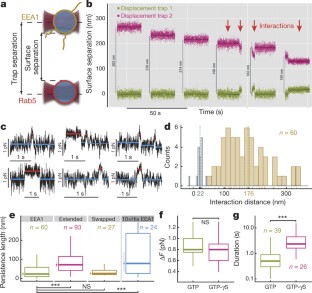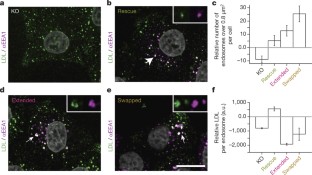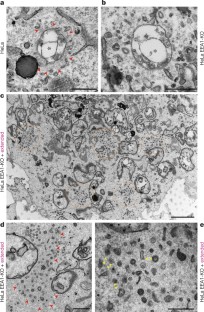 References
Bröcker, C., Engelbrecht-Vandré, S. & Ungermann, C. Multisubunit tethering complexes and their role in membrane fusion. Curr. Biol. 20, R943–R952 (2010)

Brown, F. C. & Pfeffer, S. R. An update on transport vesicle tethering. Mol. Membr. Biol. 27, 457–461 (2010)

Zerial, M. & McBride, H. Rab proteins as membrane organizers. Nature Rev. Mol. Cell Biol. 2, 107–117 (2001)

Munro, S. Organelle identity and the organization of membrane traffic. Nature Cell Biol. 6, 469–472 (2004)

Mayer, A. & Wickner, W. Docking of yeast vacuoles is catalyzed by the Ras-like GTPase Ypt7p after symmetric priming by Sec18p (NSF). J. Cell Biol. 136, 307–317 (1997)

Christoforidis, S., McBride, H. M., Burgoyne, R. D. & Zerial, M. The Rab5 effector EEA1 is a core component of endosome docking. Nature 397, 621–625 (1999)

Rubino, M., Miaczynska, M., Lippé, R. & Zerial, M. Selective membrane recruitment of EEA1 suggests a role in directional transport of clathrin-coated vesicles to early endosomes. J. Biol. Chem. 275, 3745–3748 (2000)

Gao, Y. et al. Single reconstituted neuronal SNARE complexes zipper in three distinct stages. Science 337, 1340–1343 (2012)

Kiessling, V. & Tamm, L. K. Measuring distances in supported bilayers by fluorescence interference-contrast microscopy: polymer supports and SNARE proteins. Biophys. J. 84, 408–418 (2003)

Dumas, J. J. et al. Multivalent endosome targeting by homodimeric EEA1. Mol. Cell 8, 947–958 (2001)

Wilson, J. M. et al. EEA1, a tethering protein of the early sorting endosome, shows a polarized distribution in hippocampal neurons, epithelial cells, and fibroblasts. Mol. Biol. Cell 11, 2657–2671 (2000)

Simonsen, A. et al. EEA1 links PI(3)K function to Rab5 regulation of endosome fusion. Nature 394, 494–498 (1998)

Mishra, A., Eathiraj, S., Corvera, S. & Lambright, D. G. Structural basis for Rab GTPase recognition and endosome tethering by the C2H2 zinc finger of early endosomal autoantigen 1 (EEA1). Proc. Natl Acad. Sci. USA 107, 10866–10871 (2010)

Lupas, A., Van Dyke, M. & Stock, J. Predicting coiled coils from protein sequences. Science 252, 1162–1164 (1991)

McDonnell, A. V., Jiang, T., Keating, A. E. & Berger, B. Paircoil2: improved prediction of coiled coils from sequence. Bioinformatics 22, 356–358 (2006)

Rink, J., Ghigo, E., Kalaidzidis, Y. & Zerial, M. Rab conversion as a mechanism of progression from early to late endosomes. Cell 122, 735–749 (2005)

Landau, L. D. & Lifshitz, E. M. Statistical Physics 3rd edn, Part 1, Vol. 5, Ch. 12, 396–400 (Butterworth-Heinemann, 1980)

Wilhelm, J. & Frey, E. Radial distribution function of semiflexible polymers. Phys. Rev. Lett. 77, 2581–2584 (1996)

Otto, O., Sturm, S., Laohakunakorn, N., Keyser, U. F. & Kroy, K. Rapid internal contraction boosts DNA friction. Nature Commun. 4, 1780 (2013)

Rybin, V. et al. GTPase activity of Rab5 acts as a timer for endocytic membrane fusion. Nature 383, 266–269 (1996)

Milner, S. T. Polymer brushes. Science 251, 905–914 (1991)

Degtyar, V. E., Allersma, M. W., Axelrod, D. & Holz, R. W. Increased motion and travel, rather than stable docking, characterize the last moments before secretory granule fusion. Proc. Natl Acad. Sci. USA 104, 15929–15934 (2007)

Ohya, T. et al. Reconstitution of Rab- and SNARE-dependent membrane fusion by synthetic endosomes. Nature 459, 1091–1097 (2009)

Perini, E. D., Schaefer, R., Stöter, M., Kalaidzidis, Y. & Zerial, M. Mammalian CORVET is required for fusion and conversion of distinct early endosome subpopulations. Traffic 15, 1366–1389 (2014)

Moreno-Herrero, F. et al. Mesoscale conformational changes in the DNA-repair complex Rad50/Mre11/Nbs1 upon binding DNA. Nature 437, 440–443 (2005)

Taylor, K. C. et al. Skip residues modulate the structural properties of the myosin rod and guide thick filament assembly. Proc. Natl Acad. Sci. USA 112, E3806–E3815 (2015)

Cheung, P. Y., Limouse, C., Mabuchi, H. & Pfeffer, S. R. Protein flexibility is required for vesicle tethering at the Golgi. eLife 4, e12790 (2015)

Schmidt, H., Zalyte, R., Urnavicius, L. & Carter, A. P. Structure of human cytoplasmic dynein-2 primed for its power stroke. Nature 518, 435–438 (2015)

Kon, T. et al. Helix sliding in the stalk coiled coil of dynein couples ATPase and microtubule binding. Nature Struct. Mol. Biol. 16, 325–333 (2009)

Sheffield, P., Garrard, S. & Derewenda, Z. Overcoming expression and purification problems of RhoGDI using a family of "parallel" expression vectors. Protein Expr. Purif. 15, 34–39 (1999)

Delprato, A., Merithew, E. & Lambright, D. G. Structure, exchange determinants, and family-wide rab specificity of the tandem helical bundle and Vps9 domains of Rabex-5. Cell 118, 607–617 (2004)

Horiuchi, H. et al. A novel Rab5 GDP/GTP exchange factor complexed to Rabaptin-5 links nucleotide exchange to effector recruitment and function. Cell 90, 1149–1159 (1997)

Boura, E. & Hurley, J. H. Structural basis for membrane targeting by the MVB12-associated β-prism domain of the human ESCRT-I MVB12 subunit. Proc. Natl Acad. Sci. USA 109, 1901–1906 (2012)

Murray, D. H., Tamm, L. K. & Kiessling, V. Supported double membranes. J. Struct. Biol. 168, 183–189 (2009)

Neumann, S., Pucadyil, T. J. & Schmid, S. L. Analyzing membrane remodeling and fission using supported bilayers with excess membrane reservoir. Nature Protocols 8, 213–222 (2013)

Pucadyil, T. J. & Schmid, S. L. Real-time visualization of dynamin-catalyzed membrane fission and vesicle release. Cell 135, 1263–1275 (2008)

Rizk, A. et al. Segmentation and quantification of subcellular structures in fluorescence microscopy images using Squassh. Nature Protocols 9, 586–596 (2014)

Lo, S. Y. et al. Intrinsic tethering activity of endosomal Rab proteins. Nature Struct. Mol. Biol. 19, 40–47 (2011)

Tyler, J. M. & Branton, D. Rotary shadowing of extended molecules dried from glycerol. J. Ultrastruct. Res. 71, 95–102 (1980)

Gittes, F., Mickey, B., Nettleton, J. & Howard, J. Flexural rigidity of microtubules and actin filaments measured from thermal fluctuations in shape. J. Cell Biol. 120, 923–934 (1993)

Eeftens, J. M. et al. Condensin Smc2-Smc4 dimers are flexible and dynamic. Cell Reports 14, 1813–1818 (2016)

Lamour, G., Kirkegaard, J. B., Li, H., Knowles, T. P. & Gsponer, J. Easyworm: an open-source software tool to determine the mechanical properties of worm-like chains. Source Code Biol. Med. 9, 16 (2014)

Rivetti, C., Guthold, M. & Bustamante, C. Scanning force microscopy of DNA deposited onto mica: equilibration versus kinetic trapping studied by statistical polymer chain analysis. J. Mol. Biol. 264, 919–932 (1996)

Valle, F., Favre, M., De Los Rios, P., Rosa, A. & Dietler, G. Scaling exponents and probability distributions of DNA end-to-end distance. Phys. Rev. Lett. 95, 158105 (2005)

Lisica, A. et al. Mechanisms of backtrack recovery by RNA polymerases I and II. Proc. Natl Acad. Sci. USA 113, 2946–2951 (2016)

Jahnel, M., Behrndt, M., Jannasch, A., Schäffer, E. & Grill, S. W. Measuring the complete force field of an optical trap. Opt. Lett. 36, 1260–1262 (2011)

Czerwinski, F., Richardson, A. C. & Oddershede, L. B. Quantifying noise in optical tweezers by allan variance. Opt. Express 17, 13255–13269 (2009)

Nørrelykke, S. F. & Flyvbjerg, H. Power spectrum analysis with least-squares fitting: amplitude bias and its elimination, with application to optical tweezers and atomic force microscope cantilevers. Rev. Sci. Instrum. 81, 075103 (2010)

Killick, R., Fearnhead, P. & Eckley, I. A. Optimal detection of changepoints with a linear computational cost. J. Am. Stat. Assoc. 107, 1590–1598 (2012)

Ribezzi-Crivellari, M. & Ritort, F. Force spectroscopy with dual-trap optical tweezers: molecular stiffness measurements and coupled fluctuations analysis. Biophys J. 103, 1919–1928 (2012)

Marko, J. F. & Siggia, E. D. Statistical mechanics of supercoiled DNA. Phys. Rev. E 52, 2912–2938 (1995)

Ran, F. A. et al. Genome engineering using the CRISPR-Cas9 system. Nature Protocols 8, 2281–2308 (2013)

Poser, I. et al. BAC TransgeneOmics: a high-throughput method for exploration of protein function in mammals. Nature Methods 5, 409–415 (2008)

Kalaidzidis, I. et al. APPL endosomes are not obligatory endocytic intermediates but act as stable cargo-sorting compartments. J. Cell Biol. 211, 123–144 (2015)

Peplowska, K., Markgraf, D. F., Ostrowicz, C. W., Bange, G. & Ungermann, C. The CORVET tethering complex interacts with the yeast Rab5 homolog Vps21 and is involved in endo-lysosomal biogenesis. Dev. Cell 12, 739–750 (2007)

Collinet, C. et al. Systems survey of endocytosis by multiparametric image analysis. Nature 464, 243–249 (2010)

Gilleron, J. et al. Image-based analysis of lipid nanoparticle-mediated siRNA delivery, intracellular trafficking and endosomal escape. Nature Biotechnol. 31, 638–646 (2013)

Takasato, M. et al. Kidney organoids from human iPS cells contain multiple lineages and model human nephrogenesis. Nature 526, 564–568 (2015)
Acknowledgements
We thank R. Schäfer for project support. We acknowledge discussions with J. Morin, Ü. Coskun, A. Honigmann, S. Sturm and T. Leonard, and F. Jülicher, E. Schäfer and K. Simons for reading the manuscript. We thank M. Brandstetter and the electron microscopy facility of the Vienna Biocenter. We thank the Light Microscopy, Protein Expression, Chromatography, and High-throughput Technology Development Studio of the Max Planck Institute of Molecular Cell Biology and Genetics. During part of the work, M.J. was supported by a PhD scholarship of the Böhringer Ingelheim Fonds. M.J.A. was supported by the La Caixa and Deutscher Akademischer Austauschdienst scholarship. R.P. was supported by the National Health and Medical Research Council of Australia (program grant APP1037320 and Senior Principal Research Fellowship 569452) and the Australian Research Council Centre of Excellence (CE140100036). We acknowledge the Australian Microscopy & Microanalysis Research Facility at the Center for Microscopy and Microanalysis at The University of Queensland. S.W.G. was supported by the Deutsche Forschungsgemeinschaft (SPP 1782, GSC 97, GR 3271/2, GR 3271/3, GR 3271/4), the European Research Council (grant number 281903) and the Human Frontier Science Program (RGP0023/2014). This research was supported by the Max Planck Society and funds of the Deutsche Forschungsgemeinschaft (Transregio 83).
Ethics declarations
Competing interests
The authors declare no competing financial interests.
Additional information
Reviewer Information Nature thanks C. Schmidt, J. Zimmerberg and the other anonymous reviewer(s) for their contribution to the peer review of this work.
Extended data figures and tables
Supplementary information
This file contains the uncropped blot images, a Supplementary Discussion, Supplementary References and Supplementary Table 1. (PDF 694 kb)
Representative midplane images taken from z-stacks of a spinning-disc confocal image sequence of 10 μm bead-supported bilayers imaged with GFP-Rab5 at 35 ms per plane. Vesicles were imaged by RhoDPPE with simultaneous excitation. EEA1 was present at an intermediate concentration of 100 nM in order to visualize the reversible nature of the reconstitution (AVI 1321 kb)
Reconstructed z-stack of the bead-based tethering assay, reconstructed z-stack illustrates homogeneity of tethered vesicle distribution, density, and demonstrates three-dimensional nature of vesicle diffusion. Stacks were assembled in Fiji. Conditions are identical to Video 1. 10 μm bead-supported bilayers imaged with GFP-Rab5 at 35 ms per plane. Vesicles were imaged by RhoDPPE with simultaneous excitation. EEA1 was present at an intermediate concentration of 100 nM in order to visualize the reversible nature of the reconstitution. (AVI 1852 kb)
About this article
Cite this article
Murray, D., Jahnel, M., Lauer, J. et al. An endosomal tether undergoes an entropic collapse to bring vesicles together. Nature 537, 107–111 (2016). https://doi.org/10.1038/nature19326
Received:

Accepted:

Published:

Issue Date:

DOI: https://doi.org/10.1038/nature19326
Comments
By submitting a comment you agree to abide by our Terms and Community Guidelines. If you find something abusive or that does not comply with our terms or guidelines please flag it as inappropriate.