Abstract
The epiblast (EPI) is the origin of all somatic and germ cells in mammals, and of pluripotent stem cells in vitro. To explore the ontogeny of human and primate pluripotency, here we perform comprehensive single-cell RNA sequencing for pre- and post-implantation EPI development in cynomolgus monkeys (Macaca fascicularis). We show that after specification in the blastocysts, EPI from cynomolgus monkeys (cyEPI) undergoes major transcriptome changes on implantation. Thereafter, while generating gastrulating cells, cyEPI stably maintains its transcriptome over a week, retains a unique set of pluripotency genes and acquires properties for 'neuron differentiation'. Human and monkey pluripotent stem cells show the highest similarity to post-implantation late cyEPI, which, despite co-existing with gastrulating cells, bears characteristics of pre-gastrulating mouse EPI and epiblast-like cells in vitro. These findings not only reveal the divergence and coherence of EPI development, but also identify a developmental coordinate of the spectrum of pluripotency among key species, providing a basis for better regulation of human pluripotency in vitro.
Relevant articles
Open Access articles citing this article.
Jinglei Zhai

,

Jing Guo

…

Hongmei Wang

Nature Open Access 14 December 2022

Young Hyun Che

,

Hojae Lee

&

Yong Jun Kim

Experimental & Molecular Medicine Open Access 21 October 2022

Hanhua Cheng

,

Dantong Shang

&

Rongjia Zhou

Signal Transduction and Targeted Therapy Open Access 02 October 2022
Access options
Subscribe to this journal
Receive 51 print issues and online access
$199.00 per year
only $3.90 per issue
Rent or buy this article
Get just this article for as long as you need it
$39.95
Prices may be subject to local taxes which are calculated during checkout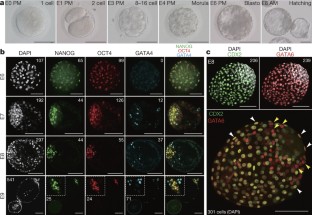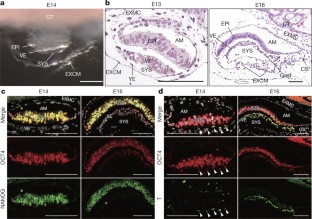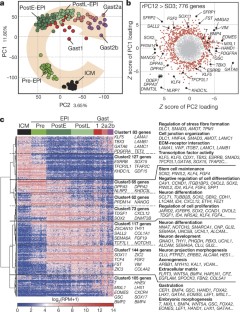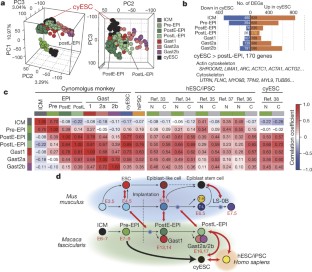 References
Gardner, R. L. & Rossant, J. Investigation of the fate of 4–5 day post-coitum mouse inner cell mass cells by blastocyst injection. J. Embryol. Exp. Morphol. 52, 141–152 (1979)

Lawson, K. A., Meneses, J. J. & Pedersen, R. A. Clonal analysis of epiblast fate during germ layer formation in the mouse embryo. Development 113, 891–911 (1991)

Evans, M. J. & Kaufman, M. H. Establishment in culture of pluripotential cells from mouse embryos. Nature 292, 154–156 (1981)

Thomson, J. A. et al. Embryonic stem cell lines derived from human blastocysts. Science 282, 1145–1147 (1998)

Tesar, P. J. et al. New cell lines from mouse epiblast share defining features with human embryonic stem cells. Nature 448, 196–199 (2007)

Brons, I. G. et al. Derivation of pluripotent epiblast stem cells from mammalian embryos. Nature 448, 191–195 (2007)

Takahashi, K. & Yamanaka, S. Induction of pluripotent stem cells from mouse embryonic and adult fibroblast cultures by defined factors. Cell 126, 663–676 (2006)

Takahashi, K. et al. Induction of pluripotent stem cells from adult human fibroblasts by defined factors. Cell 131, 861–872 (2007)

Takahashi, K. & Yamanaka, S. Induced pluripotent stem cells in medicine and biology. Development 140, 2457–2461 (2013)

Rossant, J. Mouse and human blastocyst-derived stem cells: vive les differences. Development 142, 9–12 (2015)

Nichols, J. & Smith, A. Naive and primed pluripotent states. Cell Stem Cell 4, 487–492 (2009)

Yamasaki, J. et al. Vitrification and transfer of cynomolgus monkey (Macaca fascicularis) embryos fertilized by intracytoplasmic sperm injection. Theriogenology 76, 33–38 (2011)

Niakan, K. K. & Eggan, K. Analysis of human embryos from zygote to blastocyst reveals distinct gene expression patterns relative to the mouse. Dev. Biol. 375, 54–64 (2013)

Heuser, C. H. & Streeter, G. L. Development of the macaque embryo. Contrib.Embryol. 29, 15–55(1941)

Luckett, W. P. Origin and differentiation of the yolk sac and extraembryonic mesoderm in presomite human and rhesus monkey embryos. Am. J. Anat. 152, 59–97 (1978)

Enders, A. C., Schlafke, S. & Hendrickx, A. G. Differentiation of the embryonic disc, amnion, and yolk sac in the rhesus monkey. Am. J. Anat. 177, 161–185 (1986)

Enders, A. C. & King, B. F. Formation and differentiation of extraembryonic mesoderm in the rhesus monkey. Am. J. Anat. 181, 327–340 (1988)

Acampora, D., Di Giovannantonio, L. G. & Simeone, A. Otx2 is an intrinsic determinant of the embryonic stem cell state and is required for transition to a stable epiblast stem cell condition. Development 140, 43–55 (2013)

Nakamura, T. et al. SC3-seq: a method for highly parallel and quantitative measurement of single-cell gene expression. Nucleic Acids Res . 43, e60 (2015)

Yamaji, M. et al. Critical function of Prdm14 for the establishment of the germ cell lineage in mice. Nat. Genet. 40, 1016–1022 (2008)

Yamaji, M. et al. PRDM14 ensures naive pluripotency through dual regulation of signaling and epigenetic pathways in mouse embryonic stem cells. Cell Stem Cell 12, 368–382 (2013)

Yan, L. et al. Single-cell RNA-seq profiling of human preimplantation embryos and embryonic stem cells. Nat. Struct. Mol. Biol. 20, 1131–1139 (2013)

Blakeley, P. et al. Defining the three cell lineages of the human blastocyst by single-cell RNA-seq. Development 142, 3151–3165 (2015)

Boroviak, T. et al. Lineage-Specific Profiling Delineates the Emergence and Progression of Naive Pluripotency in Mammalian Embryogenesis. Dev. Cell 35, 366–382 (2015)

Lin, L. et al. Sox11 regulates survival and axonal growth of embryonic sensory neurons. Dev. Dyn. 240, 52–64 (2011)

Lowell, S., Benchoua, A., Heavey, B. & Smith, A. G. Notch promotes neural lineage entry by pluripotent embryonic stem cells. PLoS Biol . 4, e121 (2006)

Souilhol, C. et al. NOTCH activation interferes with cell fate specification in the gastrulating mouse embryo. Development 142, 3649–3660 (2015)

Camus, A., Perea-Gomez, A., Moreau, A. & Collignon, J. Absence of Nodal signaling promotes precocious neural differentiation in the mouse embryo. Dev. Biol. 295, 743–755 (2006)

Suemori, H. et al. Establishment of embryonic stem cell lines from cynomolgus monkey blastocysts produced by IVF or ICSI. Dev. Dyn. 222, 273–279 (2001)

Ying, Q. L. et al. The ground state of embryonic stem cell self-renewal. Nature 453, 519–523 (2008)

Boroviak, T., Loos, R., Bertone, P., Smith, A. & Nichols, J. The ability of inner-cell-mass cells to self-renew as embryonic stem cells is acquired following epiblast specification. Nat. Cell Biol. 16, 516–528 (2014)

Hayashi, K., Ohta, H., Kurimoto, K., Aramaki, S. & Saitou, M. Reconstitution of the mouse germ cell specification pathway in culture by pluripotent stem cells. Cell 146, 519–532 (2011)

Gafni, O. et al. Derivation of novel human ground state naive pluripotent stem cells. Nature 504, 282–286 (2013)

Chan, Y. S. et al. Induction of a human pluripotent state with distinct regulatory circuitry that resembles preimplantation epiblast. Cell Stem Cell 13, 663–675 (2013)

Theunissen, T. W. et al. Systematic identification of culture conditions for induction and maintenance of naive human pluripotency. Cell Stem Cell 15, 471–487 (2014)

Takashima, Y. et al. Resetting transcription factor control circuitry toward ground-state pluripotency in human. Cell 158, 1254–1269 (2014)

Guo, G. et al. Naive pluripotent stem cells derived directly from isolated cells of the human inner cell mass. Stem Cell Reports 6, 437–446 (2016)

Chen, Y. et al. Generation of cynomolgus monkey chimeric fetuses using embryonic stem cells. Cell Stem Cell 17, 116–124 (2015)

Sasaki, K. et al. Robust in vitro induction of human germ cell fate from pluripotent stem cells. Cell Stem Cell 17, 178–194 (2015)

Irie, N. et al. SOX17 is a critical specifier of human primordial germ cell fate. Cell 160, 253–268 (2015)

Kajiwara, M. et al. Donor-dependent variations in hepatic differentiation from human-induced pluripotent stem cells. Proc. Natl Acad. Sci. USA 109, 12538–12543 (2012)

Deglincerti, A. et al. Self-organization of the in vitro attached human embryo. Nature 533, 251–254 (2016)

Shahbazi, M. N. et al. Self-organization of the human embryo in the absence of maternal tissues. Nat. Cell Biol. 18, 700–708 (2016)

Wolf, D. P. et al. Use of assisted reproductive technologies in the propagation of rhesus macaque offspring. Biol. Reprod. 71, 486–493 (2004)

Wong, C. C. et al. Non-invasive imaging of human embryos before embryonic genome activation predicts development to the blastocyst stage. Nat. Biotechnol. 28, 1115–1121 (2010)

Nakagawa, M. et al. A novel efficient feeder-free culture system for the derivation of human induced pluripotent stem cells. Sci. Rep. 4, 3594 (2014)

Kurimoto, K. et al. An improved single-cell cDNA amplification method for efficient high-density oligonucleotide microarray analysis. Nucleic Acids Res . 34, e42 (2006)

Kurimoto, K., Yabuta, Y., Ohinata, Y. & Saitou, M. Global single-cell cDNA amplification to provide a template for representative high-density oligonucleotide microarray analysis. Nat. Protocols 2, 739–752 (2007)

Ohta, S., Nishida, E., Yamanaka, S. & Yamamoto, T. Global splicing pattern reversion during somatic cell reprogramming. Cell Reports 5, 357–366 (2013)

Kim, D. et al. TopHat2: accurate alignment of transcriptomes in the presence of insertions, deletions and gene fusions. Genome Biol . 14, R36 (2013)

Trapnell, C. et al. Differential gene and transcript expression analysis of RNA-seq experiments with TopHat and Cufflinks. Nat. Protocols 7, 562–578 (2012)

Storey, J. D. & Tibshirani, R. Statistical significance for genomewide studies. Proc. Natl Acad. Sci. USA 100, 9440–9445 (2003)

Kanehisa, M. & Goto, S. KEGG: kyoto encyclopedia of genes and genomes. Nucleic Acids Res. 28, 27–30 (2000)

Huang, W., Sherman, B. T. & Lempicki, R. A. Systematic and integrative analysis of large gene lists using DAVID bioinformatics resources. Nat. Protocols 4, 44–57 (2009)

Perelman, P. et al. A molecular phylogeny of living primates. PLoS Genet . 7, e1001342 (2011)

Dietrich, J. E. & Hiiragi, T. Stochastic patterning in the mouse pre-implantation embryo. Development 134, 4219–4231 (2007)

Roode, M. et al. Human hypoblast formation is not dependent on FGF signalling. Dev. Biol. 361, 358–363 (2012)

Xenopoulos, P., Kang, M., Puliafito, A., Di Talia, S. & Hadjantonakis, A. K. Heterogeneities in Nanog Expression Drive Stable Commitment to Pluripotency in the Mouse Blastocyst. Cell Reports 10, 1508–1520 (2015)

Schrode, N., Saiz, N., Di Talia, S. & Hadjantonakis, A. K. GATA6 levels modulate primitive endoderm cell fate choice and timing in the mouse blastocyst. Dev. Cell 29, 454–467 (2014)
Acknowledgements
This work was supported in part by a Grant-in-Aid from MEXT and by JST-ERATO. We thank Y. Nagai, R. Kabata, N. Konishi, Y. Sakaguchi, M. Kasawaki, T. Sato, M. Kabata, J. Matsushita, and M. Matsutani for their technical assistance. We are grateful to the Center for Anatomical, Pathological and Forensic Medical Researches, Kyoto University, for histology, to H. Suemori for CMK6/9, to M. Ema for encouragement, and to the animal care staff at Research Center for Animal Life Science, Shiga University of Medical Science for assistance.
Ethics declarations
Competing interests
The authors declare no competing financial interests.
Additional information
Reviewer Information Nature thanks T. Li, K. Niakan and H. Niwa for their contribution to the peer review of this work.
Extended data figures and tables
Supplementary information
This table contains a list of antibodies, primers, SC3-seq samples, mapping information, and published data used in the study. (XLSX 87 kb)
This table contains a list of genes used in the study. (XLSX 3787 kb)
About this article
Cite this article
Nakamura, T., Okamoto, I., Sasaki, K. et al. A developmental coordinate of pluripotency among mice, monkeys and humans. Nature 537, 57–62 (2016). https://doi.org/10.1038/nature19096
Received:

Accepted:

Published:

Issue Date:

DOI: https://doi.org/10.1038/nature19096
Comments
By submitting a comment you agree to abide by our Terms and Community Guidelines. If you find something abusive or that does not comply with our terms or guidelines please flag it as inappropriate.