Abstract
Animal species display enormous variation for innate behaviours, but little is known about how this diversity arose. Here, using an unbiased genetic approach, we map a courtship song difference between wild isolates of Drosophila simulans and Drosophila mauritiana to a 966 base pair region within the slowpoke (slo) locus, which encodes a calcium-activated potassium channel1. Using the reciprocal hemizygosity test2, we confirm that slo is the causal locus and resolve the causal mutation to the evolutionarily recent insertion of a retroelement in a slo intron within D. simulans. Targeted deletion of this retroelement reverts the song phenotype and alters slo splicing. Like many ion channel genes, slo is expressed widely in the nervous system and influences a variety of behaviours3,4; slo-null males sing little song with severely disrupted features. By contrast, the natural variant of slo alters a specific component of courtship song, illustrating that regulatory evolution of a highly pleiotropic ion channel gene can cause modular changes in behaviour.
Relevant articles
Open Access articles citing this article.
Takuro S. Ohashi

,

Yuki Ishikawa

…

Azusa Kamikouchi

Scientific Reports Open Access 07 January 2023

Min Zheng

,

Tianfu Guo

…

Lusheng Huang

Genetics Selection Evolution Open Access 27 July 2022

Jiayue-Clara Jiang

,

Joseph A. Rothnagel

&

Kyle R. Upton

Scientific Reports Open Access 13 April 2021
Access options
Subscribe to this journal
Receive 51 print issues and online access
$199.00 per year
only $3.90 per issue
Rent or buy this article
Get just this article for as long as you need it
$39.95
Prices may be subject to local taxes which are calculated during checkout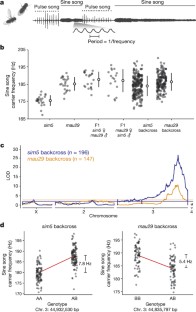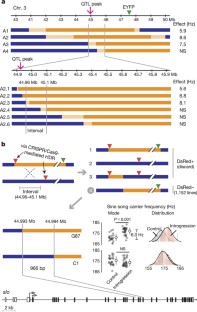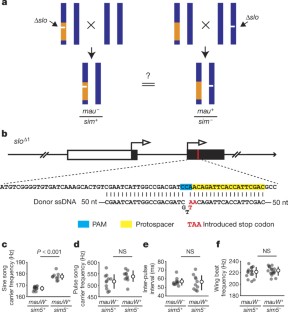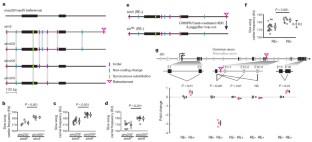 Accession codes
Accessions
Sequence Read Archive
References
Atkinson, N. S., Robertson, G. A. & Ganetzky, B. A component of calcium-activated potassium channels encoded by the Drosophila slo locus. Science 253, 551–555 (1991)

Stern, D. L. Identification of loci that cause phenotypic variation in diverse species with the reciprocal hemizygosity test. Trends Genet . 30, 547–554 (2014)

Becker, M. N., Brenner, R. & Atkinson, N. S. Tissue-specific expression of a Drosophila calcium-activated potassium channel. J. Neurosci. 15, 6250–6259 (1995)

Atkinson, N. S. et al. Molecular separation of two behavioral phenotypes by a mutation affecting the promoters of a Ca-activated K channel. J. Neurosci. 20, 2988–2993 (2000)

Bennet-Clark, H. C. & Ewing, A. W. The courtship songs of Drosophila . Behaviour 31, 288–301 (1968)

Arthur, B. J., Sunayama-Morita, T., Coen, P., Murthy, M. & Stern, D. L. Multi-channel acoustic recording and automated analysis of Drosophila courtship songs. BMC Biol. 11, 11 (2013)

Greenspan, R. J. & Ferveur, J. F. Courtship in Drosophila . Annu. Rev. Genet. 34, 205–232 (2000)

Huttunen, S., Aspi, J., Hoikkala, A. & Schlötterer, C. QTL analysis of variation in male courtship song characters in Drosophila virilis . Heredity 92, 263–269 (2004)

Gleason, J. M., Nuzhdin, S. V. & Ritchie, M. G. Quantitative trait loci affecting a courtship signal in Drosophila melanogaster. Heredity 89, 1–6 (2002)

Turner, T. L., Miller, P. M. & Cochrane, V. A. Combining genome-wide methods to investigate the genetic complexity of courtship song variation in Drosophila melanogaster . Mol. Biol. Evol. 30, 2113–2120 (2013)

Williams, M. A., Blouin, A. G. & Noor, M. A. F. Courtship songs of Drosophila pseudoobscura and D. persimilis. II. Genetics of species differences. Heredity 86, 68–77 (2001)

Stern, D. L. Reported Drosophila courtship song rhythms are artifacts of data analysis. BMC Biol. 12, 38 (2014)

Cande, J., Stern, D. L., Morita, T., Prud'homme, B. & Gompel, N. Looking under the lamp post: neither fruitless nor doublesex has evolved to generate divergent male courtship in Drosophila . Cell Reports 8, 363–370 (2014)

Garrigan, D. et al. Genome sequencing reveals complex speciation in the Drosophila simulans clade. Genome Res . 22, 1499–1511 (2012)

Andolfatto, P. et al. Multiplexed shotgun genotyping for rapid and efficient genetic mapping. Genome Res . 21, 610–617 (2011)

Greenwood, A. K., Wark, A. R., Yoshida, K. & Peichel, C. L. Genetic and neural modularity underlie the evolution of schooling behavior in threespine sticklebacks. Curr. Biol. 23, 1884–1888 (2013)

Weber, J. N., Peterson, B. K. & Hoekstra, H. E. Discrete genetic modules are responsible for complex burrow evolution in Peromyscus mice. Nature 493, 402–405 (2013)

Bassett, A. R. & Liu, J.-L. CRISPR/Cas9 and genome editing in Drosophila . J. Genet. Genomics 41, 7–19 (2014)

Vergara, C., Latorre, R., Marrion, N. V. & Adelman, J. P. Calcium-activated potassium channels. Curr. Opin. Neurobiol. 8, 321–329 (1998)

Stern, D. L. Tagmentation-based mapping (TagMap) of mobile DNA genomic insertion sites. Preprint at http://dx.doi.org/10.1101/037762 (2016)

Brenner, R., Thomas, T. O., Becker, M. N. & Atkinson, N. S. Tissue-specific expression of a Ca2+-activated K+ channel is controlled by multiple upstream regulatory elements. J. Neurosci. 16, 1827–1835 (1996)

Yu, J. Y., Upadhyaya, A. B. & Atkinson, N. S. Tissue-specific alternative splicing of BK channel transcripts in Drosophila . Genes Brain Behav . 5, 329–339 (2006)

Bendesky, A., Tsunozaki, M., Rockman, M. V., Kruglyak, L. & Bargmann, C. I. Catecholamine receptor polymorphisms affect decision-making in C. elegans . Nature 472, 313–318 (2011)

Bendesky, A. et al. Long-range regulatory polymorphisms affecting a GABA receptor constitute a quantitative trait locus (QTL) for social behavior in Caenorhabditis elegans . PLoS Genet . 8, e1003157 (2012)

de Bono, M. & Bargmann, C. I. Natural variation in a neuropeptide Y receptor homolog modifies social behavior and food response in C. elegans . Cell 94, 679–689 (1998)

McGrath, P. T. et al. Quantitative mapping of a digenic behavioral trait implicates globin variation in C. elegans sensory behaviors. Neuron 61, 692–699 (2009)

Osborne, K. A. et al. Natural behavior polymorphism due to a cGMP-dependent protein kinase of Drosophila . Science 277, 834–836 (1997)

Yalcin, B. et al. Genetic dissection of a behavioral quantitative trait locus shows that Rgs2 modulates anxiety in mice. Nat. Genet. 36, 1197–1202 (2004)

Gotz, K. G. Course-control, metabolism and wing interference during ultralong tethered flight in Drosophila melanogaster . J. Exp. Biol. 128, 35–46 (1987)

Broman, K. W., Wu, H., Sen, S. & Churchill, G. A. R/qtl: QTL mapping in experimental crosses. Bioinformatics 19, 889–890 (2003)
Acknowledgements
We thank C. Llorens for advice on retroelement classification and B. Dickson, N. Frankel, T. Shirangi, N. Spruston and S. Sternson for advice on the manuscript.
Ethics declarations
Competing interests
The authors declare no competing financial interests.
Additional information
Reviewer Information Nature thanks B. Prud'homme, T. Turner and the other anonymous reviewer(s) for their contribution to the peer review of this work.
Extended data figures and tables
Supplementary information
About this article
Cite this article
Ding, Y., Berrocal, A., Morita, T. et al. Natural courtship song variation caused by an intronic retroelement in an ion channel gene. Nature 536, 329–332 (2016). https://doi.org/10.1038/nature19093
Received:

Accepted:

Published:

Issue Date:

DOI: https://doi.org/10.1038/nature19093
Comments
By submitting a comment you agree to abide by our Terms and Community Guidelines. If you find something abusive or that does not comply with our terms or guidelines please flag it as inappropriate.