Abstract
Pancreatic ductal adenocarcinoma (PDAC) is an aggressive disease characterized by an intense fibrotic stromal response and deregulated metabolism1,2,3,4. The role of the stroma in PDAC biology is complex and it has been shown to play critical roles that differ depending on the biological context5,6,7,8,9,10. The stromal reaction also impairs the vasculature, leading to a highly hypoxic, nutrient-poor environment4,11,12. As such, these tumours must alter how they capture and use nutrients to support their metabolic needs11,13. Here we show that stroma-associated pancreatic stellate cells (PSCs) are critical for PDAC metabolism through the secretion of non-essential amino acids (NEAA). Specifically, we uncover a previously undescribed role for alanine, which outcompetes glucose and glutamine-derived carbon in PDAC to fuel the tricarboxylic acid (TCA) cycle, and thus NEAA and lipid biosynthesis. This shift in fuel source decreases the tumour's dependence on glucose and serum-derived nutrients, which are limited in the pancreatic tumour microenvironment4,11. Moreover, we demonstrate that alanine secretion by PSCs is dependent on PSC autophagy, a process that is stimulated by cancer cells. Thus, our results demonstrate a novel metabolic interaction between PSCs and cancer cells, in which PSC-derived alanine acts as an alternative carbon source. This finding highlights a previously unappreciated metabolic network within pancreatic tumours in which diverse fuel sources are used to promote growth in an austere tumour microenvironment.
Relevant articles
Open Access articles citing this article.
Jian Yang

,

Ying Liu

&

Shi Liu

Cell Death & Disease Open Access 07 August 2023

Chen Ai

,

Xiao Sun

…

Jie Li

Journal of Nanobiotechnology Open Access 08 July 2023

Sara Razi

,

Amin Haghparast

…

Hamidreza Zalpoor

Cell Communication and Signaling Open Access 16 June 2023
Access options
Subscribe to this journal
Receive 51 print issues and online access
$199.00 per year
only $3.90 per issue
Rent or buy this article
Prices vary by article type
from$1.95
to$39.95
Prices may be subject to local taxes which are calculated during checkout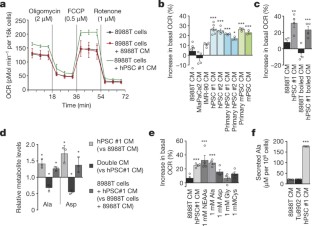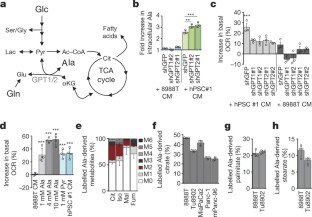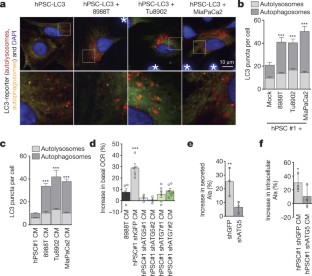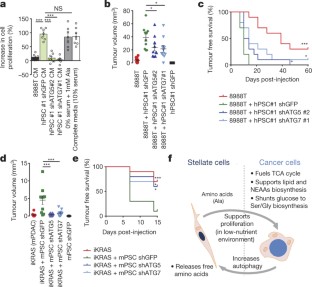 References
Hidalgo, M. Pancreatic cancer. N. Engl. J. Med. 362, 1605–1617 (2010)

Sousa, C. M. & Kimmelman, A. C. The complex landscape of pancreatic cancer metabolism. Carcinogenesis 35, 1441–1450 (2014)

Whatcott, C. J. et al. Desmoplasia in primary tumors and metastatic lesions of pancreatic cancer. Clin. Cancer Res. 21, 3561–3568 (2015)

Feig, C. et al. The pancreas cancer microenvironment. Clin. Cancer Res. 18, 4266–4276 (2012)

Erkan, M. et al. StellaTUM: current consensus and discussion on pancreatic stellate cell research. Gut 61, 172–178 (2012)

Gore, J. & Korc, M. Pancreatic cancer stroma: friend or foe? Cancer Cell 25, 711–712 (2014)

Apte, M. V & Wilson, J. S. Dangerous liaisons: pancreatic stellate cells and pancreatic cancer cells. J. Gastroenterol. Hepatol. 27 (Suppl 2), 69–74 (2012)

Özdemir, B. C. et al. Depletion of carcinoma-associated fibroblasts and fibrosis induces immunosuppression and accelerates pancreas cancer with reduced survival. Cancer Cell 25, 719–734 (2014)

Rhim, A. D. et al. Stromal elements act to restrain, rather than support, pancreatic ductal adenocarcinoma. Cancer Cell 25, 735–747 (2014)

Feig, C. et al. Targeting CXCL12 from FAP-expressing carcinoma-associated fibroblasts synergizes with anti-PD-L1 immunotherapy in pancreatic cancer. Proc. Natl Acad. Sci. USA 110, 20212–20217 (2013)

Kamphorst, J. J. et al. Human pancreatic cancer tumors are nutrient poor and tumor cells actively scavenge extracellular protein. Cancer Res. 75, 544–553 (2015)

Olive, K. P. et al. Inhibition of Hedgehog signaling enhances delivery of chemotherapy in a mouse model of pancreatic cancer. Science 324, 1457–1461 (2009)

Commisso, C. et al. Macropinocytosis of protein is an amino acid supply route in Ras-transformed cells. Nature 497, 633–637 (2013)

Son, J. et al. Glutamine supports pancreatic cancer growth through a KRAS-regulated metabolic pathway. Nature 496, 101–105 (2013)

Ying, H. et al. Oncogenic Kras maintains pancreatic tumors through regulation of anabolic glucose metabolism. Cell 149, 656–670 (2012)

Hwang, R. F. et al. Cancer-associated stromal fibroblasts promote pancreatic tumor progression. Cancer Res. 68, 918–926 (2008)

Yuan, M., Breitkopf, S. B., Yang, X. & Asara, J. M. A positive/negative ion–switching, targeted mass spectrometry–based metabolomics platform for bodily fluids, cells, and fresh and fixed tissue. Nat. Protocols 7, 872–881 (2012)

Yang, A. et al. Autophagy is critical for pancreatic tumor growth and progression in tumors with p53 alterations. Cancer Discov. 4, 905–913 (2014)

Yang, S. et al. Pancreatic cancers require autophagy for tumor growth. Genes Dev. 25, 717–729 (2011)

Zhao, H. et al. Tumor microenvironment derived exosomes pleiotropically modulate cancer cell metabolism. eLife 5, e10250 (2016)

Sonveaux, P. et al. Targeting lactate-fueled respiration selectively kills hypoxic tumor cells in mice. J. Clin. Invest. 118, 3930–3942 (2008)

Tape, C. J. et al. Oncogenic KRAS regulates tumor cell signaling via stromal reciprocation. Cell 165, 910–920 (2016)

Serrao, E. M. et al. MRI with hyperpolarised [1-13C] pyruvate detects advanced pancreatic preneoplasia prior to invasive disease in a mouse model. Gut http://dx.doi.org/10.1136/gutjnl-2015-310114 (2015)

Trinquier, G. & Sanejouand, Y. H. Which effective property of amino acids is best preserved by the genetic code? Protein Eng. 11, 153–169 (1998)

Sherman, M. H. et al. Vitamin D receptor-mediated stromal reprogramming suppresses pancreatitis and enhances pancreatic cancer therapy. Cell 159, 80–93 (2014)

Ouyang, H. et al. Immortal human pancreatic duct epithelial cell lines with near normal genotype and phenotype. Am. J. Pathol. 157, 1623–1631 (2000)

Metallo, C. M. et al. Reductive glutamine metabolism by IDH1 mediates lipogenesis under hypoxia. Nature 481, 380–384 (2012)

Fernandez, C. A., Des Rosiers, C., Previs, S. F., David, F. & Brunengraber, H. Correction of 13C mass isotopomer distributions for natural stable isotope abundance. J. Mass Spectrom. 31, 255–262 (1996)

Sastra, S. A. & Olive, K. P. Quantification of murine pancreatic tumors by high-resolution ultrasound. Methods Mol. Biol. 980, 249–266 (2013)
Acknowledgements
We thank Kimmelman laboratory members for reading the manuscript, A. Yang for help with orthotopic injections, M. Yuan and S. Breitkopf for technical support with mass spectrometry, E. Sicinska for resected PDAC specimens, and the Dana-Farber/Harvard Cancer Center Rodent Histopathology Core for assistance with tissue processing. DFHCC is supported in part by NIH 5P30CA06516. A.C.K. is supported by NIH grant GM095567, NCI grants R01CA157490, R01CA188048, ACS Research Scholar Grant (RSG-13-298-01-TBG), and the Lustgarten Foundation. C.A.L. is supported by a PanCAN-AACR Pathway to Leadership award and a Dale F. Frey award from the Damon Runyon Cancer Research Foundation (DFS-09-14). Metabolomics studies performed at the University of Michigan were supported by NIH grant DK097153. L.C.C. was supported by P01CA117969, PanCAN-AACR and the Lustgarten Foundation. J.M.A. was supported by P30CA006516 and P01CA120964. R.M.E. is an investigator of the Howard Hughes Medical Institute and March of Dimes Chair in Molecular and Developmental Biology at the Salk Institute, and is supported in part by grants from The Lustgarten Foundation and a Stand Up to Cancer Dream Team Translational Cancer Research Grant, a Program of the Entertainment Industry Foundation (SU2C-AACR-DT0509).
Ethics declarations
Competing interests
L.C.C. owns equity in, receives compensation from, and serves on the Board of Directors and Scientific Advisory Board of Agios Pharmaceuticals. Agios Pharmaceuticals is identifying metabolic pathways of cancer cells and developing drugs to inhibit such enzymes to disrupt tumour cell growth and survival. The remaining authors have no competing financial interests to declare.
Additional information
Reviewer Information
Nature thanks J. Debnath and the other anonymous reviewer(s) for their contribution to the peer review of this work.
Extended data figures and tables
Supplementary information
This file contains Supplementary Figures 1 and 2. (PDF 1529 kb)
This file contains the statistical information for Figures 1-4 and Extended Data Figures 1-3 and 6-10. (PDF 1809 kb)
This file contains Supplementary Tables 1-4. (XLSX 31 kb)
About this article
Cite this article
Sousa, C., Biancur, D., Wang, X. et al. Pancreatic stellate cells support tumour metabolism through autophagic alanine secretion. Nature 536, 479–483 (2016). https://doi.org/10.1038/nature19084
Received:

Accepted:

Published:

Issue Date:

DOI: https://doi.org/10.1038/nature19084
Comments
By submitting a comment you agree to abide by our Terms and Community Guidelines. If you find something abusive or that does not comply with our terms or guidelines please flag it as inappropriate.