Abstract
Hypermethylation of the promoters of tumour suppressor genes represses transcription of these genes, conferring growth advantages to cancer cells. How these changes arise is poorly understood. Here we show that the activity of oxygen-dependent ten-eleven translocation (TET) enzymes is reduced by tumour hypoxia in human and mouse cells. TET enzymes catalyse DNA demethylation through 5-methylcytosine oxidation. This reduction in activity occurs independently of hypoxia-associated alterations in TET expression, proliferation, metabolism, hypoxia-inducible factor activity or reactive oxygen species, and depends directly on oxygen shortage. Hypoxia-induced loss of TET activity increases hypermethylation at gene promoters in vitro. In patients, tumour suppressor gene promoters are markedly more methylated in hypoxic tumour tissue, independent of proliferation, stromal cell infiltration and tumour characteristics. Our data suggest that up to half of hypermethylation events are due to hypoxia, with these events conferring a selective advantage. Accordingly, increased hypoxia in mouse breast tumours increases hypermethylation, while restoration of tumour oxygenation abrogates this effect. Tumour hypoxia therefore acts as a novel regulator of DNA methylation.
Your institute does not have access to this article
Relevant articles
Open Access articles citing this article.
Weili Wang

,

Huizhen Zheng

…

Ruibin Li

Nature Communications Open Access 02 August 2022

Emanuel Gonçalves

,

Maria Gonçalves-Reis

…

Joana Cardoso

Scientific Reports Open Access 07 July 2022

Zhiqing Fang

,

Ning Zhang

…

Dawei Xu

Journal of Experimental & Clinical Cancer Research Open Access 12 May 2022
Access options
Subscribe to Journal
Get full journal access for 1 year
$199.00
only $3.90 per issue
All prices are NET prices.
VAT will be added later in the checkout.
Tax calculation will be finalised during checkout.
Buy article
Get time limited or full article access on ReadCube.
$32.00
All prices are NET prices.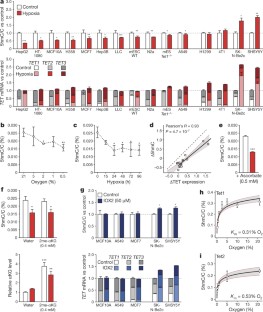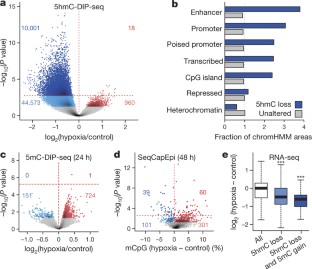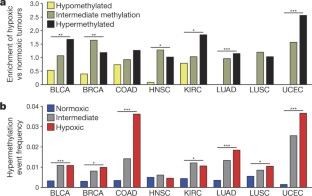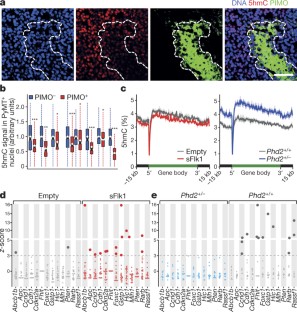 Accession codes
Data deposits
Microarray and sequencing data are available at the Gene Expression Omnibus under accession GSE71403.
References
Esteller, M. Epigenetics in cancer. N. Engl. J. Med. 358, 1148–1159 (2008)

Struhl, K. Is DNA methylation of tumour suppressor genes epigenetic? eLife 3, e02475 (2014)

Weisenberger, D. J. et al. CpG island methylator phenotype underlies sporadic microsatellite instability and is tightly associated with BRAF mutation in colorectal cancer. Nat. Genet. 38, 787–793 (2006)

Mack, S. C. et al. Epigenomic alterations define lethal CIMP-positive ependymomas of infancy. Nature 506, 445–450 (2014)

Tahiliani, M. et al. Conversion of 5-methylcytosine to 5-hydroxymethylcytosine in mammalian DNA by MLL partner TET1. Science 324, 930–935 (2009)

Shen, L. et al. Genome-wide analysis reveals TET- and TDG-dependent 5-methylcytosine oxidation dynamics. Cell 153, 692–706 (2013)

Xiao, M. et al. Inhibition of α-KG-dependent histone and DNA demethylases by fumarate and succinate that are accumulated in mutations of FH and SDH tumor suppressors. Genes Dev . 26, 1326–1338 (2012)

Figueroa, M. E. et al. Leukemic IDH1 and IDH2 mutations result in a hypermethylation phenotype, disrupt TET2 function, and impair hematopoietic differentiation. Cancer Cell 18, 553–567 (2010)

Xu, W. et al. Oncometabolite 2-hydroxyglutarate is a competitive inhibitor of α-ketoglutarate-dependent dioxygenases. Cancer Cell 19, 17–30 (2011)

Yang, H. et al. Tumor development is associated with decrease of TET gene expression and 5-methylcytosine hydroxylation. Oncogene 32, 663–669 (2013)

Ploumakis, A. & Coleman, M. L. OH, the places you'll go! Hydroxylation, gene expression, and cancer. Mol. Cell 58, 729–741 (2015)

Schofield, C. J. & Ratcliffe, P. J. Oxygen sensing by HIF hydroxylases. Nat. Rev. Mol. Cell Biol. 5, 343–354 (2004)

Hanahan, D. & Folkman, J. Patterns and emerging mechanisms of the angiogenic switch during tumorigenesis. Cell 86, 353–364 (1996)

Vaupel, P., Höckel, M. & Mayer, A. Detection and characterization of tumor hypoxia using pO2 histography. Antioxid. Redox Signal. 9, 1221–1235 (2007)

Williams, K. et al. TET1 and hydroxymethylcytosine in transcription and DNA methylation fidelity. Nature 473, 343–348 (2011)

Ito, S. et al. Tet proteins can convert 5-methylcytosine to 5-formylcytosine and 5-carboxylcytosine. Science 333, 1300–1303 (2011)

Mariani, C. J. et al. TET1-mediated hydroxymethylation facilitates hypoxic gene induction in neuroblastoma. Cell Reports 7, 1343–1352 (2014)

Zhao, B. et al. Redox-active quinones induces genome-wide DNA methylation changes by an iron-mediated and Tet-dependent mechanism. Nucleic Acids Res . 42, 1593–1605 (2014)

Blaschke, K. et al. Vitamin C induces Tet-dependent DNA demethylation and a blastocyst-like state in ES cells. Nature 500, 222–226 (2013)

Koivunen, P. et al. Transformation by the (R)-enantiomer of 2-hydroxyglutarate linked to EGLN activation. Nature 483, 484–488 (2012)

Bachman, M. et al. 5-Hydroxymethylcytosine is a predominantly stable DNA modification. Nat. Chem. 6, 1049–1055 (2014)

Chowdhury, R. et al. Selective small molecule probes for the hypoxia inducible factor (HIF) prolyl hydroxylases. ACS Chem. Biol. 8, 1488–1496 (2013)

Taberlay, P. C., Statham, A. L., Kelly, T. K., Clark, S. J. & Jones, P. A. Reconfiguration of nucleosome-depleted regions at distal regulatory elements accompanies DNA methylation of enhancers and insulators in cancer. Genome Res. 24, 1421–1432(2014)

Weinstein, J. N. et al. The Cancer Genome Atlas Pan-Cancer analysis project. Nat. Genet. 45, 1113–1120 (2013)

Buffa, F. M., Harris, A. L., West, C. M. & Miller, C. J. Large meta-analysis of multiple cancers reveals a common, compact and highly prognostic hypoxia metagene. Br. J. Cancer 102, 428–435 (2010)

Feinberg, A. P. & Irizarry, R. A. Evolution in health and medicine Sackler colloquium: Stochastic epigenetic variation as a driving force of development, evolutionary adaptation, and disease. Proc. Natl Acad. Sci. USA 107 (Suppl. 1), 1757–1764 (2010)

Kuchnio, A. et al. The cancer cell oxygen sensor PHD2 promotes metastasis via activation of cancer-associated fibroblasts. Cell Reports 12, 992–1005 (2015)

Vogelstein, B. et al. Cancer genome landscapes. Science 339, 1546–1558 (2013)

Landan, G. et al. Epigenetic polymorphism and the stochastic formation of differentially methylated regions in normal and cancerous tissues. Nat. Genet. 44, 1207–1214 (2012)

Laukka, T. et al. Fumarate and succinate regulate expression of hypoxia-inducible genes via TET enzymes. J. Biol. Chem. 291, 4256–4265 (2016)

Paez-Ribes, M. et al. Antiangiogenic therapy elicits malignant progression of tumors to increased local invasion and distant metastasis. Cancer Cell 15, 220–231, (2009)

Heist, R. S. et al. Improved tumor vascularization after anti-VEGF therapy with carboplatin and nab-paclitaxel associates with survival in lung cancer. Proc. Natl Acad. Sci. USA 112, 1547–1552 (2015)

Sermeus, A. et al. Hypoxia induces protection against etoposide-induced apoptosis: molecular profiling of changes in gene expression and transcription factor activity. Mol. Cancer 7, 27 (2008)

Schmittgen, T. D. & Livak, K. J. Analyzing real-time PCR data by the comparative C(T) method. Nat. Protocols 3, 1101–1108 (2008)

Majmundar, A. J., Wong, W. J. & Simon, M. C. Hypoxia-inducible factors and the response to hypoxic stress. Mol. Cell 40, 294–309 (2010)

Feng, J., Liu, T. & Zhang, Y. Using MACS to identify peaks from ChIP-Seq data. Curr. Protoc. Bioinformatics Chapter 2, Unit 2.14, (2011)

Durand, R. E. & Raleigh, J. A. Identification of nonproliferating but viable hypoxic tumor cells in vivo. Cancer Res. 58, 3547–3550 (1998)

Lippert, A. R., Van de Bittner, G. C. & Chang, C. J. Boronate oxidation as a bioorthogonal reaction approach for studying the chemistry of hydrogen peroxide in living systems. Acc. Chem. Res. 44, 793–804 (2011)

Dickinson, B. C., Tang, Y., Chang, Z. & Chang, C. J. A nuclear-localized fluorescent hydrogen peroxide probe for monitoring sirtuin-mediated oxidative stress responses in vivo. Chem. Biol. 18, 943–948 (2011)

Vichai, V. & Kirtikara, K. Sulforhodamine B colorimetric assay for cytotoxicity screening. Nat. Protocols 1, 1112–1116 (2006)

He, Y. F. et al. Tet-mediated formation of 5-carboxylcytosine and its excision by TDG in mammalian DNA. Science 333, 1303–1307 (2011)

Taiwo, O. et al. Methylome analysis using MeDIP-seq with low DNA concentrations. Nat. Protocols 7, 617–636 (2012)

McCarthy, D. J., Chen, Y. & Smyth, G. K. Differential expression analysis of multifactor RNA-Seq experiments with respect to biological variation. Nucleic Acids Res . 40, 4288–4297 (2012)

Parker, J. S. et al. Supervised risk predictor of breast cancer based on intrinsic subtypes. J. Clin. Oncol. 27, 1160–1167 (2009)

Murtagh, F. & Legendre, P. Ward's hierarchical agglomerative clustering method: which algorithms implement Ward's criterion? J. Classif. 31, 274–295 (2014)

Nielsen, T. O. et al. A comparison of PAM50 intrinsic subtyping with immunohistochemistry and clinical prognostic factors in tamoxifen-treated estrogen receptor-positive breast cancer. Clin. Cancer Res. 16, 5222–5232 (2010)

Du, P. et al. Comparison of Beta-value and M-value methods for quantifying methylation levels by microarray analysis. BMC Bioinformatics 11, 587 (2010)

Wauters, E. et al. DNA methylation profiling of non-small cell lung cancer reveals a COPD-driven immune-related signature. Thorax 70, 1113–1122 (2015)

Yu, M. et al. Tet-assisted bisulfite sequencing of 5-hydroxymethylcytosine. Nat. Protocols 7, 2159–2170 (2012)

Nazor, K. L. et al. Application of a low cost array-based technique - TAB-Array - for quantifying and mapping both 5mC and 5hmC at single base resolution in human pluripotent stem cells. Genomics 104, 358–367 (2014)

Morris, T. J. et al. ChAMP: 450k Chip Analysis Methylation Pipeline. Bioinformatics 30, 428–430 (2014)

Liu, F., Song, Y. & Liu, D. Hydrodynamics-based transfection in animals by systemic administration of plasmid DNA. Gene Ther . 6, 1258–1266 (1999)

Pelicano, H., Carney, D. & Huang, P. ROS stress in cancer cells and therapeutic implications. Drug Resist. Updat. 7, 97–110 (2004)

Booth, M. J. et al. Quantitative sequencing of 5-methylcytosine and 5-hydroxymethylcytosine at single-base resolution. Science 336, 934–937 (2012)
Acknowledgements
We thank G. Peuteman, T. Van Brussel, J. Serneels and K. Kurz for assistance, C. Chang for NucPE1, G.-L. Xu for Tet-triple knockout ES cells. H.Z. and B.T. hold FWO-F postdoctoral fellowships. This work was supported by funding from the ERC (CHAMELEON 617595 to D.L.; EU-ERC269073 to P.C.; CHAMELEO 334420 to B.T.), from the FWO-F (G065615N, G070615N) to D.L., from the IUAP (P7/03) and the Flemish Government (Methusalem) to P.C., and from the DFG (EXC114 (CiPSM), grants CA275/8-5, GRK2062/1 and SPP1784) to T.C.
Ethics declarations
Competing interests
The authors declare no competing financial interests.
Additional information
Reviewer Information Nature thanks R. S. Johnson, M. Rehli and Y. Xiong for their contribution to the peer review of this work.
Extended data figures and tables
Supplementary information
This file contains the uncropped scans with size marker indication for Extended Data Figure 2b. (PDF 741 kb)
This file contains Supplementary Tables 1-12. (XLSX 21073 kb)
About this article
Cite this article
Thienpont, B., Steinbacher, J., Zhao, H. et al. Tumour hypoxia causes DNA hypermethylation by reducing TET activity. Nature 537, 63–68 (2016). https://doi.org/10.1038/nature19081
Received:

Accepted:

Published:

Issue Date:

DOI: https://doi.org/10.1038/nature19081
Comments
By submitting a comment you agree to abide by our Terms and Community Guidelines. If you find something abusive or that does not comply with our terms or guidelines please flag it as inappropriate.