Abstract
The changes in cell dynamics after oncogenic mutation that lead to the development of tumours are currently unknown. Here, using skin epidermis as a model, we assessed the effect of oncogenic hedgehog signalling in distinct cell populations and their capacity to induce basal cell carcinoma, the most frequent cancer in humans. We found that only stem cells, and not progenitors, initiated tumour formation upon oncogenic hedgehog signalling. This difference was due to the hierarchical organization of tumour growth in oncogene-targeted stem cells, characterized by an increase in symmetric self-renewing divisions and a higher p53-dependent resistance to apoptosis, leading to rapid clonal expansion and progression into invasive tumours. Our work reveals that the capacity of oncogene-targeted cells to induce tumour formation is dependent not only on their long-term survival and expansion, but also on the specific clonal dynamics of the cancer cell of origin.
Relevant articles
Open Access articles citing this article.
Katie Cockburn

,

Karl Annusver

…

Valentina Greco

Nature Cell Biology Open Access 10 November 2022

Miguel Vizoso

,

Colin E. J. Pritchard

…

Jacco van Rheenen

Nature Communications Open Access 28 October 2022

Qing Wu

,

Wei Qian

…

Shaojie Jiang

Journal of Hematology & Oncology Open Access 08 October 2022
Access options
Subscribe to this journal
Receive 51 print issues and online access
$199.00 per year
only $3.90 per issue
Rent or buy this article
Get just this article for as long as you need it
$39.95
Prices may be subject to local taxes which are calculated during checkout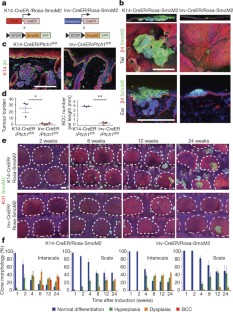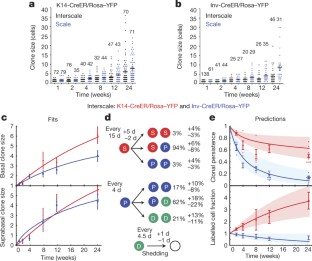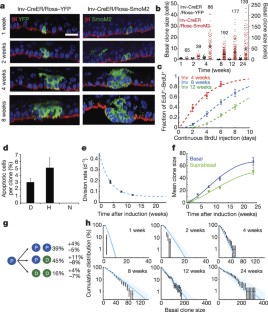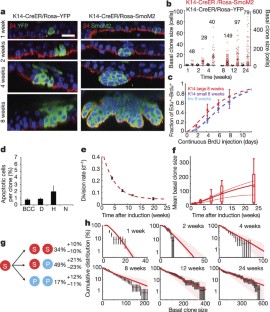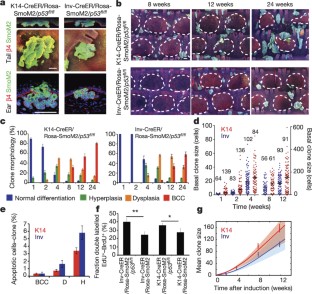 References
Hanahan, D. & Weinberg, R. A. Hallmarks of cancer: the next generation. Cell 144, 646–674 (2011)

Vermeulen, L. et al. Defining stem cell dynamics in models of intestinal tumor initiation. Science 342, 995–998 (2013)

Snippert, H. J., Schepers, A. G., van Es, J. H., Simons, B. D. & Clevers, H. Biased competition between Lgr5 intestinal stem cells driven by oncogenic mutation induces clonal expansion. EMBO Rep. 15, 62–69 (2014)

Epstein, E. H. Basal cell carcinomas: attack of the hedgehog. Nat. Rev. Cancer 8, 743–754 (2008)

Blanpain, C. & Simons, B. D. Unravelling stem cell dynamics by lineage tracing. Nat. Rev. Mol. Cell Biol. 14, 489–502 (2013)

Blanpain, C. & Fuchs, E. Stem cell plasticity. Plasticity of epithelial stem cells in tissue regeneration. Science 344, 1242281 (2014)

Mascré, G. et al. Distinct contribution of stem and progenitor cells to epidermal maintenance. Nature 489, 257–262 (2012)

Lapouge, G. et al. Identifying the cellular origin of squamous skin tumors. Proc. Natl Acad. Sci. USA 108, 7431–7436 (2011)

Youssef, K. K. et al. Identification of the cell lineage at the origin of basal cell carcinoma. Nat. Cell Biol. 12, 299–305 (2010)

Youssef, K. K. et al. Adult interfollicular tumour-initiating cells are reprogrammed into an embryonic hair follicle progenitor-like fate during basal cell carcinoma initiation. Nat. Cell Biol. 14, 1282–1294 (2012)

Wong, S. Y. & Reiter, J. F. Wounding mobilizes hair follicle stem cells to form tumors. Proc. Natl Acad. Sci. USA 108, 4093–4098 (2011)

Kasper, M. et al. Wounding enhances epidermal tumorigenesis by recruiting hair follicle keratinocytes. Proc. Natl Acad. Sci. USA 108, 4099–4104 (2011)

Gomez, C. et al. The interfollicular epidermis of adult mouse tail comprises two distinct cell lineages that are differentially regulated by Wnt, Edaradd, and Lrig1. Stem Cell Reports 1, 19–27 (2013)

Clayton, E. et al. A single type of progenitor cell maintains normal epidermis. Nature 446, 185–189 (2007)

Bonilla, X. et al. Genomic analysis identifies new drivers and progression pathways in skin basal cell carcinoma. Nat. Genet. 48, 398–406 (2016)

Chen, J. The cell-cycle arrest and apoptotic functions of p53 in tumor initiation and progression. Cold Spring Harb. Perspect. Med. 6, a026104 (2016)

Schüller, U. et al. Acquisition of granule neuron precursor identity is a critical determinant of progenitor cell competence to form Shh-induced medulloblastoma. Cancer Cell 14, 123–134 (2008)

Yang, Z. J. et al. Medulloblastoma can be initiated by deletion of Patched in lineage-restricted progenitors or stem cells. Cancer Cell 14, 135–145 (2008)

Barker, N. et al. Crypt stem cells as the cells-of-origin of intestinal cancer. Nature 457, 608–611 (2009)

White, A. C. et al. Defining the origins of Ras/p53-mediated squamous cell carcinoma. Proc. Natl Acad. Sci. USA 108, 7425–7430 (2011)

Lapouge, G. et al. Skin squamous cell carcinoma propagating cells increase with tumour progression and invasiveness. EMBO J. 31, 4563–4575 (2012)

Zhu, L. et al. Prominin 1 marks intestinal stem cells that are susceptible to neoplastic transformation. Nature 457, 603–607 (2009)

Vasioukhin, V., Degenstein, L., Wise, B. & Fuchs, E. The magical touch: genome targeting in epidermal stem cells induced by tamoxifen application to mouse skin. Proc. Natl Acad. Sci. USA 96, 8551–8556 (1999)

Uhmann, A. et al. The Hedgehog receptor Patched controls lymphoid lineage commitment. Blood 110, 1814–1823 (2007)

Mao, J. et al. A novel somatic mouse model to survey tumorigenic potential applied to the Hedgehog pathway. Cancer Res. 66, 10171–10178 (2006)

Jonkers, J. et al. Synergistic tumor suppressor activity of BRCA2 and p53 in a conditional mouse model for breast cancer. Nat. Genet. 29, 418–425 (2001)

Braun, K. M. et al. Manipulation of stem cell proliferation and lineage commitment: visualisation of label-retaining cells in wholemounts of mouse epidermis. Development 130, 5241–5255 (2003)
Acknowledgements
We would like to thank J.-M. Vanderwinden and the LiMiF for the help with confocal microscopy. C.B. is an investigator of WELBIO. A.S.-D. and J.C.L. are supported by a fellowship of the FNRS and FRIA respectively. B.D.S. and E.H. are supported by the Wellcome Trust (grant numbers 098357/Z/12/Z and 110326/Z/15/Z). E.H. is supported by a fellowship from Trinity College, Cambridge. This work was supported by the FNRS, the IUAP program, the Fondation contre le Cancer, the ULB fondation, the foundation Bettencourt Schueller, the foundation Baillet Latour, a consolidator grant of the European Research Council.
Ethics declarations
Competing interests
The authors declare no competing financial interests.
Additional information
Reviewer Information
Nature thanks S. Benitah, F. de Sauvage, L. Vermeulen and the other anonymous reviewer(s) for their contribution to the peer review of this work.
Extended data figures and tables
Supplementary information
This file contains the Supplementary Theory, which provides further details on the modeling approach to study cell fate in the mouse tail epidermis, as well as on the data analysis and statistics used. It starts by describing how quantitative analysis of clonal date data can be used to elucidate the lineage hierarchy and progenitor fate behavior under conditions of normal homeostasis. This modeling scheme and its analysis provides a platform to then consider how stem and progenitor cell fates are perturbed in the progression to basal cell carcinoma (BCC) following smoothened activation. (PDF 523 kb)
This file contains persistence data (corresponding to data shown in Figure 2 and Extended Data Figures 4, 5, 6, 7 & 8). (XLSX 42 kb)
This file contains clone size data (corresponding to data shown in Figures 2, 3, 4 & 5 and Extended Data Figures 2, 3, 4, 5, 6, 7 & 8). (XLSX 147 kb)
About this article
Cite this article
Sánchez-Danés, A., Hannezo, E., Larsimont, JC. et al. Defining the clonal dynamics leading to mouse skin tumour initiation. Nature 536, 298–303 (2016). https://doi.org/10.1038/nature19069
Received:

Accepted:

Published:

Issue Date:

DOI: https://doi.org/10.1038/nature19069
Comments
By submitting a comment you agree to abide by our Terms and Community Guidelines. If you find something abusive or that does not comply with our terms or guidelines please flag it as inappropriate.