Abstract
DNA double-strand breaks (DSBs) elicit a histone modification cascade that controls DNA repair1,2,3. This pathway involves the sequential ubiquitination of histones H1 and H2A by the E3 ubiquitin ligases RNF8 and RNF168, respectively4,5,6,7,8. RNF168 ubiquitinates H2A on lysine 13 and lysine 15 (refs 7, 8) (yielding H2AK13ub and H2AK15ub, respectively), an event that triggers the recruitment of 53BP1 (also known as TP53BP1) to chromatin flanking DSBs9,10. 53BP1 binds specifically to H2AK15ub-containing nucleosomes through a peptide segment termed the ubiquitination-dependent recruitment motif (UDR), which requires the simultaneous engagement of histone H4 lysine 20 dimethylation (H4K20me2) by its tandem Tudor domain10,11. How 53BP1 interacts with these two histone marks in the nucleosomal context, how it recognizes ubiquitin, and how it discriminates between H2AK13ub and H2AK15ub is unknown. Here we present the electron cryomicroscopy (cryo-EM) structure of a dimerized human 53BP1 fragment bound to a H4K20me2-containing and H2AK15ub-containing nucleosome core particle (NCP-ubme) at 4.5 Å resolution. The structure reveals that H4K20me2 and H2AK15ub recognition involves intimate contacts with multiple nucleosomal elements including the acidic patch. Ubiquitin recognition by 53BP1 is unusual and involves the sandwiching of the UDR segment between ubiquitin and the NCP surface. The selectivity for H2AK15ub is imparted by two arginine fingers in the H2A amino-terminal tail, which straddle the nucleosomal DNA and serve to position ubiquitin over the NCP-bound UDR segment. The structure of the complex between NCP-ubme and 53BP1 reveals the basis of 53BP1 recruitment to DSB sites and illuminates how combinations of histone marks and nucleosomal elements cooperate to produce highly specific chromatin responses, such as those elicited following chromosome breaks.
Relevant articles
Open Access articles citing this article.
Jian Ma

,

Yingke Zhou

…

Lei Li

Nature Communications Open Access 31 March 2023

Sumin Feng

,

Sai Ma

…

Dongyi Xu

Nature Communications Open Access 17 February 2022

Xiaoping Xu

,

Kai Ni

…

Kathrin Muegge

Nature Communications Open Access 10 June 2021
Access options
Subscribe to this journal
Receive 51 print issues and online access
$199.00 per year
only $3.90 per issue
Rent or buy this article
Prices vary by article type
from$1.95
to$39.95
Prices may be subject to local taxes which are calculated during checkout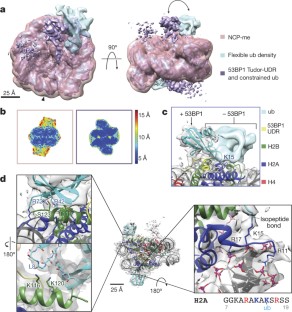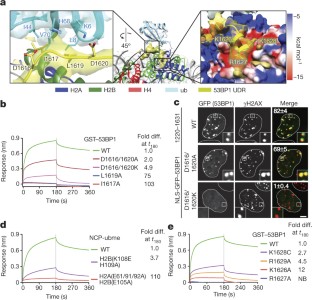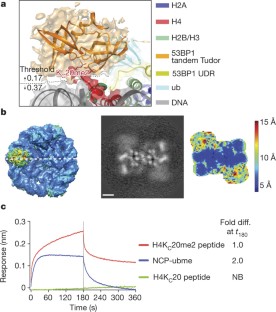 References
Lukas, J., Lukas, C. & Bartek, J. More than just a focus: The chromatin response to DNA damage and its role in genome integrity maintenance. Nature Cell Biol. 13, 1161–1169 (2011)

Dantuma, N. P. & van Attikum, H. Spatiotemporal regulation of posttranslational modifications in the DNA damage response. EMBO J. 35, 6–23 (2016)

Jackson, S. P. & Durocher, D. Regulation of DNA damage responses by ubiquitin and SUMO. Mol. Cell 49, 795–807 (2013)

Thorslund, T. et al. Histone H1 couples initiation and amplification of ubiquitin signalling after DNA damage. Nature 527, 389–393 (2015)

Stewart, G. S. et al. The RIDDLE syndrome protein mediates a ubiquitin-dependent signaling cascade at sites of DNA damage. Cell 136, 420–434 (2009)

Doil, C. et al. RNF168 binds and amplifies ubiquitin conjugates on damaged chromosomes to allow accumulation of repair proteins. Cell 136, 435–446 (2009)

Mattiroli, F. et al. RNF168 ubiquitinates K13-15 on H2A/H2AX to drive DNA damage signaling. Cell 150, 1182–1195 (2012)

Gatti, M. et al. A novel ubiquitin mark at the N-terminal tail of histone H2As targeted by RNF168 ubiquitin ligase. Cell Cycle 11, 2538–2544 (2012)

Panier, S. & Boulton, S. J. Double-strand break repair: 53BP1 comes into focus. Nature Rev. Mol. Cell Biol. 15, 7–18 (2014)

Fradet-Turcotte, A. et al. 53BP1 is a reader of the DNA-damage-induced H2A lys 15 ubiquitin mark. Nature 499, 50–54 (2013)

Botuyan, M. V. et al. Structural basis for the methylation state-specific recognition of histone H4-K20 by 53BP1 and Crb2 in DNA repair. Cell 127, 1361–1373 (2006)

Simon, M. D. et al. The site-specific installation of methyl-lysine analogs into recombinant histones. Cell 128, 1003–1012 (2007)

Mattiroli, F., Uckelmann, M., Sahtoe, D. D., van Dijk, W. J. & Sixma, T. K. The nucleosome acidic patch plays a critical role in RNF168-dependent ubiquitination of histone H2A. Nature Commun . 5, 3291 (2014)

Vasudevan, D., Chua, E. Y. & Davey, C. A. Crystal structures of nucleosome core particles containing the '601' strong positioning sequence. J. Mol. Biol. 403, 1–10 (2010)

McGinty, R. K., Henrici, R. C. & Tan, S. Crystal structure of the PRC1 ubiquitylation module bound to the nucleosome. Nature 514, 591–596 (2014)

Armache, K. J., Garlick, J. D., Canzio, D., Narlikar, G. J. & Kingston, R. E. Structural basis of silencing: Sir3 BAH domain in complex with a nucleosome at 3.0 Å resolution. Science 334, 977–982 (2011)

Arnaudo, N. et al. The N-terminal acetylation of Sir3 stabilizes its binding to the nucleosome core particle. Nature Struct. Mol. Biol . 20, 1119–1121 (2013)

Makde, R. D., England, J. R., Yennawar, H. P. & Tan, S. Structure of RCC1 chromatin factor bound to the nucleosome core particle. Nature 467, 562–566 (2010)

Barbera, A. J. et al. The nucleosomal surface as a docking station for Kaposi's sarcoma herpesvirus LANA. Science 311, 856–861 (2006)

Davey, C. A., Sargent, D. F., Luger, K., Maeder, A. W. & Richmond, T. J. Solvent mediated interactions in the structure of the nucleosome core particle at 1.9 Å resolution. J. Mol. Biol. 319, 1097–1113 (2002)

Long, L., Furgason, M. & Yao, T. Generation of nonhydrolyzable ubiquitin-histone mimics. Methods 70, 134–138 (2014)

Baarends, W. M. et al. Increased phosphorylation and dimethylation of XY body histones in the Hr6b-knockout mouse is associated with derepression of the X chromosome. J. Cell Sci. 120, 1841–1851 (2007)

Pavri, R. et al. Histone H2B monoubiquitination functions cooperatively with FACT to regulate elongation by RNA polymerase II. Cell 125, 703–717 (2006)

Nakamura, K. et al. Regulation of homologous recombination by RNF20-dependent H2B ubiquitination. Mol. Cell 41, 515–528 (2011)

Zeng, M. et al. CRL4(Wdr70) regulates H2B monoubiquitination and facilitates Exo1-dependent resection. Nature Commun . 7, 11364 (2016)

Iwasaki, W. et al. Comprehensive structural analysis of mutant nucleosomes containing lysine to glutamine (KQ) substitutions in the H3 and H4 histone-fold domains. Biochemistry 50, 7822–7832 (2011)

Leung, J. W. et al. Nucleosome acidic patch promotes RNF168- and RING1B/BMI1-dependent H2AX and H2A ubiquitination and DNA damage signaling. PLoS Genet. 10, e1004178 (2014)

Morgan, M. T. et al. Structural basis for histone H2B deubiquitination by the SAGA DUB module. Science 351, 725–728 (2016)

Adkins, N. L., Niu, H., Sung, P. & Peterson, C. L. Nucleosome dynamics regulates DNA processing. Nature Struct. Mol. Biol . 20, 836–842 (2013)

Kucukelbir, A., Sigworth, F. J. & Tagare, H. D. Quantifying the local resolution of cryo-EM density maps. Nature Methods 11, 63–65 (2014)

Juang, Y. C. et al. OTUB1 co-opts Lys48-linked ubiquitin recognition to suppress E2 enzyme function. Mol. Cell 45, 384–397 (2012)

Dyer, P. N. et al. Reconstitution of nucleosome core particles from recombinant histones and DNA. Methods Enzymol. 375, 23–44 (2004)

Simon, T. W. et al. The use of mode of action information in risk assessment: quantitative key events/dose-response framework for modeling the dose-response for key events. Crit. Rev. Toxicol . 44 (Suppl 3), 17–43 (2014)

Orthwein, A. et al. A mechanism for the suppression of homologous recombination in G1 cells. Nature 528, 422–426 (2015)

Marr, C. R., Benlekbir, S. & Rubinstein, J. L. Fabrication of carbon films with ∼500nm holes for cryo-EM with a direct detector device. J. Struct. Biol. 185, 42–47 (2014)

Tivol, W. F., Briegel, A. & Jensen, G. J. An improved cryogen for plunge freezing. Microsc. Microanal. 14, 375–379 (2008)

Rubinstein, J. L. & Brubaker, M. A. Alignment of cryo-EM movies of individual particles by optimization of image translations. J. Struct. Biol. 192, 188–195 (2015)

Mindell, J. A. & Grigorieff, N. Accurate determination of local defocus and specimen tilt in electron microscopy. J. Struct. Biol. 142, 334–347 (2003)

Scheres, S. H. RELION: implementation of a Bayesian approach to cryo-EM structure determination. J. Struct. Biol. 180, 519–530 (2012)

Zhao, J., Brubaker, M. A., Benlekbir, S. & Rubinstein, J. L. Description and comparison of algorithms for correcting anisotropic magnification in cryo-EM images. J. Struct. Biol. 192, 209–215 (2015)

Rosenthal, P. B. & Henderson, R. Optimal determination of particle orientation, absolute hand, and contrast loss in single-particle electron cryomicroscopy. J. Mol. Biol. 333, 721–745 (2003)

Ramage, R. et al. Synthetic, structural and biological studies of the ubiquitin system: the total chemical synthesis of ubiquitin. Biochem. J. 299, 151–158 (1994)

Pettersen, E. F. et al. UCSF Chimera — a visualization system for exploratory research and analysis. J. Comput. Chem. 25, 1605–1612 (2004)

Emsley, P., Lohkamp, B., Scott, W. G. & Cowtan, K. Features and development of Coot. Acta Crystallogr. D 66, 486–501 (2010)

Kim, D. E., Chivian, D. & Baker, D. Protein structure prediction and analysis using the Robetta server. Nucleic Acids Res. 32, W526–W531 (2004)

Adams, P. D. et al. PHENIX: a comprehensive Python-based system for macromolecular structure solution. Acta Crystallogr. D 66, 213–221 (2010)

Rufer, A. C., Thiebach, L., Baer, K., Klein, H. W. & Hennig, M. X-ray structure of glutathione S-transferase from Schistosoma japonicum in a new crystal form reveals flexibility of the substrate-binding site. Acta Crystallogr. Sect. F Struct. Biol. Cryst. Commun. 61, 263–265 (2005)

Weeks, S. D., Grasty, K. C., Hernandez-Cuebas, L. & Loll, P. J. Crystal structures of Lys-63-linked tri- and di-ubiquitin reveal a highly extended chain architecture. Proteins 77, 753–759 (2009)
Acknowledgements
We are grateful to R. Szilard for reading the manuscript. We thank M. Forbes for 1D mass spectrometry analysis, C. Davey for providing the '601' DNA, S. Orlicky and D. Ceccarelli for proteins, R. Guenette and E. Strieter for advice on H2A ubiquitination and T. Sixma for discussions. M.D.W. was supported by a Human Frontiers Science Program fellowship. S.M.N. holds a fellowship of the Dutch Cancer Foundation (KWF). J.L.R. is the Canada Research Chair (Tier 1) in Electron Cryomicroscopy and D.D. is a Canada Research Chair (Tier 1) in the Molecular Mechanisms of Genome Integrity. Work was supported by CIHR grants FDN143343 (to D.D.), FDN143277 (to F.S.) and MOP81294 (to J.L.R.), and a Grant-in-Aid from the Krembil Foundation (to D.D.).
Ethics declarations
Competing interests
The authors declare no competing financial interests.
Additional information
Reviewer Information Nature thanks Y. Cheng, G. Stewart and G. G. Wang for their contribution to the peer review of this work.
Extended data figures and tables
Supplementary information
This file contains Supplementary Figures 1-2 and Supplementary Table 1. (PDF 1533 kb)
About this article
Cite this article
Wilson, M., Benlekbir, S., Fradet-Turcotte, A. et al. The structural basis of modified nucleosome recognition by 53BP1. Nature 536, 100–103 (2016). https://doi.org/10.1038/nature18951
Received:

Accepted:

Published:

Issue Date:

DOI: https://doi.org/10.1038/nature18951
Comments
By submitting a comment you agree to abide by our Terms and Community Guidelines. If you find something abusive or that does not comply with our terms or guidelines please flag it as inappropriate.