Abstract
Non-homologous end joining (NHEJ) is the primary pathway for repairing DNA double-strand breaks (DSBs) in mammalian cells1. Such breaks are formed, for example, during gene-segment rearrangements in the adaptive immune system or by cancer therapeutic agents. Although the core components of the NHEJ machinery are known, it has remained difficult to assess the specific roles of these components and the dynamics of bringing and holding the fragments of broken DNA together. The structurally similar XRCC4 and XLF proteins are proposed to assemble as highly dynamic filaments at (or near) DSBs2. Here we show, using dual- and quadruple-trap optical tweezers combined with fluorescence microscopy, how human XRCC4, XLF and XRCC4–XLF complexes interact with DNA in real time. We find that XLF stimulates the binding of XRCC4 to DNA, forming heteromeric complexes that diffuse swiftly along the DNA. Moreover, we find that XRCC4–XLF complexes robustly bridge two independent DNA molecules and that these bridges are able to slide along the DNA. These observations suggest that XRCC4–XLF complexes form mobile sleeve-like structures around DNA that can reconnect the broken ends very rapidly and hold them together. Understanding the dynamics and regulation of this mechanism will lead to clarification of how NHEJ proteins are involved in generating chromosomal translocations3,4.
Relevant articles
Open Access articles citing this article.
Christine Rempfer

,

Gertrud Wiedemann

…

Ralf Reski

Plant Cell Reports Open Access 12 October 2021

Maria Jose Cabello-Lobato

,

Christine K. Schmidt

&

Matthew J. Cliff

Biomolecular NMR Assignments Open Access 25 June 2021
Access options
Subscribe to Journal
Get full journal access for 1 year
$199.00
only $3.90 per issue
All prices are NET prices.
VAT will be added later in the checkout.
Tax calculation will be finalised during checkout.
Buy article
Get time limited or full article access on ReadCube.
$32.00
All prices are NET prices.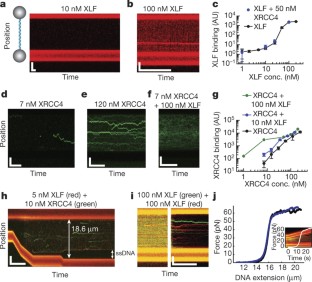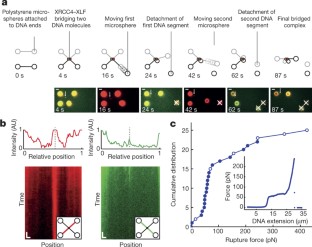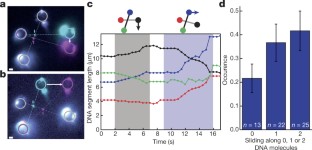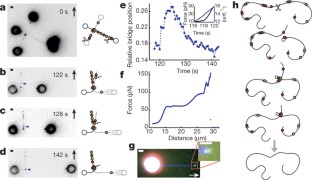 References
Lieber, M. R. The mechanism of double-strand DNA break repair by the nonhomologous DNA end-joining pathway. Annu. Rev. Biochem. 79, 181–211 (2010)

Reid, D. A. et al. Organization and dynamics of the nonhomologous end-joining machinery during DNA double-strand break repair. Proc. Natl Acad. Sci. USA 112, E2575–E2584 (2015)

Ghezraoui, H. et al. Chromosomal translocations in human cells are generated by canonical nonhomologous end-joining. Mol. Cell 55, 829–842 (2015)

Gelot, C. et al. The cohesin complex prevents the end joining of distant DNA double-strand ends. Mol. Cell 61, 15–26 (2016)

Cottarel, J. et al. A noncatalytic function of the ligation complex during nonhomologous end joining. J. Cell Biol. 200, 173–186 (2013)

Mani, R. S. et al. Dual modes of interaction between XRCC4 and polynucleotide kinase/phosphatase: implications for nonhomologous end joining. J. Biol. Chem. 285, 37619–37629 (2010)

Graham, T. G. W., Walter, J. C. & Loparo, J. J. Two-stage synapsis of DNA ends during non-homologous end joining. Mol. Cell 61, 850–858 (2016)

Roy, S. et al. XRCC4's interaction with XLF is required for coding (but not signal) end joining. Nucleic Acids Res. 40, 1684–1694 (2012)

Roy, S. et al. XRCC4/XLF interaction is variably required for DNA repair and is not required for ligase IV stimulation. Mol. Cell. Biol. 35, 3017–3028 (2015)

Ropars, V. et al. Structural characterization of filaments formed by human Xrcc4-Cernunnos/XLF complex involved in nonhomologous DNA end-joining. Proc. Natl Acad. Sci. USA 108, 12663–12668 (2011)

Hammel, M. et al. XRCC4 protein interactions with XRCC4-like factor (XLF) create an extended grooved scaffold for DNA ligation and double strand break repair. J. Biol. Chem. 286, 32638–32650 (2011)

Wu, Q. et al. Non-homologous end-joining partners in a helical dance: structural studies of XLF–XRCC4 interactions. Biochem. Soc. Trans. 39, 1387–1392 (2011)

Andres, S. N. et al. A human XRCC4–XLF complex bridges DNA. Nucleic Acids Res. 40, 1868–1878 (2012)

Heller, I., Hoekstra, T. P., King, G. A., Peterman, E. J. & Wuite, G. J. Optical tweezers analysis of DNA-protein complexes. Chem. Rev. 114, 3087–3119 (2014)

Candelli, A., Wuite, G. J. L. & Peterman, E. J. G. Combining optical trapping, fluorescence microscopy and micro-fluidics for single molecule studies of DNA-protein interactions. Phys. Chem. Chem. Phys. 13, 7263–7272 (2011)

Heller, I. et al. STED nanoscopy combined with optical tweezers reveals protein dynamics on densely covered DNA. Nat. Methods 10, 910–916 (2013)

Hammel, M., Yu, Y., Fang, S., Lees-Miller, S. P. & Tainer, J. A. XLF regulates filament architecture of the XRCC4·ligase IV complex. Structure 18, 1431–1442 (2010)

Mahaney, B. L., Hammel, M., Meek, K., Tainer, J. A. & Lees-Miller, S. P. XRCC4 and XLF form long helical protein filaments suitable for DNA end protection and alignment to facilitate DNA double strand break repair. Biochem. Cell Biol. 91, 31–41 (2013)

Blainey, P. C. et al. Nonspecifically bound proteins spin while diffusing along DNA. Nat. Struct. Mol. Biol. 16, 1224–1229 (2009)

van Mameren, J. et al. Unraveling the structure of DNA during overstretching by using multicolor, single-molecule fluorescence imaging. Proc. Natl Acad. Sci. USA 106, 18231–18236 (2009)

Merkel, R., Nassoy, P., Leung, A., Ritchie, K. & Evans, E. Energy landscapes of receptor-ligand bonds explored with dynamic force spectroscopy. Nature 397, 50–53 (1999)

Laurens, N. et al. Alba shapes the archaeal genome using a delicate balance of bridging and stiffening the DNA. Nat. Commun. 3, 1328 (2012)

Gross, P., Farge, G., Peterman, E. J. G. & Wuite, G. J. L. Combining optical tweezers, single-molecule fluorescence microscopy, and microfluidics for studies of DNA-protein interactions. Methods Enzymol. 475, 427–453 (2010)

Andres, S. N., Modesti, M., Tsai, C. J., Chu, G. & Junop, M. S. Crystal structure of human XLF: a twist in nonhomologous DNA end-joining. Mol. Cell 28, 1093–1101 (2007)

Heller, I. et al. Mobility analysis of super-resolved proteins on optically stretched DNA: comparing imaging techniques and parameters. ChemPhysChem 15, 727–733 (2014)
Acknowledgements
We thank P. Fourquet and S. Audebert from the CRCM Proteomics facility for help with MS analysis and G. King and A. S. Biebricher for help with the optical tweezers instruments. This work was supported by VICI grants (G.J.L.W. and E.J.G.P.), a VENI grant (I.H.) and a TopTalent grant (A.C.) from the Nederlandse Organisatie voor Wetenschappelijk Onderzoek, a European Research Council starting grant (G.J.L.W.), the French National Cancer Institute (grant PLBIO13-103) (M.M.), the ARC Foundation for Cancer Research (M.M.), the A*MIDEX project (no. ANR-11-IDEX-0001-02), the 'Investissements d'Avenir' French Government program (M.M.), fellowship no. 0558/12-5 from the Brazilian program for Coordination for the Improvement of Higher Education Personnel (A.J.M.), and a fellowship from the Collège of Aix-Marseille Université (H.Z.) The research leading to these results received funding from LASERLABEUROPE (grant agreement no. 284464, the European Commission's Seventh Framework Programme).
Ethics declarations
Competing interests
The optical tweezers and fluorescence technology used in this article are patented and licensed to LUMICKS B.V., in which G.S., A.C., I.H., E.J.G.P. and G.J.L.W. have a financial interest.
Additional information
Reviewer Information
Nature thanks M. Morse, M. Nabuan Naufer, M. Williams and the other anonymous reviewer(s) for their contribution to the peer review of this work.
Extended data figures and tables
Supplementary information
About this article
Cite this article
Brouwer, I., Sitters, G., Candelli, A. et al. Sliding sleeves of XRCC4–XLF bridge DNA and connect fragments of broken DNA. Nature 535, 566–569 (2016). https://doi.org/10.1038/nature18643
Received:

Accepted:

Published:

Issue Date:

DOI: https://doi.org/10.1038/nature18643
Comments
By submitting a comment you agree to abide by our Terms and Community Guidelines. If you find something abusive or that does not comply with our terms or guidelines please flag it as inappropriate.