Abstract
Oxygen isotope records from Chinese caves characterize changes in both the Asian monsoon and global climate. Here, using our new speleothem data, we extend the Chinese record to cover the full uranium/thorium dating range, that is, the past 640,000 years. The record's length and temporal precision allow us to test the idea that insolation changes caused by the Earth's precession drove the terminations of each of the last seven ice ages as well as the millennia-long intervals of reduced monsoon rainfall associated with each of the terminations. On the basis of our record's timing, the terminations are separated by four or five precession cycles, supporting the idea that the '100,000-year' ice age cycle is an average of discrete numbers of precession cycles. Furthermore, the suborbital component of monsoon rainfall variability exhibits power in both the precession and obliquity bands, and is nearly in anti-phase with summer boreal insolation. These observations indicate that insolation, in part, sets the pace of the occurrence of millennial-scale events, including those associated with terminations and 'unfinished terminations'.
This is a preview of subscription content
Access options
Subscribe to Journal
Get full journal access for 1 year
$199.00
only $3.90 per issue
All prices are NET prices.
VAT will be added later in the checkout.
Tax calculation will be finalised during checkout.
Buy article
Get time limited or full article access on ReadCube.
$32.00
All prices are NET prices.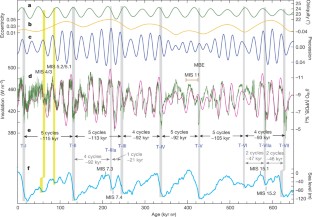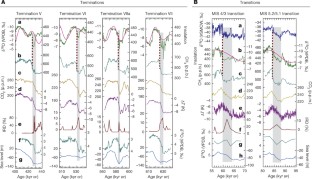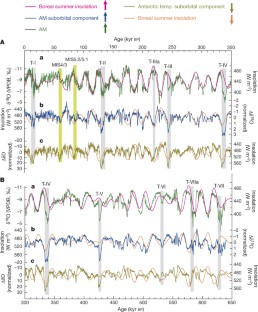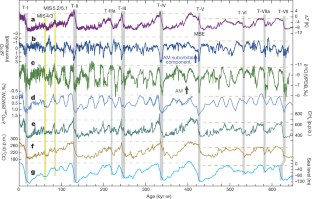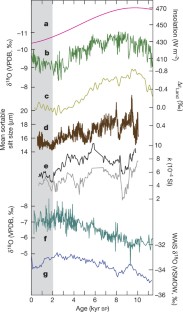 References
Cheng, H., Sinha, A., Wang, X. F. & Cruz, F. W. The global paleomonsoon as seen through speleothem records from Asia and South America. Clim. Dyn. 39, 1045–1062 (2012)

Wang, Y. J. et al. A high-resolution absolute-dated Late Pleistocene monsoon record from Hulu Cave, China. Science 294, 2345–2348 (2001)

Wang, Y. J. et al. Millennial- and orbital- scale changes in the East Asian Monsoon over the past 224,000 years. Nature 451, 1090–1093 (2008)

Cheng, H. et al. Ice age terminations. Science 326, 248–252 (2009)

Cheng, H. et al. Improvements in 230Th dating, 230Th and 234U half-life values, and U-Th isotopic measurements by multi-collector inductively coupled plasma mass spectrometry. Earth Planet. Sci. Lett. 371–372, 82–91 (2013)

Kutzbach, J. E., Liu, X. D., Liu, Z. Y. & Chen, G. S. Simulation of the evolutionary response of global summer monsoons to orbital forcing over the past 280,000 years. Clim. Dyn. 30, 567–579 (2008)

McManus, J. F., Oppo, D. W. & Cullen, J. L. A. 0.5-million-year record of millennial- scale climate variability in the North Atlantic. Science 283, 971–975 (1999)

Barker, S. et al. 800,000 years of abrupt climate variability. Science 334, 347–351 (2011)

Hays, J. D., Imbrie, J. & Shackleton, N. J. Variations in the Earth's orbit: pacemaker of the ice ages. Science 194, 1121–1132 (1976)

Raymo, M. E. Glacial puzzles. Science 281, 1467–1468 (1998)

Maslin, M. A. & Ridgewell, A. in Early-Middle Pleistocene Transitions: The Land-Ocean Evidence (eds Head, M. J. & Gibbard, P. L. ) 19–34 (Vol. 247, Spec. Publ. Geol. Soc. Lond., 2005)

Huybers, P. & Wunsch, C. Obliquity pacing of the late Pleistocene glacial terminations. Nature 434, 491–494 (2005)

Bintanja, R. & van de Wal, R. S. W. North American ice-sheet dynamics and the onset of 100,000-year glacial cycles. Nature 454, 869–872 (2008)

Imbrie, J. & Imbrie, J. Modeling the climatic response to orbital variations. Science 207, 943–953 (1980)

Paillard, D. The timing of Pleistocene glaciations from a simple multiple-state climate model. Nature 391, 378–381 (1998)

Huybers, P. Combined obliquity and precession pacing of late Pleistocene deglaciations. Nature 480, 229–232 (2011)

Spratt, R. M. & Lisiecki, L. E. A Late Pleistocene sea level stack. Clim. Past Discuss. 11, 3699–3728 (2015)

Jouzel, J. et al. Orbital and millennial Antarctic climate variability over the past 800,000 years. Science 317, 793–796 (2007)

Loulergue, L. et al. Orbital and millennial-scale features of atmospheric CH4 over the past 800 000 years. Nature 453, 383–386 (2008)

Bereiter, B. et al. Revision of the EPICA Dome C CO2 record from 800 to 600 kyr before present. Geophys. Res. Lett. 42, 542–549 (2015)

Candy, I., Schreve, D. C., Sherriff, J. & Tye, G. J. Marine Isotope Stage 11: Palaeoclimates, palaeoenvironments and its role as an analogue for the current interglacial. Earth Sci. Rev. 128, 18–51 (2014)

Yuan, D. X. et al. Timing, duration, and transitions of the Last Interglacial Asian monsoon. Science 304, 575–578 (2004)

Liu, Z. Y. et al. Chinese cave records and the East Asia Summer Monsoon. Quat. Sci. Rev. 83, 115–128 (2014)

Chiang, J. C. H. et al. Role of seasonal transitions and westerly jets in East Asian paleoclimate. Quat. Sci. Rev. 108, 111–129 (2015)

Orland, I. J. et al. Direct measurements of deglacial monsoon strength in a Chinese stalagmite. Geology 43, 555–558 (2015)

Saltzman, B., Hansen, A. & Maasch, K. The late Quaternary glaciations as the response of a three-component feedback system to Earth-orbital forcing. J. Atmos. Sci. 41, 3380–3389 (1984)

Toggweiler, J. R. Origin of the 100,000-year timescale in Antarctic temperatures and atmospheric CO2 . Paleoceanography 23, PA2211 (2008)

Denton, G. H. et al. The last glacial termination. Science 328, 1652–1656 (2010)

Wolff, E. W., Fischer, H. & Röthlisberger, R. Glacial terminations as southern warmings without northern control. Nat. Geosci. 2, 206–209 (2009)

Schaefer, J. M. et al. The southern glacial maximum 65,000 years ago and its unfinished termination. Quat. Sci. Rev. 114, 52–60 (2015)

Raymo, M. E. The timing of major climate terminations. Paleoceanography 12, 577–585 (1997)

Imbrie, J. et al. On the structure and origin of major glaciation cycles 2. The 100,000-year cycle. Paleoceanography 8, 699–735 (1993)

Parrenin, F. & Paillard, D. Amplitude and phase of glacial cycles from a conceptual model. Earth Planet. Sci. Lett. 214, 243–250 (2003)

Abe-Ouchi, A. et al. Insolation-driven 100,000-year glacial cycles and hysteresis of ice-sheet volume. Nature 500, 190–193 (2013)

Siddall, M., Rohling, E. J., Blunier, T. & Spahni, R. Patterns of millennial variability over the last 500 ka. Clim. Past 6, 295–303 (2010)

Broecker, W. S. Paleocean circulation during the last deglaciation: a bipolar seesaw? Paleoceanography 13, 119–121 (1998)

Jansen, J. H. F., Kuijpers, A. & Troelstra, S. R. A Mid-Brunhes climatic event: long-term changes in global atmosphere and ocean circulation. Science 232, 619–622 (1986)

Meckler, A. N., Clarkson, M. O., Cobb, K. M., Sodemann, H. & Adkins, J. F. Interglacial hydroclimate in the tropical West Pacific through the late Pleistocene. Science 336, 1301–1304 (2012)

Severinghaus, J. P., Beaudette, R., Headly, M. A., Taylor, K. & Brook, E. J. Oxygen-18 of O2 records the impact of abrupt climate change on the terrestrial biosphere. Science 324, 1431–1434 (2009)

van Breukelen, M. R., Vonhof, H. B., Hellstrom, J. C., Wester, W. C. G. & Kroon, D. Fossil dripwater in stalagmites reveals Holocene temperature and rainfall variation in Amazonia. Earth Planet. Sci. Lett. 275, 54–60 (2008)

WAIS Divide Project Members. Onset of deglacial warming in West Antarctica driven by local orbital forcing. Nature 500, 440–444 (2013)

Broecker, W. S. & Denton, G. H. The role of ocean-atmosphere reorganizations in glacial cycles. Geochim. Cosmochim. Acta 53, 2465–2501 (1989)

Hoogakker, B. A. A. et al. Dynamics of North Atlantic Deep Water masses during the Holocene. Paleoceanography 26, PA4214 (2011)

Kissel, C., Toer, A. V., Laj, C., Cortijo, E. & Michel, E. Variations in the strength of the North Atlantic bottom water during Holocene. Earth Planet. Sci. Lett. 369–370, 248–259 (2013)

Berger, A. Long-term variations of caloric insolation resulting from the Earth's orbital elements. Quat. Res. 9, 139–167 (1978)

Parrenin, F. et al. The EDC3 chronology for the EPICA Dome C ice core. Clim. Past 3, 485–497 (2007)

Alonso-Garcia, M. et al. Ocean circulation, ice sheet growth and interhemispheric coupling of millennial climate variability during the Mid-Pleistocene (ca. 800–400 ka). Quat. Sci. Rev. 30, 3234–3247 (2011)

Wright, A. K. & Flower, B. P. Surface and deep ocean circulation in the subpolar North Atlantic during the mid-Pleistocene revolution. Paleoceanography 17, 1068 (2002)

Wolff, E. W., Chappellaz, J., Blunier, T., Rasmussen, S. O. & Svensson, A. Millennial-scale variability during the last glacial: The ice core record. Quat. Sci. Rev. 29, 2828–2838 (2010)

Landais, A. et al. What drives the millennial and orbital variations of δ18Oatm? Quat. Sci. Rev. 29, 235–246 (2010)

Edwards, R. L., Chen, J. H. & Wasserburg, G. J. 238U–234U–230Th–232Th systematics and the precise measurement of time over the past 500,000 years. Earth Planet. Sci. Lett. 81, 175–192 (1987)

Cheng, H. et al. The half-lives of U-234 and Th-230. Chem. Geol. 169, 17–33 (2000)

Spötl, C. & Vennemann, T. W. Continuous-flow isotope ratio mass spectrometric analysis of carbonate minerals. Rapid Commun. Mass Spectrom. 17, 1004–1006 (2003)

Dykoski, C. A. et al. A high resolution, absolute-dated Holocene and deglacial Asian monsoon record from Dongge Cave, China. Earth Planet. Sci. Lett. 233, 71–86 (2005)

Kelly, M. J. et al. High resolution characterization of the Asian Monsoon between 146,000 and 99,000 years B.P. from Dongge Cave, China. Palaeogeogr. Palaeoclimatol. Palaeoecol. 236, 20–38 (2006)

Howell, P., Pisias, N., Ballance, J., Baughman, J. & Ochs, L. ARAND time-series analysis software (Brown Univ., 1997); available at http://www.ncdc.noaa.gov/paleo/softlib/arand/arand.html

Lisiecki, L. E. & Raymo, M. E. A. Pliocene-Pleistocene stack of 57 globally distributed benthic δ18O records. Paleoceanography 20, PA1003 (2005)

Hendy, C. H. The isotope geochemistry of speleothems: I. The calculation of the effects of different modes of formation on the isotopic composition of speleothems and their applicability as paleoclimate indicators. Geochim. Cosmochim. Acta 35, 801–824 (1971)

Lambert, F. et al. Dust–climate couplings over the past 800,000 years from the EPICA Dome C ice core. Nature 452, 616–619 (2008)

Fleitmann, D. et al. Holocene forcing of the Indian monsoon recorded in a stalagmite from Southern Oman. Science 300, 1737–1739 (2003)

Weldeab, S., Lea, D. W., Schneider, R. R. & Andersen, N. 155,000 years of West African monsoon and ocean thermal evolution. Science 316, 1303–1307 (2007)

Holmgren, K. et al. Persistent millennial-scale climatic variability over the past 25,000 years in Southern Africa. Quat. Sci. Rev. 22, 2311–2326 (2003)
Acknowledgements
This work was supported by China grants NBRP 2013CB955902, NSFC 41230524, 4157020432 and 41561144003, US NSF grants 0502535, 1103404, 0823554, 1003690, 1137693 and 1317693 and Singapore grant NRF-NRFF2011-08. We thank M. Siddall for help with analysis of the millennial-scale variability of the Antarctic temperature record and A. P. Roberts for converting the ice core chronology.
Ethics declarations
Competing interests
The authors declare no competing financial interests.
Additional information
Reviewer Information
Nature thanks C. Buizert, A. N. Meckler and the other anonymous reviewer(s) for their contribution to the peer review of this work.
Extended data figures and tables
Supplementary information
This file contains 230Th dating results and δ18O time series for five stalagmites, SB-12, SB-14, SB-32, SB-58, and D8, as well as the composite AM δ18O record and detrended AM record (Δδ18O). (XLSX 633 kb)
About this article
Cite this article
Cheng, H., Edwards, R., Sinha, A. et al. The Asian monsoon over the past 640,000 years and ice age terminations. Nature 534, 640–646 (2016). https://doi.org/10.1038/nature18591
Received:

Accepted:

Published:

Issue Date:

DOI: https://doi.org/10.1038/nature18591
Comments
By submitting a comment you agree to abide by our Terms and Community Guidelines. If you find something abusive or that does not comply with our terms or guidelines please flag it as inappropriate.