Abstract
Haematopoietic stem cells (HSCs) are derived early from embryonic precursors, such as haemogenic endothelial cells and pre-haematopoietic stem cells (pre-HSCs), the molecular identity of which still remains elusive. Here we use potent surface markers to capture the nascent pre-HSCs at high purity, as rigorously validated by single-cell-initiated serial transplantation. Then we apply single-cell RNA sequencing to analyse endothelial cells, CD45− and CD45+ pre-HSCs in the aorta–gonad–mesonephros region, and HSCs in fetal liver. Pre-HSCs show unique features in transcriptional machinery, arterial signature, metabolism state, signalling pathway, and transcription factor network. Functionally, activation of mechanistic targets of rapamycin (mTOR) is shown to be indispensable for the emergence of HSCs but not haematopoietic progenitors. Transcriptome data-based functional analysis reveals remarkable heterogeneity in cell-cycle status of pre-HSCs. Finally, the core molecular signature of pre-HSCs is identified. Collectively, our work paves the way for dissection of complex molecular mechanisms regulating stepwise generation of HSCs in vivo, informing future efforts to engineer HSCs for clinical applications.
Relevant articles
Open Access articles citing this article.
Rongqun Guo

,

Wei Li

…

Yongping Song

Experimental Hematology & Oncology Open Access 14 May 2022

Brandon Hadland

,

Barbara Varnum-Finney

…

Irwin D. Bernstein

Nature Communications Open Access 24 March 2022
Access options
Subscribe to this journal
Receive 51 print issues and online access
$199.00 per year
only $3.90 per issue
Rent or buy this article
Get just this article for as long as you need it
$39.95
Prices may be subject to local taxes which are calculated during checkout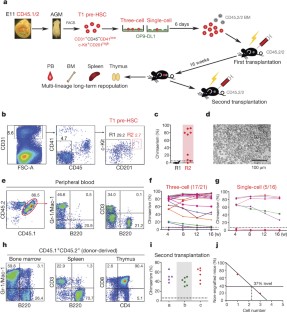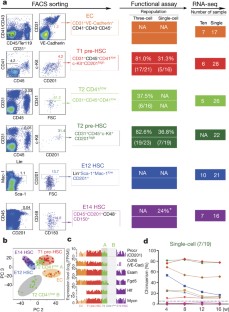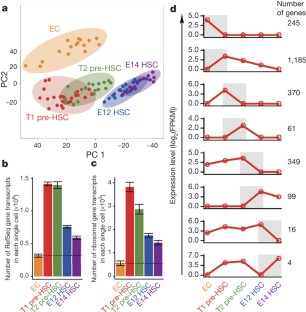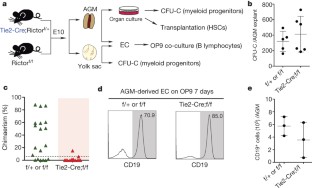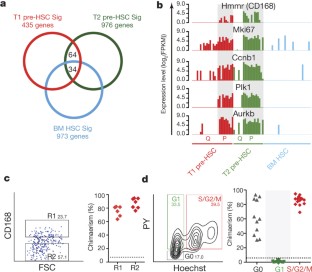 References
Medvinsky, A. & Dzierzak, E. Definitive hematopoiesis is autonomously initiated by the AGM region. Cell 86, 897–906 (1996)

Zovein, A. C. et al. Fate tracing reveals the endothelial origin of hematopoietic stem cells. Cell Stem Cell 3, 625–636 (2008)

Dzierzak, E. & Speck, N. A. Of lineage and legacy: the development of mammalian hematopoietic stem cells. Nature Immunol. 9, 129–136 (2008)

Li, Z. et al. Mouse embryonic head as a site for hematopoietic stem cell development. Cell Stem Cell 11, 663–675 (2012)

Clements, W. K. & Traver, D. Signalling pathways that control vertebrate haematopoietic stem cell specification. Nature Rev. Immunol. 13, 336–348 (2013)

Murry, C. E. & Keller, G. Differentiation of embryonic stem cells to clinically relevant populations: lessons from embryonic development. Cell 132, 661–680 (2008)

Kyba, M., Perlingeiro, R. C. & Daley, G. Q. HoxB4 confers definitive lymphoid-myeloid engraftment potential on embryonic stem cell and yolk sac hematopoietic progenitors. Cell 109, 29–37 (2002)

Taoudi, S. et al. Extensive hematopoietic stem cell generation in the AGM region via maturation of VE-cadherin+CD45+ pre-definitive HSCs. Cell Stem Cell 3, 99–108 (2008)

Rybtsov, S. et al. Hierarchical organization and early hematopoietic specification of the developing HSC lineage in the AGM region. J. Exp. Med. 208, 1305–1315 (2011)

Ferkowicz, M. J. et al. CD41 expression defines the onset of primitive and definitive hematopoiesis in the murine embryo. Development 130, 4393–4403 (2003)

Yokomizo, T. & Dzierzak, E. Three-dimensional cartography of hematopoietic clusters in the vasculature of whole mouse embryos. Development 137, 3651–3661 (2010)

Li, Z. et al. Generation of hematopoietic stem cells from purified embryonic endothelial cells by a simple and efficient strategy. J. Genet. Genomics 40, 557–563 (2013)

Cheng, T. et al. Temporal mapping of gene expression levels during the differentiation of individual primary hematopoietic cells. Proc. Natl Acad. Sci. USA 93, 13158–13163 (1996)

Osawa, M., Hanada, K., Hamada, H. & Nakauchi, H. Long-term lymphohematopoietic reconstitution by a single CD34-low/negative hematopoietic stem cell. Science 273, 242–245 (1996)

Kiel, M. J. et al. SLAM family receptors distinguish hematopoietic stem and progenitor cells and reveal endothelial niches for stem cells. Cell 121, 1109–1121 (2005)

Benz, C. et al. Hematopoietic stem cell subtypes expand differentially during development and display distinct lymphopoietic programs. Cell Stem Cell 10, 273–283 (2012)

Etzrodt, M., Endele, M. & Schroeder, T. Quantitative single-cell approaches to stem cell research. Cell Stem Cell 15, 546–558 (2014)

Guo, G. et al. Mapping cellular hierarchy by single-cell analysis of the cell surface repertoire. Cell Stem Cell 13, 492–505 (2013)

Wang, Y. & Navin, N. E. Advances and applications of single-cell sequencing technologies. Mol. Cell 58, 598–609 (2015)

Yan, L. et al. Single-cell RNA-Seq profiling of human preimplantation embryos and embryonic stem cells. Nature Struct. Mol. Biol. 20, 1131–1139 (2013)

Durruthy-Durruthy, R. et al. Reconstruction of the mouse otocyst and early neuroblast lineage at single-cell resolution. Cell 157, 964–978 (2014)

Treutlein, B. et al. Reconstructing lineage hierarchies of the distal lung epithelium using single-cell RNA-seq. Nature 509, 371–375 (2014)

Jaitin, D. A. et al. Massively parallel single-cell RNA-seq for marker-free decomposition of tissues into cell types. Science 343, 776–779 (2014)

Kieusseian, A., Brunet de la Grange, P., Burlen-Defranoux, O., Godin, I. & Cumano, A. Immature hematopoietic stem cells undergo maturation in the fetal liver. Development 139, 3521–3530 (2012)

Iwasaki, H., Arai, F., Kubota, Y., Dahl, M. & Suda, T. Endothelial protein C receptor-expressing hematopoietic stem cells reside in the perisinusoidal niche in fetal liver. Blood 116, 544–553 (2010)

Godin, I., Garcia-Porrero, J. A., Dieterlen-Lièvre, F. & Cumano, A. Stem cell emergence and hemopoietic activity are incompatible in mouse intraembryonic sites. J. Exp. Med. 190, 43–52 (1999)

Trapnell, C. et al. The dynamics and regulators of cell fate decisions are revealed by pseudotemporal ordering of single cells. Nature Biotechnol. 32, 381–386 (2014)

Ditadi, A. et al. Human definitive haemogenic endothelium and arterial vascular endothelium represent distinct lineages. Nature Cell Biol. 17, 580–591 (2015)

Gama-Norton, L. et al. Notch signal strength controls cell fate in the haemogenic endothelium. Nature Commun. 6, 8510 (2015)

Wang, Y. H. et al. Cell-state-specific metabolic dependency in hematopoiesis and leukemogenesis. Cell 158, 1309–1323 (2014)

Laplante, M. & Sabatini, D. M. mTOR signaling in growth control and disease. Cell 149, 274–293 (2012)

Magee, J. A. et al. Temporal changes in PTEN and mTORC2 regulation of hematopoietic stem cell self-renewal and leukemia suppression. Cell Stem Cell 11, 415–428 (2012)

Zhang, Y. et al. Rictor is required for early B cell development in bone marrow. PLoS ONE 9, e103970 (2014)

Robin, C. et al. An unexpected role for IL-3 in the embryonic development of hematopoietic stem cells. Dev. Cell 11, 171–180 (2006)

Wilson, N. K. et al. Combinatorial transcriptional control in blood stem/progenitor cells: genome-wide analysis of ten major transcriptional regulators. Cell Stem Cell 7, 532–544 (2010)

Riddell, J. et al. Reprogramming committed murine blood cells to induced hematopoietic stem cells with defined factors. Cell 157, 549–564 (2014)

Espín-Palazón, R. et al. Proinflammatory signaling regulates hematopoietic stem cell emergence. Cell 159, 1070–1085 (2014)

Li, Y. et al. Inflammatory signaling regulates embryonic hematopoietic stem and progenitor cell production. Genes Dev. 28, 2597–2612 (2014)

Rinn, J. L. & Chang, H. Y. Genome regulation by long noncoding RNAs. Annu. Rev. Biochem. 81, 145–166 (2012)

Cabezas-Wallscheid, N. et al. Identification of regulatory networks in HSCs and their immediate progeny via integrated proteome, transcriptome, and DNA methylome analysis. Cell Stem Cell 15, 507–522 (2014)

Lee, S. H. et al. The transcription factor Eya2 prevents pressure overload-induced adverse cardiac remodeling. J. Mol. Cell. Cardiol. 46, 596–605 (2009)

Forsberg, E. C. et al. Differential expression of novel potential regulators in hematopoietic stem cells. PLoS Genet. 1, e28 (2005)

Chambers, S. M. et al. Hematopoietic fingerprints: an expression database of stem cells and their progeny. Cell Stem Cell 1, 578–591 (2007)

Gazit, R. et al. Transcriptome analysis identifies regulators of hematopoietic stem and progenitor cells. Stem Cell Rep. 1, 266–280 (2013)

Acar, M. et al. Deep imaging of bone marrow shows non-dividing stem cells are mainly perisinusoidal. Nature 526, 126–130 (2015)

Sohr, S. & Engeland, K. RHAMM is differentially expressed in the cell cycle and downregulated by the tumor suppressor p53. Cell Cycle 7, 3448–3460 (2008)

Bowie, M. B. et al. Hematopoietic stem cells proliferate until after birth and show a reversible phase-specific engraftment defect. J. Clin. Invest. 116, 2808–2816 (2006)

Rybtsov, S. et al. Tracing the origin of the HSC hierarchy reveals an SCF-dependent, IL-3-independent CD43(-) embryonic precursor. Stem Cell Rep. 3, 489–501 (2014)

Chen, M. J. et al. Erythroid/myeloid progenitors and hematopoietic stem cells originate from distinct populations of endothelial cells. Cell Stem Cell 9, 541–552 (2011)

Tang, F. et al. mRNA-Seq whole-transcriptome analysis of a single cell. Nature Methods 6, 377–382 (2009)

Trapnell, C., Pachter, L. & Salzberg, S. L. TopHat: discovering splice junctions with RNA-Seq. Bioinformatics 25, 1105–1111 (2009)

Martin, M. Cutadapt removes adapter sequences from high-throughput sequencing reads. EMBnet. J. 17, 10–12 (2011)

Trapnell, C. et al. Transcript assembly and quantification by RNA-seq reveals unannotated transcripts and isoform switching during cell differentiation. Nature Biotechnol. 28, 511–515 (2010)

Huang, D. W., Sherman, B. T. & Lempicki, R. A. Systematic and integrative analysis of large gene lists using DAVID bioinformatics resources. Nature Protocols 4, 44–57 (2008)

Langfelder, P. & Horvath, S. WGCNA: an R package for weighted correlation network analysis. BMC Bioinformatics 9, 559 (2008)

Shannon, P. et al. Cytoscape: a software environment for integrated models of biomolecular interaction networks. Genome Res. 13, 2498–2504 (2003)
Acknowledgements
We thank H. Wu, J. Zheng, and H. Guo for discussion, and S. Hou and L. Zhang for technique support. This work was supported by the Chinese National Key Program on Basic Research (2011CB964800, 2012CB966904, 2012CB966704, 2012CB966604), the National Natural Science Foundation of China (31425012, 31371185, 81400076, 31322037, 81561138005, 81421002, 81561138003, 81370596, 91439128), National Key Program on Stem Cell and Translational Research (SQ2016ZY05002341), and a SKLEH-Pilot Research Grant (ZK12-04 and ZK13-04).
Ethics declarations
Competing interests
The authors declare no competing financial interests.
Extended data figures and tables
Supplementary information
About this article
Cite this article
Zhou, F., Li, X., Wang, W. et al. Tracing haematopoietic stem cell formation at single-cell resolution. Nature 533, 487–492 (2016). https://doi.org/10.1038/nature17997
Received:

Accepted:

Published:

Issue Date:

DOI: https://doi.org/10.1038/nature17997
Comments
By submitting a comment you agree to abide by our Terms and Community Guidelines. If you find something abusive or that does not comply with our terms or guidelines please flag it as inappropriate.