Abstract
Whether and how neurons that are present in both sexes of the same species can differentiate in a sexually dimorphic manner is not well understood. A comparison of the connectomes of the Caenorhabditis elegans hermaphrodite and male nervous systems reveals the existence of sexually dimorphic synaptic connections between neurons present in both sexes. Here we demonstrate sex-specific functions of these sex-shared neurons and show that many neurons initially form synapses in a hybrid manner in both the male and hermaphrodite pattern before sexual maturation. Sex-specific synapse pruning then results in the sex-specific maintenance of subsets of these connections. Reversal of the sexual identity of either the pre- or postsynaptic neuron alone transforms the patterns of synaptic connectivity to that of the opposite sex. A dimorphically expressed and phylogenetically conserved transcription factor is both necessary and sufficient to determine sex-specific connectivity patterns. Our studies reveal new insights into sex-specific circuit development.
Access options
Subscribe to this journal
Receive 51 print issues and online access
$199.00 per year
only $3.90 per issue
Rent or buy this article
Prices vary by article type
from$1.95
to$39.95
Prices may be subject to local taxes which are calculated during checkout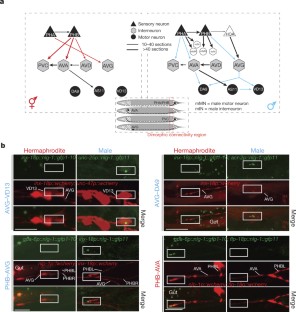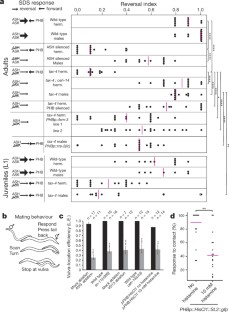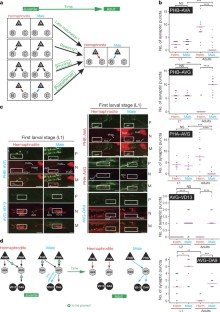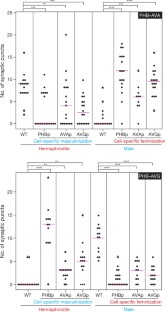 Similar content being viewed by others
References
Sulston, J. E. & Horvitz, H. R. Post-embryonic cell lineages of the nematode, Caenorhabditis elegans. Dev. Biol. 56, 110–156 (1977)

Sulston, J. E., Albertson, D. G. & Thomson, J. N. The Caenorhabditis elegans male: postembryonic development of nongonadal structures. Dev. Biol. 78, 542–576 (1980)

Sulston, J. E., Schierenberg, E., White, J. G. & Thomson, J. N. The embryonic cell lineage of the nematode Caenorhabditis elegans. Dev. Biol. 100, 64–119 (1983)

Sammut, M. et al. Glia-derived neurons are required for sex-specific learning in C. elegans. Nature 526, 385–390 (2015)

Jarrell, T. A. et al. The connectome of a decision-making neural network. Science 337, 437–444 (2012)

Emmons, S. W. The development of sexual dimorphism: studies of the Caenorhabditis elegans male. Wiley Interdiscip. Rev. Dev. Biol. 3, 239–262 (2014)

Portman, D. S. Genetic control of sex differences in C. elegans neurobiology and behavior. Adv. Genet. 59, 1–37 (2007)

White, J. G., Southgate, E., Thomson, J. N. & Brenner, S. The structure of the nervous system of the nematode Caenorhabditis elegans. Phil. Trans. R. Soc. Lond. B 314, 1–340 (1986)

Feinberg, E. H. et al. GFP Reconstitution Across Synaptic Partners (GRASP) defines cell contacts and synapses in living nervous systems. Neuron 57, 353–363 (2008)

Desbois, M., Cook, S. J., Emmons, S. W. & Bulow, H. E. Directional trans-synaptic labeling of specific neuronal connections in live animals. Genetics 697–705 (2015)

Pokala, N., Liu, Q., Gordus, A. & Bargmann, C. I. Inducible and titratable silencing of Caenorhabditis elegans neurons in vivo with histamine-gated chloride channels. Proc. Natl Acad. Sci. USA 111, 2770–2775 (2014)

Hilliard, M. A., Bargmann, C. I. & Bazzicalupo, P. C. elegans responds to chemical repellents by integrating sensory inputs from the head and the tail. Curr. Biol. 12, 730–734 (2002)

Serrano-Saiz, E. et al. Modular control of glutamatergic neuronal identity in C. elegans by distinct homeodomain proteins. Cell 155, 659–673 (2013)

Liu, K. S. & Sternberg, P. W. Sensory regulation of male mating behavior in Caenorhabditis elegans. Neuron 14, 79–89 (1995)

Sherlekar, A. L. et al. The C. elegans male exercises directional control during mating through cholinergic regulation of sex-shared command interneurons. PLoS ONE 8, e60597 (2013)

Yemini, E., Jucikas, T., Grundy, L. J., Brown, A. E. & Schafer, W. R. A database of Caenorhabditis elegans behavioral phenotypes. Nature Methods 10, 877–879 (2013)

Mowrey, W. R., Bennett, J. R. & Portman, D. S. Distributed effects of biological sex define sex-typical motor behavior in Caenorhabditis elegans. J. Neurosci. 34, 1579–1591 (2014)

White, J. Q. et al. The sensory circuitry for sexual attraction in C. elegans males. Curr. Biol. 17, 1847–1857 (2007)

Lee, K. & Portman, D. S. Neural sex modifies the function of a C. elegans sensory circuit. Curr. Biol. 17, 1858–1863 (2007)

Mehra, A., Gaudet, J., Heck, L., Kuwabara, P. E. & Spence, A. M. Negative regulation of male development in Caenorhabditis elegans by a protein–protein interaction between TRA-2A and FEM-3. Genes Dev. 13, 1453–1463 (1999)

Yang, C. F. & Shah, N. M. Representing sex in the brain, one module at a time. Neuron 82, 261–278 (2014)

Matson, C. K. & Zarkower, D. Sex and the singular DM domain: insights into sexual regulation, evolution and plasticity. Nature Rev. Genet. 13, 163–174 (2012)

Hutter, H. Extracellular cues and pioneers act together to guide axons in the ventral cord of C. elegans. Development 130, 5307–5318 (2003)

Brenner, S. The genetics of Caenorhabditis elegans. Genetics 77, 71–94 (1974)

Wenick, A. S. & Hobert, O. Genomic cis-regulatory architecture and trans-acting regulators of a single interneuron-specific gene battery in C. elegans. Dev. Cell 6, 757–770 (2004)

Hobert, O. PCR fusion-based approach to create reporter gene constructs for expression analysis in transgenic C. elegans. Biotechniques 32, 728–730 (2002)

Bond, S. R. & Naus, C. C. RF-Cloning.org: an online tool for the design of restriction-free cloning projects. Nucleic Acids Res. 40, W209–W213 (2012)

Fang-Yen, C., Gabel, C. V., Samuel, A. D., Bargmann, C. I. & Avery, L. Laser microsurgery in Caenorhabditis elegans. Methods Cell Biol. 107, 177–206 (2012)

Garcia, L. R., LeBoeuf, B. & Koo, P. Diversity in mating behavior of hermaphroditic and male–female Caenorhabditis nematodes. Genetics 175, 1761–1771 (2007)

Peden, E. M. & Barr, M. M. The KLP-6 kinesin is required for male mating behaviors and polycystin localization in Caenorhabditis elegans. Curr. Biol. 15, 394–404 (2005)

Gordus, A., Pokala, N., Levy, S., Flavell, S. W. & Bargmann, C. I. Feedback from network states generates variability in a probabilistic olfactory circuit. Cell 161, 215–227 (2015)

Xu, M. et al. Computer assisted assembly of connectomes from electron micrographs: application to Caenorhabditis elegans. PLoS ONE 8, e54050 (2013)

White, G. Neuronal connectivity in Caenorhabditis elegans. Trends Neurosci. 8, 277–283 (1985)

Durbin, R. M. Studies on the development and organisation of the nervous system of Caenorhabditis elegans. PhD thesis, University of Cambridge (1987)

Rogers, C. et al. Inhibition of Caenorhabditis elegans social feeding by FMRFamide-related peptide activation of NPR-1. Nature Neurosci. 6, 1178–1185 (2003)

Komatsu, H., Mori, I., Rhee, J. S., Akaike, N. & Ohshima, Y. Mutations in a cyclic nucleotide-gated channel lead to abnormal thermosensation and chemosensation in C. elegans. Neuron 17, 707–718 (1996)

Thompson, O. et al. The million mutation project: a new approach to genetics in Caenorhabditis elegans. Genome Res. 23, 1749–1762 (2013)

Murphy, M. W. et al. An ancient protein-DNA interaction underlying metazoan sex determination. Nature Struct. Mol. Biol . 22, 442–451 (2015)
Acknowledgements
We thank Q. Chen for generating transgenic strains; J. White, J. Sulston and LMB/MRC for sharing their annotated electron microscopy images to D. Hall for curation, and http://www.wormimage.org where these annotated images have been made available by D. Hall; E. Yemini for advice on tracking experiments; S. Cook for help with Elegance software; M. Zhen for communicating unpublished results; P. Sengupta, I. Greenwald and members of the Hobert lab for comments on the manuscript. This work was supported by postdoctoral fellowships from the EMBO and HFSP (to M.O.-S.), the NIH (2R37NS039996) and the HHMI. M.O.-S. is an Awardee of the Weizmann Institute of Science, National Postdoctoral Award Program for Advancing Women in Science.
Ethics declarations
Competing interests
The authors declare no competing financial interests.
Extended data figures and tables
Supplementary information
This file contains Supplementary Table 1, which shows Transgenic strains used in this study, and additional references. (PDF 716 kb)
About this article
Cite this article
Oren-Suissa, M., Bayer, E. & Hobert, O. Sex-specific pruning of neuronal synapses in Caenorhabditis elegans. Nature 533, 206–211 (2016). https://doi.org/10.1038/nature17977
Received:

Accepted:

Published:

Issue Date:

DOI: https://doi.org/10.1038/nature17977
Comments
By submitting a comment you agree to abide by our Terms and Community Guidelines. If you find something abusive or that does not comply with our terms or guidelines please flag it as inappropriate.