Abstract
In salamanders, grafting of a left limb blastema onto a right limb stump yields regeneration of three limbs, the normal limb and two 'supernumerary' limbs1,2,3,4. This experiment and other research have shown that the juxtaposition of anterior and posterior limb tissue plus innervation are necessary and sufficient to induce complete limb regeneration in salamanders5,6,7,8,9,10. However, the cellular and molecular basis of the requirement for anterior–posterior tissue interactions were unknown. Here we have clarified the molecular basis of the requirement for both anterior and posterior tissue during limb regeneration and supernumerary limb formation in axolotls (Ambystoma mexicanum). We show that the two tissues provide complementary cross-inductive signals that are required for limb outgrowth. A blastema composed solely of anterior tissue normally regresses rather than forming a limb, but activation of hedgehog (HH) signalling was sufficient to drive regeneration of an anterior blastema to completion owing to its ability to maintain fibroblast growth factor (FGF) expression, the key signalling activity responsible for blastema outgrowth. In blastemas composed solely of posterior tissue, HH signalling was not sufficient to drive regeneration; however, ectopic expression of FGF8 together with endogenous HH signalling was sufficient. In axolotls, FGF8 is expressed only in the anterior mesenchyme and maintenance of its expression depends on sonic hedgehog (SHH) signalling from posterior tissue. Together, our findings identify key anteriorly and posteriorly localized signals that promote limb regeneration and show that these single factors are sufficient to drive non-regenerating blastemas to complete regeneration with full elaboration of skeletal elements.
Access options
Subscribe to this journal
Receive 51 print issues and online access
$199.00 per year
only $3.90 per issue
Rent or buy this article
Prices vary by article type
from$1.95
to$39.95
Prices may be subject to local taxes which are calculated during checkout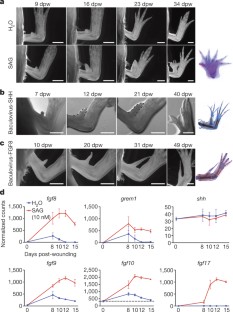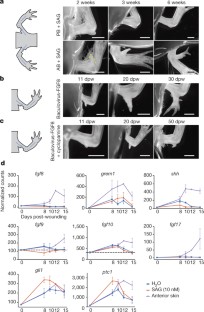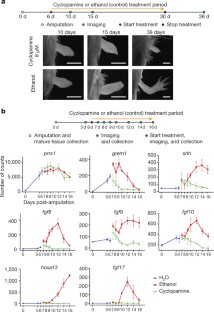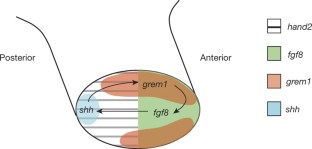 Similar content being viewed by others
References
Iten, L. E. & Bryant, S. V. The interaction between the blastema and stump in the establishment of the anterior–posterior and proximal–distal organization of the limb regenerate. Dev. Biol. 44, 119–147 (1975)

Maden, M. Structure of supernumerary limbs. Nature 286, 803–805 (1980)

Maden, M. Supernumerary limbs in amphibians. Integr. Comp. Biol. 22, 131–142 (1982)

Stocum, D. L. Determination of axial polarity in the urodele limb regeneration blastema. J. Embryol. Exp. Morphol. 71, 193–214 (1982)

Bryant, S. V. Regenerative failure of double half limbs in Notophthalmus viridescens. Nature 263, 676–679 (1976)

Bryant, S. V. & Baca, B. A. Regenerative ability of double-half and half upper arms in the newt, Notophthalmus viridescens. J. Exp. Zool. 204, 307–323 (1978)

Stocum, D. L. Regeneration of symmetrical hindlimbs in larval salamanders. Science 200, 790–793 (1978)

Endo, T., Bryant, S. V. & Gardiner, D. M. A stepwise model system for limb regeneration. Dev. Biol. 270, 135–145 (2004)

Satoh, A., Gardiner, D. M., Bryant, S. V. & Endo, T. Nerve-induced ectopic limb blastemas in the axolotl are equivalent to amputation-induced blastemas. Dev. Biol. 312, 231–244 (2007)

Nacu, E. & Tanaka, E. M. Limb regeneration: a new development? Annu. Rev. Cell Dev. Biol. 27, 409–440 (2011)

Bryant, S. V., French, V. & Bryant, P. J. Distal regeneration and symmetry. Science 212, 993–1002 (1981)

Meinhardt, H. A boundary model for pattern formation in vertebrate limbs. J. Embryol. Exp. Morphol. 76, 115–137 (1983)

Laufer, E., Nelson, C. E., Johnson, R. L., Morgan, B. A. & Tabin, C. Sonic hedgehog and Fgf-4 act through a signaling cascade and feedback loop to integrate growth and patterning of the developing limb bud. Cell 79, 993–1003 (1994)

Chiang, C. et al. Manifestation of the limb prepattern: limb development in the absence of sonic hedgehog function. Dev. Biol. 236, 421–435 (2001)

Harfe, B. D. et al. Evidence for an expansion-based temporal Shh gradient in specifying vertebrate digit identities. Cell 118, 517–528 (2004)

Towers, M., Mahood, R., Yin, Y. & Tickle, C. Integration of growth and specification in chick wing digit-patterning. Nature 452, 882–886 (2008)

Zhu, J. et al. Uncoupling Sonic hedgehog control of pattern and expansion of the developing limb bud. Dev. Cell 14, 624–632 (2008)

Niswander, L., Jeffrey, S., Martin, G. R. & Tickle, C. A positive feedback loop coordinates growth and patterning in the vertebrate limb. Nature 371, 609–612 (1994)

Zúñiga, A., Haramis, A. P., McMahon, A. P. & Zeller, R. Signal relay by BMP antagonism controls the SHH/FGF4 feedback loop in vertebrate limb buds. Nature 401, 598–602 (1999)

Lewandoski, M., Sun, X. & Martin, G. R. Fgf8 signalling from the AER is essential for normal limb development. Nature Genet. 26, 460–463 (2000)

Moon, A. M. & Capecchi, M. R. Fgf8 is required for outgrowth and patterning of the limbs. Nature Genet. 26, 455–459 (2000)

Khokha, M. K., Hsu, D., Brunet, L. J., Dionne, M. S. & Harland, R. M. Gremlin is the BMP antagonist required for maintenance of Shh and Fgf signals during limb patterning. Nature Genet. 34, 303–307 (2003)

Panman, L. et al. Differential regulation of gene expression in the digit forming area of the mouse limb bud by SHH and gremlin 1/FGF-mediated epithelial-mesenchymal signalling. Development 133, 3419–3428 (2006)

Nissim, S., Hasso, S. M., Fallon, J. F. & Tabin, C. J. Regulation of Gremlin expression in the posterior limb bud. Dev. Biol. 299, 12–21 (2006)

Mariani, F. V., Ahn, C. P. & Martin, G. R. Genetic evidence that FGFs have an instructive role in limb proximal-distal patterning. Nature 453, 401–405 (2008)

Sobkow, L., Epperlein, H.-H., Herklotz, S., Straube, W. L. & Tanaka, E. M. A germline GFP transgenic axolotl and its use to track cell fate: dual origin of the fin mesenchyme during development and the fate of blood cells during regeneration. Dev. Biol. 290, 386–397 (2006)

Boyce, F. M. & Bucher, N. L. Baculovirus-mediated gene transfer into mammalian cells. Proc. Natl Acad. Sci. USA 93, 2348–2352 (1996)

Kost, T. A. & Condreay, J. P. Recombinant baculoviruses as mammalian cell gene-delivery vectors. Trends Biotechnol. 20, 173–180 (2002)

Kaikkonen, M. U. et al. Truncated vesicular stomatitis virus G protein improves baculovirus transduction efficiency in vitro and in vivo. Gene Ther. 13, 304–312 (2006)

Hopkins, R. & Esposito, D. A rapid method for titrating baculovirus stocks using the Sf-9 Easy Titer cell line. BioTechniques 47, 785–788 (2009)

Kragl, M. et al. Cells keep a memory of their tissue origin during axolotl limb regeneration. Nature 460, 60–65 (2009)

Nacu, E. et al. Connective tissue cells, but not muscle cells, are involved in establishing the proximo-distal outcome of limb regeneration in the axolotl. Development 140, 513–518 (2013)

Schnapp, E., Kragl, M., Rubin, L. & Tanaka, E. M. Hedgehog signaling controls dorsoventral patterning, blastema cell proliferation and cartilage induction during axolotl tail regeneration. Development 132, 3243–3253 (2005)
Acknowledgements
We thank B. Gruhl, S. Moegel, M. Armstead, H. Goers, A. Wagner and S. Kaudel for animal care, H. Q. Le and K. Goehler for assistance, C. Cannistraci for advice on statistical analysis, C. Antos, D. Knapp, W. Masselink, T. Sugiura and Y. Taniguchi for advice on the manuscript, K. Crawford for discussion, S. Eaton for providing us with the plasmid with human SHH, K. Airenne, S. Ylä-Herttuala, and M. Kaikonnen for the plasmid with VSV-GED, members of the MPI-CBG protein facility for assistance in baculovirus preparation, and members of the MPI-CBG antibody facility for the anti-MHC antibody. This work was supported by central funds from the CRTD and MPI-CBG and an ERC Advanced Investigator grant to E.M.T. C.R.O. was supported by the Portuguese Foundation for Science and Technology (FCT). Schematic illustrations of axolotl limbs were redrawn based on illustrations from ref. 10 under copyright transfer agreement to E.N. and E.M.T. as authors.
Ethics declarations
Competing interests
The authors declare no competing financial interests.
Extended data figures and tables
Supplementary information
About this article
Cite this article
Nacu, E., Gromberg, E., Oliveira, C. et al. FGF8 and SHH substitute for anterior–posterior tissue interactions to induce limb regeneration. Nature 533, 407–410 (2016). https://doi.org/10.1038/nature17972
Received:

Accepted:

Published:

Issue Date:

DOI: https://doi.org/10.1038/nature17972
Comments
By submitting a comment you agree to abide by our Terms and Community Guidelines. If you find something abusive or that does not comply with our terms or guidelines please flag it as inappropriate.