Abstract
Particles with directional interactions are promising building blocks for new functional materials and may serve as models for biological structures1,2,3. Mutually attractive nanoparticles that are deformable owing to flexible surface groups, for example, may spontaneously order themselves into strings, sheets and large vesicles4,5,6. Furthermore, anisotropic colloids with attractive patches can self-assemble into open lattices and the colloidal equivalents of molecules and micelles7,8,9. However, model systems that combine mutual attraction, anisotropy and deformability have not yet been realized. Here we synthesize colloidal particles that combine these three characteristics and obtain self-assembled microcapsules. We propose that mutual attraction and deformability induce directional interactions via colloidal bond hybridization. Our particles contain both mutually attractive and repulsive surface groups that are flexible. Analogously to the simplest chemical bond—in which two isotropic orbitals hybridize into the molecular orbital of H2—these flexible groups redistribute on binding. Via colloidal bond hybridization, isotropic spheres self-assemble into planar monolayers, whereas anisotropic snowman-shaped particles self-assemble into hollow monolayer microcapsules. A modest change in the building blocks thus results in much greater complexity of the self-assembled structures. In other words, these relatively simple building blocks self-assemble into markedly more complex structures than do similar particles that are isotropic or non-deformable.
Relevant articles
Open Access articles citing this article.
Haitao Li

,

Liang Chen

…

Haijiao Zhang

Nano-Micro Letters Open Access 17 January 2022

R. A. J. Post

,

D. van der Zwaag

…

R. W. van der Hofstad

Nature Communications Open Access 10 April 2019
Access options
Subscribe to this journal
Receive 51 print issues and online access
$199.00 per year
only $3.90 per issue
Rent or buy this article
Prices vary by article type
from$1.95
to$39.95
Prices may be subject to local taxes which are calculated during checkout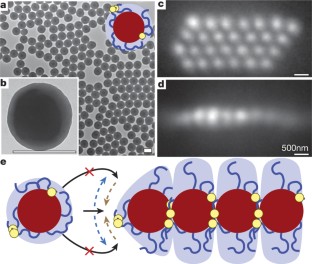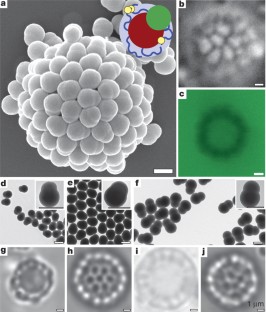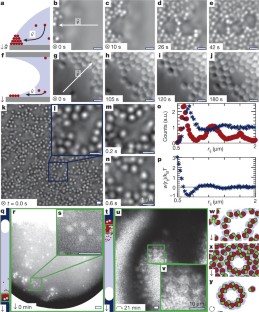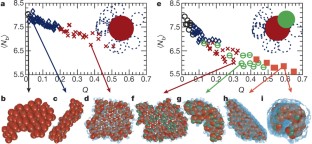 References
Zhang, Z. & Glotzer, S. C. Self-assembly of patchy particles. Nano Lett. 4, 1407–1413 (2004)

Glotzer, S. C. & Solomon, M. J. Anisotropy of building blocks and their assembly into complex structures. Nature Mater. 6, 557–562 (2007)

Yi, G.-R., Pine, D. J. & Sacanna, S. Recent progress on patchy colloids and their self-assembly. J. Phys. Condens. Matter 25, 193101 (2013)

Akcora, P. et al. Anisotropic self-assembly of spherical polymer-grafted nanoparticles. Nature Mater. 8, 354–359 (2009)

Nikolic, M. S. et al. Micelle and vesicle formation of amphiphilic nanoparticles. Angew. Chem. Int. Ed. 48, 2752–2754 (2009)

Luiken, J. A. & Bolhuis, P. G. Anisotropic aggregation in a simple model of isotropically polymer-coated nanoparticles. Phys. Rev. E 88, 012303 (2013)

Chen, Q., Bae, S. C. & Granick, S. Directed self-assembly of a colloidal kagome lattice. Nature 469, 381–384 (2011)

Wang, Y. et al. Colloids with valence and specific directional bonding. Nature 491, 51–55 (2012)

Kraft, D. J. et al. Surface roughness directed self-assembly of patchy particles into colloidal micelles. Proc. Natl Acad. Sci. USA 109, 10787–10792 (2012)

Larson-Smith, K. & Pozzo, D. C. Scalable synthesis of self-assembling nanoparticle clusters based on controlled steric interactions. Soft Matter 7, 5339–5347 (2011)

Wang, P. H. & Pan, C.-Y. Preparation of styrene/acrylic acid copolymer microspheres: polymerization mechanism and carboxyl group distribution. Colloid Polym. Sci. 280, 152–159 (2002)

Hu, X., Liu, H., Ge, X., Yang, S. & Ge, X. Preparation of submicron-sized snowman-like polystyrene particles via radiation-induced seeded emulsion polymerization. Chem. Lett. 38, 854–855 (2009)

Bates, F. S. Polymer-polymer phase behavior. Science 251, 898–905 (1991)

Asai, M., Cacciuto, A. & Kumar, S. K. Quantitative analogy between polymer-grafted nanoparticles and patchy particles. Soft Matter 11, 793–797 (2015)

Geerts, N. & Eiser, E. Flying colloidal carpets. Soft Matter 6, 664–669 (2010)

Sheu, H. R., El-Aasser, M. S. & Vanderhoff, J. W. Uniform nonspherical latex particles as model interpenetrating polymer networks. J. Polym. Sci. A 28, 653–667 (1990)

Mock, E. B., De Bruyn, H., Hawkett, B. S., Gilbert, R. G. & Zukoski, C. F. Synthesis of anisotropic nanoparticles by seeded emulsion polymerization. Langmuir 22, 4037–4043 (2006)

Kraft, D. J., Groenewold, J. & Kegel, W. K. Colloidal molecules with well-controlled bond angles. Soft Matter 5, 3823 (2009)

Marchand-Brynaert, J., Deldime, M., Dupont, I., Dewez, J.-L. & Schneider, Y.-J. Surface functionalization of poly(ethylene terephthalate) film and membrane by controlled wet chemistry: chemical characterization of carboxylated surfaces. J. Colloid Interf. Sci. 173, 236–244 (1995)

Dinsmore, A. D. et al. Colloidosomes: selectively permeable capsules composed of colloidal particles. Science 298, 1006–1009 (2002)

Chen, T., Zhang, Z. & Glotzer, S. C. Simulation studies of the self-assembly of cone-shaped particles. Langmuir 23, 6598–6605 (2007)

Deegan, R. D. et al. Capillary flow as the cause of ring stains from dried liquid drops. Nature 389, 827–829 (1997)

Berg, J. M., Tymoczko, J. L. & Stryer, L. Biochemistry (ed. Stryler, L. ) (W. H. Freeman and Company, 2002)

Tompa, P. & Fuxreiter, M. Fuzzy complexes: polymorphism and structural disorder in protein–protein interactions. Trends Biochem. Sci. 33, 2–8 (2008)

Freund, S. M. V., Johnson, C. M., Jaulent, A. M. & Ferguson, N. Moving towards high-resolution descriptions of the molecular interactions and structural rearrangements of the human hepatitis B core protein. J. Mol. Biol. 384, 1301–1313 (2008)

Groschel, A. H. et al. Guided hierarchical co-assembly of soft patchy nanoparticles. Nature 503, 247–251 (2013)

Crassous, J. J. et al. Field-induced assembly of colloidal ellipsoids into well-defined microtubules. Nature Commun. 5, 5516 (2014)

van Ravensteijn, B. G. P., Kamp, M., van Blaaderen, A. & Kegel, W. K. General route toward chemically anisotropic colloids. Chem. Mater. 25, 4348–4353 (2013)

Asakura, S. & Oosawa, F. On interaction between two bodies immersed in a solution of macromolecules. J. Chem. Phys. 22, 1255 (1954)

Bhattacharyay, A. & Troisi, A. Self-assembly of sparsely distributed molecules: an efficient cluster algorithm. Chem. Phys. Lett. 458, 210–213 (2008)
Acknowledgements
We thank B. G. P. van Ravensteijn for providing non-deformable, fluorescein functionalized snowman-shaped particles, S. I. R. Castillo for taking the SEM images, and J. D. Meeldijk and C. T. W. M. Schneijdenberg for help with freeze drying and TEM. This work is part of the research programmes VICI 700.58.442 and TOP-GO 700.10.355, which are financed by the Netherlands Organization for Scientific Research. We thank A. van Blaaderen and M. Dijkstra for discussions, and M. de Jong for reading the manuscript.
Ethics declarations
Competing interests
The authors declare no competing financial interests.
Extended data figures and tables
Supplementary information
About this article
Cite this article
Evers, C., Luiken, J., Bolhuis, P. et al. Self-assembly of microcapsules via colloidal bond hybridization and anisotropy. Nature 534, 364–368 (2016). https://doi.org/10.1038/nature17956
Received:

Accepted:

Published:

Issue Date:

DOI: https://doi.org/10.1038/nature17956
Comments
By submitting a comment you agree to abide by our Terms and Community Guidelines. If you find something abusive or that does not comply with our terms or guidelines please flag it as inappropriate.