Abstract
Genome-wide association studies (GWAS) have identified numerous genetic variants associated with complex diseases, but mechanistic insights are impeded by a lack of understanding of how specific risk variants functionally contribute to the underlying pathogenesis1. It has been proposed that cis-acting effects of non-coding risk variants on gene expression are a major factor for phenotypic variation of complex traits and disease susceptibility. Recent genome-scale epigenetic studies have highlighted the enrichment of GWAS-identified variants in regulatory DNA elements of disease-relevant cell types2,3,4,5,6. Furthermore, single nucleotide polymorphism (SNP)-specific changes in transcription factor binding are correlated with heritable alterations in chromatin state and considered a major mediator of sequence-dependent regulation of gene expression7,8,9,10. Here we describe a novel strategy to functionally dissect the cis-acting effect of genetic risk variants in regulatory elements on gene expression by combining genome-wide epigenetic information with clustered regularly-interspaced short palindromic repeats (CRISPR)/Cas9 genome editing in human pluripotent stem cells. By generating a genetically precisely controlled experimental system, we identify a common Parkinson's disease associated risk variant in a non-coding distal enhancer element that regulates the expression of α-synuclein (SNCA), a key gene implicated in the pathogenesis of Parkinson's disease. Our data suggest that the transcriptional deregulation of SNCA is associated with sequence-dependent binding of the brain-specific transcription factors EMX2 and NKX6-1. This work establishes an experimental paradigm to functionally connect genetic variation with disease-relevant phenotypes.
Relevant articles
Open Access articles citing this article.
Mark van den Hurk

,

Shong Lau

…

Cedric Bardy

npj Parkinson's Disease Open Access 18 October 2022

Ammar J. Alsheikh

,

Sabrina Wollenhaupt

…

Howard J. Jacob

BMC Medical Genomics Open Access 01 April 2022

Dunhui Li

,

Craig Stewart McIntosh

…

May Thandar Aung-Htut

Translational Neurodegeneration Open Access 20 May 2021
Access options
Subscribe to Journal
Get full journal access for 1 year
$199.00
only $3.90 per issue
All prices are NET prices.
VAT will be added later in the checkout.
Tax calculation will be finalised during checkout.
Buy article
Get time limited or full article access on ReadCube.
$32.00
All prices are NET prices.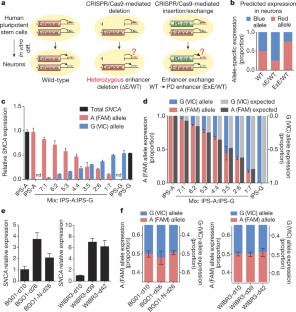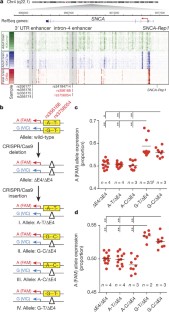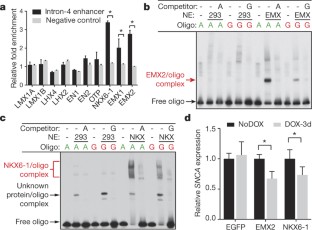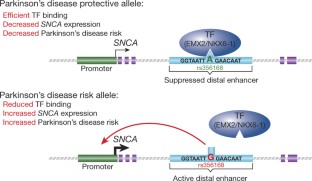 References
McClellan, J. & King, M.-C. Genetic heterogeneity in human disease. Cell 141, 210–217 (2010)

Ernst, J. et al. Mapping and analysis of chromatin state dynamics in nine human cell types. Nature 473, 43–49 (2011)

Maurano, M. T. et al. Systematic localization of common disease-associated variation in regulatory DNA. Science 337, 1190–1195 (2012)

Trynka, G. et al. Chromatin marks identify critical cell types for fine mapping complex trait variants. Nature Genet. 45, 124–130 (2013)

Hnisz, D. et al. Super-enhancers in the control of cell identity and disease. Cell 155, 934–947 (2013)

Degner, J. F. et al. DNase I sensitivity QTLs are a major determinant of human expression variation. Nature 482, 390–394 (2012)

Kilpinen, H. et al. Coordinated effects of sequence variation on DNA binding, chromatin structure, and transcription. Science (2013)

McVicker, G. et al. Identification of genetic variants that affect histone modifications in human cells. Science (2013)

Kasowski, M. et al. Extensive variation in chromatin states across humans. Science (2013)

Leung, D. et al. Integrative analysis of haplotype-resolved epigenomes across human tissues. Nature 518, 350–354 (2015)

Singleton, A. B., Farrer, M. J. & Bonifati, V. The genetics of Parkinson's disease: progress and therapeutic implications. Mov. Disord. 28, 14–23 (2013)

Nalls, M. A. et al. Large-scale meta-analysis of genome-wide association data identifies six new risk loci for Parkinson's disease. Nature Genet. 46, 989–993 (2014)

Devine, M. J., Gwinn, K., Singleton, A. & Hardy, J. Parkinson's disease and α-synuclein expression. Mov. Disord. 26, 2160–2168 (2011)

Miller, D. W., Hague, S. M., Clarimon, J. & Baptista, M. α-synuclein in blood and brain from familial Parkinson disease with SNCA locus triplication. Neurology 62, 1835–1838 (2004)

Kim, H. J., Jeon, B. S., Yoon, M. Y. & Park, S. S. Increased expression of alpha-synuclein by SNCA duplication is associated with resistance to toxic stimuli. J. Mol. Neurosci. 47, 249–255 (2012)

Soldner, F. et al. Parkinson's disease patient-derived induced pluripotent stem cells free of viral reprogramming factors. Cell 136, 964–977 (2009)

Vermunt, M. W. et al. Large-scale identification of coregulated enhancer networks in the adult human brain. Cell Rep. 9, 767–779 (2014)

Ward, L. D. & Kellis, M. Interpreting noncoding genetic variation in complex traits and human disease. Nature Biotechnol. 30, 1095–1106 (2012)

Rivera, C. M. & Ren, B. Mapping human epigenomes. Cell 155, 39–55 (2013)

Roadmap Epigenomics Consortium et al. Integrative analysis of 111 reference human epigenomes. Nature 518, 317–330 (2015)

Creyghton, M. P. et al. Histone H3K27ac separates active from poised enhancers and predicts developmental state. Proc. Natl Acad. Sci. USA 107, 21931–21936 (2010)

Rada-Iglesias, A. et al. A unique chromatin signature uncovers early developmental enhancers in humans. Nature 470, 279–283 (2011)

Mariani, J. et al. Emx2 is a dose-dependent negative regulator of Sox2 telencephalic enhancers. Nucleic Acids Res. 40, 6461–6476 (2012)

Ligon, K. L. Loss of Emx2 function leads to ectopic expression of Wnt1 in the developing telencephalon and cortical dysplasia. Development 130, 2275–2287 (2003)

Schaffer, A. E., Freude, K. K., Nelson, S. B. & Sander, M. Nkx6 transcription factors and Ptf1a function as antagonistic lineage determinants in multipotent pancreatic progenitors. Dev. Cell 18, 1022–1029 (2010)

Farrer, M. et al. α-synuclein gene haplotypes are associated with Parkinson's disease. Hum. Mol. Genet. 10, 1847–1851 (2001)

Cronin, K. D. et al. Expansion of the Parkinson disease-associated SNCA-Rep1 allele upregulates human α-synuclein in transgenic mouse brain. Hum. Mol. Genet. 18, 3274–3285 (2009)

Chiba-Falek, O., Kowalak, J. A., Smulson, M. E. & Nussbaum, R. L. Regulation of alpha-synuclein expression by poly (ADP ribose) polymerase-1 (PARP-1) binding to the NACP-Rep1 polymorphic site upstream of the SNCA gene. Am. J. Hum. Genet. 76, 478–492 (2005)

Soldner, F. & Jaenisch, R. Medicine. iPSC disease modeling. Science 338, 1155–1156 (2012)

Soldner, F. et al. Generation of isogenic pluripotent stem cells differing exclusively at two early onset Parkinson point mutations. Cell 146, 318–331 (2011)

Lengner, C. J. et al. Derivation of pre-X inactivation human embryonic stem cells under physiological oxygen concentrations. Cell 141, 872–883 (2010)

Kim, J. et al. Direct reprogramming of mouse fibroblasts to neural progenitors. Proc. Natl Acad. Sci. USA 108, 7838–7843 (2011)

Kim, J.-H., Panchision, D., Kittappa, R. & McKay, R. Generating CNS neurons from embryonic, fetal, and adult stem cells. Methods Enzymol. 365, 303–327 (2003)

Cong, L. et al. Multiplex genome engineering using CRISPR/Cas systems. Science 339, 819–823 (2013)

Wang, H. et al. One-step generation of mice carrying mutations in multiple genes by CRISPR/Cas-mediated genome engineering. Cell 153, 910–918 (2013)

Hockemeyer, D. et al. Efficient targeting of expressed and silent genes in human ESCs and iPSCs using zinc-finger nucleases. Nature Biotechnol. 27, 851–857 (2009)

Pfaffl, M. W. A new mathematical model for relative quantification in real-time RT–PCR. Nucleic Acids Res. 29, e45 (2001)

Lee, T. I., Johnstone, S. E. & Young, R. A. Chromatin immunoprecipitation and microarray-based analysis of protein location. Nature Protocols 1, 729–748 (2006)

Langmead, B., Trapnell, C., Pop, M. & Salzberg, S. L. Ultrafast and memory-efficient alignment of short DNA sequences to the human genome. Genome Biol. 10, R25 (2009)

Sulzer, D. & Surmeier, D. J. Neuronal vulnerability, pathogenesis, and Parkinson's disease. Mov. Disord. 28, 41–50 (2013)

Ferrer, I., Martinez, A., Blanco, R., Dalfó, E. & Carmona, M. Neuropathology of sporadic Parkinson disease before the appearance of parkinsonism: preclinical Parkinson disease. J. Neural Transm. 118, 821–839 (2011)

Irwin, D. J. et al. Neuropathologic substrates of Parkinson disease dementia. Ann. Neurol. 72, 587–598 (2012)

Zhang, Y. et al. Model-based analysis of ChIP-seq (MACS). Genome Biol. 9, R137 (2008)

Lill, C. M. et al. Comprehensive research synopsis and systematic meta-analyses in Parkinson's disease genetics: the PDGene database. PLoS Genet. 8, e1002548 (2012)

Quinlan, A. R. BEDTools: the Swiss-Army tool for genome feature analysis. Curr Protoc. Bioinformat. 47, 11.12.1–11.12.34 (2014)

Howie, B., Fuchsberger, C., Stephens, M., Marchini, J. & Abecasis, G. R. Fast and accurate genotype imputation in genome-wide association studies through pre-phasing. Nature Genet. 44, 955–959 (2012)

Fuchsberger, C., Abecasis, G. R. & Hinds, D. A. minimac2: faster genotype imputation. Bioinformatics 31, 782–784 (2015)

Willer, C. J., Li, Y. & Abecasis, G. R. METAL: fast and efficient meta-analysis of genomewide association scans. Bioinformatics 26, 2190–2191 (2010)

Dumitriu, A. et al. Cyclin-G-associated kinase modifies α-synuclein expression levels and toxicity in Parkinson's disease: results from the GenePD study. Hum. Mol. Genet. 20, 1478–1487 (2011)

Pankratz, N. et al. Meta-analysis of Parkinson's disease: identification of a novel locus, RIT2. Ann. Neurol. 71, 370–384 (2012)

Hawrylycz, M. J. et al. An anatomically comprehensive atlas of the adult human brain transcriptome. Nature 489, 391–399 (2012)

Huang, D. W., Sherman, B. T. & Lempicki, R. A. Bioinformatics enrichment tools: paths toward the comprehensive functional analysis of large gene lists. Nucleic Acids Res. 37, 1–13 (2009)

Huang, D. W., Sherman, B. T. & Lempicki, R. A. Systematic and integrative analysis of large gene lists using DAVID bioinformatics resources. Nature Protocols 4, 44–57 (2009)

Brambrink, T. et al. Sequential expression of pluripotency markers during direct reprogramming of mouse somatic cells. Cell Stem Cell 2, 151–159 (2008)

DeKelver, R. C. et al. Functional genomics, proteomics, and regulatory DNA analysis in isogenic settings using zinc finger nuclease-driven transgenesis into a safe harbor locus in the human genome. Genome Res. 20, 1133–1142 (2010)

Raj, A., van den Bogaard, P., Rifkin, S. A., van Oudenaarden, A. & Tyagi, S. Imaging individual mRNA molecules using multiple singly labeled probes. Nature Methods 5, 877–879 (2008)

Raj, A., Rifkin, S. A., Andersen, E. & van Oudenaarden, A. Variability in gene expression underlies incomplete penetrance. Nature 463, 913–918 (2010)

Faddah, D. A. et al. Brief Report. Cell Stem Cell 13, 23–29 (2013)
Acknowledgements
We acknowledge the investigators of the original Parkinson's disease GWAS meta-analysis, PDGene and Menno Creyghton at the Hubrecht Institute for sharing data used for this study. We would like to thank B. Zaidi for helpful discussion in conceiving this work. We thank R. Alagappan, D. Fu and T. Lungjangwa for technical support and help in human ES cell culture and molecular biology and A. D'Alessio for helpful advice for performing ChIP-seq experiments. We would like to thank P. Wisniewski, M. Ly, C. Zollo and C. Araneo of the Whitehead Institute FACS facility for their help with cell sorting, T. Volkert, J. Love and S. Gupta at the Whitehead Genome Technologies Core for Solexa sequencing, W. Salmon and N. Watson from the W. M. Keck Biological Imaging Facility and T. DiCesare for help with the figure illustrations. We thank all the members of the Jaenisch laboratory for discussions and comments on the manuscript. R.J. was supported by NIH grants 1R01NS088538-01 and 2R01MH104610-15 and by Qatar National Research Fund grant number NPRP 5-531-1-094.
Ethics declarations
Competing interests
R.J. is an adviser to Stemgent and a cofounder of Fate Therapeutics.
Extended data figures and tables
Supplementary information
Prioritization of PD-associated risk variants in the SNCA locus based on overlap with enhancer specific epigenetic marks and predicted transcription factor binding. (XLSX 173 kb)
Predicted differential transcription factor binding at SNP rs356168. (XLSX 36 kb)
Detailed lists of gRNAs, primers, donor constructs, antibodies, Gene Expression Omnibus (GEO) identifiers for Chip-seq and DHSs datasets and CRISPR/Cas9 genome edited cell lines used in this manuscript (see Methods). (PDF 100 kb)
About this article
Cite this article
Soldner, F., Stelzer, Y., Shivalila, C. et al. Parkinson-associated risk variant in distal enhancer of α-synuclein modulates target gene expression. Nature 533, 95–99 (2016). https://doi.org/10.1038/nature17939
Received:

Accepted:

Published:

Issue Date:

DOI: https://doi.org/10.1038/nature17939
Comments
By submitting a comment you agree to abide by our Terms and Community Guidelines. If you find something abusive or that does not comply with our terms or guidelines please flag it as inappropriate.