The microorganisms that colonize pregnant mice have been shown to prime the innate immune system in newborn offspring, preparing them for life in association with microbes.
Access options
Subscribe to Journal
Get full journal access for 1 year
$199.00
only $3.90 per issue
All prices are NET prices.
VAT will be added later in the checkout.
Tax calculation will be finalised during checkout.
Buy article
Get time limited or full article access on ReadCube.
$32.00
All prices are NET prices.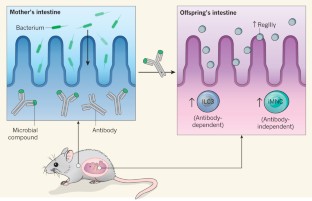 References
Gomez de Agüero, M. et al. Science 351, 1296–1302 (2016).

Round, J. L. & Mazmanian, S. K. Nature Rev. Immunol. 4, 313–323 (2009).

Hapfelmeier, S. et al. Science 328, 1704–1709 (2010).

Killig, M., Glatzer, T. & Romagnani, C. Front. Immunol. 5, 142 (2014).

Gross, M., Salame, T. M. & Jung, S. Front. Immunol. 6, 254 (2015).

Vaishnava, S. et al. Science 334, 255–258 (2011).

Stockinger, B., Di Meglio, P., Gialitakis, M. & Duarte, J. H. Annu. Rev. Immunol. 32, 403–432 (2014).
About this article
Cite this article
Pendse, M., Hooper, L. Mum's microbes boost baby's immunity. Nature 533, 42–43 (2016). https://doi.org/10.1038/nature17895
Published:

Issue Date:

DOI: https://doi.org/10.1038/nature17895