Abstract
It has been widely accepted that 5-methylcytosine is the only form of DNA methylation in mammalian genomes. Here we identify N6-methyladenine as another form of DNA modification in mouse embryonic stem cells. Alkbh1 encodes a demethylase for N6-methyladenine. An increase of N6-methyladenine levels in Alkbh1-deficient cells leads to transcriptional silencing. N6-methyladenine deposition is inversely correlated with the evolutionary age of LINE-1 transposons; its deposition is strongly enriched at young (<1.5 million years old) but not old (>6 million years old) L1 elements. The deposition of N6-methyladenine correlates with epigenetic silencing of such LINE-1 transposons, together with their neighbouring enhancers and genes, thereby resisting the gene activation signals during embryonic stem cell differentiation. As young full-length LINE-1 transposons are strongly enriched on the X chromosome, genes located on the X chromosome are also silenced. Thus, N6-methyladenine developed a new role in epigenetic silencing in mammalian evolution distinct from its role in gene activation in other organisms. Our results demonstrate that N6-methyladenine constitutes a crucial component of the epigenetic regulation repertoire in mammalian genomes.
Access options
Subscribe to Journal
Get full journal access for 1 year
$199.00
only $3.90 per issue
All prices are NET prices.
VAT will be added later in the checkout.
Rent or Buy article
Get time limited or full article access on ReadCube.
from$8.99
All prices are NET prices.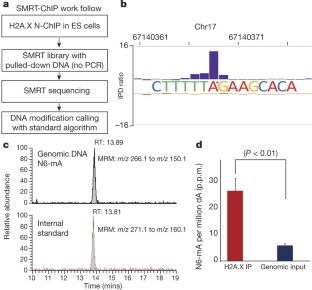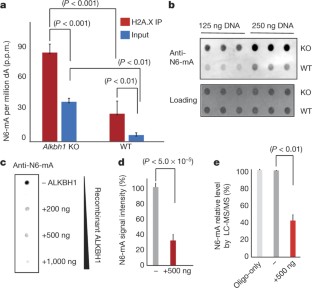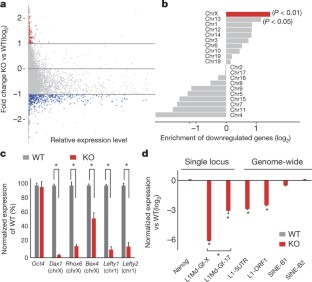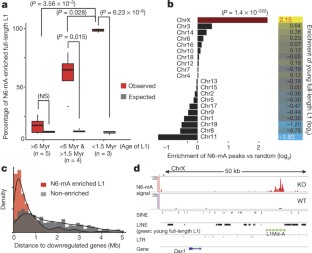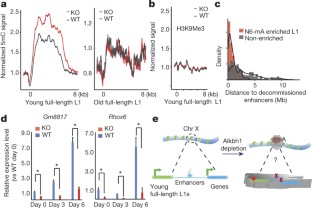 References
1

Smith, Z. D. & Meissner, A. DNA methylation: roles in mammalian development. Nature Rev. Genet. 14, 204–220 (2013)

2

Schübeler, D. Function and information content of DNA methylation. Nature 517, 321–326 (2015)

3

Heyn, H. & Esteller, M. An adenine code for DNA: a second life for N6-methyladenine. Cell 161, 710–713 (2015)

4

Zhang, G. et al. N6-methyladenine DNA modification in Drosophila . Cell 161, 893–906 (2015)

5

Greer, E. L. et al. DNA methylation on N6-adenine in C. elegans . Cell 161, 868–878 (2015)

6

Fu, Y. et al. N6-methyldeoxyadenosine marks active transcription start sites in Chlamydomonas . Cell 161, 879–892 (2015)

7

Achwal, C. W., Iyer, C. A. & Chandra, H. S. Immunochemical evidence for the presence of 5mC, 6mA and 7mG in human, Drosophila and mealybug DNA. FEBS Lett. 158, 353–358 (1983)

8

Ratel, D. et al. Undetectable levels of N6-methyl adenine in mouse DNA: Cloning and analysis of PRED28, a gene coding for a putative mammalian DNA adenine methyltransferase. FEBS Lett. 580, 3179–3184 (2006)

9

Bourc'his, D. & Bestor, T. H. Meiotic catastrophe and retrotransposon reactivation in male germ cells lacking Dnmt3L. Nature 431, 96–99 (2004)

10

Goodier, J. L. & Kazazian, H. H. Retrotransposons revisited: the restraint and rehabilitation of parasites. Cell 135, 23–35 (2008)

11

Goodier, J. L., Ostertag, E. M., Du, K. & Kazazian, H. H. A novel active L1 retrotransposon subfamily in the mouse. Genome Res. 11, 1677–1685 (2001)

12

Castro-Diaz, N. et al. Evolutionally dynamic L1 regulation in embryonic stem cells. Genes Dev. 28, 1397–1409 (2014)

13

Banaszynski, L. A., Allis, C. D. & Lewis, P. W. Histone variants in metazoan development. Dev. Cell 19, 662–674 (2010)

14

Jin, C. & Felsenfeld, G. Nucleosome stability mediated by histone variants H3.3 and H2A.Z. Genes Dev. 21, 1519–1529 (2007)

15

Fang, G. et al. Genome-wide mapping of methylated adenine residues in pathogenic Escherichia coli using single-molecule real-time sequencing. Nature Biotechnol. 30, 1232–1239 (2012)

16

Davis, B. M., Chao, M. C. & Waldor, M. K. Entering the era of bacterial epigenomics with single molecule real time DNA sequencing. Curr. Opin. Microbiol. 16, 192–198 (2013)

17

Wu, T. et al. Histone variant H2A.X deposition pattern serves as a functional epigenetic mark for distinguishing the developmental potentials of iPSCs. Cell Stem Cell 15, 281–294 (2014)

18

Lu, K., Collins, L. B., Ru, H., Bermudez, E. & Swenberg, J. A. Distribution of DNA adducts caused by inhaled formaldehyde is consistent with induction of nasal carcinoma but not leukemia. Toxicol. Sci. 116, 441–451 (2010)

19

Sedgwick, B. Repairing DNA-methylation damage. Nature Rev. Mol. Cell Biol. 5, 148–157 (2004)

20

Flusberg, B. A. et al. Direct detection of DNA methylation during single-molecule, real-time sequencing. Nature Methods 7, 461–465 (2010)

21

Shen, L., Song, C.-X., He, C. & Zhang, Y. Mechanism and function of oxidative reversal of DNA and RNA methylation. Annu. Rev. Biochem. 83, 585–614 (2014)

22

Müller, T. A., Yu, K., Hausinger, R. P. & Meek, K. ALKBH1 is dispensable for abasic site cleavage during base excision repair and class switch recombination. PLoS ONE 8, e67403 (2013)

23

Nordstrand, L. M. et al. Mice lacking Alkbh1 display sex-ratio distortion and unilateral eye defects. PLoS ONE 5, e13827 (2010)

24

Ougland, R. et al. ALKBH1 is a histone H2A dioxygenase involved in neural differentiation. Stem Cells 30, 2672–2682 (2012)

25

Abrusán, G., Giordano, J. & Warburton, P. E. Analysis of transposon interruptions suggests selection for L1 elements on the X chromosome. PLoS Genet. 4, e1000172 (2008)

26

Bailey, J. A., Carrel, L., Chakravarti, A. & Eichler, E. E. Molecular evidence for a relationship between LINE-1 elements and X chromosome inactivation: the Lyon repeat hypothesis. Proc. Natl Acad. Sci. USA 97, 6634–6639 (2000)

27

Chow, J. C. et al. LINE-1 activity in facultative heterochromatin formation during X chromosome inactivation. Cell 141, 956–969 (2010)

28

Liu, C., Tsai, P., García, A.-M., Logeman, B. & Tanaka, T. S. A possible role of Reproductive Homeobox 6 in primordial germ cell differentiation. Int. J. Dev. Biol. 55, 909–916 (2011)

29

Delatte, B. et al. Transcriptome-wide distribution and function of RNA hydroxymethylcytosine. Science 351, 282–285 (2016)

30

Lyon, M. F. X-chromosome inactivation: a repeat hypothesis. Cytogenet. Cell Genet. 80, 133–137 (1998)

31

Fadloun, A. et al. Chromatin signatures and retrotransposon profiling in mouse embryos reveal regulation of LINE-1 by RNA. Nature Struct. Mol. Biol. 20, 332–338 (2013)

32

Erickson, I. K., Cantrell, M. A., Scott, L. & Wichman, H. A. Retrofitting the genome: L1 extinction follows endogenous retroviral expansion in a group of muroid rodents. J. Virol. 85, 12315–12323 (2011)

33

Koziol, M. J. et al. Identification of methylated deoxyadenosines in vertebrates reveals diversity in DNA modifications. Nature Struct. Mol. Biol. 23, 24–30 (2016)

34

Tomomori-Sato, C., Sato, S., Conaway, R. C. & Conaway, J. W. Immunoaffinity purification of protein complexes from mammalian cells. Methods Mol. Biol. 977, 273–287 (2013)

35

Flusberg, B. A. et al. Direct detection of DNA methylation during single-molecule, real-time sequencing. Nature Methods 7, 461–465 (2010)

36

Langmead, B., Trapnell, C., Pop, M. & Salzberg, S. L. Ultrafast and memory-efficient alignment of short DNA sequences to the human genome. Genome Biol. 10, R25 (2009)

37

Zang, C. et al. A clustering approach for identification of enriched domains from histone modification ChIP-seq data. Bioinformatics 25, 1952–1958 (2009)

38

Song, Q. & Smith, A. D. Identifying dispersed epigenomic domains from ChIP-seq data. Bioinformatics 27, 870–871 (2011)

39

Trapnell, C., Pachter, L. & Salzberg, S. L. TopHat: discovering splice junctions with RNA-Seq. Bioinformatics 25, 1105–1111 (2009)

40

Trapnell, C. et al. Differential gene and transcript expression analysis of RNA-seq experiments with TopHat and Cufflinks. Nature Protocols 7, 562–578 (2012)

41

Tackett, A. J. et al. I-DIRT, a general method for distinguishing between specific and nonspecific protein interactions. J. Proteome Res. 4, 1752–1756 (2005)

42

Byrum, S. D., Taverna, S. D. & Tackett, A. J. Purification of a specific native genomic locus for proteomic analysis. Nucleic Acids Res. 41, e195 (2013)
Acknowledgements
We thank Z. Li, K.Hwang and A. Leung for critical reading of the manuscript and the members of the Xiao laboratory for critical discussion. Thanks to L. Geng for helping Hiseq2000 sequencing. This work is funded by R01GM114205-01 (A.X.). T.P.W. is partially supported by CT Stem Cell Foundation (11SCA34). The Fang lab is partially supported by R01 GM114472-01 (G.F.). Mass spectrometry was supported by R01GM106024, S10OD018445 and P20GM103429. The UNC Mass Spectrometry Facility Core was supported by the National Institutes of Environmental Health Sciences (NIEHS) Superfund Basic Research Program (P42 ES005948), and NIEHS Center for Environmental Health and Susceptibility (P30 ES010126).
Ethics declarations
Competing interests
The authors declare no competing financial interests.
Extended data figures and tables
Supplementary information
About this article
Cite this article
Wu, T., Wang, T., Seetin, M. et al. DNA methylation on N6-adenine in mammalian embryonic stem cells. Nature 532, 329–333 (2016) doi:10.1038/nature17640
Received

Accepted

Published

Issue Date
Comments
By submitting a comment you agree to abide by our Terms and Community Guidelines. If you find something abusive or that does not comply with our terms or guidelines please flag it as inappropriate.