Abstract
The regulation of water content in polymeric membranes is important in a number of applications, such as reverse electrodialysis and proton-exchange fuel-cell membranes. External thermal and water management systems add both mass and size to systems, and so intrinsic mechanisms of retaining water and maintaining ionic transport1,2,3 in such membranes are particularly important for applications where small system size is important. For example, in proton-exchange membrane fuel cells, where water retention in the membrane is crucial for efficient transport of hydrated ions1,4,5,6,7, by operating the cells at higher temperatures without external humidification, the membrane is self-humidified with water generated by electrochemical reactions5,8. Here we report an alternative solution that does not rely on external regulation of water supply or high temperatures. Water content in hydrocarbon polymer membranes is regulated through nanometre-scale cracks ('nanocracks') in a hydrophobic surface coating. These cracks work as nanoscale valves to retard water desorption and to maintain ion conductivity in the membrane on dehumidification. Hydrocarbon fuel-cell membranes with surface nanocrack coatings operated at intermediate temperatures show improved electrochemical performance, and coated reverse-electrodialysis membranes show enhanced ionic selectivity with low bulk resistance.
Relevant articles
Open Access articles citing this article.
Computational Visual Media Open Access 18 October 2022
Access options
Subscribe to this journal
Receive 51 print issues and online access
$199.00 per year
only $3.90 per issue
Rent or buy this article
Prices vary by article type
from$1.95
to$39.95
Prices may be subject to local taxes which are calculated during checkout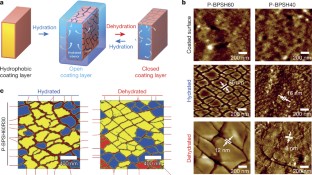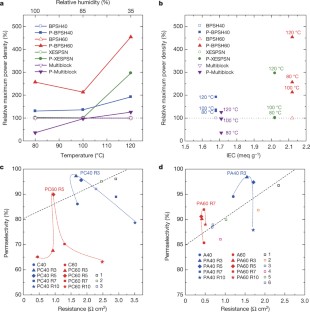 References
Appleby, A. J. & Foules, F. R. Fuel Cell Handbook (Van Nostrand Reinhold, 1989)

Park, C. H., Lee, C. H., Guiver, M. D. & Lee, Y. M. Sulfonated hydrocarbon membranes for medium-temperature and low-humidity proton exchange membrane fuel cells (PEMFCs). Prog. Polym. Sci. 36, 1443–1498 (2011)

Li, Q., Jensen, J. O., Savinell, R. F. & Bjerrum, N. J. High temperature proton exchange membranes based on polybenzimidazoles for fuel cells. Prog. Polym. Sci. 34, 449–477 (2009)

Steele, B. C. H. & Heinzel, A. Materials for fuel-cell technologies. Nature 414, 345–352 (2001)

Moghaddam, S. et al. An inorganic–organic proton exchange membrane for fuel cells with a controlled nanoscale pore structure. Nature Nanotechnol. 5, 230–236 (2010)

Service, R. F. Newcomer heats up the race for practical fuel cells. Science 303, 29 (2004)

Kreuer, K.-D., Paddison, S. J., Spohr, E. & Schuster, M. Transport in proton conductors for fuel-cell applications: simulations, elementary reactions, and phenomenology. Chem. Rev. 104, 4637–4678 (2004)

Chen, Y. et al. Enhancement of anhydrous proton transport by supramolecular nanochannels in comb polymers. Nature Chem. 2, 503–508 (2010)

Lee, S. Y. et al. A capillary water retention effect to improve medium-temperature fuel cell performance. Electrochem. Commun. 31, 120–124 (2013)

Mauritz, K. A. & Moore, R. B. State of understanding of Nafion. Chem. Rev. 104, 4535–4586 (2004)

Park, C. H. et al. Phase separation and water channel formation in sulfonated block copolyimide. J. Phys. Chem. B 114, 12036–12045 (2010)

Schmidt-Rohr, K. & Chen, Q. Parallel cylindrical water nanochannels in Nafion fuel-cell membranes. Nature Mater. 7, 75–83 (2008)

Kreuer, K. D. & Portale, G. A critical revision of the nano-morphology of proton conducting ionomers and polyelectrolytes for fuel cell applications. Adv. Funct. Mater. 23, 5390–5397 (2013)

Zhang, S. et al. A review of platinum-based catalyst layer degradation in proton exchange membrane fuel cells. J. Power Sources 194, 588–600 (2009)

Borup, R. et al. Scientific aspects of polymer electrolyte fuel cell durability and degradation. Chem. Rev. 107, 3904–3951 (2007)

Denes, F. S. & Manolache, S. Macromolecular plasma-chemistry: an emerging field of polymer science. Prog. Polym. Sci. 29, 815–885 (2004)

Tendero, C., Tixier, C., Tristant, P., Desmaison, J. & Leprince, P. Atmospheric pressure plasmas. Spectrochim. Acta B 61, 2–30 (2006)

Bonnar, M. P. et al. Hydrophobic coatings from plasma polymerized vinyltrimethylsilane. Chem. Vap. Deposition 5, 117–125 (1999)

Hickner, M. A., Ghassemi, H., Kim, Y. S., Einsla, B. R. & McGrath, J. E. Alternative polymer systems for proton exchange membranes (PEMs). Chem. Rev. 104, 4587–4612 (2004)

Huang, Y.-H. et al. Investigation of fine-structure of polyamide thin-film composite membrane under swelling effect by positron annihilation lifetime spectroscopy and molecular dynamics simulation. J. Membr. Sci. 417–418, 201–209 (2012)

Kim, Y. S. et al. State of water in disulfonated poly(arylene ether sulfone) copolymers and a perfluorosulfonic acid copolymer (Nafion) and its effect on physical and electrochemical properties. Macromolecules 36, 6281–6285 (2003)

Fan, Y. et al. The effect of block length upon structure, physical properties and transport within a series of sulfonated poly(arylene ether sulfone)s. J. Membr. Sci. 430, 106–112 (2013)

Lee, S. Y. et al. Morphological transformation during cross-linking of a highly sulfonated poly (phenylene sulfide nitrile) random copolymer. Energ. Environ. Sci. 5, 9795–9802 (2012)

Kansy, J. et al. Microcomputer program for analysis of positron annihilation lifetime spectra. Nucl. Instrum. Methods Phys. Res. Sect. A374, 235–244 (1996)

Hwang, D. S., Park, C. H., Yi, S. C. & Lee, Y. M. Optimal catalyst layer structure of polymer electrolyte membrane fuel cell. Int. J. Hydrogen Energy 36, 9876–9885 (2011)

Kim, J.-K. et al. Voronoi diagrams, quasi-triangulations, and beta-complexes for disks in R2: the theory and implementation in BetaConcept. J. Comput. Design Eng. 1, 79–87 (2014)
Acknowledgements
This research was supported by the Nano-Material Technology Development Program through the National Research Foundation of Korea (NRF) funded by the Ministry of Education, Science and Technology (2012M3A7B4049745). C.M.D. is supported by the Australian Research Council (DE40101359). C.M.D., A.W.T. and A.J.H. acknowledge the CSIRO Julius Career award, the CSIRO Office of the Chief Executive Science Leader Scheme and the Australia–Korea Foundation Early Career Researchers Program. M.D.G. is a BK21-Plus visiting professor at Hanyang University.
Ethics declarations
Competing interests
The authors declare no competing financial interests.
Extended data figures and tables
Supplementary information
This file contains Supplementary Table 1, a Supplementary Discussion and Supplementary References. (PDF 666 kb)
About this article
Cite this article
Park, C., Lee, S., Hwang, D. et al. Nanocrack-regulated self-humidifying membranes. Nature 532, 480–483 (2016). https://doi.org/10.1038/nature17634
Received:

Accepted:

Published:

Issue Date:

DOI: https://doi.org/10.1038/nature17634
Comments
By submitting a comment you agree to abide by our Terms and Community Guidelines. If you find something abusive or that does not comply with our terms or guidelines please flag it as inappropriate.