Abstract
Cooperative phenotypes are considered central to the functioning of microbial communities in many contexts, including communication via quorum sensing, biofilm formation, antibiotic resistance, and pathogenesis1,2,3,4,5. The human intestine houses a dense and diverse microbial community critical to health1,2,4,5,6,7,8,9, yet we know little about cooperation within this important ecosystem. Here we test experimentally for evolved cooperation within the Bacteroidales, the dominant Gram-negative bacteria of the human intestine. We show that during growth on certain dietary polysaccharides, the model member Bacteroides thetaiotaomicron exhibits only limited cooperation. Although this organism digests these polysaccharides extracellularly, mutants lacking this ability are outcompeted. In contrast, we discovered a dedicated cross-feeding enzyme system in the prominent gut symbiont Bacteroides ovatus, which digests polysaccharide at a cost to itself but at a benefit to another species. Using in vitro systems and gnotobiotic mouse colonization models, we find that extracellular digestion of inulin increases the fitness of B. ovatus owing to reciprocal benefits when it feeds other gut species such as Bacteroides vulgatus. This is a rare example of naturally-evolved cooperation between microbial species. Our study reveals both the complexity and importance of cooperative phenotypes within the mammalian intestinal microbiota.
Relevant articles
Open Access articles citing this article.
Ruina Liu

,

Kai Zhang

…

Zhenyuan Wang

BMC Microbiology Open Access 10 February 2023

Greta Giljan

,

Sarah Brown

…

Carol Arnosti

ISME Communications Open Access 04 February 2023

Jennifer L. Modesto

,

Victoria H. Pearce

&

Guy E. Townsend

Nature Communications Open Access 17 January 2023
Access options
Subscribe to this journal
Receive 51 print issues and online access
$199.00 per year
only $3.90 per issue
Rent or buy this article
Get just this article for as long as you need it
$39.95
Prices may be subject to local taxes which are calculated during checkout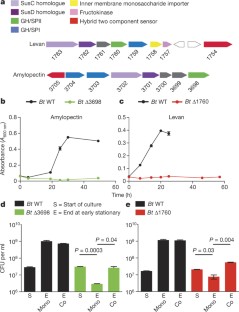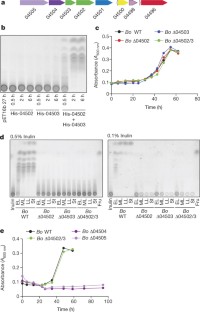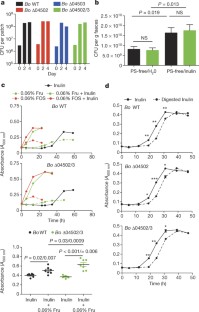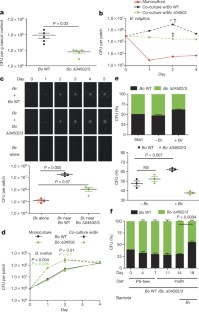 References
Sonnenburg, E. D. et al. Specificity of polysaccharide use in intestinal bacteroides species determines diet-induced microbiota alterations. Cell 141, 1241–1252 (2010)

West, S. A., Griffin, A. S., Gardner, A. & Diggle, S. P. Social evolution theory for microorganisms. Nature Rev. Microbiol. 4, 597–607 (2006)

Rakoff-Nahoum, S., Coyne, M. J. & Comstock, L. E. An ecological network of polysaccharide utilization among human intestinal symbionts. Curr. Biol. 24, 40–49 (2014)

Drescher, K., Nadell, C. D., Stone, H. A., Wingreen, N. S. & Bassler, B. L. Solutions to the public goods dilemma in bacterial biofilms. Curr. Biol. 24, 50–55 (2014)

Frank, S. A. A general model of the public goods dilemma. J. Evol. Biol. 23, 1245–1250 (2010)

Koropatkin, N. M., Cameron, E. A. & Martens, E. C. How glycan metabolism shapes the human gut microbiota. Nature Rev. Microbiol. 10, 323–335 (2012)

Subramanian, S. et al. Cultivating healthy growth and nutrition through the gut microbiota. Cell 161, 36–48 (2015)

Shipman, J. A., Cho, K. H., Siegel, H. A. & Salyers, A. A. Physiological characterization of SusG, an outer membrane protein essential for starch utilization by Bacteroides thetaiotaomicron. J. Bacteriol. 181, 7206–7211 (1999)

Littman, D. R. & Pamer, E. G. Role of the commensal microbiota in normal and pathogenic host immune responses. Cell Host Microbe 10, 311–323 (2011)

Waldor, M. K. et al. Where next for microbiome research? PLoS Biol. 13, e1002050 (2015)

Koschwanez, J. H., Foster, K. R. & Murray, A. W. Sucrose utilization in budding yeast as a model for the origin of undifferentiated multicellularity. PLoS Biol. 9, e1001122 (2011)

Costello, E. K., Stagaman, K., Dethlefsen, L., Bohannan, B. J. M. & Relman, D. A. The application of ecological theory toward an understanding of the human microbiome. Science 336, 1255–1262 (2012)

Estrela, S., Whiteley, M. & Brown, S. P. The demographic determinants of human microbiome health. Trends Microbiol. 23, 134–141 (2015)

Mitri, S. & Foster, K. R. The genotypic view of social interactions in microbial communities. Annu. Rev. Genet. 47, 247–273 (2013)

Oliveira, N. M., Niehus, R. & Foster, K. R. Evolutionary limits to cooperation in microbial communities. Proc. Natl Acad. Sci. USA 111, 17941–17946 (2014)

Faith, J. J. et al. The long-term stability of the human gut microbiota. Science 341, 1237439 (2013)

Zitomersky, N. L., Coyne, M. J. & Comstock, L. E. Longitudinal analysis of the prevalence, maintenance, and IgA response to species of the order Bacteroidales in the human gut. Infect. Immun. 79, 2012–2020 (2011)

Flint, H. J., Bayer, E. A., Rincon, M. T., Lamed, R. & White, B. A. Polysaccharide utilization by gut bacteria: potential for new insights from genomic analysis. Nature Rev. Microbiol. 6, 121–131 (2008)

Elhenawy, W., Debelyy, M. O. & Feldman, M. F. Preferential packing of acidic glycosidases and proteases into Bacteroides outer membrane vesicles. mBio 5, e00909–14 (2014)

Cuskin, F. et al. Human gut Bacteroidetes can utilize yeast mannan through a selfish mechanism. Nature 517, 165–169 (2015)

Sachs, J. L., Mueller, U. G., Wilcox, T. P. & Bull, J. J. The evolution of cooperation. Q. Rev. Biol. 79, 135–160 (2004)

Foster, K. R. & Wenseleers, T. A general model for the evolution of mutualisms. J. Evol. Biol. 19, 1283–1293 (2006)

Gore, J., Youk, H. & van Oudenaarden, A. Snowdrift game dynamics and facultative cheating in yeast. Nature 459, 253–256 (2009)

Martens, E. C. et al. Recognition and degradation of plant cell wall polysaccharides by two human gut symbionts. PLoS Biol. 9, e1001221 (2011)

Orel, R. & Kamhi Trop, T. Intestinal microbiota, probiotics and prebiotics in inflammatory bowel disease. World J. Gastroenterol. 20, 11505–11524 (2014)

Cameron, E. A. et al. Multifunctional nutrient-binding proteins adapt human symbiotic bacteria for glycan competition in the gut by separately promoting enhanced sensing and catalysis. mBio 5, e01441–14 (2014)

Momeni, B., Waite, A. J. & Shou, W. Spatial self-organization favors heterotypic cooperation over cheating. Elife 2, e00960 (2013)

Ng, K. M. et al. Microbiota-liberated host sugars facilitiate post-antobiotic expansion of enteric pathogens. Nature 502, 96–99 (2013)

Degnan, P. H., Barry, N. A., Mok, K. C., Taga, M. E. & Goodman, A. L. Human gut microbes use multiple transporters to distinguish vitamin B12 analogs and compete in the gut. Cell Host Microbe 15, 47–57 (2014)

Fischbach, M. A. & Sonnenburg, J. L. Eating for two: how metabolism establishes interspecies interactions in the gut. Cell Host Microbe 10, 336–347 (2011)

Stevens, A. M., Shoemaker, N. B. & Salyers, A. A. The region of a Bacteroides conjugal chromosomal tetracycline resistance element which is responsible for production of plasmidlike forms from unlinked chromosomal DNA might also be involved in transfer of the element. J. Bacteriol. 172, 4271–4279 (1990)

Smith, C. J., Rogers, M. B. & McKee, M. L. Heterologous gene expression in Bacteroides fragilis. Plasmid 27, 141–154 (1992)

Coyne, M. J., Fletcher, C. M., Reinap, B. & Comstock, L. E. UDP-glucuronic acid decarboxylases of Bacteroides fragilis and their prevalence in bacteria. J. Bacteriol. 193, 5252–5259 (2011)
Acknowledgements
We thank C. B. Ogbunugafor, J. Ordovas-Montanes, U. von Andrian and M. Waldor for suggestions. M. Delaney for SCFA analysis, V. Yeliseyev for assistance with gnotobiotics. Inulin and FOS were provided by Beneo-Orafti. Mice were provided by the HDDC, NIH Grant P30 DK34845. S.R.-N. is supported by the PIDS-St Jude Research Hospital Fellowship Program in Basic Research, a K12 Child Health Research Center grant through Boston Children's Hospital and a Pilot Feasibility Award funded by HDDC P30 DK034854. K.R.F. is supported by European Research Council Grant 242670. This work was supported by Public Health Service grant R01AI081843 (to L.E.C.) from the NIH/NIAID.
Ethics declarations
Competing interests
The authors declare no competing financial interests.
Extended data figures and tables
Supplementary information
Supplementary Figure 1 shows the uncropped TLC scans for Figures 2b, 2d (left), 2d (right) and Extended Data Figures 1e, 2b, 2c, 4c, 5e and Supplementary Table 1 which shows the primers used in this study. (PDF 136 kb)
About this article
Cite this article
Rakoff-Nahoum, S., Foster, K. & Comstock, L. The evolution of cooperation within the gut microbiota. Nature 533, 255–259 (2016). https://doi.org/10.1038/nature17626
Received:

Accepted:

Published:

Issue Date:

DOI: https://doi.org/10.1038/nature17626
Comments
By submitting a comment you agree to abide by our Terms and Community Guidelines. If you find something abusive or that does not comply with our terms or guidelines please flag it as inappropriate.