Abstract
Asymmetric cell division, the partitioning of cellular components in response to polarizing cues during mitosis, has roles in differentiation and development1. It is important for the self-renewal of fertilized zygotes in Caenorhabditis elegans and neuroblasts in Drosophila, and in the development of mammalian nervous and digestive systems1. T lymphocytes, upon activation by antigen-presenting cells (APCs), can undergo asymmetric cell division, wherein the daughter cell proximal to the APC is more likely to differentiate into an effector-like T cell and the distal daughter is more likely to differentiate into a memory-like T cell2. Upon activation and before cell division, expression of the transcription factor c-Myc drives metabolic reprogramming, necessary for the subsequent proliferative burst3. Here we find that during the first division of an activated T cell in mice, c-Myc can sort asymmetrically. Asymmetric distribution of amino acid transporters, amino acid content, and activity of mammalian target of rapamycin complex 1 (mTORC1) is correlated with c-Myc expression, and both amino acids and mTORC1 activity sustain the differences in c-Myc expression in one daughter cell compared to the other. Asymmetric c-Myc levels in daughter T cells affect proliferation, metabolism, and differentiation, and these effects are altered by experimental manipulation of mTORC1 activity or c-Myc expression. Therefore, metabolic signalling pathways cooperate with transcription programs to maintain differential cell fates following asymmetric T-cell division.
Relevant articles
Open Access articles citing this article.
Dandan Zhu

,

Sifan Wu

…

Tieying Hou

Cancer Cell International Open Access 19 March 2022

Mark R. Boothby

,

Shawna K. Brookens

…

Sung Hoon Cho

Cellular & Molecular Immunology Open Access 15 November 2021

Leandro Barros

,

Cristina Ferreira

&

Marc Veldhoen

Mucosal Immunology Open Access 04 October 2021
Access options
Subscribe to Journal
Get full journal access for 1 year
$199.00
only $3.90 per issue
All prices are NET prices.
VAT will be added later in the checkout.
Tax calculation will be finalised during checkout.
Buy article
Get time limited or full article access on ReadCube.
$32.00
All prices are NET prices.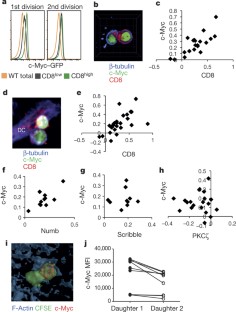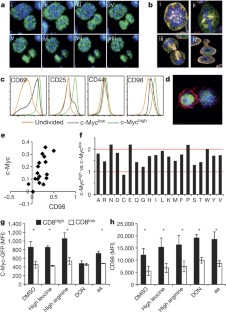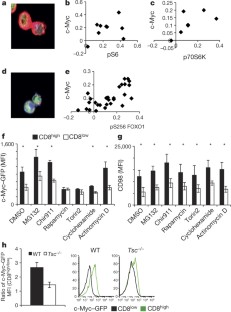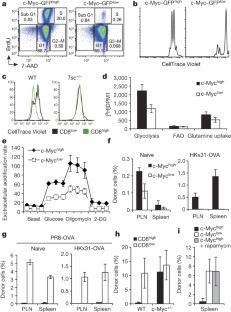 References
Pham, K., Sacirbegovic, F. & Russell, S. M. Polarised cells, polarised views: asymmetric cell division in hematopoietic cells. Front. Immunol. 5, (2014)

Chang, J. T. et al. Asymmetric T lymphocyte division in the initiation of adaptive immune responses. Science 315, 1687–1691 (2007)

Wang, R. et al. The transcription factor Myc controls metabolic reprogramming upon T lymphocyte activation. Immunity 35, 871–882 (2011)

Huang, C. Y., Bredemeyer, A. L., Walker, L. M., Bassing, C. H. & Sleckman, B. P. Dynamic regulation of c-Myc proto-oncogene expression during lymphocyte development revealed by a GFP-c-Myc knock-in mouse. Eur. J. Immunol. 38, 342–349 (2008)

Colombetti, S., Basso, V., Mueller, D. L. & Mondino, A. Prolonged TCR/CD28 engagement drives IL-2-independent T cell clonal expansion through signaling mediated by the mammalian target of rapamycin. J. Immunol. 176, 2730–2738 (2006)

Sancak, Y. et al. The Rag GTPases bind raptor and mediate amino acid signaling to mTORC1. Science 320, 1496–1501 (2008)

Grohmann, U. & Bronte, V. Control of immune response by amino acid metabolism. Immunol. Rev. 236, 243–264 (2010)

Choo, A. Y., Yoon, S. O., Kim, S. G., Roux, P. P. & Blenis, J. Rapamycin differentially inhibits S6Ks and 4E–BP1 to mediate cell-type-specific repression of mRNA translation. Proc. Natl Acad. Sci. USA 105, 17414–17419 (2008)

Hsu, P. P. et al. The mTOR-Regulated Phosphoproteome Reveals a mechanism of mTORC1-mediated inhibition of growth factor signaling. Science 332, 1317–1322 (2011)

Ouyang, W., Beckett, O., Flavell, R. A. & Li, M. O. An essential role of the Forkhead-box transcription factor Foxo1 in control of T cell homeostasis and tolerance. Immunity 30, 358–371 (2009)

Peck, B., Ferber, E. C. & Schulze, A. Antagonism between FOXO and Myc regulates cellular powerhouse. Front. Oncol. 3, (2013)

Yang, K., Neale, G., Green, D. R., He, W. & Chi, H. The tumor suppressor Tsc1 enforces quiescence of naive T cells to promote immune homeostasis and function. Nature Immunol. 12, 888–897 (2011)

Vervoorts, J., Luscher-Firzlaff, J. & Luscher, B. The ins and outs of MYC regulation by posttranslational mechanisms. J. Biol. Chem. 281, 34725–34729 (2006)

Sears, R. C. The life cycle of C-myc: from synthesis to degradation. Cell Cycle 3, 1133–1137 (2004)

Wise, D. R. et al. Myc regulates a transcriptional program that stimulates mitochondrial glutaminolysis and leads to glutamine addiction. Proc. Natl Acad. Sci. USA 105, 18782–18787 (2008)

Wang, R. & Green, D. R. Metabolic checkpoints in activated T cells. Nature Immunol. 13, 907–915 (2012)

Marelli-Berg, F. M., Fu, H. & Mauro, C. Molecular mechanisms of metabolic reprogramming in proliferating cells: implications for T-cell-mediated immunity. Immunology 136, 363–369 (2012)

van der Windt, G. J. et al. Mitochondrial respiratory capacity is a critical regulator of CD8+ T cell memory development. Immunity 36, 68–78 (2012)

van der Windt, G. J. & Pearce, E. L. Metabolic switching and fuel choice during T-cell differentiation and memory development. Immunol. Rev. 249, 27–42 (2012)

Katajisto, P. et al. Stem cells. Asymmetric apportioning of aged mitochondria between daughter cells is required for stemness. Science 348, 340–343 (2015)

Arsenio, J. et al. Early specification of CD8+ T lymphocyte fates during adaptive immunity revealed by single-cell gene-expression analyses. Nature Immunol. 15, 365–372 (2014)

Stemberger, C. et al. A single naive CD8+ T cell precursor can develop into diverse effector and memory subsets. Immunity 27, 985–997 (2007)

Schepers, K. et al. Dissecting T cell lineage relationships by cellular barcoding. J. Exp. Med. 205, 2309–2318 (2008)

Bannard, O., Kraman, M. & Fearon, D. T. Secondary replicative function of CD8+ T cells that had developed an effector phenotype. Science 323, 505–509 (2009)

Harrington, L. E., Janowski, K. M., Oliver, J. R., Zajac, A. J. & Weaver, C. T. Memory CD4 T cells emerge from effector T-cell progenitors. Nature 452, 356–360 10.1038/nature06672 (2008)

Rohr, J. C., Gerlach, C., Kok, L. & Schumacher, T. N. Single cell behavior in T cell differentiation. Trends Immunol. 35, 170–177 (2014)

Dang, C. V., Le, A. & Gao, P. MYC-induced cancer cell energy metabolism and therapeutic opportunities. Clin. Cancer Res. 15, 6479–6483 (2009)

Gao, P. et al. c-Myc suppression of miR-23a/b enhances mitochondrial glutaminase expression and glutamine metabolism. Nature 458, 762–765 (2009)

Liu, J. & Levens, D. Making myc. Curr. Top. Microbiol. Immunol. 302, 1–32 (2006)

Araki, K. et al. mTOR regulates memory CD8 T-cell differentiation. Nature 460, 108–112 (2009)
Acknowledgements
We thank R. Cross, G. Lennon, and P. Ingle for cell sorting, P. Thomas for assistance with influenza infections, H. Chi for help with Listeria infections, and I. Pawlikowska for help with statistical analyses. This work was supported by ALSAC and grants from the US National Institutes of Health.
Extended data figures and tables
Supplementary information
About this article
Cite this article
Verbist, K., Guy, C., Milasta, S. et al. Metabolic maintenance of cell asymmetry following division in activated T lymphocytes. Nature 532, 389–393 (2016). https://doi.org/10.1038/nature17442
Received:

Accepted:

Published:

Issue Date:

DOI: https://doi.org/10.1038/nature17442
Comments
By submitting a comment you agree to abide by our Terms and Community Guidelines. If you find something abusive or that does not comply with our terms or guidelines please flag it as inappropriate.